Comics
Published March 11, 2019
Who Is Nyx? An Introduction to the Avengers' New Nemesis
The Goddess of Night's history is laid bare in the latest issue of AVENGERS: NO ROAD HOME.
Last year, Jim Zub, Mark Waid, and Al Ewing's AVENGERS: NO SURRENDER introduced Voyager and pit three teams of Avengers against the Grandmaster and the Challenger. This year, the writing team has been tasked to outdo themselves in AVENGERS: NO ROAD HOME. How did they top two of the cosmic powers as big bads? By looking to the past and picking a figure out of Greek mythology.
This year's villain is Nyx, the Goddess of Night. She's already made a big splash in the series by decimating Olympus and slaughtering Zeus and the rest of his pantheon. Unfortunately, Nyx is far from finished. She wants to revert the entire universe back to eternal darkness, and she may soon have the power to do it.
In this week's AVENGERS: NO ROAD HOME #4, Zub, Waid, and Ewing were joined by artist Sean Izaakse for an issue-length spotlight on Nyx which explains who she is and why she's so vengeful. It also dovetails with the original myth of Nyx, which goes back several centuries.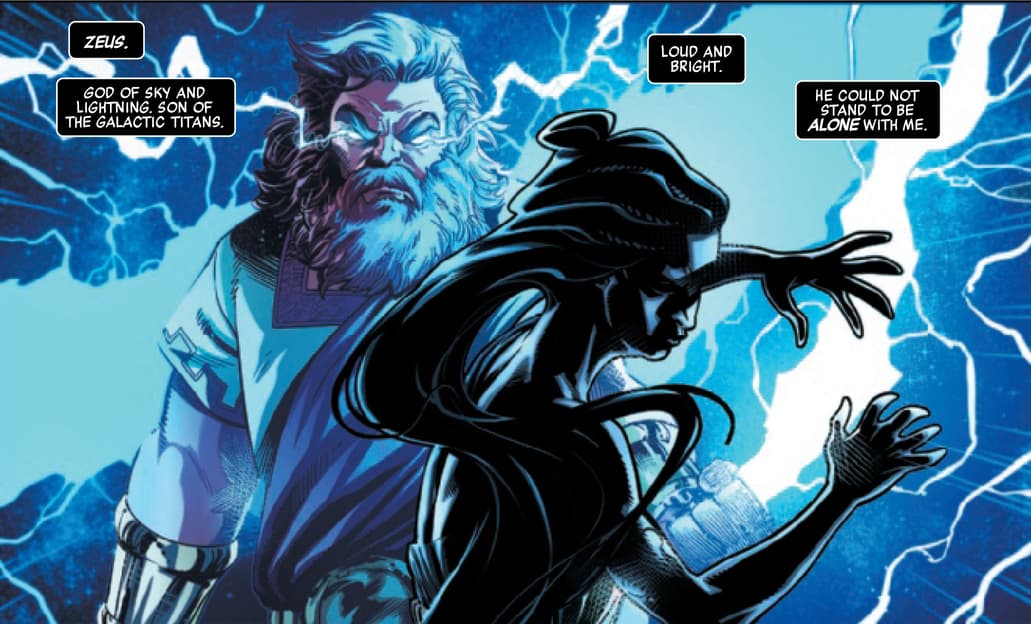 Within the vast stories of Greek mythology, Nyx's persona was not widely explored. However, the stories established her as one of the oldest gods in the pantheon – and someone that even Zeus feared. She was also the mother of Hemera, the Goddess of Day; as well as Thanatos, the God of Death; among several others.
The NO ROAD HOME creative team retained Nyx's presence at the dawn of creation, and established that as the beginning of her enmity with Zeus. In Nyx's mind, Zeus resented her and couldn't stand to be around her. And yet Nyx was a member of Zeus' pantheon within the splendor of Mount Olympus. There was a time when she lived in relative peace with the gods, even though she seemed to have despised them from the start.
It's worth noting that the Iliad specifically mentions that Zeus was wary of angering Nyx, and possibly feared her. That allowed her son, Hypnos, to manipulate Zeus and force him to sleep without worrying about reprisals. As long as Hypnos could hide behind his mother's power, Zeus wouldn't dare to strike at him.
Within the Marvel Universe, Hypnos, the God of Sleep, was Nyx's first born child. He was raised in Olympus alongside the gods, but he soon came to share his mother's disdain for their brethren. Over time, Hypnos gained the power to use sleeping men and women as his army within dreams, which is how he is currently laying siege to the kingdom of Nightmare.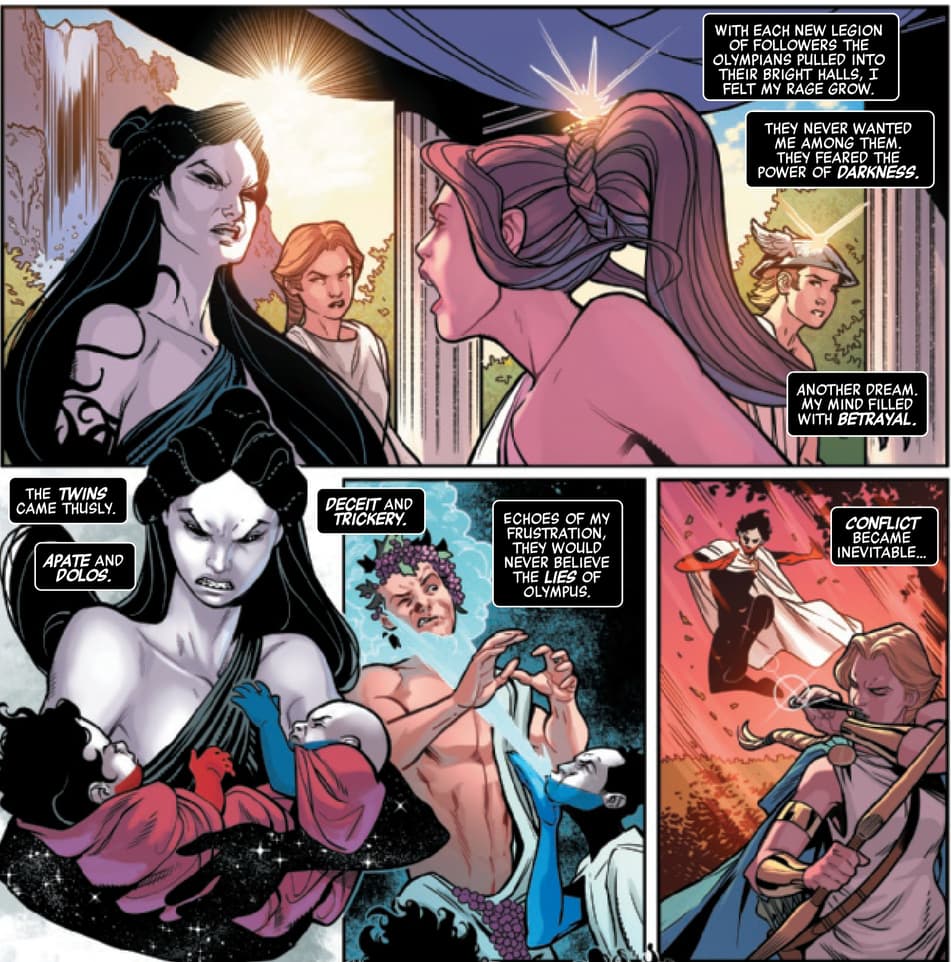 If Nyx's story can be taken at face value, she never set out to become the ultimate villain. Instead, her role was shaped by the unfolding tales that humanity shared about the gods. In her anger, Nyx gave birth to two more children: Apate, the Goddess of Deceit; and Dolos, the God of Trickery. Together, Nyx's twins introduced strife and mischief in Mount Olympus. In Nyx's mind, her fellow gods always hated her. Perhaps there is some truth to that, as she went to war against the gods alongside her children. Zeus' forces defeated her in battle, and Nyx was cast down into the darkness with her spawn. It was there that she gave birth to Oizys, the Goddess of Misery.
Without the events of NO SURRENDER, Nyx and her children would never have broken free. The scary thing is that Nyx isn't back to her full power yet. Before imprisoning her, Zeus broke up pieces of Nyx's soul and scattered them throughout creation. Now, Nyx is taking them back one by one, on her way to thrust the universe back into the darkness from which it came.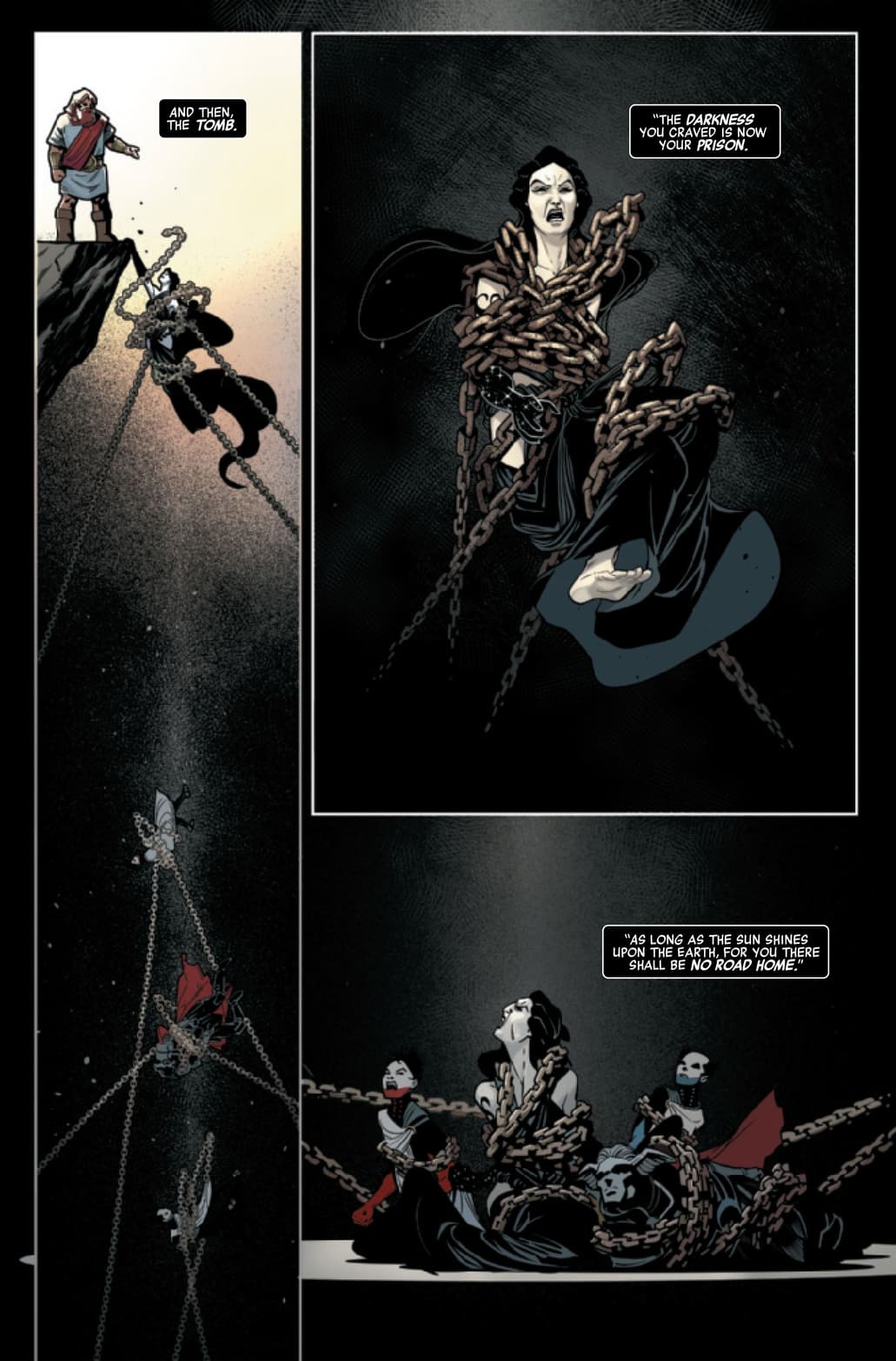 You can follow the story of Nyx's vengeance every week in AVENGERS: NO ROAD HOME!
AVENGERS: NO ROAD HOME #4, written by Jim Zub, Mark Waid, and Al Ewing with art by Sean Izaakse, is available now online and at your local comic shop!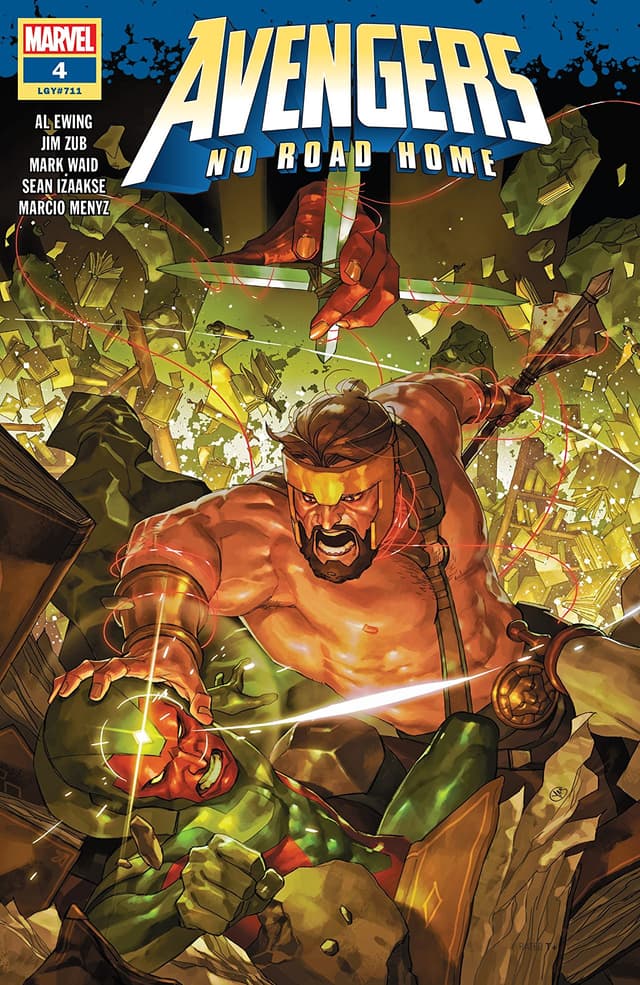 The Hype Box
Can't-miss news and updates from across the Marvel Universe!