Comics
Published March 5, 2020
Why 'God Loves, Man Kills' Is One of the Best X-Men Stories Ever
Prepare for 'X-Men: God Loves, Man Kills Extended Cut' #1 with a look back at the legendary original!
In the annals of Marvel history, there's no shortage of great epics featuring the mighty mutants. THE DARK PHOENIX SAGA, FALL OF THE MUTANTS, INFERNO, and AGE OF APOCALYPSE are just a few examples. But there's one story that perfectly exemplifies who the X-Men are and what they stand for.
Back in 1982, MARVEL GRAPHIC NOVEL was launched as a way to give creators a broader canvas to tell more mature stories. But MARVEL GRAPHIC NOVEL #5 is better known by its full name, X-MEN: GOD LOVES, MAN KILLS. Chris Claremont and artist Brent Anderson delivered an instant-classic tale that remains relevant 38 years later.
On April 1, Claremont and Anderson are reuniting for X-MEN: GOD LOVES, MAN KILLS EXTENDED CUT #1; which features a new framing sequence that leads into the story. The rest of the two-issue tale will present the original graphic novel in its entirety.
To celebrate the release of the extended cut, Marvel.com is taking a look back at why GOD LOVES, MAN KILLS was such an important turning point for the Children of the Atom.
It's worth noting that comic book legend Neal Adams was the original artist attached to this graphic novel. But the gig ultimately went to Anderson, who was coming off a long run on KA-ZAR THE SAVAGE (1981). Anderson only had a few issues of UNCANNY X-MEN (1963) under his belt, (specifically issues #144, #160, and ANNUAL #5). But GOD LOVES, MAN KILLS ensured Anderson's place alongside the other artistic icons who have chronicled the X-Men's adventures.
When GOD LOVES, MAN KILLS was released, Claremont was just seven years into his 16-year run on UNCANNY X-MEN (1963). For this special occasion, Claremont gave the team a threat that they couldn't defeat with mutant powers alone: Reverend William Stryker. This televangelist turned his vast fortune and his small army of followers against mutants with words that inspired fear and hatred. Stryker was skilled at twisting scripture to justify his deadly vendetta, and he inspired his audience to follow his example.
Stryker's global viewers were more than enough to make him a legitimate threat to mutantkind's survival. But Stryker took things even further by kidnapping Charles Xavier, Storm, and Cyclops before brainwashing Xavier into becoming the ultimate weapon against mutants. Stryker and his scientists came up with a way to use Xavier's telepathic powers to target mutants by making them suffer massive cerebral hemorrhages.
Anderson's powerful imagery ran throughout the story, but perhaps the most striking sequence came in the opening pages as two young mutants were brutally murdered by Stryker's paramilitary unit, the Purifiers. This atrocity was discovered by Magneto, who subsequently vowed to avenge the children. To do so, the Master of Magnetism turned to his greatest enemies: the X-Men. This was before Magneto and Xavier had truly reconciled. But in retrospect, the rift between them began to heal in this story.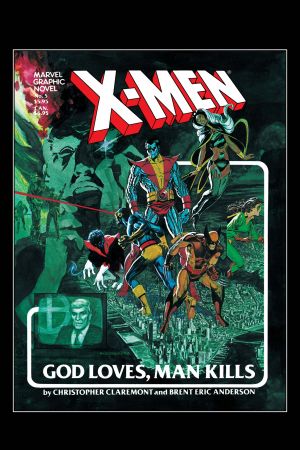 In front of a live audience, Magneto and the X-Men practically dared Stryker to show his followers who he truly was. Once his guise as a "man of God" fell away, Styker personally murdered one of his followers when she was revealed to be a mutant. But the X-Men fought Stryker with words instead of powers, because it was the only way to counter his hateful narrative. In anger, Stryker attempted to shoot Kitty Pryde before he was in turn shot by an unnamed police officer. That man was an unsung hero in the book. He didn't personally know the mutants. He simply saw Stryker about to murder a young girl and he acted accordingly.
One of the overlooked aspects of this story is the way that Xavier briefly lost faith in his own dream of peaceful co-existence with humanity. In a moment of weakness, Xavier almost accepted Magneto's offer to join forces with him. But because the X-Men didn't waiver in their convictions, Xavier couldn't bring himself to abandon them. Their resolve gave him renewed hope.
Kitty also extended a counter invitation to Magneto to stay with the team, but he rejected it at the time. Magneto wouldn't renter their lives until SECRET WARS II (1985) #1 and UNCANNY X-MEN (1963) #196, before eventually agreeing to take over Xavier's school in UNCANNY X-MEN (1963) #200. That's a story for another time. But without the events of GOD LOVES, MAN KILLS as a foundation, would the Master of Magnetism have had a change of heart?
Claremont and Anderson wrapped up their tale with a quiet moment between Storm and Cyclops as they shared a sentiment about love and caring "which makes the world go 'round." Stom added "if only that were so" in the final panel, which reflected her personal belief. But if this was the X-Men's greatest test to date, they emerged victorious because they clung to each other and the ideals that made them heroes in the first place.
Pre-order X-MEN: GOD LOVES, MAN KILLS EXTENDED CUT #1 at your local comic shop today, then pick it up on April 1!
The Hype Box
Can't-miss news and updates from across the Marvel Universe!