Comics
Published February 17, 2023
Your Complete Guide to 'Women of Marvel' #1
The annual comic that spotlights women creators and characters returns on March 22.
Next month, WOMEN OF MARVEL is back with another star-studded one-shot, and right now, fans can check out the covers and get an exclusive sneak peek at the thrilling stories that await! 
The giant-sized anthology will continue the tradition of uplifting the characters and creators you know and love—and the ones you're about to! Showcasing a range of diverse stories by seasoned veterans and up-and-coming talent, WOMEN OF MARVEL #1 will be a one-stop preview of the incredible women creators set to take Marvel Comics by storm. The one-shot will mark the exciting Marvel Comics debut of talents such as Melissa Flores, Victoria Ying, Carola Borelli, Giulia Gualazzi, and the Gibbs Sisters: Shawnee Gibbs & Shawnelle Gibbs. 
For over 10 years, WOMEN OF MARVEL has highlighted iconic women characters and storytellers from throughout Marvel Comics history! Fans won't want to miss celebrating the spirit and mission of this fantastic program with these phenomenal tales starring some of Marvel's greatest heroes!
Here are the adventures that readers can look forward to!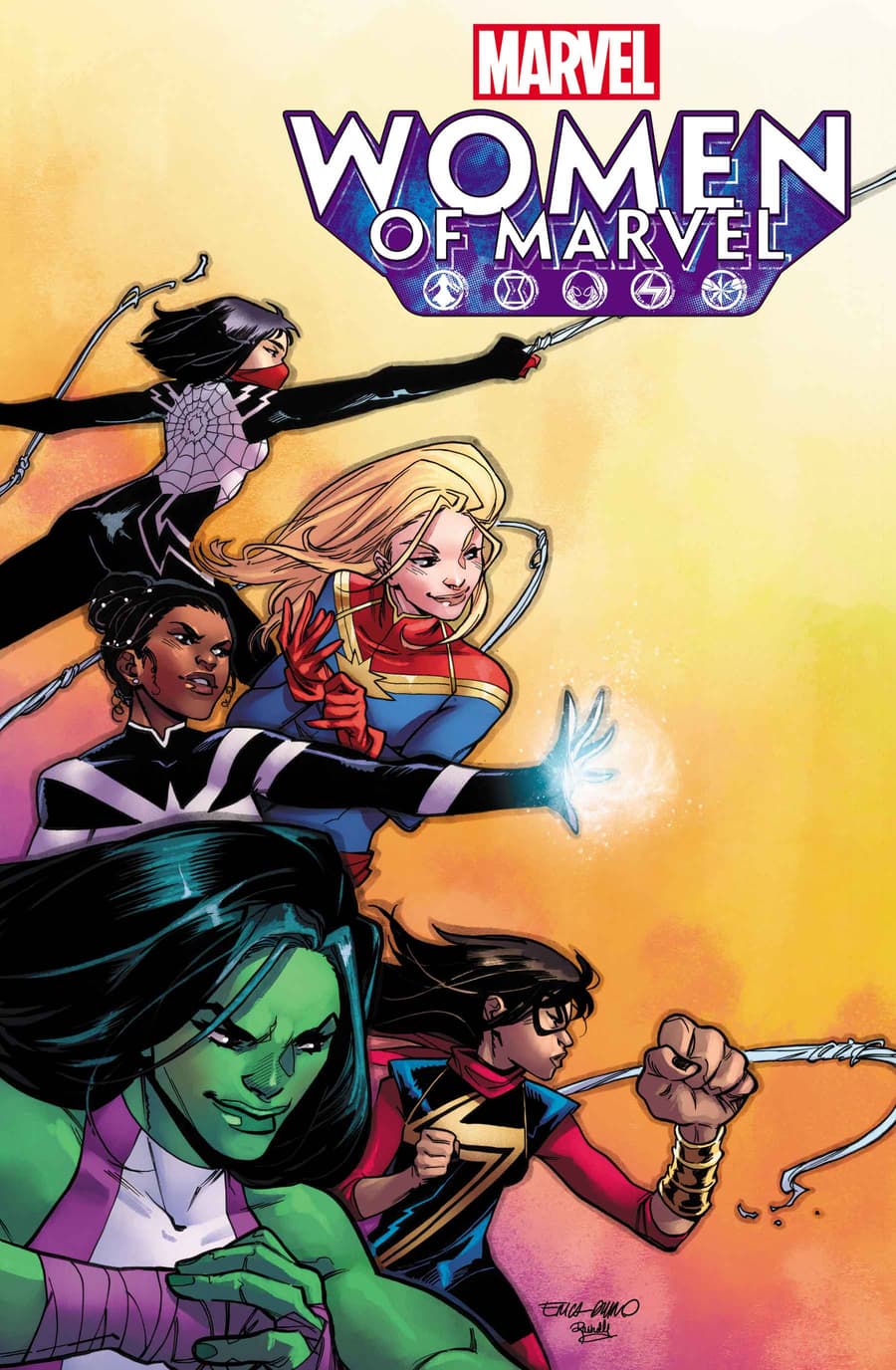 "WHAT A GIRL WANTS" Starring She-Hulk
Written by REBECCA ROANHORSE
Art by CAROLA BORELLI
Colors by RUTH REDMOND
Rebecca Roanhorse, award-winning novelist and writer behind the recent PHOENIX SONG: ECHO series, breaks the fourth wall with She-Hulk to provide one-of-a-kind commentary in a brilliant opening story with rising star artist Carola Borelli.
"I was thrilled to be asked to contribute to this issue. Writing She-Hulk was a particular treat," Roanhorse shared. "I was a lawyer for a decade before I became a full-time writer, so getting back in the courtroom with a light-hearted story was pure fun. For me, WOMEN OF MARVEL never disappoints."
"The thrill of being part of this project is indescribable," Borelli added. "I immediately felt the energy and enthusiasm. I love trying my hand at such multifaceted female characters and as my debut, I couldn't ask for anything better. She-Hulk is such a strong and dynamic character that it was exciting to be able to grasp the various nuances and bring them back to paper."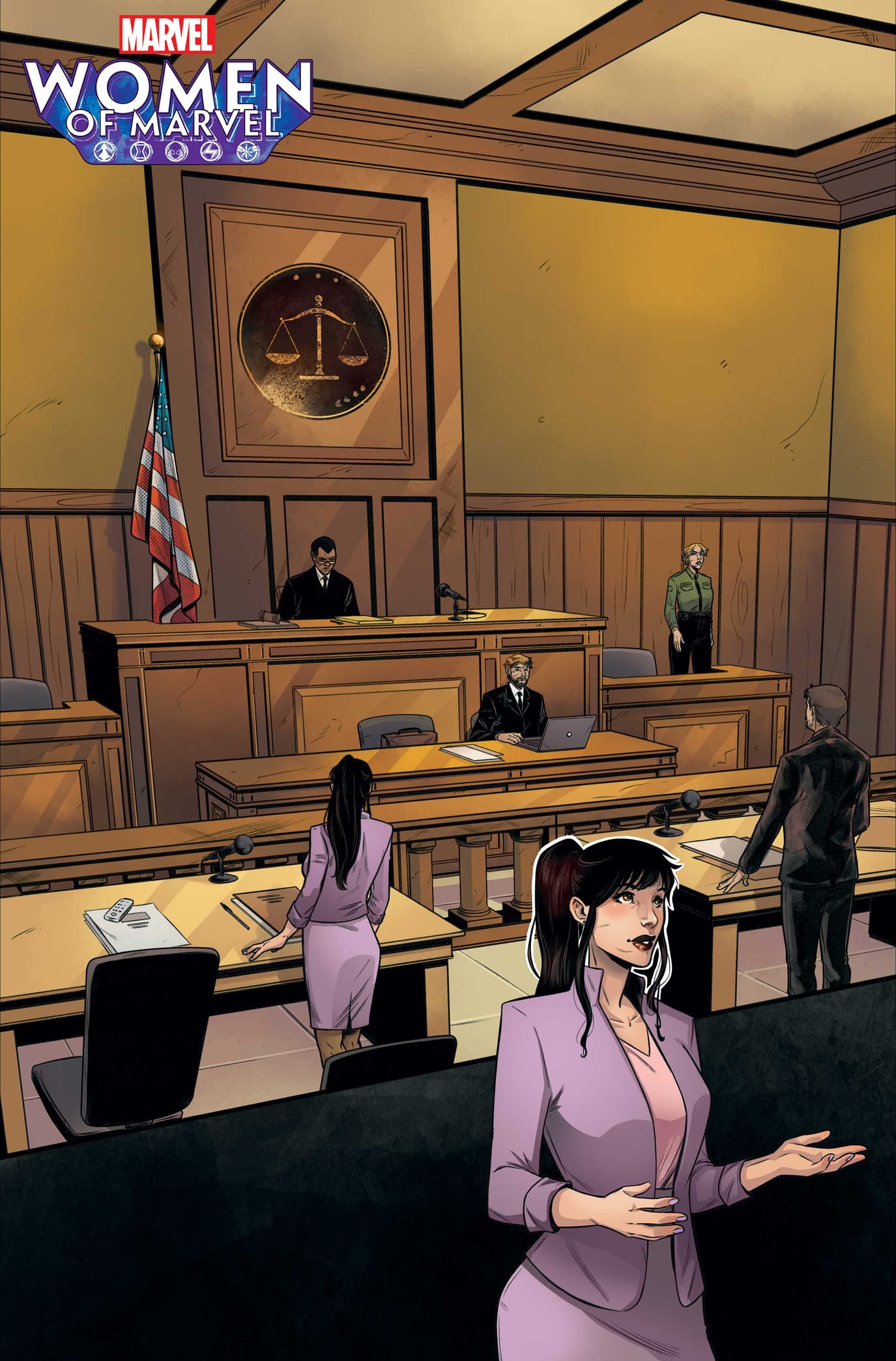 "SING YOUR HEART OUT" Starring Black Cat & Silk
Written by VICTORIA YING 
Art by JODI NISHIJIMA
Colors by BRITTANY PEER
Critically acclaimed author and illustrator Victoria Ying (City of Secrets) and artist Jodi Nishijima (SPIDER-GWEN: GWENVERSE) spin a wild web for Silk as a night out with Black Cat turns deadly as the two face off against the illusion mastermind, Mysterio!
"Marvel stories were some of the first stories to make me feel something. I remember clearly being 10 years old when Peter Parker said goodbye to the clone of Mary Jane in the animated series and I shared the heartbreak with a fictional character on screen," Ying recalled. "I'm so proud to be making my Marvel Comics debut with Silk and Black Cat and contributing to a long history of creators bringing empathy to their stories about Super Heroes. "
"It was a privilege to not only be included among such talented artists and writers, but to also help on a project that is meant to shine a much deserved light on them as well," Nishijima said. "Drawing Silk and Black Cat was a treat, since not only do I have a soft spot for spider women, but both of them embody a lot of my aesthetic and personal sensibilities. I will always love illustrating cute and beautiful women confidently being themselves!"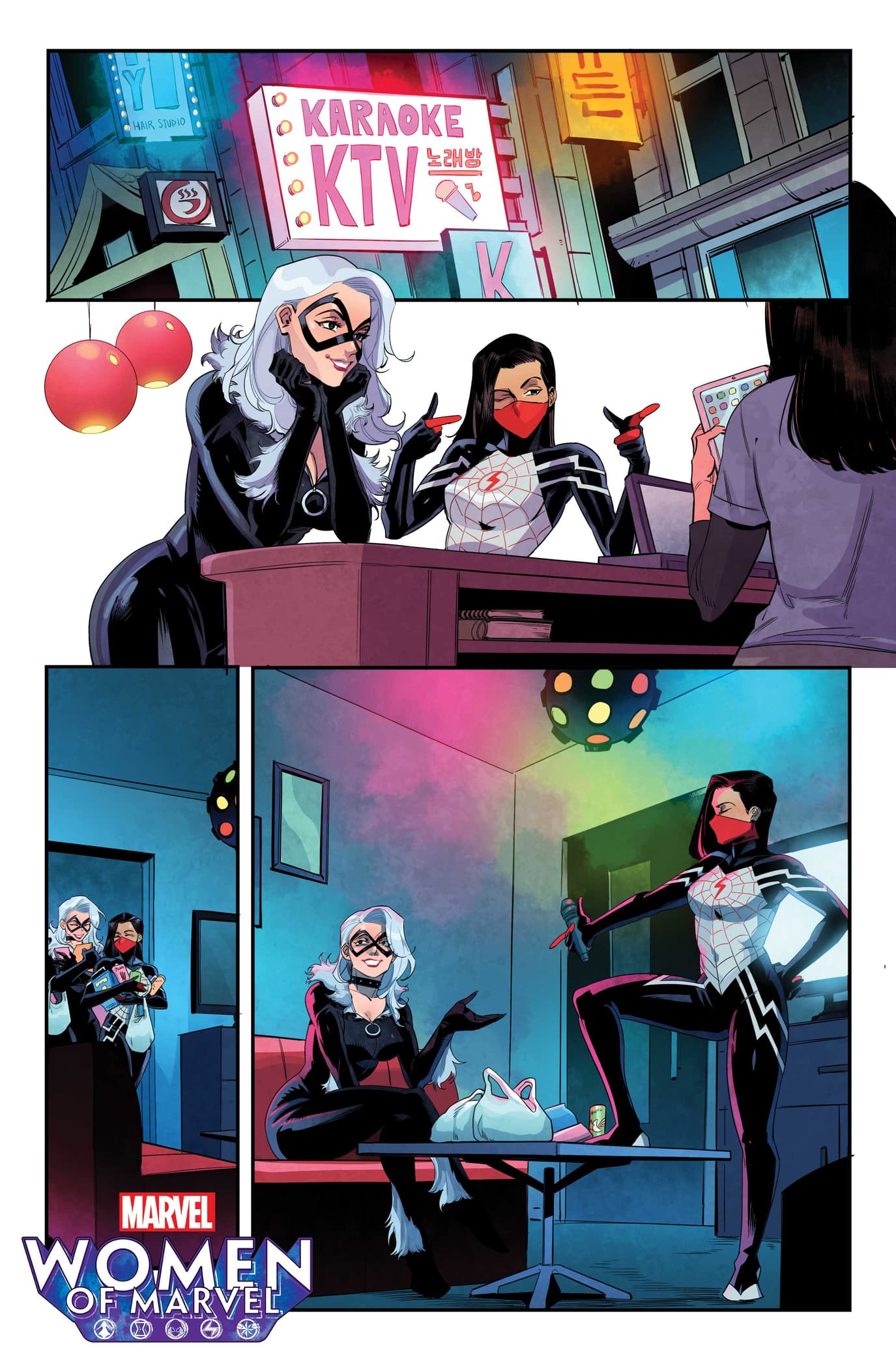 "A STARLING RESCUE" Starring America Chavez & Hawkeye
Written by MELISSA FLORES
Art by STACEY LEE
Colors by RACHELLE ROSENBERG
Mighty Morphin Power Rangers scribe Melissa Flores and artist Stacey Lee (SILK) send best friend duo America Chavez and Kate Bishop on a pulse-punching rescue mission to save one of their own!
"I still don't believe this is real! Contributing to this anthology among such talented women feels like a fever dream in the best way possible," Flores shared. "And I got to write about America Chavez! As a queer Latina comic book writer, I don't think I'll ever come down from this zenith. Giving her and her BFF Kate Bishop (and Pizza Dog) a night off is an absolute career highlight."
"My favorite projects are ones that give me the opportunity to show off the strength and beauty of interesting women. America and Kate's bond in this story show us some of the best parts of female friendship, reminding us that we can always rely on our friends for love, support, and of course, pizza," Lee added.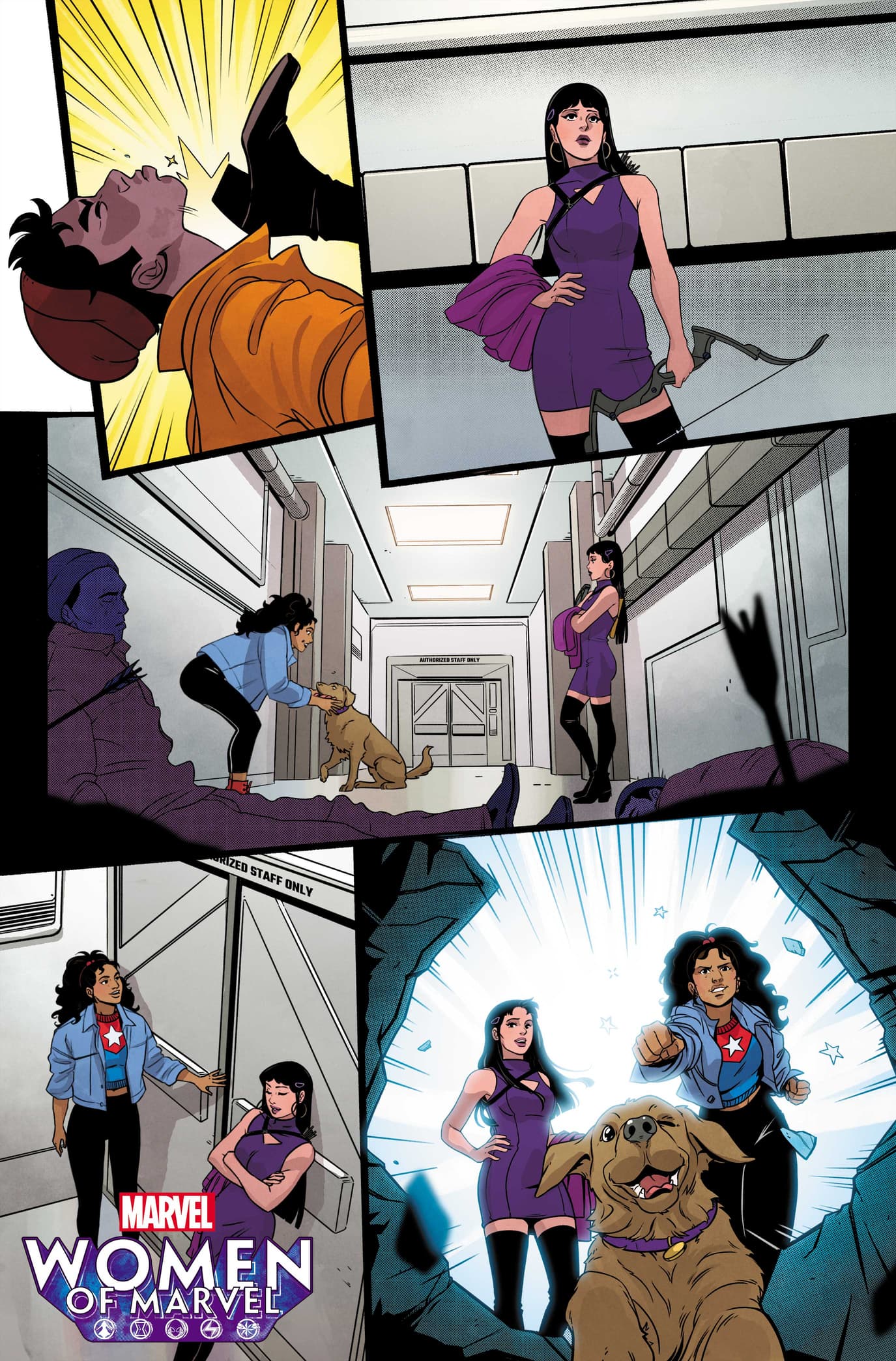 "ENERGY VAMPIRE" Starring Photon & Ms. Marvel
Written by SHAWNEE & SHAWNELLE GIBBS
Art by GIULIA GUALAZZI
Colors by GIADA MARCHISIO
The award-winning writing and producing team The Gibbs Sisters, Shawnee Gibbs & Shawnelle Gibbs, join newcomer artist Giulia Gualazzi for a story about Photon and Ms. Marvel battling an old enemy in the Big Easy!
"Monica Rambeau is the kind of character you dream of writing. She's been around for over 40 years and is one of the most powerful women in the Marvel landscape, which is why we chose to spotlight this fascinating hero in our story," Shawnee Gibbs explained. "It's a true honor to follow in the footsteps of such prolific storytellers as Roger Stern, Dwayne McDuffie, and Eve Ewing in telling her story, alongside such an amazing group of anthology creators."
"We're incredibly honored to have this Photon and Ms. Marvel team-up as our Marvel debut," Shawnelle Gibbs added. "It was so fun to write, and takes place in one of our favorite U.S. cities—Monica Rambeau's hometown–New Orleans. The anthology team is the best in the business, and artists Giulia Gualazzi and Giada Marchisio are absolute superstars."
"As my first time teaming up with Marvel, it's been beyond thrilling, to say the least, to collaborate with an amazing team of women to bring to life this new comic," Gualazzi said. "As a reader, illustrating your favorite characters is a different experience; drawing Ms. Marvel and Monica Rambeau in action has been both challenging and fun-filled. I can't wait for you to have as much fun reading it as I had creating it!"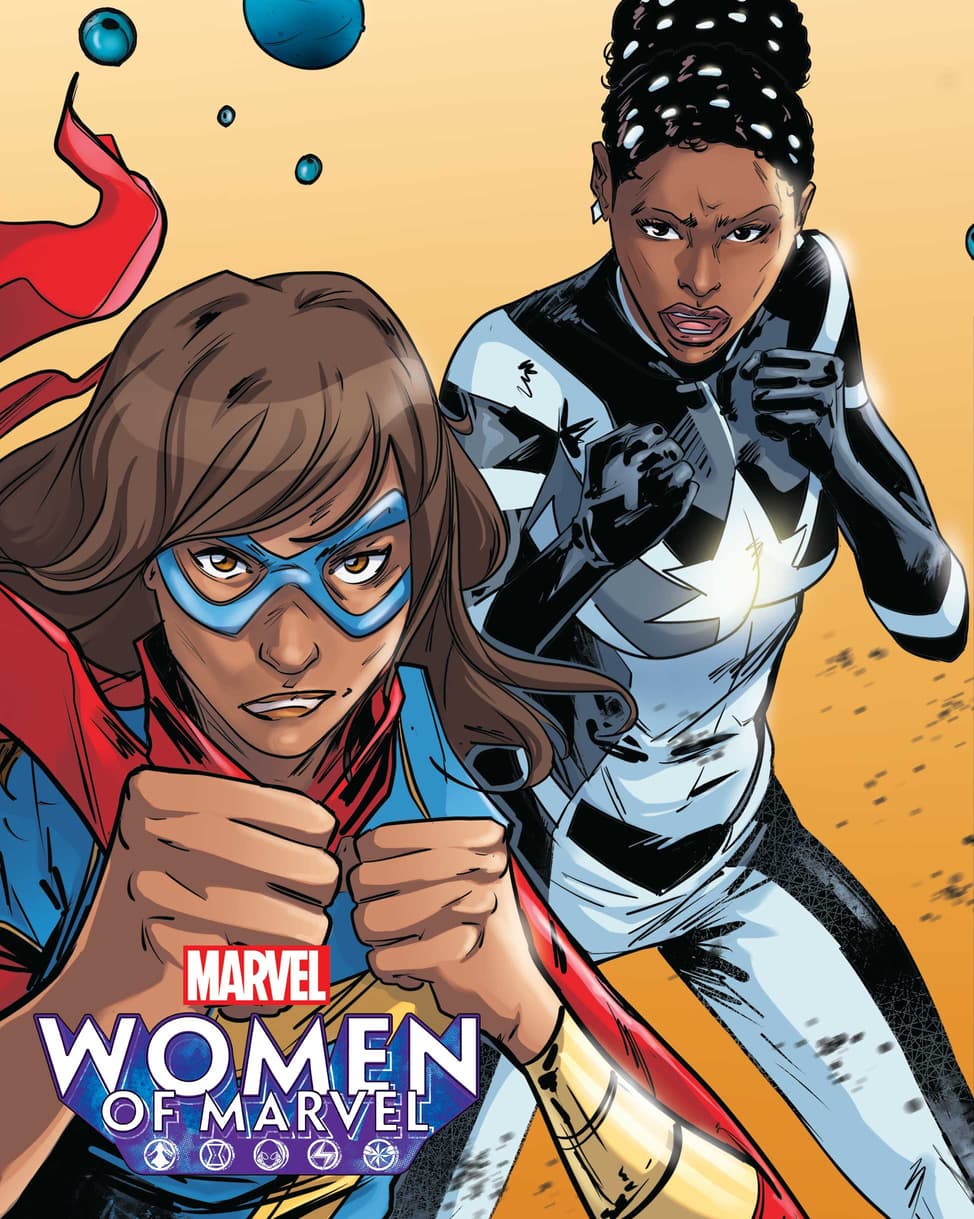 Celebrate Women's History Month Marvel Comics-style when WOMEN OF MARVEL #1 hits stands on March 22!
You can grab these comics and more digitally or at your favorite local comic book shop. Be sure to ask your local shop about their current business policies to observe social distancing or other services they may offer, including holding or creating pull lists, curbside pick-ups, special deliveries, and other options to accommodate. Find and support your local comic book shop at ComicShopLocator.com or by visiting Marvel.com/LoveComicShops.
For digital comics, all purchases in the Marvel Comics app can be read on iPhone®, iPad® and select Android™ devices! Our smart-paneling feature provides an intuitive reader experience, ideal for all types of mobile device and tablet users! Download the app on iOS and Android now!
The Hype Box
Can't-miss news and updates from across the Marvel Universe!