Comics
Published August 21, 2018
Writer Margaret Stohl Previews THE LIFE OF CAPTAIN MARVEL #2
Carol Danvers' past "is coming for her, one way or another."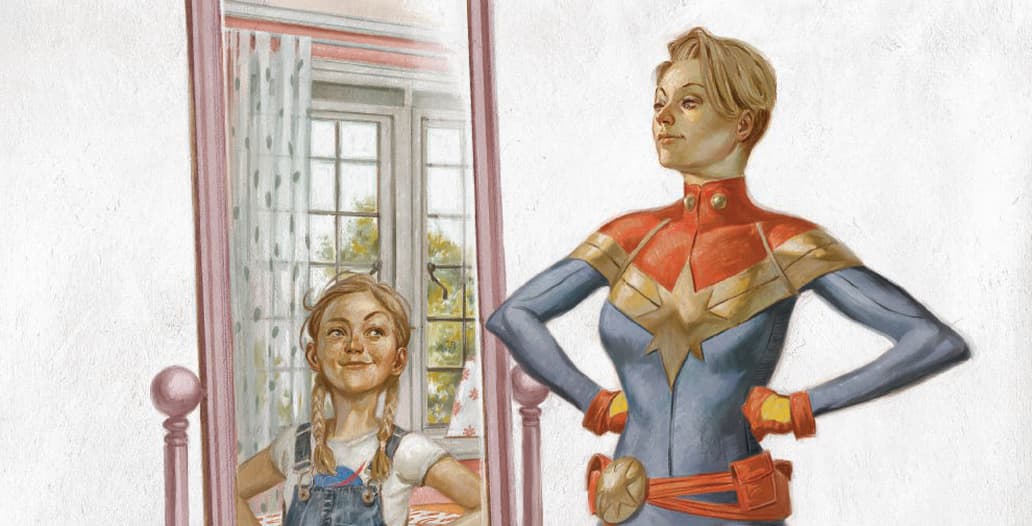 In THE LIFE OF CAPTAIN MARVEL #1, the recollection of a traumatic event in Carol Danvers' childhood compels her to return to her family's summer home to face her past. A tragic accident forces her to stick around longer than planned and take a hiatus from the Avengers to face herself, her guilt, and what her dead father left behind.
Before issue #2 hits shelves on Wednesday, August 22, Marvel.com talked to writer Margaret Stohl to shed some light onto Danvers' origin story and her challenges ahead.
Marvel.com: In the first few pages of issue #1, it's clear that Danvers' painful memories of her father drive her fight with Tanalth and Moonstone but it's a panic attack that defeats her. As Earth's Mightiest Hero, how do these panic attacks track with her abilities? Are they something she'll be able to overcome?
Margaret Stohl: There are so many kinds of battles in life. Sometimes I feel like the ones that involve punching out an enemy are the easiest. A panic attack is the Mole Man of mental enemies: harder to get at, hiding mostly beneath the surface, and you have to do a lot of sleuthing to find where it hides before you can get in front of it and punch it out. It's just the start of an exploration Carol will have to undertake on her own, and a path that leads invariably back to her past and her family, as it does for most of us. As to whether or not she'll overcome them, well, Carol's never walked away from a fight, so I'm guessing the odds are good she'll figure something out!
Marvel.com: As Tony offers support, which he is known for doing with Danvers, is she finding a surrogate father figure in him? Will we get to see another Avenger step in as surrogate in future issues?
Margaret Stohl: I love writing Carol and Tony together. He's not so much a father figure as a big brother, but the two of them have this long, storied relationship based on so much shared history (*cough damage) that it's never dull. Bonding over their Father's Day struggles was an amazing scene to write, not just because it's so universally relatable, but because it's so particularly true for both of those characters. They both have fathers who cast long shadows, for very different reasons. I think Tony is sort of a unique figure to Carol, but I love the individual relationships she has with all her Avenger brothers-from-another-mother. And Jen, her sister from another… hulk.
Marvel.com: The first two issues explore Danvers' past and present at her family's summer home in Harpswell, Maine. Why is this setting important?
Margaret Stohl: This is an origin story, so we're returning to her origins. I love origin stories; they're deceptively simple family narratives, but incredibly dense mysteries. When Carol returns to Harpswell she's "returning to the scene of the crime" with regards to her family, and I think we all know how scary that can be. Our most terrifying battles and nightmares are always with our past selves. I have spent my entire life wondering how I came to be the person I am, how I connect to my extended family and our community. Carol's childhood home is where the last piece of her own personal horcrux is hidden, so to speak.
Marvel.com: The first issue explores Danvers' past relationship with her father and brothers via flashbacks and her current rocky relationship with her brother, Joe Jr., who gets into a serious accident. How does issue #2 dive deeper into these relationships?
Margaret Stohl: Because of Joe's accident, Carol has no choice but to settle in for the long haul in Harpswell, Maine. That's why the first issue is called "Trapped." Carol's whole life is on pause. She honestly doesn't know if she will ever be an Avenger again, not while Joe Jr. is in recovery. Carol won't abandon her mother even if it means encountering painful memories of her troubled life with her father. Actually, this particular element of the LIFE OF CAPTAIN MARVEL storyline was inspired by an experience I had in grad school. My father-in-law suffered a traumatic brain injury, and my husband and I found ourselves taking time off from Yale to live in my husband's childhood bedroom in Salt Lake City and help his mom. When you find yourself suddenly returning home like that, it's deeply disorienting and almost automatically emotionally fraught. We all wanted to see how Carol would handle it.
Cover by Julian Totino Tedesco
Cover by Julian Totino Tedesco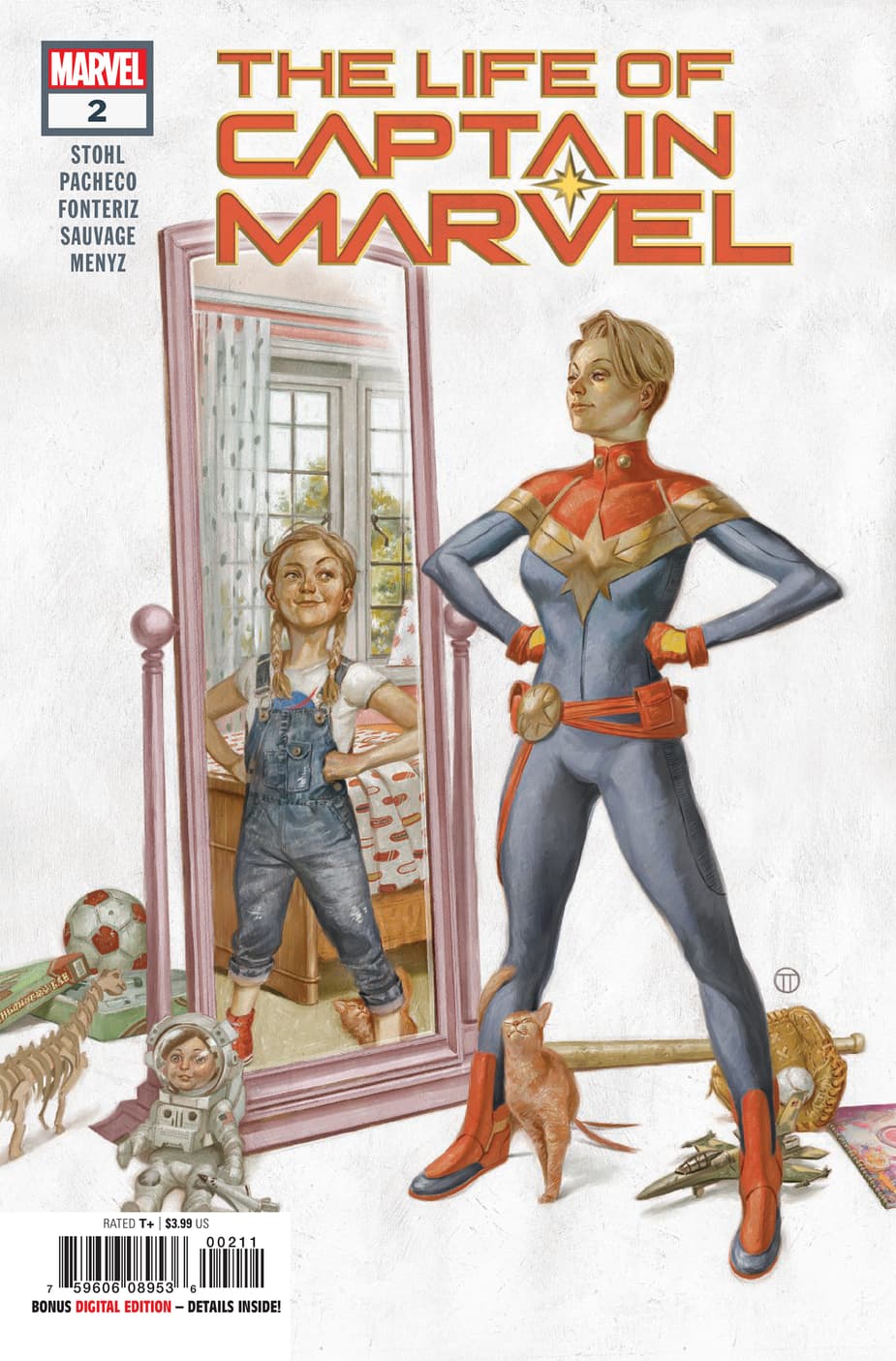 Marvel.com: There are several emotionally-driven decisions that Danvers makes in issue #1 surrounding her unresolved issues with her father. Will she be able to resolve any of them or will being home in Harpswell open Pandora's box?
Margaret Stohl: Carol pulls a few threads in issue #1 -- wittingly and unwittingly -- that will just keep unraveling, all the way through LIFE. That's why the title for issue #2 is "Hunted." Carol's past is coming for her, one way or the other.

Marvel.com: At the end of issue #1, Danvers finds a strange device and a damaging letter that puts her alcoholic abusive father in a worse light. How will issue #2 dive deeper into the consequences of the letter? Is Joseph Danvers at all redeemable? Unbeknownst to Danvers, the strange device makes contact off-planet and sends another device that's growing a humanoid. Will we get to find out more about the embryo it's carrying?
Margaret Stohl: I can't say too much (Spoilers! You'll just have to keep reading!) but I can say you will ultimately learn everything, while also learning nothing is exactly as it seems. LIFE attempts a scope greater than anything I've attempted in the past, and that's a testament to what was a truly collaborative effort. As I've said, so many Marvel genius minds broke out this story with me -- Joe Quesada, Axel Alonso, Sana Amanat, Steve Wacker, Sarah Brunstad, Mark Basso -- it was just an exhilarating jam session.
Marvel.com: On THE LIFE OF CAPTAIN MARVEL, you are working with artists Carlos Pacheco and Marguerite Sauvage, Pacheco tackling the present-day art while Sauvage manages the flashbacks. How do their processes influence your writing of Danvers' or vice versa?
Margaret Stohl: I'm so inspired by both Carlos and Marguerite. Carlos has a classic Super Hero sensibility that is very present, while Marguerite delivers vintage, nostalgia-inflected panels that really feel like memories. Both styles are super emotional, and both vividly illustrate conflicted sides of Carol's identity. It just works so well, as I suppose contrast always does. It all feels so truthful. I had the pleasure of having dinner with Carlos in Madrid last month, and it was lovely to be able to tell him firsthand how much his art has meant to me, personally. Someday I hope to do the same with Marguerite. For me, this really has been one of those "once in a lifetime" creator-driven experiences.
Marvel.com: How do you anticipate this retelling of her origin story will change the character or fans' expectations?
Margaret Stohl: This is Carol at her most human. She's sharing something deeply personal, and I hope readers can find their own ways to connect to that, and to her. We are all just humans. We are all disasters and things of beauty and strong and frail and perfection and invariably, giant messes. I hope we can celebrate her humanity, and ours.
Art by Carlos Pacheco
Art by Carlos Pacheco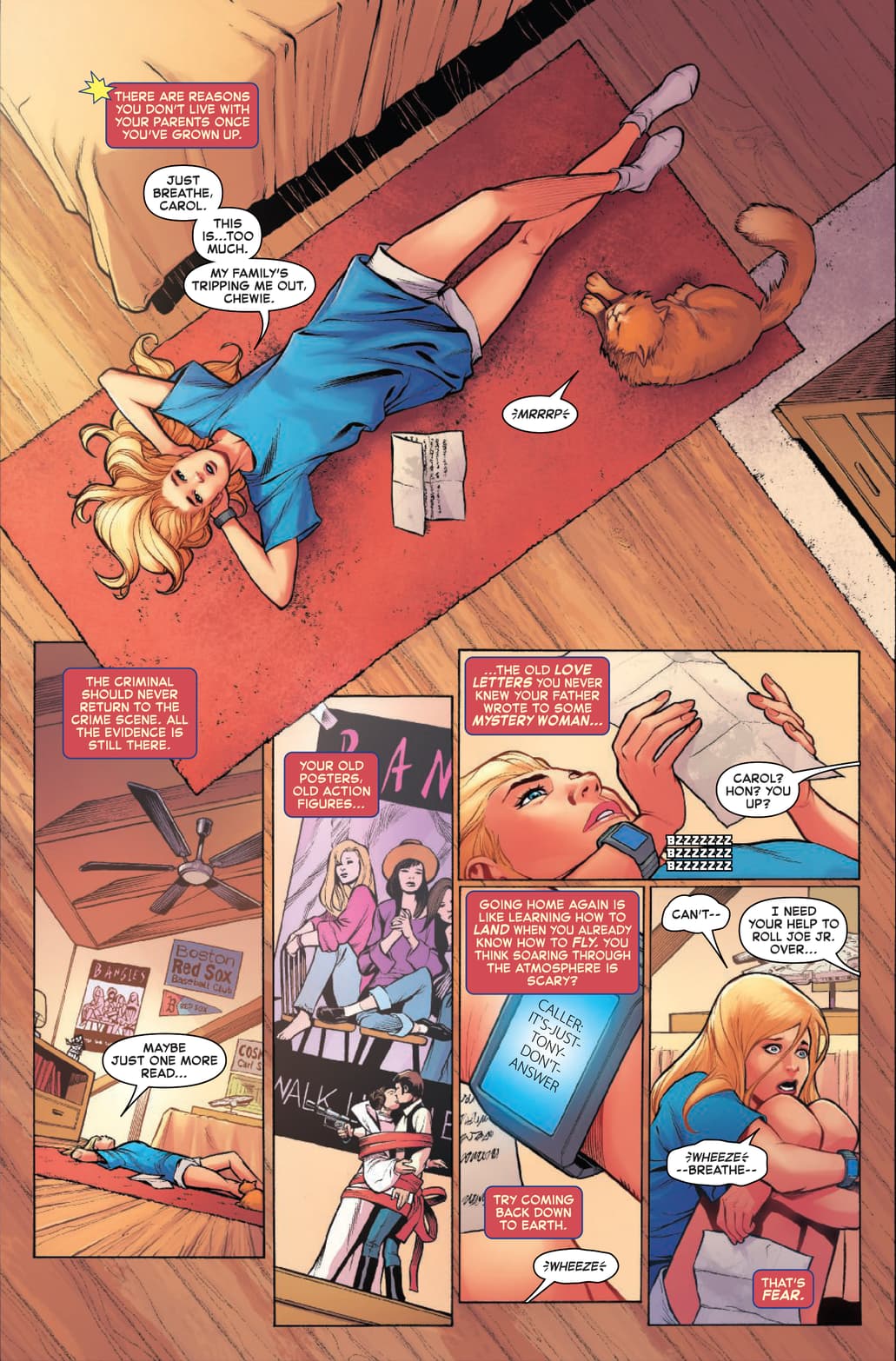 Marvel.com: In the Letters of Captain Marvel at the end of issue #1, you mention your call-and-response with Kelly Sue DeConnick. What kind of advice did she impart for this new aspect of Danvers' journey? 
Margaret Stohl: Kelly Sue DeConnick paved the way and still does. People love to imagine powerful women in competition against each other but -- especially in traditionally "male" communities like comics -- we women creators love and need each other.
Marvel.com: You also thank Carol Corps in the letter. Has the fandom inspired the direction of this story in any way?
Margaret Stohl: The "Carol Corps" is an extension of that [comradery], and they've been amazingly supportive of me and of Carol. They're our crew. They've gotten me through more days than they realize, and I will always be grateful.
Marvel.com: What did you learn from your run on THE MIGHTY CAPTAIN MARVEL that will be taken into this arc?
Margaret Stohl: MIGHTY was how Carol and I got to know each other. I was trying things out and seeing what stuck, kind of feeling my way around her point of view, her relationships, her world. She had some rebuilding to do after Civil War II, so I gave her the time to do it. Now in LIFE, I've probably kept what I think of as her core personality: her toughness, her loyalty, her sense of humor, even in darker times. I've probably let the readers into her head more. I know I feel like I'm in her head more, now.

Marvel.com: What do you want readers to know going into the second issue and beyond?
Margaret Stohl: I just want them to keep reading. The response to LIFE has been so overwhelming and so positive, so far beyond anything I could have imagined. I'm grateful, and I'm humbled, and I'm happy for our girl Carol. So thank you, all of you, for finally giving Carol her shot.
THE LIFE OF CAPTAIN MARVEL #2 goes on sale Wednesday, August 22. You can still pre-order your copy today online or at your local comic store!
The Hype Box
Can't-miss news and updates from across the Marvel Universe!