Comics
Published October 30, 2017
X-Men: Blue – A Matter of Time
The mutants of yesterday struggle to save tomorrow with Cullen Bunn!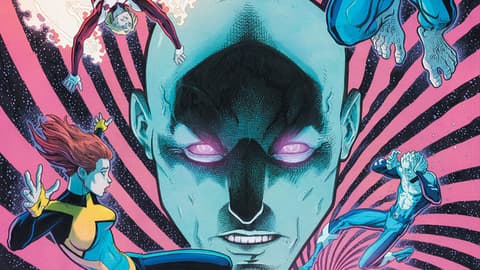 When the timeline gets fractured, who would be better qualified to fix it than the time-displaced X-MEN: BLUE teens themselves? Writer Cullen Bunn and artist Thony Silas present X-MEN BLUE #16, out on November 29!
The X-MEN: BLUE team has been struggling with the knowledge of their own potential futures—including a bunch of traumatic events—but in "Cross Time Capers" they're forced to face those events first-hand. When Magneto gives the team a time machine, they scramble to save the continuum and figure out who and what to make of themselves in this brave new world.
Cullen Bunn drops by to catch us up on the timeline(s?!) and what's in store for X-MEN: BLUE.
Marvel.com: So catch us up on what's going on with the X-MEN: BLUE team lately!
Cullen Bunn: The Blue team has had a lot going on as of late. They've been battling demons from alternate realities, adding vampires to their ranks, starring in blood sports for Mojo's delight, and more! When I started writing this book, I was determined to throw a lot at these characters. There would be stories coming in from all directions. And no sooner than one adventure ends, another begins. Next up, the X-Men are being thrown through time on some outrageous escapades through time and space.
Marvel.com: How exactly does one "time cop"?
Cullen Bunn: Only Jean-Claude Van Damme knows for sure. But the X-Men are gonna give it a good old mutant try! There's something dreadfully wrong in the time stream, and the Blue team is uniquely qualified to handle the situation. They have a time machine that Magneto has been building secretly in the basement of the mansion. They're going to be putting that to good use, and they'll be meeting the X-Men from 2099, as well as Generation X, The White Queen, and even Magneto from the past. The Blue team will be meeting Emma Frost from her Generation X days and Magneto from the height of his super villain days. Imagine that for a second.
Marvel.com: Jean's been dealing with the knowledge of the Phoenix future that might await her, but how are the others grappling with the idea of their potential selves?
Cullen Bunn: For the original five X-Men, the future is the past. That's a strange concept, but if they are going to grow into their more well-known counterparts, they have to return to the time they left behind. That scares the X-Men, because they have grown and changed while they have been in our world. If they return to theirs, either they have to abandon everything they've become or the future will change—drastically.
Marvel.com: How is Bloodstorm adapting to the team?
Cullen Bunn: Bloodstorm will always be a little out of place in this team. Remember, in her world, she killed many of the X-Men because of her unnatural hunger, so she's always on edge, always on guard. But she has connected with at least one member of the team: Bloodstorm and Cyclops seem to have formed a bond.
Marvel.com: How is Beast doing after the events with Goblin Queen and his dangerous forays into magic?
Cullen Bunn: Beast is holding up well. He's dealing with some guilt and a sense of worthlessness. That's what led him to delve into these dark forces, anyhow. Now, though, he knows he can't use magic without opening himself up to corrupting magic. He's willing to do this in dire situations, but he must be careful. Of course, there might be some additional ways in which Beast could enhance his abilities, and we might see that in the time travel story…
Marvel.com: How is the team dynamic with GOLD doing after the events of their Marvel Legacy crossover?
Cullen Bunn: The dynamic post "Mojo Worldwide" will be both better and worse. The teams will have worked together. They'll have a better understanding of each other. But, the revelation that they've been secretly working with Magneto all this time will strain the relationship a bit.
Marvel.com: What's it like writing the X-Men so young? How did you get into their heads as teens?
Cullen Bunn: I genuinely love these characters, so it's a delight to write them at this stage of their lives and on these adventures. I draw on my own youth to some degree when writing these characters, but—if I'm being honest—young people today are a lot smarter than they were when I was one of them. If nothing else, I brought the mental average down quite a bit. So, I try to think of universal truths and universal challenges that we all go through at some point in our life, then try to think about how these heroic teens might manage these situations. Tempering that with the individual attitudes and experiences of the characters, it helps to pull it altogether in a way that rings true.
Marvel.com: This story touches on how the timeline is fractured. Can you hint more about what we'll be able to expect from that concept?
Cullen Bunn: So, there's been this ongoing debate around this idea: are the original five X-Men from an alternate reality? Are they genuinely from the past of this universe? In this story arc, we'll be answering that question fairly definitively.
Pick up X-MEN: BLUE #16 by Cullen Bunn and Thony Silas—available November 29!
The Hype Box
Can't-miss news and updates from across the Marvel Universe!