Comics
Published January 23, 2018
X-Men Blue Annual: Pick Your Poison
Cullen Bunn kicks off the newest Venom crossover!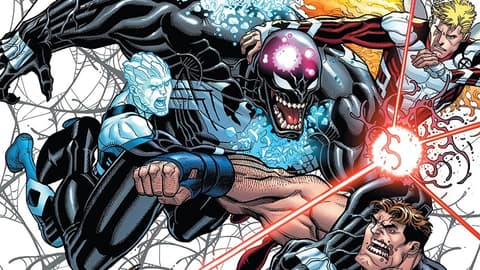 The crossover between X-MEN: BLUE and VENOM starts here!
Spinning out of the aftermath of VENOMVERSE, a new threat looms over all that the mutant's hold dear. In response, Marvel Girl, Cyclops, Iceman, Beast, and Angel must team up with an unlikely ally—Venom! On January 24, Eddie Brock teams up with the Children of the Atom in writer Cullen Bunn and artist Edgar Salazar's X-MEN: BLUE ANNUAL #1!
We spoke with Bunn about what to expect from this show-stopping story.
Marvel.com: Where does this Annual fall in the timeline of the current X-MEN: BLUE series?
Cullen Bunn: The "Poison-X" story takes place some time after Thanos discovers our universe in VENOMVERSE. The Poisons have been working quietly, but quickly, making some dastardly preparations. Of course, the X-Men know nothing of this. They are drawn into this adventure because of the Starjammers. Cyclops learns that his father (Corsair) and the rest of the Starjammers have gotten themselves into hot water involving alien symbiotes. That lures the X-Men into space, and that gets them to bring Venom with them as a kind of subject matter expert.
All this, of course, couldn't come at a worse time. The X-Men have just returned from their home timeline and are reeling from the repercussions of that trip, and they are right in the middle of investigating the Mothervine conspiracy.
Marvel.com: Who are the Poisons and what do they want?
Cullen Bunn: Imagine a weak, fragile creature…a being with no real power whatsoever, a creature at the bottom of the food chain because it's not that smart and not that strong. Then, it discovers it can be extremely powerful with no real effort! This creature takes that power and uses it to gain more power. All the while, it has this complex because it knows it was always weak and ineffectual, and now it's angry it ever felt that way in the first place and wants to vent that rage on the rest of the world.
Poisons have discovered that they are the perfect hosts for alien symbiotes. They have also learned that if they take a symbiote that is bonded with a super-powered individual, they gain all those powers as well. Now they've been combing time and space, using these symbiotes as weapons to help them gain even more power. They're bullies and conquerors, but deep down they are terrified of losing what strength they have. That makes them very dangerous.
Marvel.com: And what can you tell us about Mothervine?
Cullen Bunn: Mothervine is already appearing in the pages of X-MEN: BLUE. It is a formula that Miss Sinister discovered in the DNA of mutants from the Ultimate Universe, and it appears to be granting secondary mutations to those exposed to it. There also seem to be some pretty severe side effects. But Miss Sinister—along with Bastion, Havok, and the White Queen—appear to have a plan for Mothervine. We don't know exactly what they're doing, but Magneto wants to know in a major way…
Marvel.com: How does Eddie Brock interact with the Blue team—and what problems does this team-up present?
Cullen Bunn: Venom wants nothing to do with the X-Men and their adventures through space. The X-Men, of course, won't take no for an answer so they do what X-Men do in situations like this: they try to kidnap him.
You could say that Eddie and the X-Men get off on the wrong foot, but over the course of this story, they start to develop an understanding and even a friendship. I feel like Venom and Cyclops will be friends for a long while after this.
Marvel.com: How do the nuances of Edgar Salazar's style bring this story to life?
Cullen Bunn: Edgar has to balance mystery and horror and symbiotes and science fiction in this Annual. We're in a full-blown science fiction space opera here, and he does a tremendous job of setting us up! I always loved Cosmic X-Men stories as a reader, so I love seeing what Edgar is doing with that kind of tale.
Marvel.com: What's it been like to write Venom again?
Cullen Bunn: Writing Venom is always a lot of fun. This time around is a little different for me, though, because we're getting into the symbiote's head a lot more than I've done before. We have internal symbiote monologue and symbiote dialogue, so that's interesting for me. And having Eddie interact with characters like the X-Men shows a different side of his personality.
Marvel.com: X-MEN: BLUE and VENOM have very different tones—was it difficult to combine those two worlds for this crossover?
Cullen Bunn: To some degree, yes. There were challenges in making this story true to both Venom and the X-Men. In the end, though, every creative team brings their own tone to these characters. I think I've struck the right balance of VENOM story and X-MEN story, but I'm also creating a different tone that works with these characters as a whole.
Marvel.com: Can you give us any hints about what the implications of this storyline will be moving forward?
Cullen Bunn: Wow. I don't know. Well, VENOMIZED has already been announced, so we now know that the Poisons are coming to Earth. Venom and the X-Men will be involved in that story, so Poison-X serves as a prologue of sorts.
I'll also say this: this story has some bleak moments and hits the X-Men right where it hurts the worst.
On January 24, go cosmic with Cullen Bunn and artist Edgar Salazar's X-MEN: BLUE ANNUAL #1!
The Hype Box
Can't-miss news and updates from across the Marvel Universe!