Comics
Published November 13, 2017
X-Men: Blue – Future Shock
Cullen Bunn previews the squad's meetup with the X-Men 2099!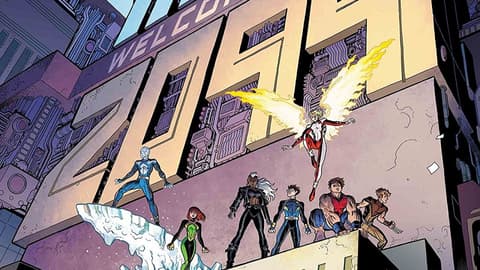 Stranded 82 years in the future, the X-MEN: BLUE squad needs to figure out what's gone wrong with the timestream in order to return to their own era. And when Jean Grey and her comrades call for help, the X-Men 2099 answer.
On December 13, writer Cullen Bunn and R.B. Silva put this mutant group to the test with "Cross-Time Capers Part 2" in X-MEN: BLUE #17!
Since we don't have a time machine to jump to December now, we asked Bunn to give us a few hints on the future of X-MEN: BLUE!
Marvel.com: Catch us up on how the team got lost in time!
Cullen Bunn: The big question for the X-MEN: BLUE team is…do they really come from the past or do they come from some alternate reality? They don't know the answer themselves.
They went back in time (during the ALL-NEW X-MEN run by Skrull-masquerading-as-a-comic-writer Dennis Hopeless) and they saw themselves right where they should have been! For a New York minute, they thought they had gotten some "Get Out of Paradox Free" card. But they came from somewhere, right?
In this arc, they'll learn that their presence in this timeline has severe repercussions. To put a fine point on it, reality starts breaking down around them and they're the only people who can set things straight. They receive a summons—a "To me, my X-Men!"—from none other than Professor Xavier himself, only this time he's calling them from the past.
Luckily for them, Magneto has been building a time machine. Unluckily for them, the time machine has a few bugs in it…
Marvel.com: For readers who may not be super familiar, explain the '90s phenomenon of X-MEN 2099.
Cullen Bunn: X-MEN 2099 was the ambitious endeavor to introduce the merry mutants of the future to the world at-large. Just like SPIDER-MAN 2099, this gave readers a look into the heroes of tomorrow. Unlike SPIDER-MAN 2099, the characters were completely new. Other than the fact that they were mutants and X-Men, they had little connection to any characters from the "main" Marvel Universe.
We got introduced to some really strange and wonderful mutants—Skullfire, La Lunatica, Meanstreak, Metalhead, Bloodhawk! Bizarre characters and an equally strange world; a wild endeavor that really took the notion of super heroic world-building in some fun directions.
Marvel.com: What made you choose 2099 as the destination for this story?
Cullen Bunn: I chose 2099 for the weirdness of it all. When I set out to write X-MEN: BLUE, I wanted to embrace the "uncanny" side of the X-Men and put our team in some strange situations.
The 2099 mutant universe might be as weird as they come, and it gets even stranger in this arc. I like how these X-Men from the past encounter the X-Men from the future. I only have a little time to spend there, but I'm introducing a lot of little nods to the 2099 series, like the House of Pain. I'm also throwing some new twists into the mix, like Onslaught 2099 and AlchemaX (and, yes, that "X" is important).
Marvel.com: How have these young X-Men stepped up to this harrowing mission?
Cullen Bunn: The X-Men have a unique position to solve this problem. Reality has started crumbling. The past and the future have started resetting all around them. However, they all exist "outside" of this time and reality—even Jimmy and Bloodstorm hail from a step or two outside of our world. So, as these reality ripples pass them, they remain unchanged…for now. They must act fast, though, because the clock is quite literally against them.
Marvel.com: How do different members of the team feel about the damage done to the timeline? Do they enjoy time travel or do they see it as a living nightmare?
Cullen Bunn: We tackle this throughout the arc. You'll see that Iceman gets little more excited by this adventure. Maybe he's hopeful that they can set things right. That's at first…but he doesn't seem as thrilled with the idea that they may have to return home permanently to fix the problem.
Cyclops, on the other hand, sees the future of 2099 as a nightmare. It doesn't surprise him, though, it's a nightmare he's been expecting. He has a little more trouble when he encounters the White Queen of the Generation X era. She confuses him a little, because she's not the woman he thinks he knows. It'll leave some questions for him in upcoming issues.
Marvel.com: Did you and artist R.B. Silva research old time travel X-Men stories in preparation for this arc? How did you modernize this kind of tale to make it your own?
Cullen Bunn: That research is fun! I think R.B. had as much fun as I did, but—yeah—we had to supply him with a ton of reference material.
Making the stories a little more modern has been a challenge, but having this weird X-viewpoint…they're from the past, trapped in the present, visiting the future…helped to give it some new life. Also, the "time ripples" I mentioned helped to add many new twists and turns and surprises to the mix!
Marvel.com: Did you find inspiration from any particular time travel stories for this arc? 
Cullen Bunn: I guess I took little pieces from all over the place. Mostly, I leaned into this idea that little changes in the past can alter everything. And I liked the idea that time can almost be a living, changing thing—that when these paradoxes occur, time will work to correct itself but it isn't an instantaneous correction. That gave me a lot of fertile ground to work with and allows for some unexpected encounters along the way.
Marvel.com: If you, personally, could jump into one X-MEN event and watch it all go down first-hand, which would you choose?
Cullen Bunn: Holy cow! That's such a great question! And it's nearly impossible for me to answer!
But—really—wouldn't you have wanted to be drinking with Wolverine, Nightcrawler, and Colossus on the night Colossus brawled with Juggernaut? I have a feeling that I would have ended up getting my soul sucked out by Selene or something by the end of the issue, but I still would have liked to have bent an elbow with Logan, Kurt, and Peter.
Pick up Cullen Bunn and artist R.B. Silva's X-MEN: BLUE #17 on December 13!
The Hype Box
Can't-miss news and updates from across the Marvel Universe!