Comics
Published August 31, 2017
X-Men: Blue – Mutant Magic
Cullen Bunn details Beast's bewitching future!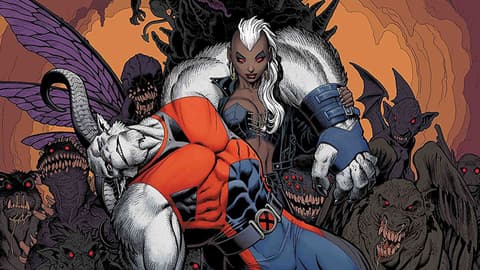 On September 13, writer Cullen Bunn and artist Douglas Franchin bring a magic wand to X-MEN: BLUE #11 as Hank McCoy (A.K.A. Beast) finds himself dealing with a sudden case of sorcery.
But how does he get these powers? How will he use them? And most of all, why does a brilliant scientist need to rely on the supernatural?
The answers to these questions—and more—come to light soon, but in the meantime, we decided to ask Cullen about what these new abilities could mean for the mutant Mr. McCoy.
Marvel.com: Beast has always been known for fighting with his claws and animalistic instincts—how might magic change his reliance on those abilities?
Cullen Bunn: Magic could change everything for Beast. Since coming to this time, he feels like he's always running to catch up—technology and science have left him in the dust, and it feels frustrating to no end. Beast has always relied on his scientific know-how and gadgeteering more than his muscles and agility, but now he feels as if he's lost quite a few steps. Magic seems like a way for him to find a new groove.
Marvel.com: Like you mentioned, Hank McCoy is a gifted scientist and scholar. What does this newfound talent do for his outlook on the natural world?
Cullen Bunn: Hank approaches magic as a new science. Not that different, to his way of thinking, than chemistry or biology. He's learning the "rules" of this science so he can master it. But magic is much more mercurial than any natural science—it has a way of slipping out of control no matter what you do…
Marvel.com: What kinds of challenges and dangers come along with these new powers—especially when bestowed upon an X-Man?
Cullen Bunn: Magic has been a part of the X-World for a long time—and it always seems to cause trouble for the mutants. When you get greedy for magical knowledge, you run the risk of making mistakes or drawing the attention of dark powers. That's really the problem that Beast starts dealing with. He has called up a power that he cannot easily put down.
Marvel.com: What else can we expect to see in issue #11?
Cullen Bunn: There will be a few new characters popping up. And we'll be seeing some magic-influenced versions of X-Men (who are being dubbed the Hex-Men) that I'm very excited about.
X-MEN: BLUE #11, by Cullen Bunn and artist Giovanni Valletta's, drops on September 13!
The Hype Box
Can't-miss news and updates from across the Marvel Universe!