Comics
Published May 26, 2017
X-Men Blue: Welcome to Madripoor
Cullen Bunn provides a tour for one of Marvel's nastiest locales!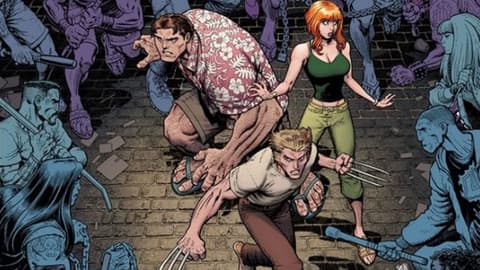 X-MEN: BLUE #6 sees our favorite mutants setting up shop on Madripoor, the super sketchy island historically populated by criminals, villains, and all kinds of shady characters. From the influence of A-list bad guys to the not-so-reliable justice system, we can think of more than a few reasons you might not want to make it your next vacation destination.
But writer Cullen Bunn has a different take—maybe Madripoor's not such a bad place after all?
Marvel.com: Madripoor has a pretty much laissez-faire government, meaning plenty of cutthroat deals can go down…
Cullen Bunn: Sure, sure, but they throw the very best parties. I mean, look, do you want to go to the same boring old barbecue every weekend, or do you want to go the party where anything could happen? Yes, that "anything" might include getting held hostage by the Hand or some militant MGH dealers, but embracing excitement—that's the Madripoor way!
Marvel.com: Because it doesn't allow extradition, Madripoor basically operates as a haven for criminals. Though some of them may cut deals to help maintain the status quo, it still makes it a less than safe place.
Cullen Bunn: But every corner of Madripoor isn't dangerous. If you can afford to hang out in High Town, you'll be spending time with a much more civilized group of criminals.
And the X-Men live there now. Doesn't that make you feel safer?
Marvel.com: As you mentioned, the Hand has historically had an interest in Madripoor—and you really don't want to stick around when those guys get involved.
Cullen Bunn: Do we forget that the Hand have a sense of honor? They have a code. They are noble assassins and killers. You know how if you want to keep the spider population down, you keep wasps around? Well, the Hand is kind of like those spider-killing wasps. They help keep the population of other criminal elements down.
See? Glass half full…of ninjas.
Marvel.com: In its early days, a lot of pirates lived in Madripoor, and that tradition of lawlessness still impacts the way it operates today.
Cullen Bunn: That just means you don't have the authorities breathing down your neck every time you want to jaywalk. People who live in Madripoor are free thinkers. They're like artists who all live together to create a special kind of community. Yes, a good many of these "artists" work in a medium that involves crime. Some of them work in murder the way Rembrandt worked in paint. But let's not get too judgmental.
Marvel.com: At various times, HYDRA, Magneto, and other villains have tried to use Madripoor as a base of operations, which has led to a fair amount of instability.
Cullen Bunn: Lots of villains have called Madripoor home, but now there are heroes like the X-Men getting in on the act, too. Not that the X-Men bring stability to their hometowns. They often only bring super villain attacks and building explosions.
But there are other groups who do want to see a little more stability in Madripoor, and they are working slowly but surely to do so. There's this one group called the Raksha I've been hearing about a lot. They are making some waves with their efforts to shape things up in Madripoor. But I'm not really allowed to tell you much about them.
Visit scenic Madripoor in X-MEN: BLUE #6 by Cullen Bunn and Ray-Anthony Height, coming June 28!
The Hype Box
Can't-miss news and updates from across the Marvel Universe!