Comics
Published November 20, 2017
X-Men: Grand Design – March of the Mutants
Ed Piskor tackles the unprecedented uncanny project!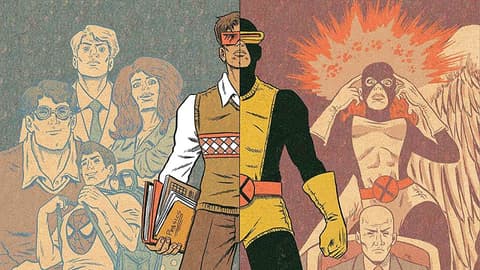 On December 20, X-MEN: GRAND DESIGN #1 chronicles the greatest and most important moments in X-Men history—from origins, to battles, to heroes and villains.
Written and illustrated by Eisner Award winner Ed Piskor, this monumental assignment will provide a brand new look at some of mutantkind's most iconic moments.
We got Ed's perspective on what to expect from X-MEN: GRAND DESIGN.
Marvel.com: Since we're talking history here, tell us how this series came about.
Ed Piskor: I tweeted that I wanted to do this exact comic and attached a compelling illustration of the lineage of the X-Men team. The image and tweet went viral and then Marvel came calling. I'm a fully-formed cartoonist who handles all the aspects of the creation, which basically means I'm a built-in comics-making factory with a million ideas. If I'm going to do any work-for-hire, the requirement is that it has to be a dream project or else I'll just work on my own stuff. This X-Men comic absolutely falls into the category of "dream project."
Marvel.com: Where do you begin with a project like this? How did you start to quantify everything you needed to cover across the history of the X-Men?
Ed Piskor: The most important thing with this, or any kind of project, begins with putting things down on paper. The common misconception of the audience tends to be that what they're looking at is the creator's first draft or something. In truth, the end result that the public gets to see, in my case at least, is probably a fifth or sixth draft. The liberation of making stories is that it doesn't have to be right the first time. In fact, the first draft is usually trash but what comes from that is the more fun challenge of problem-solving rather than just staring at white sheets of blank paper.
Thankfully, I have a pretty in depth knowledge of this material so it just became a matter of curating things in a certain order and retooling things to fit my narrative as needed.
Marvel.com: Do you feel there's an overarching story or theme in this series?
Ed Piskor: Sure. The overarching theme is the basic theme that's always been there: here stands a new form of human evolution and the bulk of the population fears them. Now, the really fun thing will be that with each issue, a very natural arc takes place—which I didn't necessarily anticipate. I'd want the reader to pick up on those themes themselves. It's not an X-Men comic if you don't have the dynamics between Charles Xavier and Magneto, for instance. The Phoenix left an indelible mark on the saga. Things like this.
Marvel.com: Did any characters stand out to you over the course of this book?
Ed Piskor: The characters of my comic act as a component piece to the bigger picture, the "Grand Design," if you will. As I've just reached beyond the halfway mark of my epic, I do hate to admit how much I identify with Cyclops as a character. I think of him as a Type A square with a one track mind which focuses on being an X-Man. I focus my square Type A energy on making the best comics I can, seven days a week.
Marvel.com: Likewise, did you get to highlight any X-character that maybe has gotten short-shrift over the years?
Ed Piskor: Not specifically, but I did retool some characters to get them to fit into the greater narrative a little better. Eric the Red's first appearance in the regular series never worked for me. Introducing Alex Summers so late never worked for me. Having Changeling be human cannon fodder disguised as Professor X never worked for me. The more I talk with readers, those comics never worked will for them either.
Marvel.com: How does being both the writer and artist for X-MEN: GRAND DESIGN benefit you most?
Ed Piskor: The benefits of handling everything, including lettering and coloring, is that each page exists as a living document until the very last moment the editor takes it from my hands and presses the buttons to make the comic see print. I rewrite text throughout the process to make things better. I redraw panels and stitch them in later to make things better. I recolor things at the last minute to just add a touch of polish that the reader won't know about, but it all makes the end product a much better experience.
Marvel.com: What parts of X-Men history does issue #1 cover?
Ed Piskor: The first issue covers the origins of the X-Men. I take all of the established origin stuff that slowly got revealed through the first 280 issues and it's all in this first issue. Now, the second issue will cover UNCANNY X-MEN #1 through issue #64 or so—whenever the series went into reprints for a few years.
Marvel.com: Rumor has it that this will be the first in a trilogy. What will the other two series cover?
Ed Piskor: Think of X-MEN: GRAND DESIGN as a series of three two-issue arcs. This next set will include the X-Men team that includes Colossus, Nightcrawler, Storm, and Wolverine—among many others—and covers GIANT-SIZE X-MEN and way beyond, ending around the first X-MEN: LIFEDEATH story. The last arc begins with Rachel Summers introduction, the return of Jean Grey and it ends in a clever way that I won't reveal, but I think it will create in incredibly satisfying, self-contained epic which will also inspire readers to dig deeper into X-Men lore. It's very exciting.
X-MEN: GRAND DESIGN #1, by Ed Piskor, drops on December 20!
The Hype Box
Can't-miss news and updates from across the Marvel Universe!