Comics
Published June 4, 2021
Hellfire Gala Previews and Predictions: X-Factor
Look inside the Hellfire Gala finale!
All good things must come to a close, even Krakoa's inaugural Hellfire Gala. On Wednesday, June 30, the X-Factor team will be staying late and taking in the last dance. They'd better enjoy it, because they've got some big problems to face in the weeks and months ahead.
Unlike the previous incarnations of X-Factor, this team has a mission that isn't easily defined. Under the leadership of Northstar, the current group has taken it upon themselves to explore the mysteries of Krakoa's Resurrection Protocols. Essentially Polaris, Daken, Prodigy, Prestige, Eye-Boy, and Aurora investigate mutant deaths, provide proof for the Five, and ensure that the process isn't abused.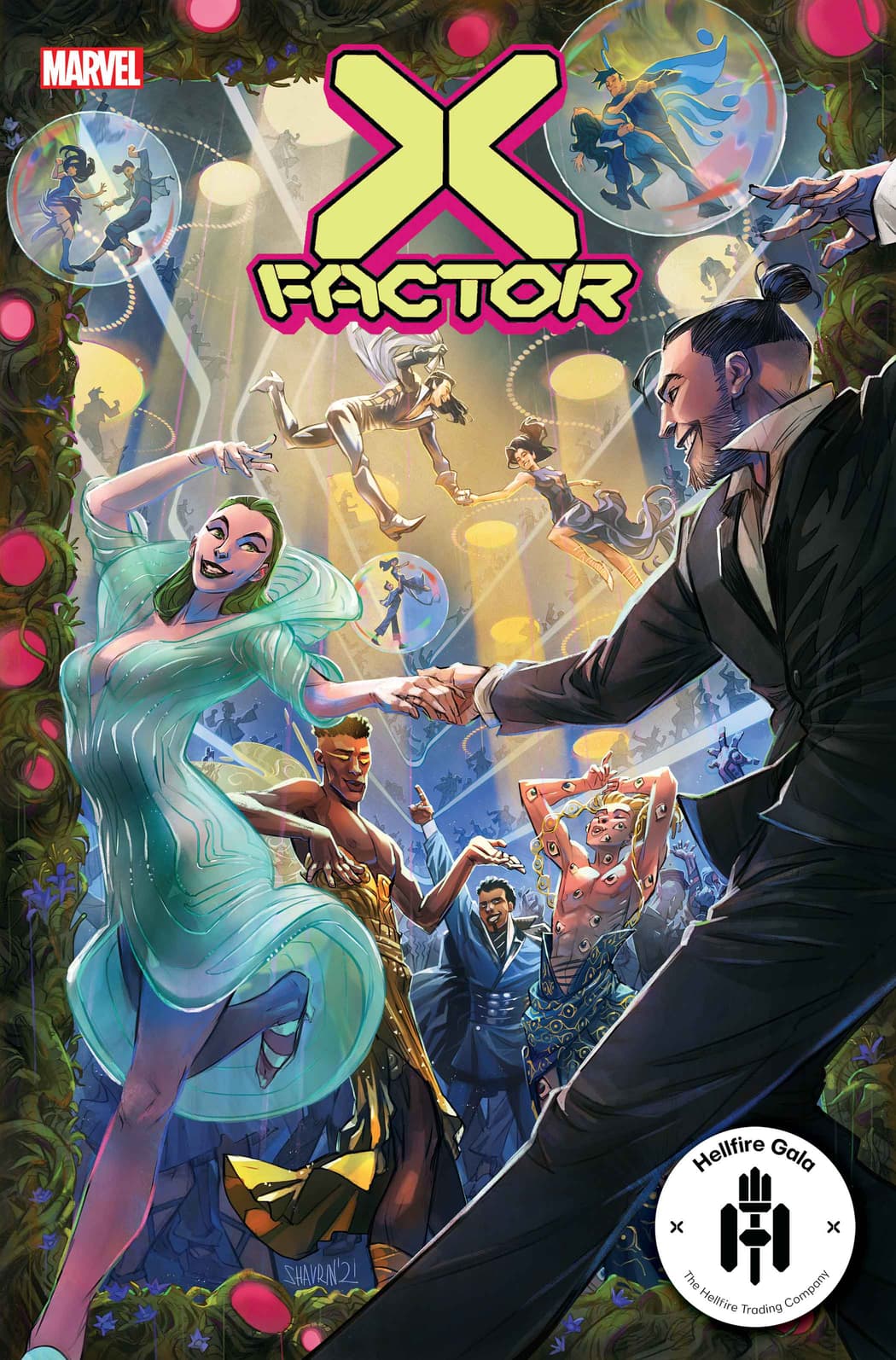 Kyle Jinadu is the lone human associated with the group, and possibly the only non-mutant living on Krakoa. As Northstar's husband, Kyle has special permission to come and go from the island as he pleases. Fortunately, Kyle was spared the fate of many of his teammates, when they went up against the Morrigan. She brutally killed several X-Factor members when they got in her way.
Back in X-FACTOR (2005) #244, Siryn, AKA Teresa Cassidy, made a deal with the Morrigan to become her new host. In return, Teresa was able to save Polaris' sanity, and she later restored Jamie Madrox's humanity when he was turned into a demon. In X-FACTOR (2020) #1, the Morrigan began calling in her marker. She drove Siryn to commit suicide multiple times to feed her insatiable appetite for death. The Morrigan is a death goddess, after all. Unfortunately, the Morrigan also attacked X-Factor when they tried to help their friend.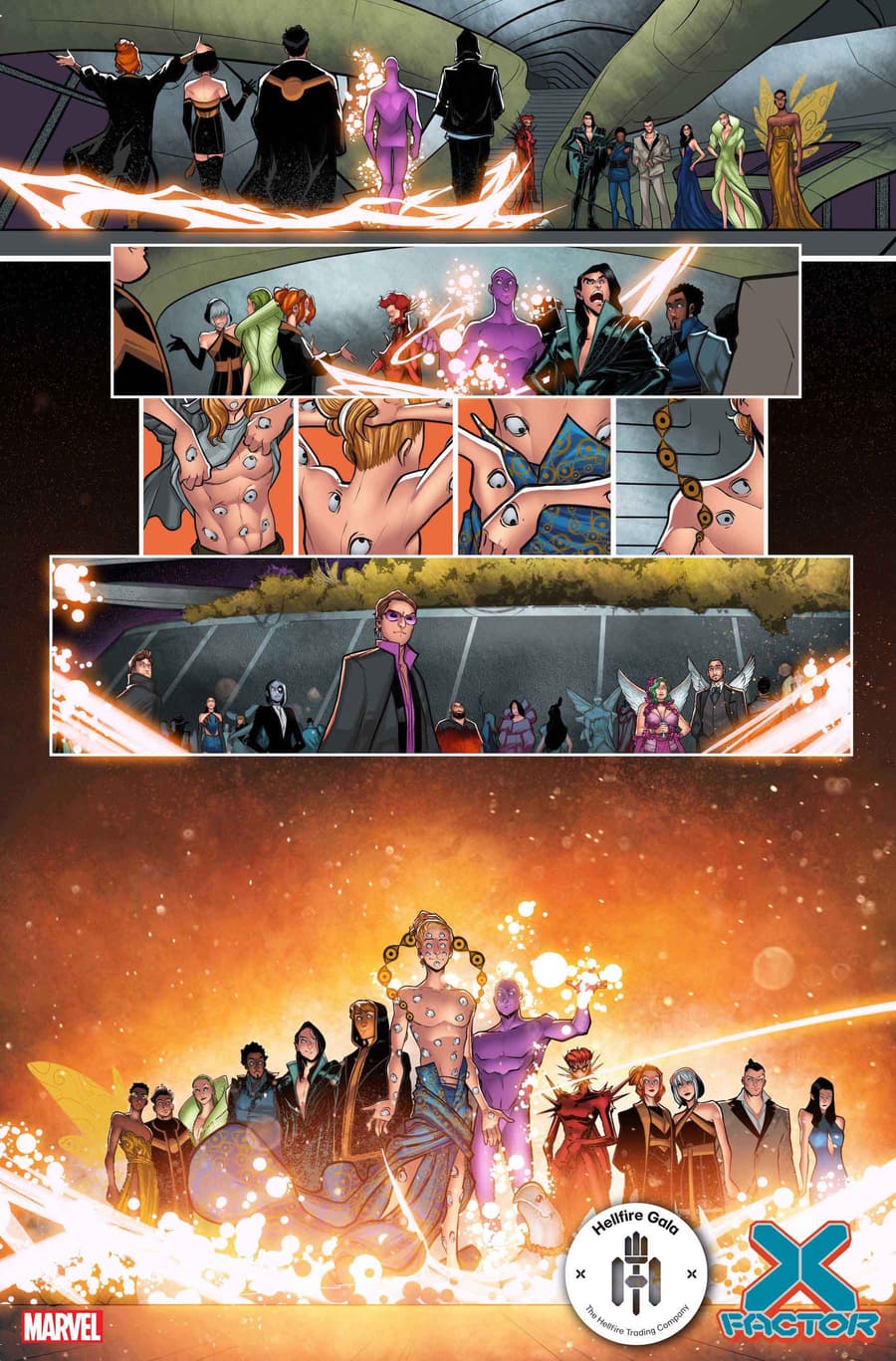 Another former X-Factor member, Shatterstar, proved to be the key to winning the war with Morrigan. After X-Factor freed Shatterstar from slavery in Mojo's realm, he personally fought and killed the Morrigan in X-FACTOR #9. However, the Morrigan has left her touch on both Shatterstar and Siryn, and the consequences of that have yet to fully play out.
For now, X-Factor's battle is over. And designer David Baldeón has outfitted them in several eye-catching costumes for the Hellfire Gala. Polaris' gown is particularly unique, as it captures an ethereal recreation of her powers in action.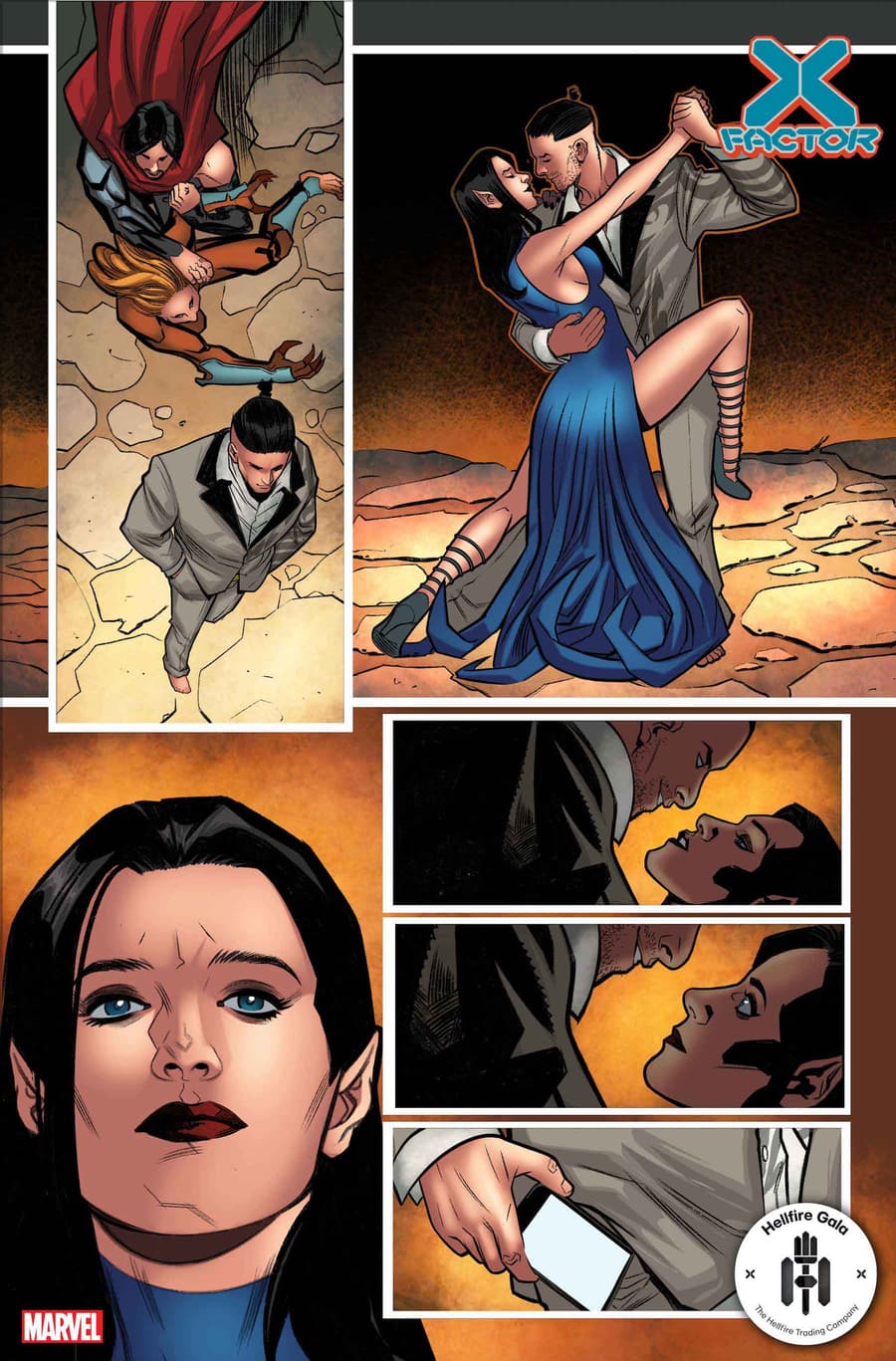 As for Northstar, his dress uniform combines elements of a traditional Super Hero suit with a bit of an edge to it. By contrast, Kyle's outfit is a bit more rooted in human fashion. But it has a regal air to it as well.
Eye-Boy and Prodigy are attending the Hellfire Gala in striking gowns; Iceman really set the trend for that this year.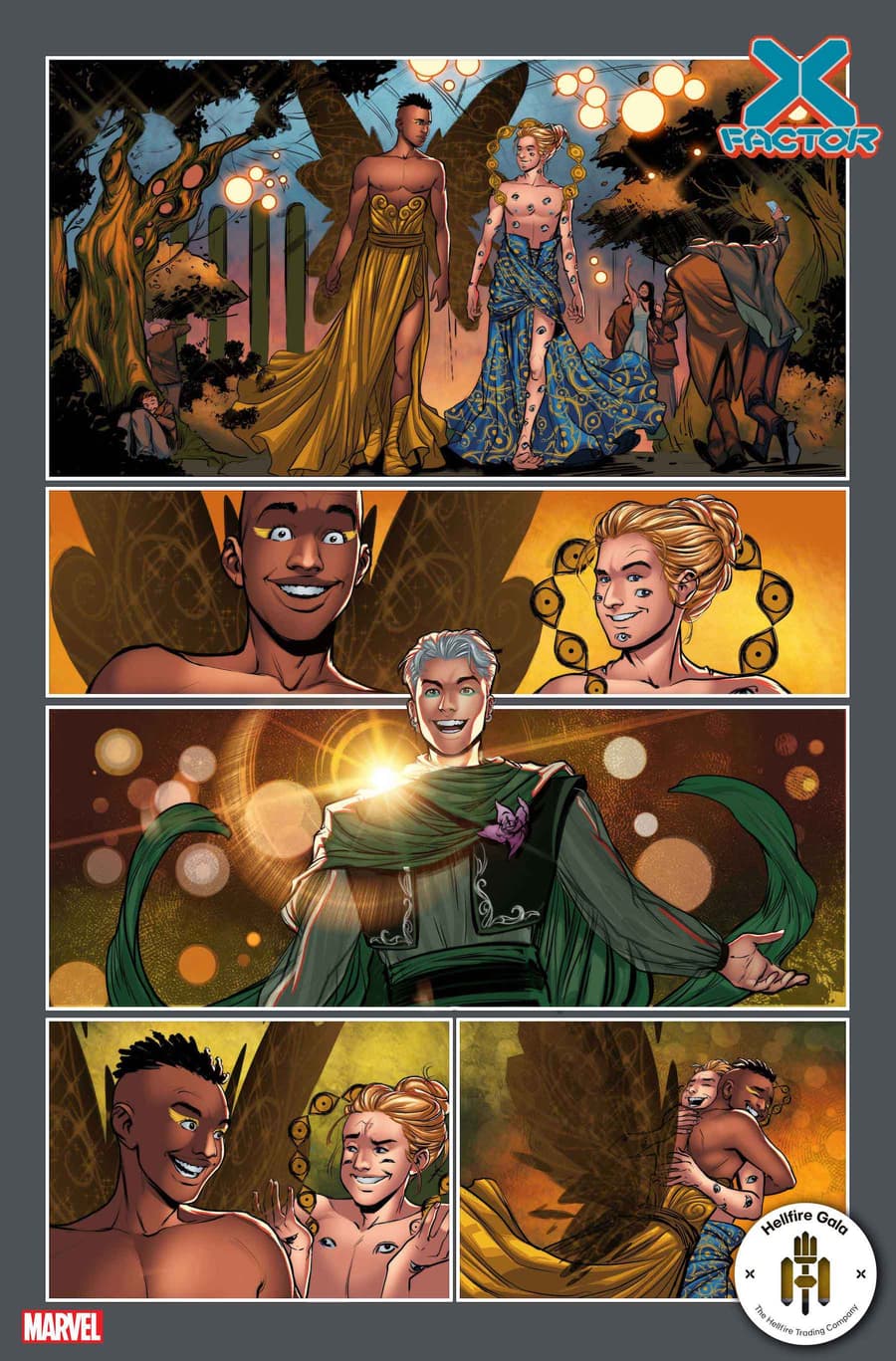 Daken's look is surprisingly conservative, aside from the way he's going without his shoes. He'll be sharing the dance floor with Aurora. They've become quite close since she moved to Krakoa, although Northstar probably won't be thrilled to see them together. Aurora's dress is less revealing, but it seems to indicate her increased confidence in her own identity. She doesn't need Daken or Northstar to define her.
In theory, that all sounds nice and pleasant. But with so many of Krakoa's enemies in one place, something is bound to go wrong. Rumor has it that "someone's number is up." Murder seems like such a strange threat to a people who have seemingly conquered death...but if it's a murder that can't be reversed then death is once again a part of their lives. X-Factor may soon face the case of their lives, especially if the victim is truly gone for good.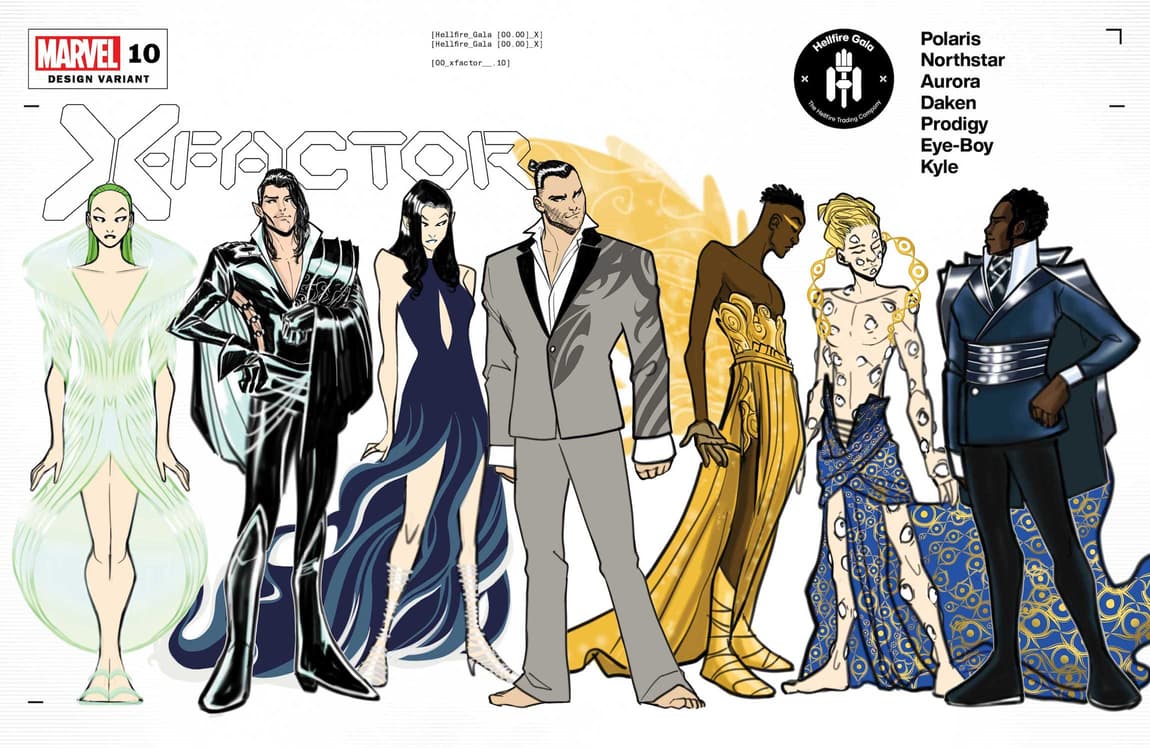 The Hype Box
Can't-miss news and updates from across the Marvel Universe!