Comics
Published February 28, 2017
X-Men: Prime Time
Artist Ken Lashley provides an exclusive look at his process for ResurrXion!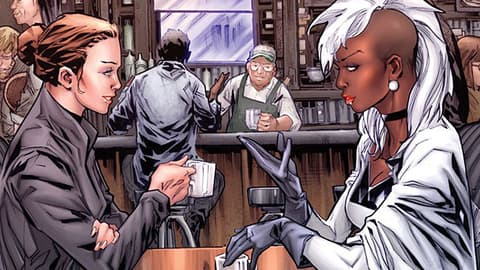 The X-Men have been having a rough go of things lately. They've been at odds with each other, lost important leaders, and gone to war against the Inhumans. However, with the end of Inhumans Vs. X-Men, the once merry mutants will move forward with new goals.
Before fully entering ResurrXion, X-MEN PRIME #1 on March 29 will set the stage for new books like X-MEN GOLD, X-MEN BLUE, WEAPON X, and others. We sat down with artist Ken Lashley who's working with Marc Guggenheim to preview the Gold squad and got some insight on the status quo moving forward!
Marvel.com: How does it feel to be one of the main artists presenting readers with the all-new status quo for the X-Men franchise with this issue?
Ken Lashley: X-Men was my first love in comics. l got [UNCANNY X-MEN #132] at my local variety store when I was 11 or so. I was taken back by the art and made it my mission to get as many issues as possible. It's an honor to get the chance to work on the X-Men, I just love it. I hope I can do it justice. I will say when you get the opportunity to work on such iconic books, you have to bring you're A-game. Hopefully l did that.
Marvel.com: It sounds like Kitty Pryde takes center stage in the story. How is she carrying herself upon returning to the X-Men?
Ken Lashley: It's an amazing journey for the character. I remember her first appearance in UNCANNY X-MEN #129 as a young woman and to see her now taking the lead is interesting to say the least. Kitty Pryde has been through a lot and she is the perfect choice to become the center on the X-Men moving forward. l always have heard that leaders are not chosen, they emerge and I think Kitty has emerged as what the X-Men need at this time.
Marvel.com: With the new direction for the X-Men, there are also a lot of new costumes. Were there any challenges in adapting to the new looks?
Ken Lashley: Drawing new costumes is the fun part. Also, new costumes in this case are about moving forward. New, cool threads always make drawing these characters a bit more fun. I love the designs and each book has a very unique sensibility. It's always exciting to draw the next era's designs. I can look at an X-Men book and tell what series just by the look and it's amazing to get my hands on them!
Marvel.com: The X-Men have just made it through a major conflict with the Inhumans. How does that carry into this issue visually?
Ken Lashley: l think that story had a very dark tone to it. I drew some very gritty stuff in the issue of that series that I drew and I think it really suited the story of the Inhumans Vs. X-Men [event], but this is something new so it has its own energy. I don't think it will feel like a continuation but more like a fresh new beginning. Don't get me wrong, it's going to have an effect and that will be played out in the upcoming issues, but it a fresh, crazy beginning for the X-Men family.
Marvel.com: Your story follows the X-Men Gold team before they move into their new ongoing series. In what ways are they tied together visually before donning the new costumes in the series itself?
Ken Lashley: The history of the X-Men is well known and the relationships are well documented. My job is to give the readers the feel of X-Men and yet still be current and fresh. Visually it's fun to get to have the classic characters to play with, remembering who they were and who they are today as I draw them. It is a difficult but exciting task. Kitty will not be wearing roller-skates…or will she?
Marvel.com: How was it working with Marc on this story?
Ken Lashley: Marc is truly a creative force, it's a blessing to get to work on this with him. I have been able to work with some amazing talent and Marc is at the top of the list. The first line in the first script was a note to me personally. You don't get that most days. The script was truly written by a creator who gets the X-Men. l love working with him. It's so easy to pull images when he sets it up so well. One of the best artistic experiences of my career.
Look out for X-MEN PRIME #1, featuring a story by Marc Guggenheim and Ken Lashley, coming March 29!
The Hype Box
Can't-miss news and updates from across the Marvel Universe!