Comics
Published May 13, 2019
X-Men Seminal Moments: Adam Kubert reflects on 'X-Men' #1
The veteran comic illustrator shares his thoughts about the all-time best selling issue of 'X-Men'.
Later this summer, Jonathan Hickman is bringing the X-Men into a new era with HOUSE OF X and POWERS OF X. But this isn't the first time that Marvel's mutant heroes have dramatically changed the game, and Marvel veterans have been reflecting on the events that brought us to this point. Adam Kubert has already left his mark with unforgettable runs on WOLVERINE and UNCANNY X-MEN. But Kubert's choice goes back to a familiar place: the X-MEN #1 relaunch in 1991.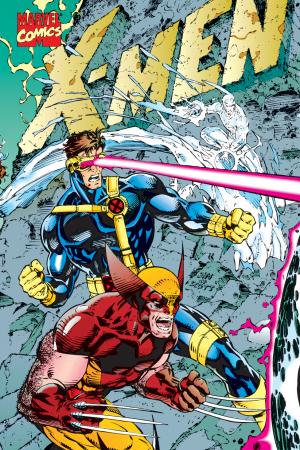 In October 1991, Chris Claremont and Jim Lee's X-MEN #1 set the comic market on fire on its way to approximately 8.1 million copies sold. (That's still an all-time record!) We've previously touched on the issue's significance for the way that it reignited the conflict between Charles Xavier and Magneto. However, it was a much bigger milestone for the X-Men themselves. Nearly three decades later, we see this group of characters as the iconic X-Men. Yet at the time, most of these heroes barely knew each other.
On the way to the X-MEN relaunch, the original five X-Men were still headlining their own series, X-FACTOR. While the two teams of mutant heroes crossed paths in INFERNO, X-TINCTION AGENDA, and a few issues in between, there wasn't much interaction between them. Cyclops hadn't been on the X-Men since UNCANNY X-MEN #201, while Beast, Angel, and Iceman had long since left the team. Because she was replaced by the Phoenix for several years, even Jean hadn't been a member since 1976's UNCANNY X-MEN #100.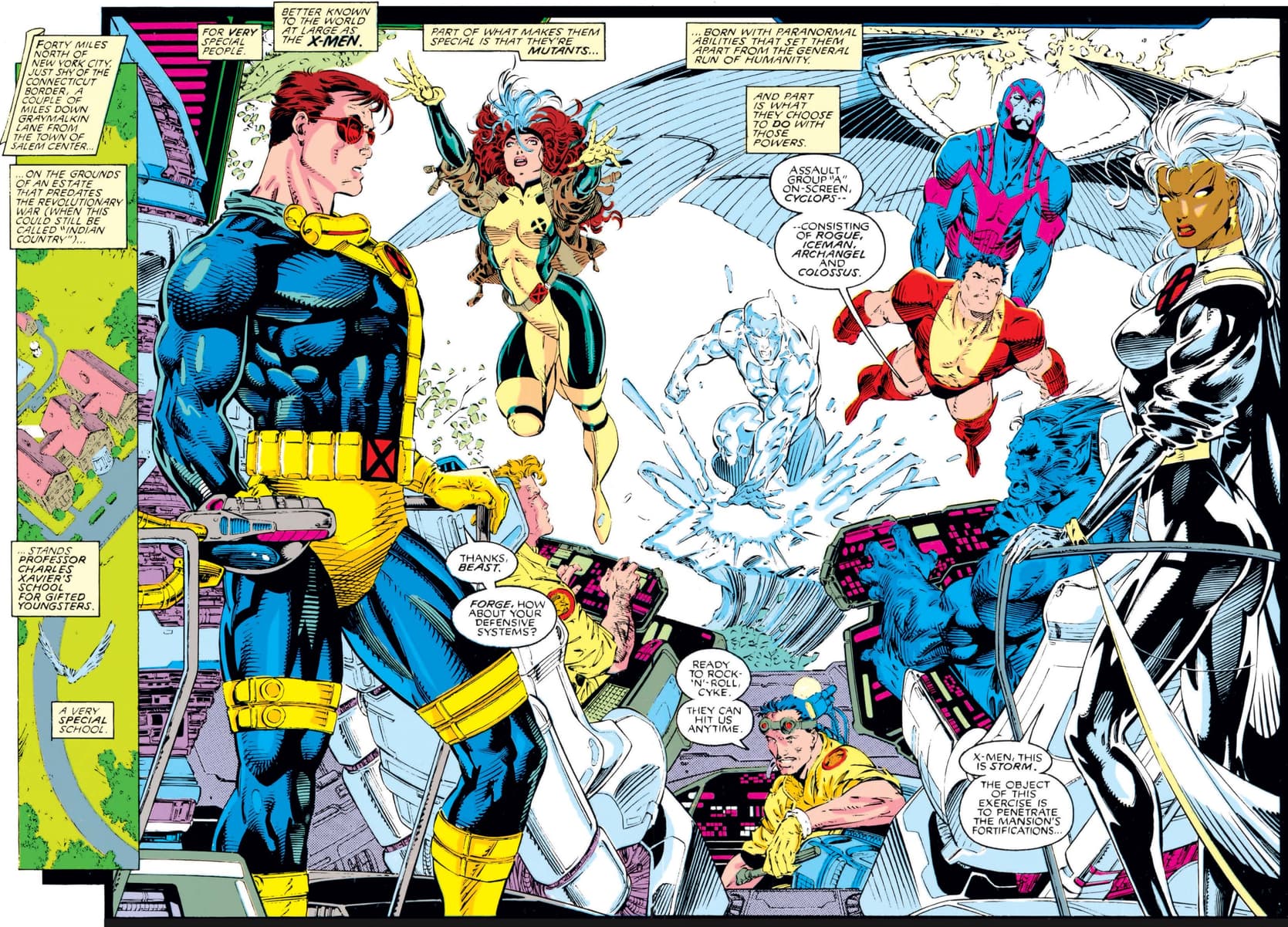 Rather than simply putting the X-Factor team in one book, the two teams were intermingled into separate X-Men squads. Cyclops, Beast, Wolverine, Rogue, Psylocke, and Gambit became the Blue Team, with Jubilee as their frequent companion. That's the team that headlined X-MEN, while UNCANNY X-MEN's Gold Team consisted of Storm, Jean Grey, Colossus, Iceman, and Archangel. Bishop joined the team a few issues later.
Re-reading X-MEN #1, it's intriguing to see that the newly reunited X-Men hadn't entirely settled their personal dynamics. Instead of feeling a bond with Gambit, Rogue was far more drawn to Magneto. She was even the only member of the team who gave Magneto the benefit of the doubt when he became an international target. As for Gambit, the only woman he openly flirts with in the issue was Jean Grey. He didn't seem to care if Jean was in a relationship with Cyclops before planting a kiss on her lips. Unfortunately for the Ragin' Cajun, the Jean he kissed was actually a lifelike exploding robot.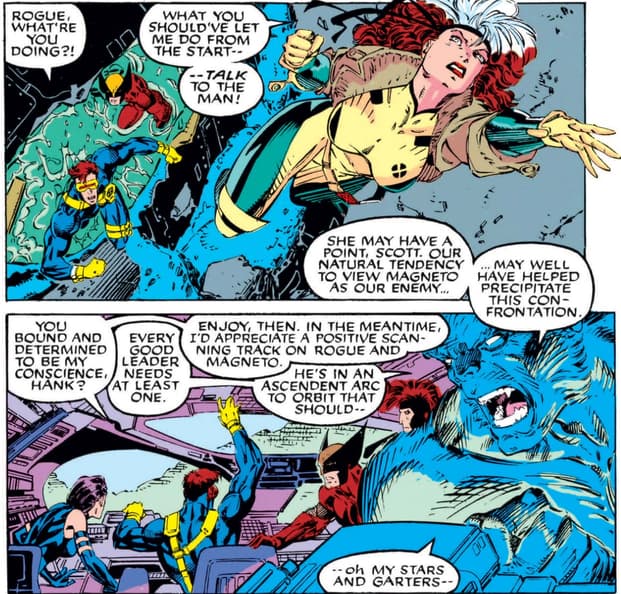 Just two issues later, Rogue and Gambit would begin their own epic courtship that ultimately culminated in last year's X-MEN GOLD #30 when they tied the knot. Over time, these two groups bonded together as friends and even family. They proved to be so iconic that "X-Men: The Animated Series" took most of its influence from these early X-MEN issues and retained the instantly classic costumes that were designed by Lee.
Without this X-MEN relaunch, the X-Men animated series may never have happened. That show in turn led to the X-Men live-action films, which paved the way to the Marvel Cinematic Universe. It all had to start somewhere, and X-MEN #1 proved that the mutant heroes had appeal far beyond the dreams of the comic book industry.
Stay tuned to Marvel.com for more news and updates on HOUSE OF X and POWERS OF X!
The Hype Box
Can't-miss news and updates from across the Marvel Universe!