Comics
Published July 17, 2019
Young Guns Profiles Javier Garrón: 'Drawing… It's Like Playing with the Best Toys Ever!'
You've seen his work in 'Miles Morales: Spider-Man,' 'Ant-Man & the Wasp,' and 'Secret Warriors' -- find out what inspired one of Marvel's Young Guns artists!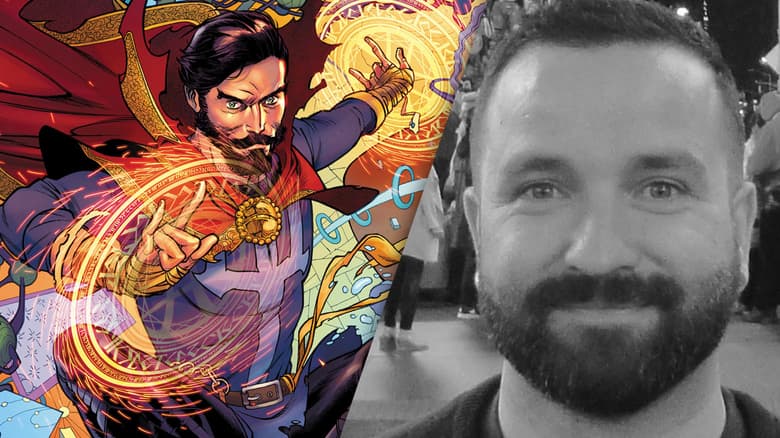 Artist Javier Garrón has been drawing since he can remember and impressing Marvel fans with his outstanding line work and visual tricks in books like MILES MORALES: SPIDER-MAN and ANT-MAN & THE WASP. Marvel honored his excellence in the comic book industry by naming him one of its Young Guns artists.
Marvel.com recently spoke with Garrón about his career in comics, why he draws, and his artistic process as well as which comics he devoured as a kid.
What did your path to becoming an artist look like? Did you attend art school or are you self-taught?

In my particular case it wasn't exactly a straight line, more like a rollercoaster! I actually studied architecture, so everything comics-related is self-taught. I've always been drawing, as far as I can remember. Started with Donald Ducks when I was little and look where it brought me! When I decided to make a real profession out of this, [make it] my one true passion, I was in college. It took me nearly 10 years of doing sample pages, attending conventions carrying my portfolio to show it around, endless interviews with editors, keeping daytime jobs to pay bills, one serious nervous breakdown, and nearly quitting completely... when I got in! In the industry! And I haven't stopped working since.
When did you start drawing?

As soon I could grab a pencil! I remember myself always drawing. My parents always tried to make their children read a lot, so books and comics were always around. Very early on, I loved travelling to all those worlds of imagination. It was a very natural transition to start creating my own. Drawing has always felt from the very beginning like a game – it's like playing with the best toys ever!
Who were your biggest supporters or influences?

All the comic creators that left me speechless and bewitched with their raw talent. Artists who created pieces of work that I couldn't help myself but to keep reading over and over. Driven like a moth to the light! Maybe not the best comparison, but you get the point! Here's a brief, necessarily incomplete list: Jack Kirby, George Perez, Carlos Pacheco, Alan Davis, José Luis García-López, Stuart Immonnen, John Byrne, Chris Bachalo, the Kuberts (Joe, Andy and Adam), Joe Madureira, J. Scott Campbell, Humberto Ramos... Google them all! Look out for their comics! Be amazed as I was!
How did you find or create your style?

It's kind of a hit/miss thing! You try things, tools and techniques. Some stick and some don't. The trick is to draw a lot. But A LOT! You find some things cooler than others once you've tried them on paper, some more comfortable, and you find your way even without looking specifically for it. Through the work it just happens. But you have to work a lot!
Which Marvel comics did you read growing up that had the most impact on you as an artist and why?

My first Marvel memories are reading some classic (now I know they're such – back then I had no clue!) Fantastic Four and Spider-Man comics a cousin of mine gave me when I was a child. But it wasn't until later, in high school, when I started borrowing comics from a new neighbor I met. He bought everything X-Men-related, and I started devouring those. Definitely the first to leave a serious mark on me was probably a Bishop miniseries, "The Mountjoy Crisis," drawn by Carlos Pacheco. It was impactful, imaginative, super energetic, and incredibly cool! All the ingredients you need to grow tall and strong when you're young!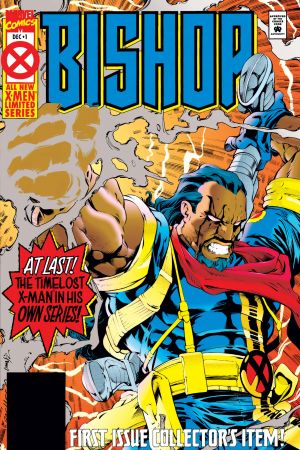 Bishop (1994) #1
published

added to marvel unlimited

penciler

penciller (cover)

writer

letterer

editor

inker

colorist
What is Marvel Unlimited?
Why do you draw? Why is the process of drawing or making comics meaningful to you?

Well, that's a very important question but also a very difficult one to answer! I just love stories so much! I love reading, watching movies, listening to music... but it's not enough! I need to tell my own! It's something so essential that is like an instinct. Hard to explain, you just feel the need deep in your very core. It gives you sense and purpose. It steers you through life.
Have you worked outside of illustration or has illustration always been your career?

Even though drawing has been quite essential in one way or another, it hasn't been all [my career]. While I was trying to break into comics, I had a job in a store for almost seven years, like a European version of Barnes & Noble. I worked there selling movies, music, and video games, not comics or books, ironically. I also had small jobs of all sorts at the same time, giving private lessons on technical drawing, doing some advertising work, and even drawing caricatures at parties. That is one anecdote that will take a couple of hours of your time at least, so sit here and bear with me. It was the summer of 2005 and, oh boy, it was a hot one...
How did you first get involved working with Marvel? How did they find out about your work? Did they reach out to you after you had something published?

I met several Marvel editors along the years while I was doing sample pages and attending conventions to show around my work. I think my name was floating around, they kept watching me over and over every time they came to Spain! I was mildly known because of my webcomic work here, so maybe a bit of that could have reached them. It was super-mega-awesome editor Katie Kubert who started offering me work. But definitely after I started publishing, suddenly the offers started to pour in.
What do you feel like was the tipping point in your career as an artist? When was it (or what was it) that got you to this point of being one of Marvel's Young Guns artists?

You know, it's kind of hard to look at one's own career, you lack perspective from the driver's seat. I'm in a bubble, so to speak. Inside the bubble you keep working and living your life, but don't have a clear overall appreciation in the same way someone from outside the bubble might have.
I think my tipping point so far is being the main artist on MILES MORALES: SPIDER-MAN and being named a Marvel Young Gun. The former is such a huge title. Because of the character, relevant and pivotal, and because of the team – they're all the best of the best! Love them! And the latter because of the important tradition of Young Guns. I consider all of them legends. And though I don't consider myself one by any means, very far from it actually, it's something to look up to that motivates you to keep pushing yourself to improve your art.
And what got me here? I don't know! My best guess is hard work! Definitely not my karaoke skills! But I try! Promise!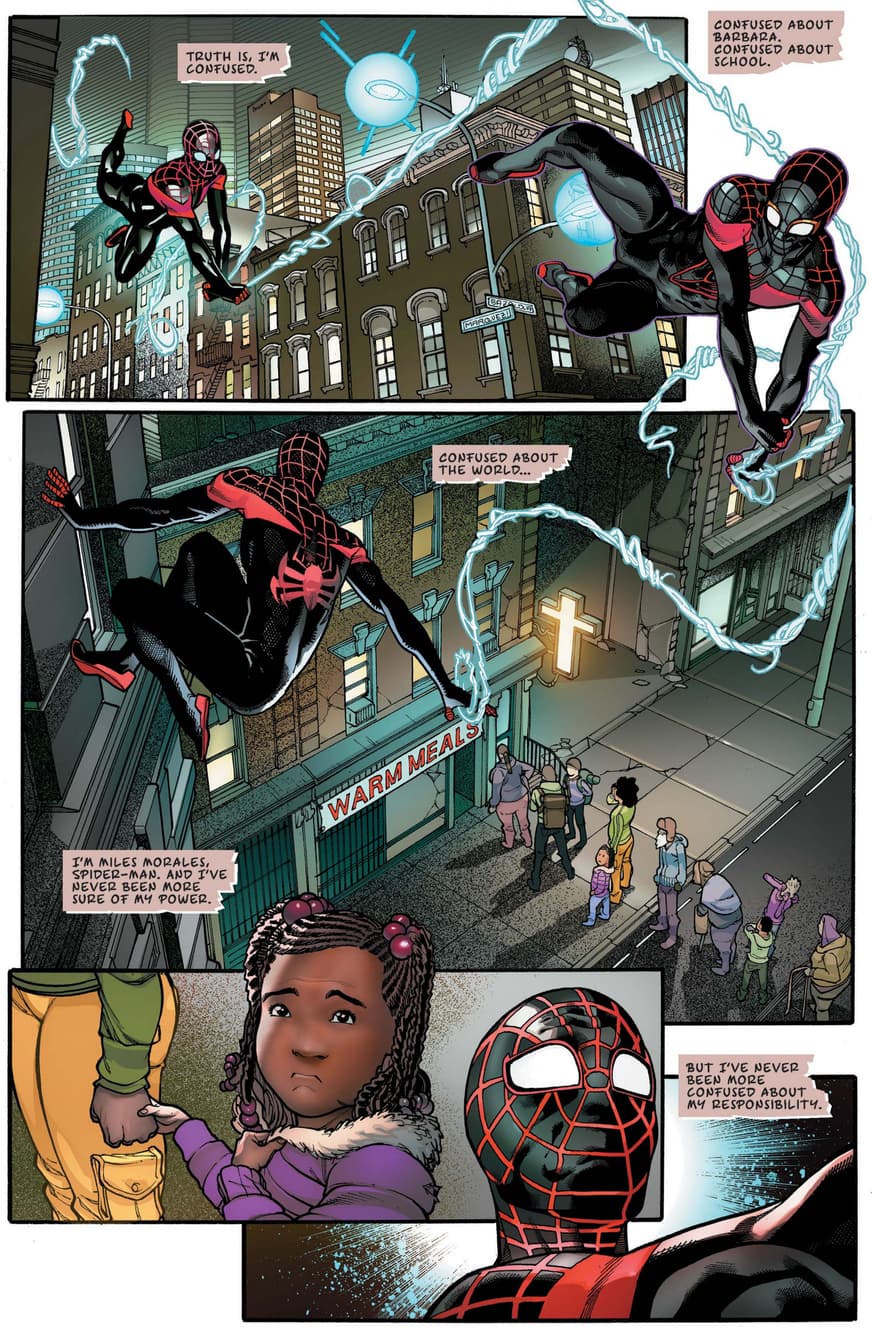 For Marvel, you've worked on ANT-MAN & THE WASP, MILES MORALES: SPIDER-MAN, SECRET WARRIORS as well as INHUMANS VS. X-MEN/DEATH OF X thus far. What have been your top five favorite moments about drawing these books?

Okay, challenge accepted! Let me say that I just love them in their entirety, all of them. I'm super proud and honored to have worked with the best people in the industry. But choosing just moments, in no particular order...
- In ANTMAN & THE WASP #5 our heroes escape the Microverse through different levels of reality and dimensions of the Marvel universe, each one of them an over-the-top crazy extravaganza filled with jokes 'til the panels burst. So. Much. Fun. Mark Waid is a true living genius and legend, a titan!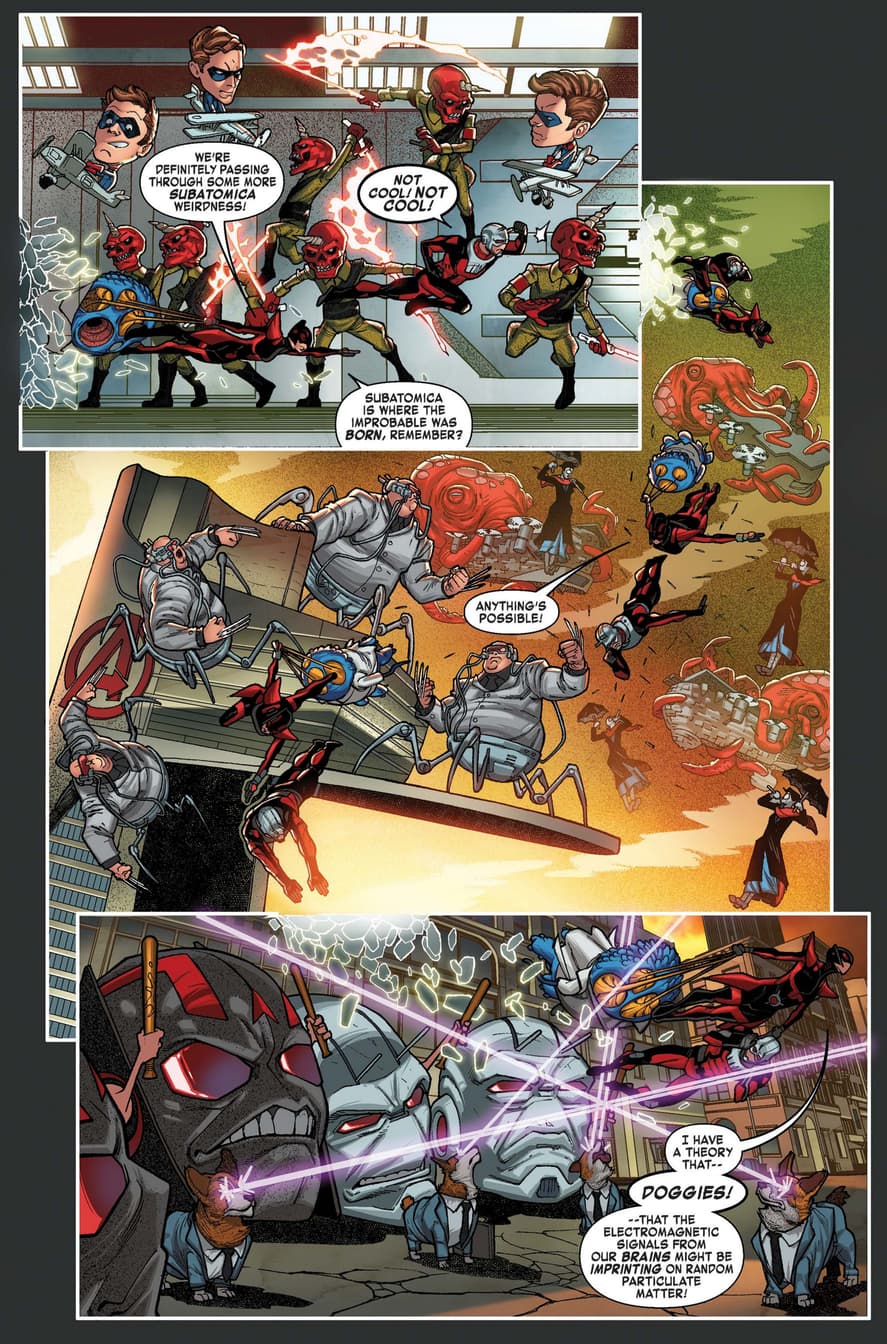 - Everything about Miles is extra awesome. The Spidey stuff is so amazing and cool! But I just love the raw emotions Miles goes through. He cries, he hurts, he cares. And when they hug each other. In this series, healing is channeled through hugging. It's beautiful.
- In DEATH OF X it was the (spoiler! Spoiler! Spoiler!) death of Cyclops sequence. The pacing and tension rising up until it finally explodes in the most epic and dramatic way.
- I did two short stories for THE AMAZING SPIDER-MAN as prologue for the "Clone Conspiracy" event and I loved them. The first was a Rhino-Spidey riff off and, come on, that's a dream come true to draw! With a jaw-dropping cliffhanger! And the second one starred Kingpin, and it was super dramatic! Loved them.
- And finally let's say the pages I did for the Black Vortex Omega event special, where Star-Lord proposed to Kitty Pryde! So romantic!
Tell me about the first step in your artistic process with an existing Marvel character, in terms of their design. How do you connect with them and make them relatable?

The first thing is research. Look as much references as possible and get in touch with the true essence of the character. The very essential thing that makes it unique through the different iterations. To learn what works and what doesn't. Use the legacy to fuel your vision. I want to make characters feel connected with the history of the Marvel Universe. Continuity is super important! But it must be fuel, not baggage.
I connect with them once I work with them through their emotions and the stories that happen to them. Through their body language and facial expressions. It's like getting to know someone in real life. The more time you spend with them the more you know them and empathize.
What Marvel character have you worked on that has surprised you the most?

On the funny side... Devil Dinosaur! Who would have thought drawing a giant red Tyrannosaur would be so much fun? Being so big and frightening, but actually being kind of a giant dog, gives you a lot of room for visual comedy. Actually, all SECRET WARRIORS was filled with great drama and amazing, sharp, and yet goofy comedy thanks to the great Matthew Rosenberg, our astonishing writer.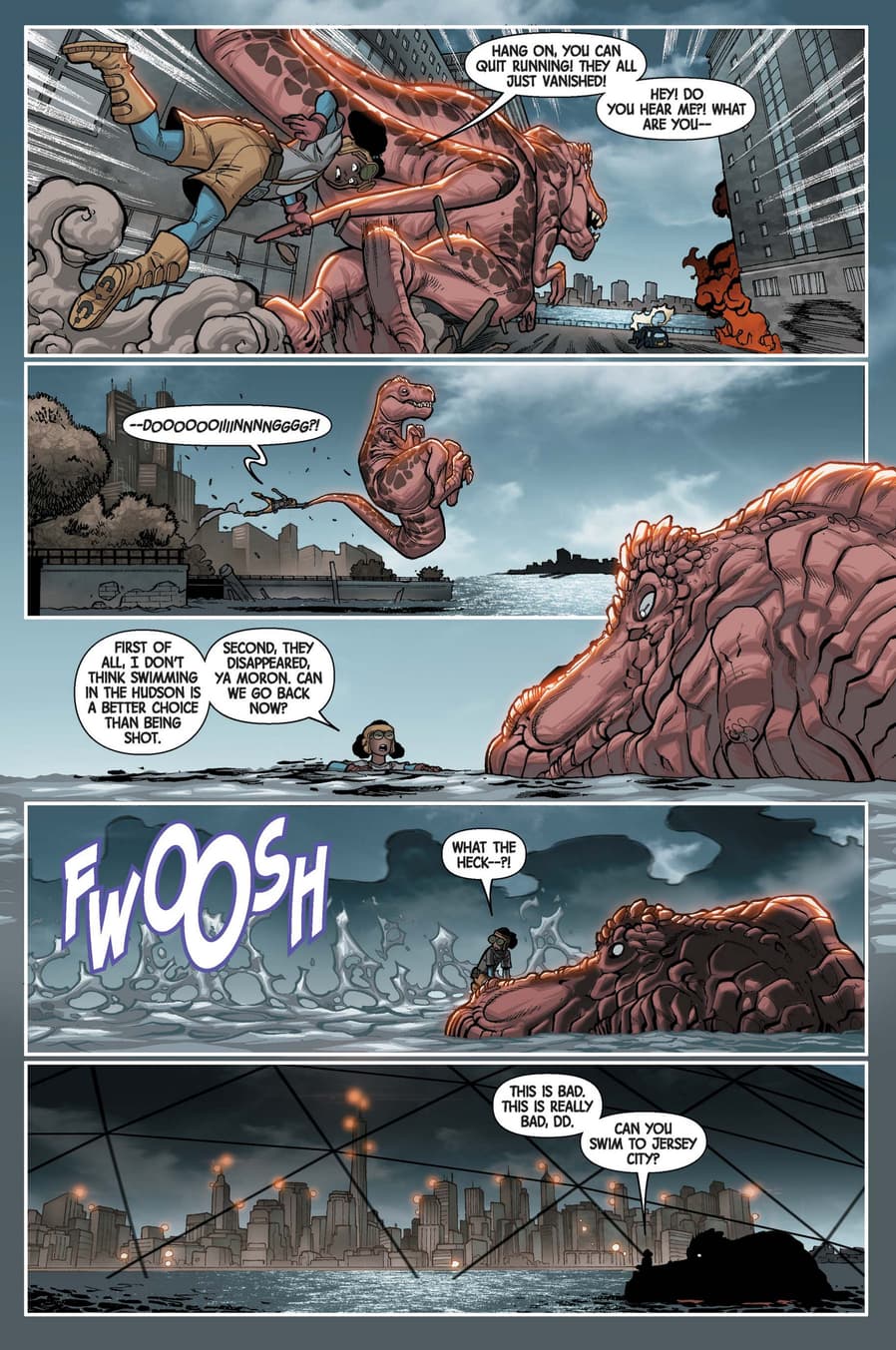 And on a more serious note probably Miles himself. And that's again all thanks to Saladin Ahmed, our Eisner Award-winning writer. I was already a hardcore fan of the character, but Saladin truly has pushed Miles far beyond what anyone could have expected. All that emotional depth is a goldmine visually to work with, all character work. You come for the hero but you stay for the person. And we have reached an amazing level of symbiosis when coming up with action sequences.

What was the weirdest or strangest thing you've drawn for Marvel?
Definitely the "escape from the Microverse" sequence of ANT-MAN & THE WASP. There are Red Skull Unicorns with laser sables, rollerskater Cyclops cheerleaders with shotgun pompoms, drunk Scottish Ultrons playing soccer, robo-Mary Poppins with blowguns, Loki pterodactyls with katanas, Mojo Kingpins out of the Weapon X program... and a lot of characters directly out of the '90s swimsuit specials! Embarrassing yet so cool! Why can't we have both?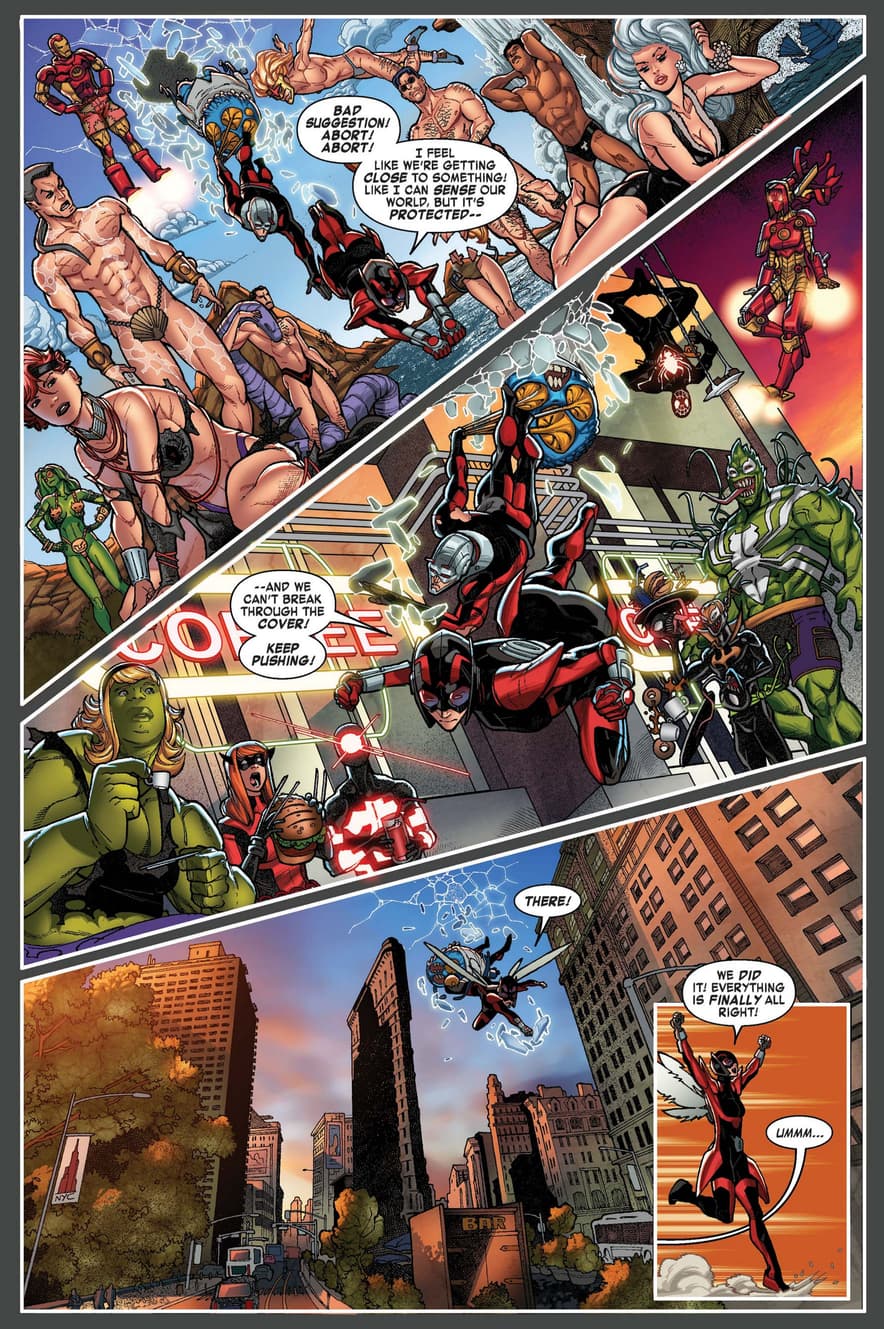 The Hype Box
Can't-miss news and updates from across the Marvel Universe!