Culture & Lifestyle
Published July 16, 2019
A Fish Called Wakanda
Scientists have named a newly discovered fish after the home of the Black Panther.
In the Marvel Universe, Wakanda is one of the most scientifically advanced – and secretive – nations on the planet, boasting an equally genius royal family that includes the reigning Black Panther. In real life, scientists on an expedition organized by the California Academy of Sciences' Hope for Reefs Initiative have discovered a new species of fish off the coast of Africa, a multicolored swimmer from the western Indian Ocean which now bears the name Cirrhilabrus wakanda.
C. wakanda, also known as the vibranium fairy wrasse, was found off the east coast of Zanzibar, Tanzania, Africa, swimming in areas near coral reefs and the rubble bottoms of the ocean, about 75 m (246 feet) below the surface in the deeper, hidden parts of coral reefs. What sets it apart from other Cirrhilabrus species – the C. wakanda is the 60th identified species – is the distinct pattern of purple scales.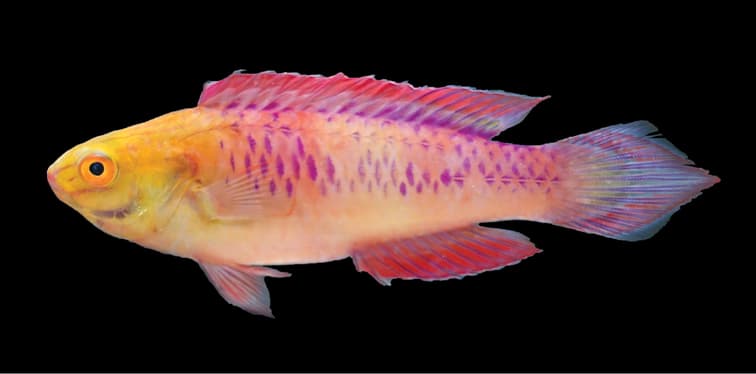 The purple is reminiscent of Wakanda's heart-shaped herb and is a color that shows up in many Black Panther suits. But there were many characteristics of the fish that inspired scientists to name it after the magnificent Marvel nation:
"The specific epithet refers to the fictional East African nation of Wakanda, home of the Super Hero Black Panther, as is the case for the new species, which has remained hidden from the world for a long time. … The common name refers to the fictional metal vibranium, a rare substance found on Wakanda that is woven into Black Panther's suit. The purple chain-link scale pattern of the new species is reminiscent of this detail."
While the many colors of C. wakanda make it stand out, they're small in size – males are an average of 70.3 mm (2.77 inches) long, females are 57.4 mm (2.26 inches) long. But their discovery has had a big impact on studies of the coral reefs and the organisms that inhabit them. Wakanda Forever!
The Hype Box
Can't-miss news and updates from across the Marvel Universe!