Culture & Lifestyle
Published November 2, 2021
Aconyte Reveals Four New Marvel Prose Novels Arriving Spring 2022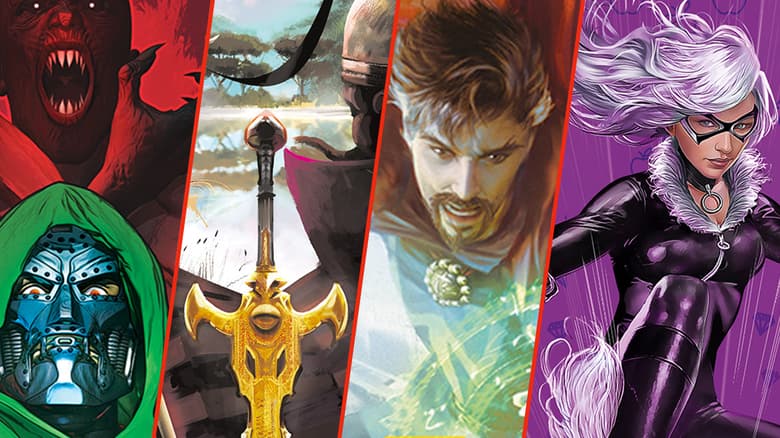 This Spring 2022, get ready for four new titles coming your way from Marvel and Aconyte Books! Expect titles in their LEGENDS OF ASGARD, MARVEL HEROINES, MARVEL UNTOLD, and MARVEL: CRISIS PROTOCOL series.
What can you expect?
The notorious Doctor Doom's endless craving for power unleashes a soul-destroying plague on the world, in the latest devastating MARVEL UNTOLD novel, Reign of the Devourer, by David Annandale.
The Warriors Three must traverse space and time to save their realm from magical villainy, in this swashbuckling fantasy adventure from LEGENDS OF ASGARD prose novel, Three Swords, from C L Werner.
Legendary super-thief Black Cat takes on legendary heroes and mob secrets in this electrifying heist novel from MARVEL HEROINES novel, Black Cat Discord, by Cath Lauria.
Earth is on course for a devastating invasion from the Dark Dimension, forcing the world's mightiest heroes into unthinkable alliances, in this heart-stopping new novel in the MARVEL: CRISIS PROTOCOL series, Shadow Avengers, by Carrie Harris.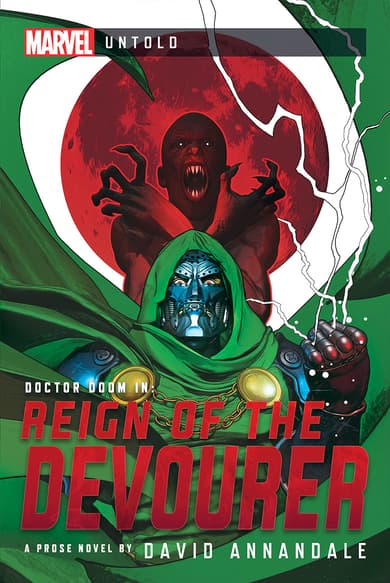 In Reign of the Devourer, Victor von Doom saw his future for an instant, and now he cannot rest. His obsession with regaining those memories leads him into the arcane science of geomancy. As he delves into the ancient memories that lie beneath his land, Doom discovers a tremendous concentration of power… one that should never be explored. Doom's excavations and necromancy fracture the prison of something awful: the Devourer of Souls.
Now free to roam Latveria, the Devourer spreads a plague of soul-hungry vampires. Doom must choose between seizing this power for himself or destroying it, before his realm is no more.
Reign of the Devourer is the fourth installment from the Marvel Untold line, which explores new tales from Marvel's Super Heroes and Super Villains. These tales round up the best villains, magic-wielding heroes, and more from the furthest corners of the Marvel Universe. Whether it's seeing a famous confrontation from a different perspective or exploring a piece of a character's backstory that we've never seen before, these novels will bring these stories out into the light of day, revealing secrets and lost chapters from their rise to power. 
Reign of the Devourer will be available in trade paperback, ebook and audiobook formats, available at bookshops and online retailers on January 4, 2022. Pre-order now!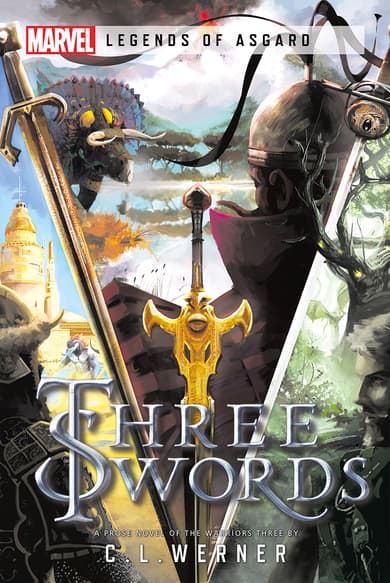 While helping some rebels overthrow their tyrannical king, the Warriors Three meet an old mystic who claims to have been waiting for them in Three Swords. He describes to them the threat posed to Asgard by three sorcerous brothers, the Enchanters, who are each working to create an army to conquer Asgard.
But the Enchanter's towers are scattered across time and space, and the Warriors Three will have to risk life and limb to stop these sorcerers before they can overthrow Odin's rule. But things are not quite as they seem, for in the shadows, someone is plotting against these heroes.
Three Swords is the next prose novel in the LEGENDS OF ASGARD line, which is set in the legendary realm of Asgard and rich in Norse-inspired mythology. These fantastical stories centering on Thor's daring companions celebrate heroism, adventure, fate, honor, and myth, bringing their stories to the fore. Raise a flagon of ale and enjoy tales of the extraordinary exploits of heroes and heroines from the Ten Realms. This novel will be available everywhere books are sold on February 1, 2022. Pre-order the title now!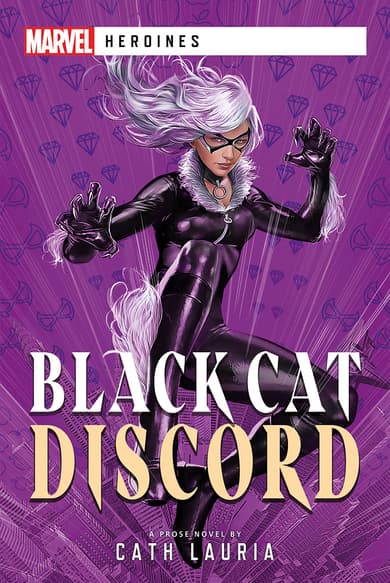 In Black Cat Discord, Felicia Hardy always puts her own interests first, but the appearance of a mythical golden apple in New York has everybody with a hint of power scrambling for it. And who's everyone's number one choice to nab it for them? The Black Cat, of course. Yet that isn't the only job on Felicia's radar.
When a smart aleck kid turns up demanding her help, Felicia finds herself caught between the mob, her morals and some very insistent super villains. It'll take all nine lives to wriggle out of this one intact, but Felicia has more than one trick up her sleeve.
Black Cat Discord is the next prose novel from the MARVEL HEROINES line, which centers on captivating stories that feature some of Marvel's best-loved characters — some just coming to understand their powers for the first time, and others firmly established among the ranks of legendary Super Heroes. Black Cat Discord will be available in trade paperback, ebook and audiobook formats, available at bookshops and online retailers later this summer on March 1, 2022. Pre-order now!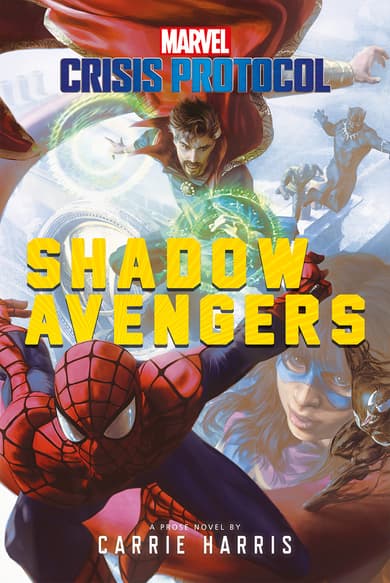 In Shadow Avengers, Doctor Strange created the Shadow Avengers to save the world from Dormammu, but instead they're on the verge of dissolution. When sudden weather anomalies across the world correspond with Asgardian heroes emerging from portals ripe with Dormammu's magical signature, the Shadow Avengers realize the "Master" is making his move. Loki, Venom, and Green Goblin are behind a ceremony plotting to open a portal big enough to encompass Dormammu's presence.
From the Sanctum Sanctorum to the streets of NYC to beautiful Wakanda, the Shadow Avengers must stop Dormammu at any cost — but the Master, in all his cunning wisdom, has something greater in store that will doom the world once and for all. 
Set in the world of the Marvel: Crisis Protocol tabletop game, get ready to witness an epic team-up. However, not all alliances happen seamlessly as the outcome of an early mission for the Guardians weighs on some of their team members. This novel will be available everywhere books are sold on April 5, 2022. Pre-order the title now!
Want to stay on top of everything in the Marvel Universe? Follow Marvel on social media—Twitter, Facebook, and Instagram—and keep watching Marvel.com for more news! 
The Hype Box
Can't-miss news and updates from across the Marvel Universe!