Culture & Lifestyle
Published January 15, 2021
'Asked & Answered with the Women of Marvel': Jac Schaeffer
Get to know the 'WandaVision' head writer and then stream the brand-new series now on Disney+!

Get to know the Asked & Answered with the Women of Marvel series here. Be sure to head over to Marvel.com/WomenofMarvel every other week for more!
As if having the I-can't-wait-to-finally-see-it Marvel Studios' Black Widow film on the horizon wasn't enough, head writer Jac Schaeffer's visionary take on Wanda Maximoff's post-Endgame exploits, WandaVision, hits Disney+ today—TODAY!
Simply put, Jac Schaeffer is a force. She's also a Woman of Marvel. And we had some questions for her.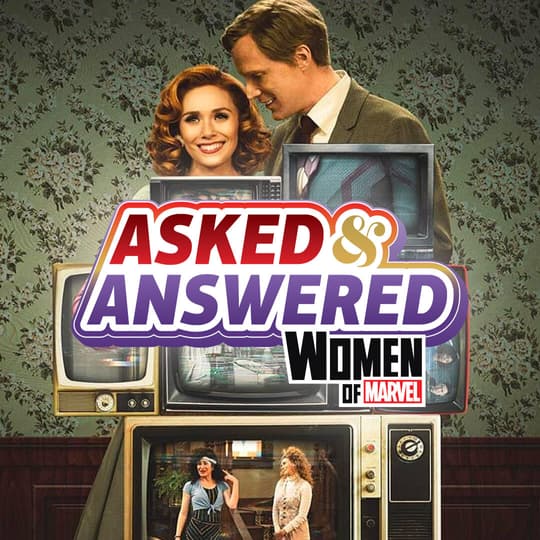 We asked, she answered…
What is the first thing you do when you wake up?
Take care of my kids.
Super power of choice?
Flight.
Must have item when writing?
Tea.
Who's in the fox hole with you — Wanda or Natasha?
Wanda.
The key to collaboration is…?
Listening.
New Year's resolutions — every year or what's the point?
Every year.
7.    What are you totally into right now? 
The Flight Attendant.
First thing you're planning to do when Dr. Fauci gives the all clear?
Hug my writers.
What do you fight for?
Women.
Best advice you've gotten?
I'm going to go simple, Be kind.
Dick Sargent or Dick York?
Sargent.
I Love Lucy marathon or Bewitched binge?
Lucy.
What was your favorite book, movie, or TV show as a kid?
The NeverEnding Story.
What is your favorite book, movie, or TV show now?
I just read The Vanishing Half. So, so good.
Board games or video games?
Board games.
Pineapple on pizza—acceptable or appalling?
Acceptable.
Who would you road trip with (dead or alive, someone you know or wish you knew, fictional or real)?
Jack Foley from Out of Sight. 
Fortune teller — 'Tell me everything' or 'No thanks, I'll be surprised'?
Tell me everything.
What's the best thing about your best friend?
She gets it. She always gets it.
Mantra or quote that keeps you going?
"This too shall pass."
Best thing about being a Woman of Marvel?
Power, baby. All the power.
Jac Schaeffer is the head writer and an executive producer for Marvel Studios' "WandaVision," which kicks off on Disney+ today! Here's a guide on everything you need to know going into "WandaVision." Schaeffer launched her career in 2009 as writer/director/producer of the feature film "TiMER." She wrote the screenplay for Walt Disney Animation Studios' 2017 featurette "Olaf's Frozen Adventure," and 2019's "The Hustle," which starred Anne Hathaway and Rebel Wilson. Schaeffer also contributed to the story for Marvel Studios' upcoming feature film "Black Widow," starring Scarlett Johansson as Natasha Romanoff.
MacKenzie Cadenhead is a children's book author and an old school (Read: former) Marvel editor — not old-old but let's just say she knew Gwen Stacy when she was dead. She co-authors the "Marvel Super-Hero Adventures" chapter book series for young readers and is a proud Woman of Marvel. You can see what she's up to over at Instagram @mackenziecadenhead.
The Women of Marvel podcast assembles to chat all things Marvel and more! New episodes are released every other Thursday. You can find Women of Marvel on Sirius XM, Marvel.com/podcasts and Apple Podcasts.
The Hype Box
Can't-miss news and updates from across the Marvel Universe!