TV Shows
Published January 14, 2021
Everything You Need to Know Going into Marvel Studios' 'WandaVision'
Stream the first two episode of the brand-new series tomorrow on Disney+!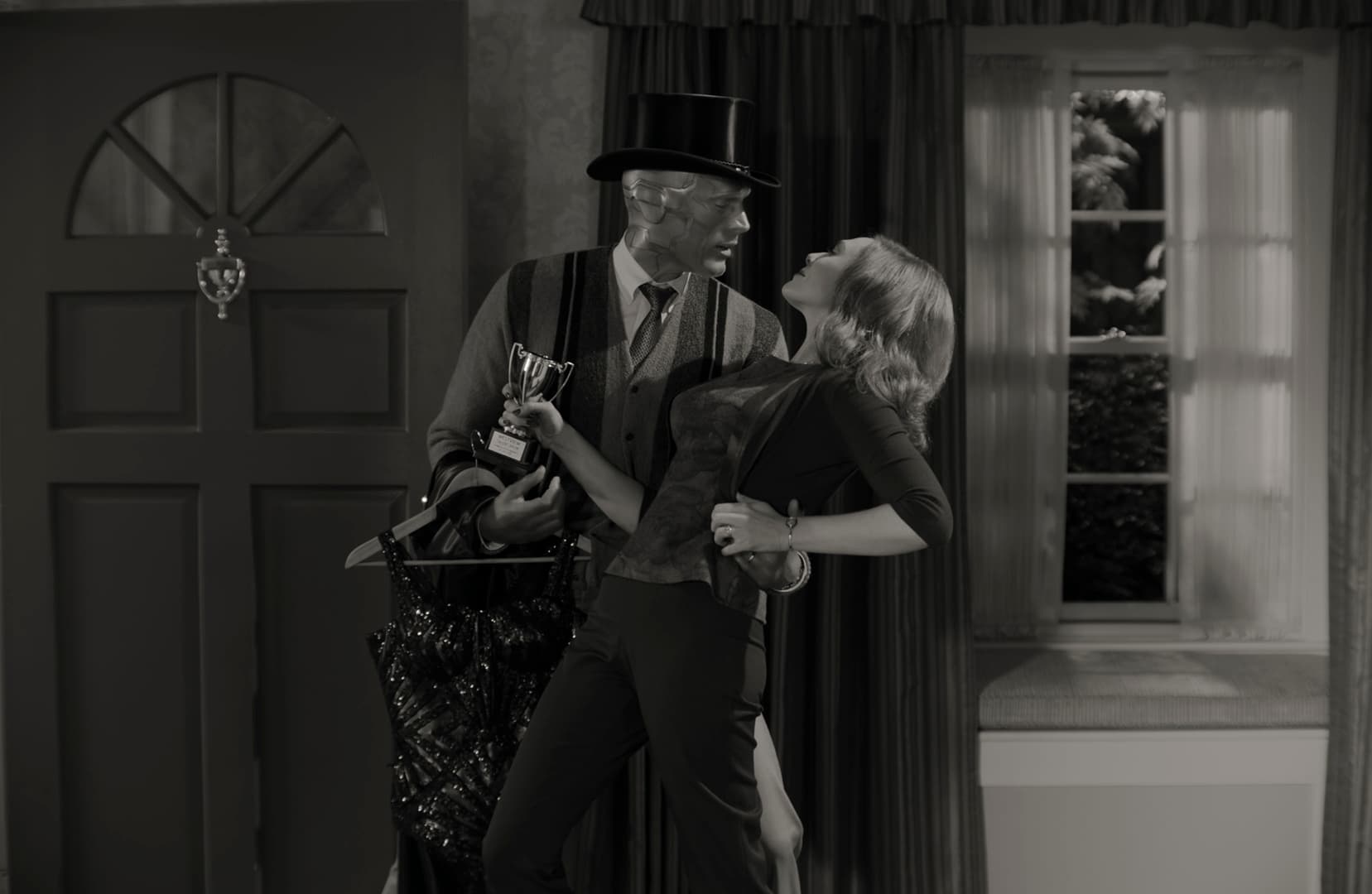 Marvel Studios' captivating new original series WandaVision, the Studios' first series streaming exclusively on Disney+, premieres tomorrow! In the series, Wanda Maximoff and Vision – two super-powered beings living idealized suburban lives – begin to suspect that everything is not as it seems.
To help you get ready for WandaVision, which blends classic sitcoms and the Marvel Cinematic Universe, we've got a handy guide navigating everything you need to know going into the series!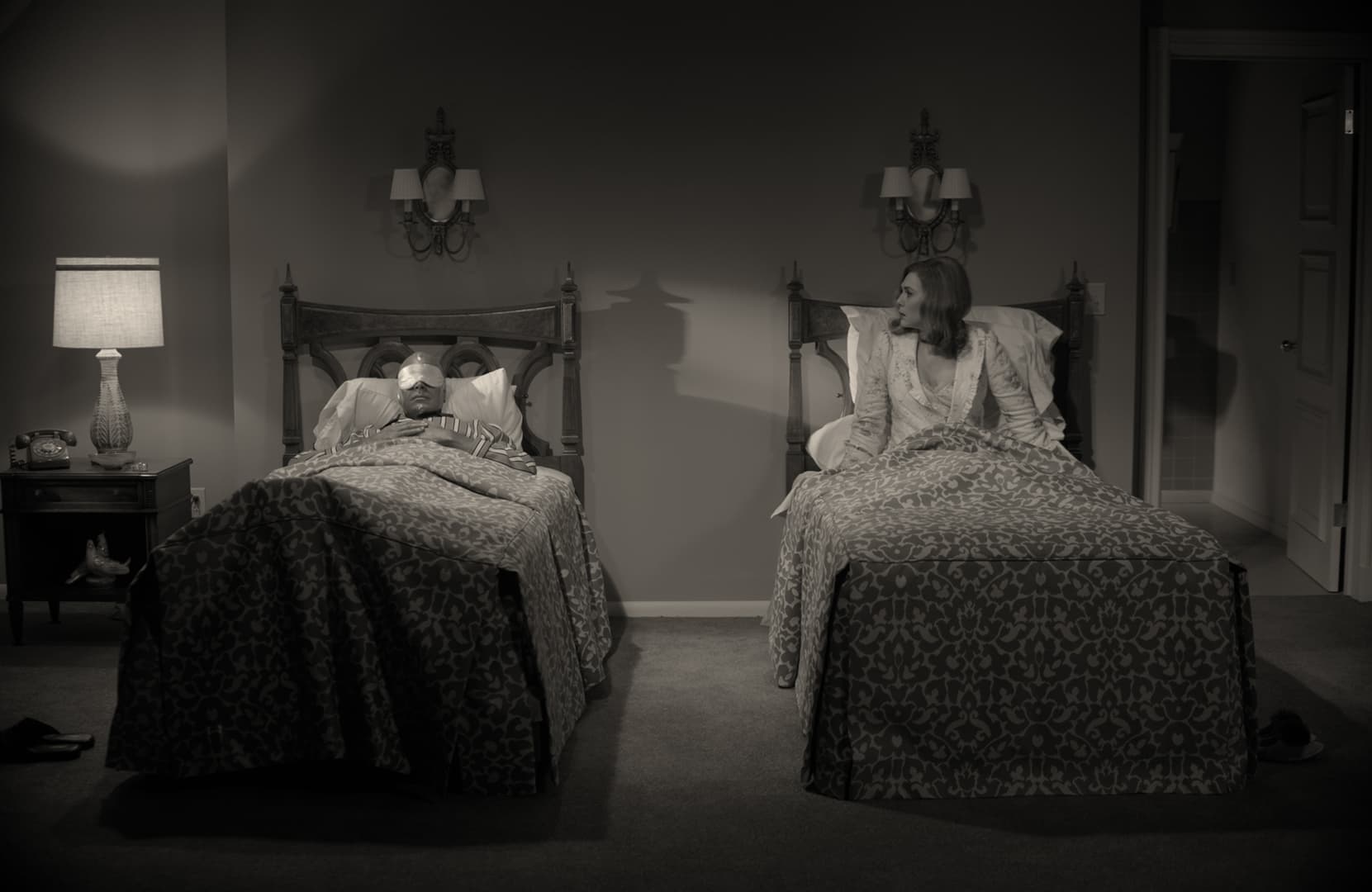 The Basics
The nine-episode series, created much like a motion picture would be, is an exploration of the relationship between Wanda and Vision, who are kicking off married life together and setting roots in the town of Westview.
Wanda Maximoff and Vision say goodbye to city strife, and settle into a quiet suburban life in their new hometown of Westview. Try as Wanda may to fit in and conceal her powers from neighbors, merry domestic mishaps call this magical maven to action! With a magical wiggle of her fingers, is there anything she can't do, or conflict she can't resolve?
Head writer Jac Schaeffer says Wanda has a simple desire. "What she wants more than
anything is to live happily with her husband in this community and to make friends and
to be a part of the community."
The Stars
WandaVision stars Elizabeth Olsen and Paul Bettany, reprising their roles as Wanda Maximoff and Vision, respectively. Interested in where we last left off with the duo? Read our primers on Where We Last Left Off with Wanda and Where We Last Left Off with Vision. Then, watch the duo in the Virtual Live Event below.
Joining Olsen and Bettany are Kat Dennings, who reprises her role as Darcy Lewis from Marvel Studios' Thor and Thor: The Dark World; Randall Park, who reprises his role as FBI Agent Jimmy Woo from Ant-Man and The Wasp; and newcomers Kathyrn Hahn, who plays their nosy neighbor Agnes, and Teyonah Parris, who plays the adult Monica Rambeau, who was first introduced in Captain Marvel. Watch Parris, Hahn, Park, and Dennings share some insight in how they all came to be in the series in the video above!
Original Theme Songs
Oscar-winning songwriters Kristen Anderson-Lopez and Robert Lopez (Frozen) were enlisted to pen unique songs for several episodes, including the original theme song, spanning from the 1950s to the early 2000s.
Lopez previously shared, "WandaVision is such a cool, strange, one-of-a-kind project. When the director, Matt Shakman — an old friend from my college days — pitched it to us, we didn't have to think about it. We loved the bright feeling of American sitcoms mixed with the deep sense of unease the story had, and it was a really inviting challenge to help set that tone."
"That is one of my favorite things to talk about," exclaimed head writer Jac Schaeffer. "Every episode is a different era. Each episode was assigned to a different writer, and it turned into this thing in the writer's room, then we had Bobby and Kristen come in. When they came in, and we did the read through of the episode, they would have to sing their theme song. They had to come up with melodies, as well. It was the best thing that ever happened, and there's one in particular that they kind of did together. It was on a night when I was doing a polish, and they were all in the room. They came up with this crazy song, and all sang it for me together. It was so fun."
Don't turn that dial because the tunes aren't the only special thing unique to each episode!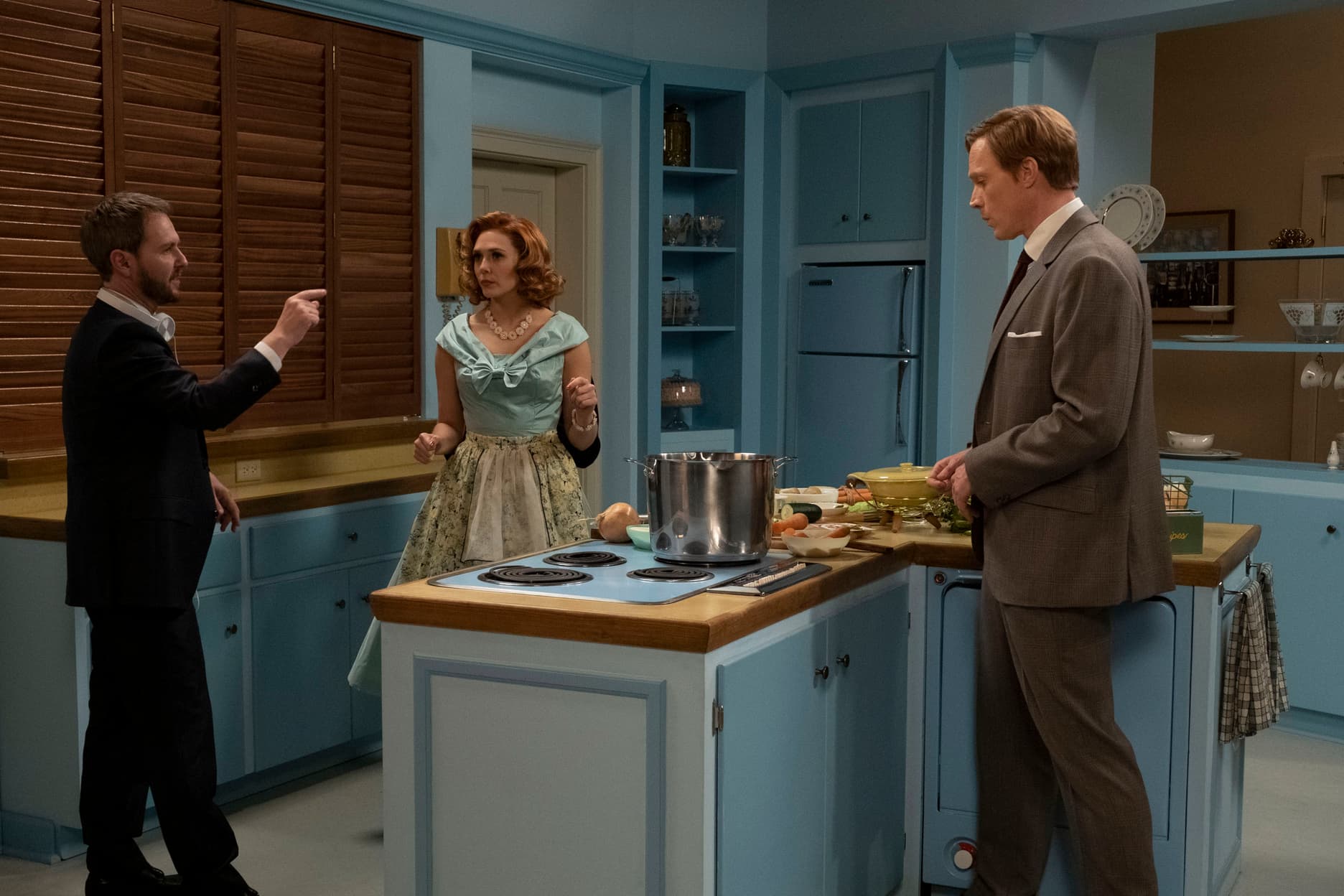 Live Studio Audience
To get in the spirit of classic sitcoms, the first episode of WandaVision was filmed in front of a live studio audience and completed within two days!
Noting that aspect, "That's what they actually did for The Dick Van Dyke Show," stated cinematographer Jess Hall. "That's how they shot The Dick Van Dyke Show. Matt [Shakman] dug into a lot of history about that, and I dug into it as well. There is something in the live event that is irreplaceable; there's something special in that performative moment."
Not only that, in capturing the magic, the production filmed on the legendary Blondie Street at the Warner Bros. Studio Ranch in Burbank, California.
Capturing that Classic Television Magic
In addition to filming in front of a live studio audience on the lot where classic television sitcoms were filmed, WandaVision took on the task of filming in black & white for a few episodes as well.
Cinematographer Jess Hall talked about the herculean efforts it took to pull off black & white filming, and how many departments it required. "You'd look at a set, a wardrobe, or my light, and everything just hopefully would just coagulate into a beautiful alchemy of period authenticity," mentioned Hall. "It was a lot of cross-departmental work."
What the Folks Behind the Series Want You to Know!
"First of all, we are going to crush it with the Nick at Nite crowd and those TCM viewers who haven't seen Avengers: Endgame, they are going to be down," joked series showrunner and executive producer Matt Shakman. "That's the interesting thing. We are creating something that is in the MCU, so it will appeal to, we hope, all of the MCU fans out there. But at the same time, we are bringing the MCU to television. The show was, by design, a giant love letter to the history of television. It is intentionally throwing our arms around all of the amazing work that has come before in television, starting with Dick Van Dyke in the '50s and '60s all the way up to today. So I hope that, much like the MCU films, that this has a little something in it for everybody."
"What can I say that's not a spoiler? There's a lot of focus on Wanda in the press, in the speculation, and I feel very attached to Vision's arc," teased head writer Jac Schaeffer. "I love both Lizzie and Paul, and working with the two of them was one of the most fruitful experiences of my career. Paul was so game for both the comedy and the heart of it. I think people are going to feel very tied to him and very tied to what he experiences in the series."
Interested in knowing more? Here are our 10 key takeaways from the WandaVision Press Conference!
Keep Your Eyes Peeled
"Pay attention to the neighborhood," dished production designer Mark Worthington to Marvel.com. He means that quite literally!
Elaborating, Worthington added, "Pay attention to where the residential street that Wanda and Vision live, because there might be something there that interests you!"
Can't get enough? The cast and creators of WandaVision reveal the magic of the show to Earth's Mightiest Show below!
Want to learn how the MCU's favorite couple, Wanda Maximoff and Vision, find themselves in Westview? Don't miss the premiere of Marvel Studios' WandaVision on Friday, January 15, streaming on Disney+!
Want more exciting information about Phase 4? Find the latest Marvel Cinematic Universe news right here — and stay tuned for more!
This is just the beginning of the Phase 4 news. Stay tuned to Marvel.com for more details! And be sure to follow Marvel on Facebook, Twitter, and Instagram.
Looking for more Marvel movies and shows to stream? Check out everything on Disney+, Hulu, and ESPN+ right here, and where to find all your favorite Super Heroes right here. Sign up for Disney+ and start streaming now!
Looking for more Marvel movies and shows to stream? Check out everything on Disney+, Hulu, and ESPN+ right here, and where to find all your favorite Super Heroes right here. Sign up for Disney+ and start streaming now!
The Hype Box
Can't-miss news and updates from across the Marvel Universe!