Culture & Lifestyle
Published November 5, 2021
'Asked & Answered with the Women of Marvel': Chloé Zhao
Get to know the 'Eternals' director! Plus, a BONUS from Angelina Jolie & Lia McHugh!

Get to know the Asked & Answered with the Women of Marvel series here. Be sure to head over to Marvel.com/WomenofMarvel every other week for more!
While we're counting down the minutes until we can see Marvel Studios' Eternals, (now in theatres — grab tickets!), we thought we'd pass the time chatting with Academy Award-winning director Chloé Zhao (she/her)!
Stick around for a bonus question with the incomparable Angelina Jolie (who plays Thena in the film) and Lia McHugh (who plays Sprite).
They are celestial Women of Marvel. And we had some questions for them.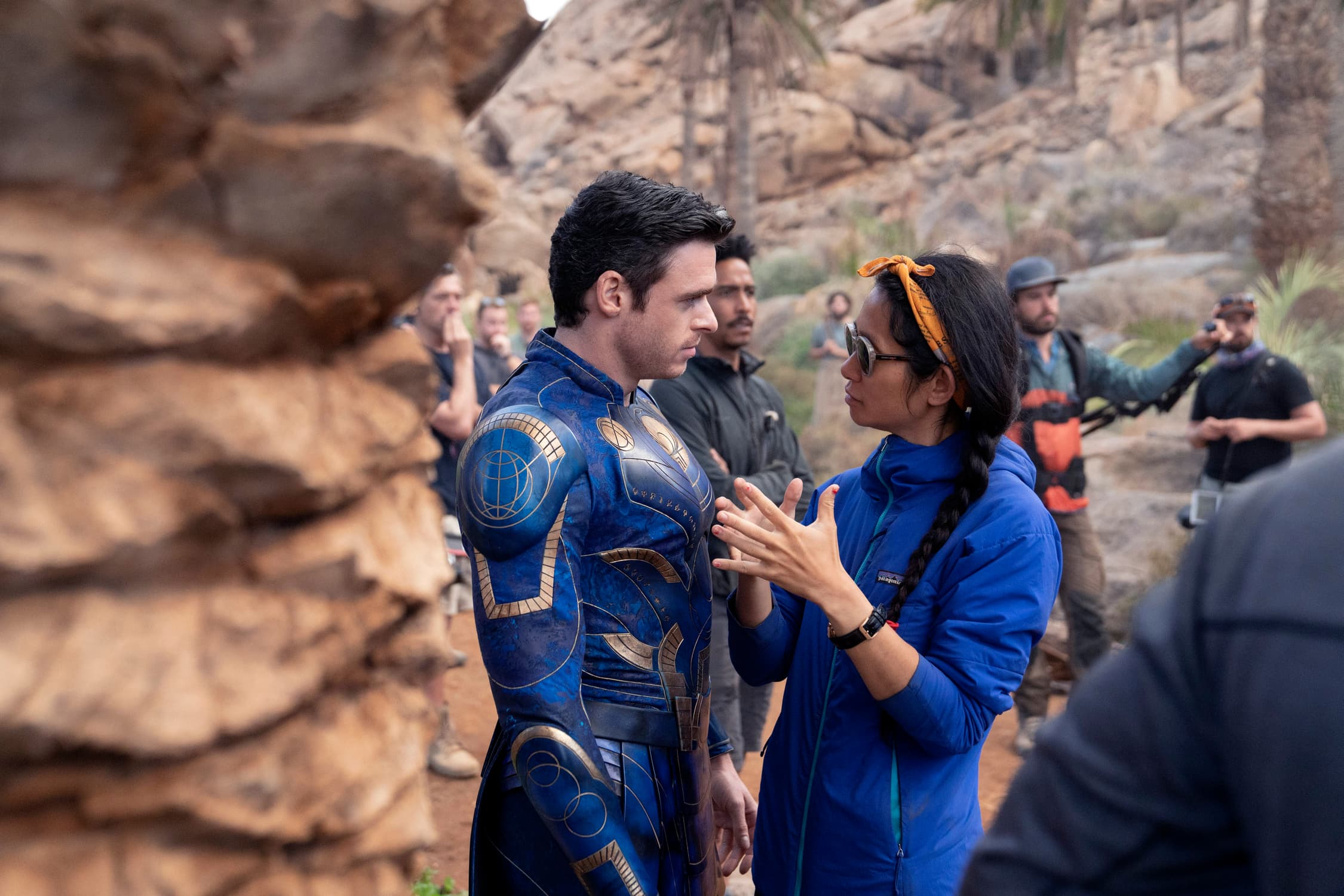 We asked. They answered.
What is the first thing you do when you wake up?
Pet my dogs, Taco and Rooster.
What makes a great day?
Finish my work.
Super-power of choice?
Fly.
What's on your "I'm immortal so I'm going to listen to this a lot" playlist?
Bob Dylan.
When I was a kid I was obsessed with…?
Manga.
If you had a secret identity, what would that person's day job be?
Horse trainer.
The film that started it all…?
Wong Kar Wai. Always Happy Together.
Best advice you've gotten?
Believe in your own power. And when you know that you have the power, you don't have to be loud.
What do you always make time for?
Eat good food.
Best thing about being a Woman of Marvel?
Chloé Zhao: Amazing. I'm just happy I came in as a storyteller. But as a fan? Just to be a part of this family's incredible. And Victoria [Alonso] held my hands through so much. She's like my Ajak. We were all set in post-production. I love the team so much. It's like they really, really carry me through. And they give me so much. And they taught me so much.
Angelina Jolie: It's the first I've thought about that. I'm so used to the Eternal women. That's just a really fun thought. When we were all first in the same room [at San Diego Comic-Con], we came out as the Eternals and we felt like the new unusual group. Then we met everybody else [in the Marvel Cinematic Universe] who had known each other for a decade. But of course, I'm honored and I've loved the work that all of those women have been doing all these years. So that's really fun to think about.
Lia McHugh: It's really cool. Wearing that super suit and being on set doing —  I mean, I did a stunt but it was still really cool for me. It was a lot of hard work; I definitely had a lot to live up to on set. I feel like I personally pushed myself because I'm with Angelina Jolie and Salma Hayek and Gemma Chan and Lauren Ridloff. It was a little overwhelming but I tried my best to step up and live up to the expectation of a super hero.
Marvel Studios' Eternals have arrived in theaters! Get tickets now!
MacKenzie Cadenhead (she/her) is a children's book author and an old school (Read: former) Marvel editor — not old-old but let's just say she knew Gwen Stacy when she was dead. She co-authors the "Marvel Super-Hero Adventures" chapter book series for young readers and is a proud Woman of Marvel. You can see what she's up to over at Instagram @mackenziecadenhead.
The Hype Box
Can't-miss news and updates from across the Marvel Universe!