Culture & Lifestyle
Published March 26, 2021
'Asked & Answered with the Women of Marvel': Maurene Goo
Discover the acclaimed novelist before she makes her Marvel debut with 'SILK #1' next Wednesday!

Get to know the Asked & Answered with the Women of Marvel series here. Be sure to head over to Marvel.com/WomenofMarvel every other week for more!
Maurene Goo is getting me through this pandemic. Whether it's spending the day exploring Hong Kong with Lucky, the K-Pop protagonist in her YA novel Somewhere Only We Know; driving the streets of LA in the KoBra food truck with best enemies-turned-friends Clara and Rose in The Way You Make Me Feel; or delighting in Cindy Moon's adventures—and banter—in her new Marvel SILK series (on comic shelves next week), Goo's stories take me away better than any Calgon bubble bath ever could. 
She may be a little bit psychic. She's definitely a Woman of Marvel. And we had some questions for her.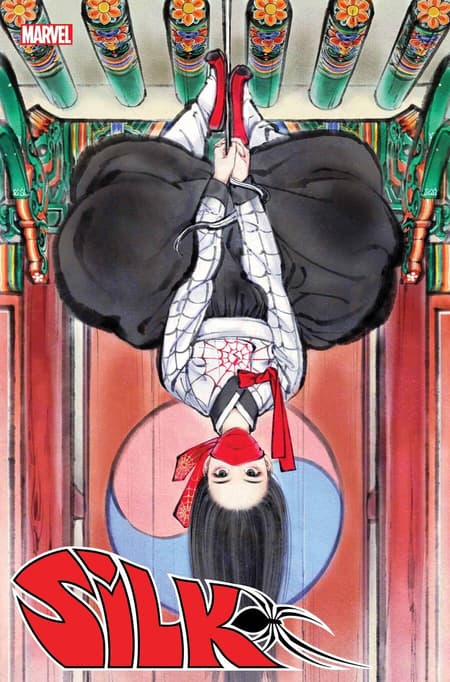 We asked, she answered.
What makes a great day?
This is a weirdly difficult question to answer because of Covid, and the fact that I had a baby during all of this. I'm going to go with a great day in some ideal reality: Get to sleep in, have a perfect milky latte in bed, some breakfast, then spend the rest of the day with absolutely no obligations. This means I could read a book for three hours. Go on a meandering walk with the baby. Take a bath at noon. Meet up with friends and sit in a patch of sunshine. Eat delicious food. Write because I feel like it. Watch a movie with my husband. Fall asleep reading. Yeah, all of that sounds pretty great.
What are you totally into right now?
I am really into film podcasts. I don't know what it is about them that's so comforting during this pandemic but they really hit the spot for walks, early morning wake-ups, or doing dishes when I'm bone tired. I am really enjoying The Empire Podcast, The Big Picture, and Films to Be Buried With, in particular! Also, really randomly into brushing my hair?
What gets you up at 3am?
Pre-baby: My anxious brain suddenly remembering I forgot to respond to someone's email.
Post-baby: Hearing him cry or hearing phantom cries.
Who makes you laugh?
My friends. Everyone thinks they have the funniest friends, but I truly do. 
When we return to throwing parties, what food truck(s) should cater?
La Estrella—my favorite LA taco truck. 
What are you proud of?
Being a good friend. 
Super power of choice?
Strength! I want to be able to destroy my enemies.
Spider-webs at your fingertips – best way to get around town or begging to end up in a sticky situation?
For me, I'd be a mess and would probably end up swinging upside down over traffic somehow.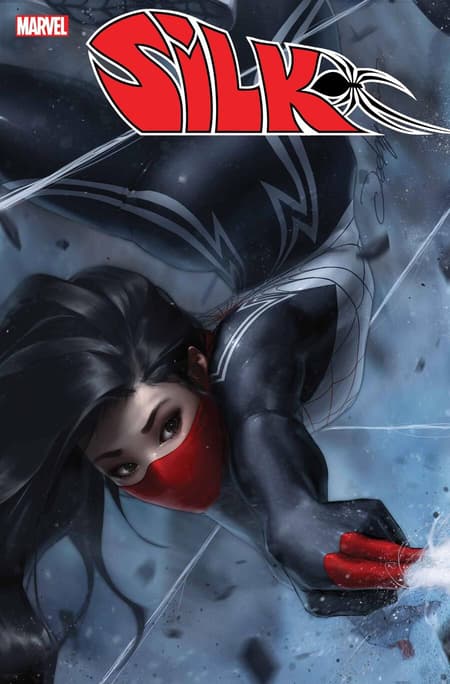 Best advice you've gotten?
I'm a big proponent of therapy (like Cindy!) and so a lot of great advice I get is from my wonderful therapist. One of the best suggestions she ever had for me was regarding insomnia/anxiety spirals at night. I've never been a good sleeper and so I have a lot of stressful nights when I can't sleep and I'm watching the clock. She said to remind myself that if I don't get enough sleep that night, I'll be fine. I'm actually very high-functioning on little sleep. Accepting that I'm going to have a restless night actually helps to make me less anxious and often is the key to help me go back to sleep. Anyway, I love any advice that helps you reframe things you always thought of as negative and just fold it into your life without judgement. So much less friction and stress.
What's on your ten-years-in-a-bunker mix tape?
I have actually been working on a Top 15 Songs playlist for myself after being inspired by my brother-in-law doing it. It's being constantly edited but some mainstays are "I'm On Fire" by Bruce Springsteen, "Always Be My Baby" by Mariah, "Everything Hits at Once" by Spoon, "Dancing Queen" by Abba, and "Forever Young" by Alphaville.
Where do you write?
In the before times, I wrote in coffee shops and in my office. Now it's almost always my office with the occasional field trip to the dining room table.
What's the best thing about your best friend?
I don't have *one* best friend so I will pick my husband who is kind of my best friend? (Haha.) The best thing about him is that I can always trust him to make the right decision, to follow his moral compass no matter what.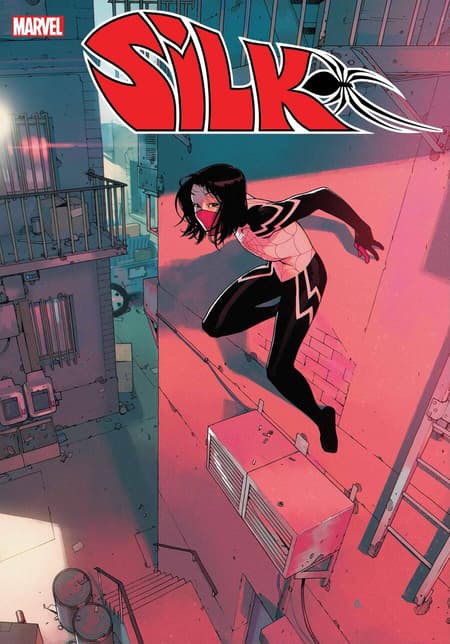 What was 13-year-old Maurene's jam?
Diaries, books, and hanging out at Subway after school.
Board games or video games? 
Board games.
Truth or dare?
Truth.
Ever had a Silk-Sense moment?
Yes. I'm one of those people that thinks they are low-key psychic. (In my defense, I do think I have very good instincts!) One time as a teen, when I was home alone, a guy tried to sell me newspapers and I refused to open the door to talk to him. (Which I had done many times in the past. I lived in a safe suburb.) He got weirder about it and I grabbed the phone in case I needed to call the police, but he finally left. And when he did, he dropped our regularly delivered newspaper on my front step and walked away. He was some young dude wearing street clothes and I fully believe to this day that I prevented something scary and bad from happening.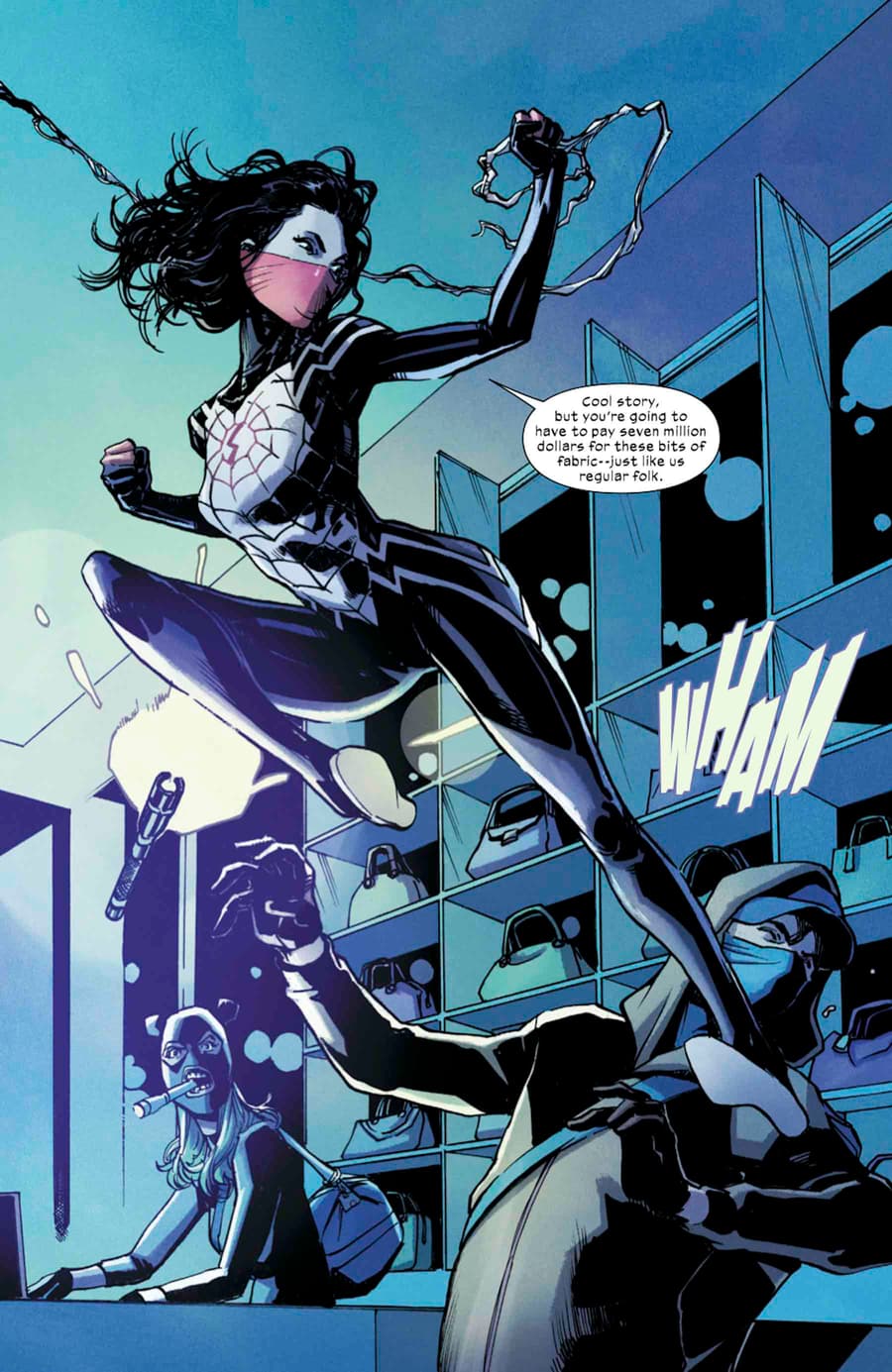 [RELATED: Preview SILK #1 by Maurene Goo with art by Takeshi Miyazawa and colors by Ian Herring — On-sale March 31]
What do you always make time for?
Reading. Even if it's five minutes before I crash into bed. It's been the one consistent comfort in my life.
What's your Vivaldi Season as Recomposed by Max Richter?
Ahhh I LOVE this question. I would have to say "Spring 3." I love the Autumn and Winter compositions but if I'm being real, I am not that intense or angsty of a person. "Spring 3," though, has this slow-build frenzy that I love, a great energy. I relate to that.
Favorite L.A. story?
There are so many. I love this city. I romanticize the hell out of it. I love that Audrey Hepburn once lived on Wilshire with a pet deer. That Pasadena used to be a "getaway" for LA folks—a mere tram ride away. That Hollywood used to be orange groves. That Walt Disney thought of Disneyland while watching the carousel at Griffith Park. And seeing it now—everyone struggling through Covid, the small businesses doing curbside pick-up, Dodger Stadium being used as a vaccination site—I don't know, I am sentimental about it all. 
Mantra or quote that keeps you going?
Having an anxiety disorder, I constantly tell myself: "Just get through this moment. This hour. This day." It helps.
Best thing about being a Woman of Marvel?
It's such an honor and thrill to be able to write Silk. When I hear from Asian American women and girls about their excitement for the upcoming series, I feel a mix of pride and humility. I hope I do right by them! I hope they love the series as much as I loved writing it.
SILK (2021) #1 by Maurene Goo with art by Takeshi Miyazawa and colors by Ian Herring arrives on comic shelves next Wednesday, March 31! You can preview the issue here, as well as check out all the comic variant covers for the first issue here.
Interested in hearing more from Maurene? Listen to her on next week's brand new episode of Women of Marvel!
MacKenzie Cadenhead is a children's book author and an old school (Read: former) Marvel editor — not old-old but let's just say she knew Gwen Stacy when she was dead. She co-authors the "Marvel Super-Hero Adventures" chapter book series for young readers and is a proud Woman of Marvel. You can see what she's up to over at Instagram @mackenziecadenhead.
The Women of Marvel podcast assembles to chat all things Marvel and more! New episodes are released every other Thursday. You can find Women of Marvel on Sirius XM, Marvel.com/podcasts and Apple Podcasts.
The Hype Box
Can't-miss news and updates from across the Marvel Universe!