Culture & Lifestyle
Published September 3, 2021
'Asked & Answered with the Women of Marvel': Michelle Yeoh, Awkwafina, and Meng'er Zhang
Meet the women of Marvel Studios 'Shang-Chi and The Legend of The Ten Rings,' in theaters now!

Get to know the Asked & Answered with the Women of Marvel series here. Be sure to head over to Marvel.com/WomenofMarvel every other week for more!
It's an embarrassment of riches this week as we get to speak with not one, not two, but THREE of the incredible women of Marvel Studios' Shang-Chi and The Legend of The Ten Rings.
Meng'er Zhang is a star. Awkwafina is the bomb. Michelle Yeoh is an actual legend. They are all spectacular Women of Marvel. And we had some questions for them. 
We asked. They answered.
What is the first thing you do when you wake up?
Awkwafina: I laugh or cry.
Meng'er: I open my eyes, does that count?
Superpower of choice?
Awkwafina: I would love to cook chicken on any parking lot surface. Sorry, I would love to see through water heaters.
Meng'er: To be invisible so I can bug Simu [Liu] and Awkwafina without them knowing it's me.
What are you totally into right now?
Awkwafina: I really love the shows Cruel Summer and Manifest.
Meng'er: My action figure. I just play with it every day.
What song gets you ready for battle? 
Awkwafina: Probably "Eye of the Tiger" because I feel like that's what everyone blasts before they get ready for battle.
Meng'er: I remember when we shot the film, I had a song in my mind, always, and every time I sang it, Awkwafina would just be like 'Oh My God! Again Meng'er? You just put that song in my mind too.'
Michelle: Oh, boy. I think it depends on the movie. It depends on the tone of the movie. And I think with this one, Destin [Daniel Cretton] set us up into [what's current] in pop culture, like what's hip and happening. You also have to take the lead from the visionary. 
In that way, I allow myself to be influenced. Look at the music that he has, that we have in Shang-Chi. It motivates you. It brings you to different moments; whether it's poignant, whether it's like ready to rumble and rock n roll. So for me, it's different every single time.
On a scale of Sisu to the Great Protector, how do you like your dragons?
Awkwafina: Definitely somewhere in the middle because you want to be of use.
Best advice you've gotten?
Awkwafina: The best advice I've gotten is to not ride the ups or downs of life too much. Don't look too much into one because each one is a transient phase.
Meng'er: Oh, from Sir Ben [Kingsley], he told me the difference between stage acting and camera acting and I literally took notes every time I talked to him. It's just a Master Class and I would take everything I learned from him forever with me.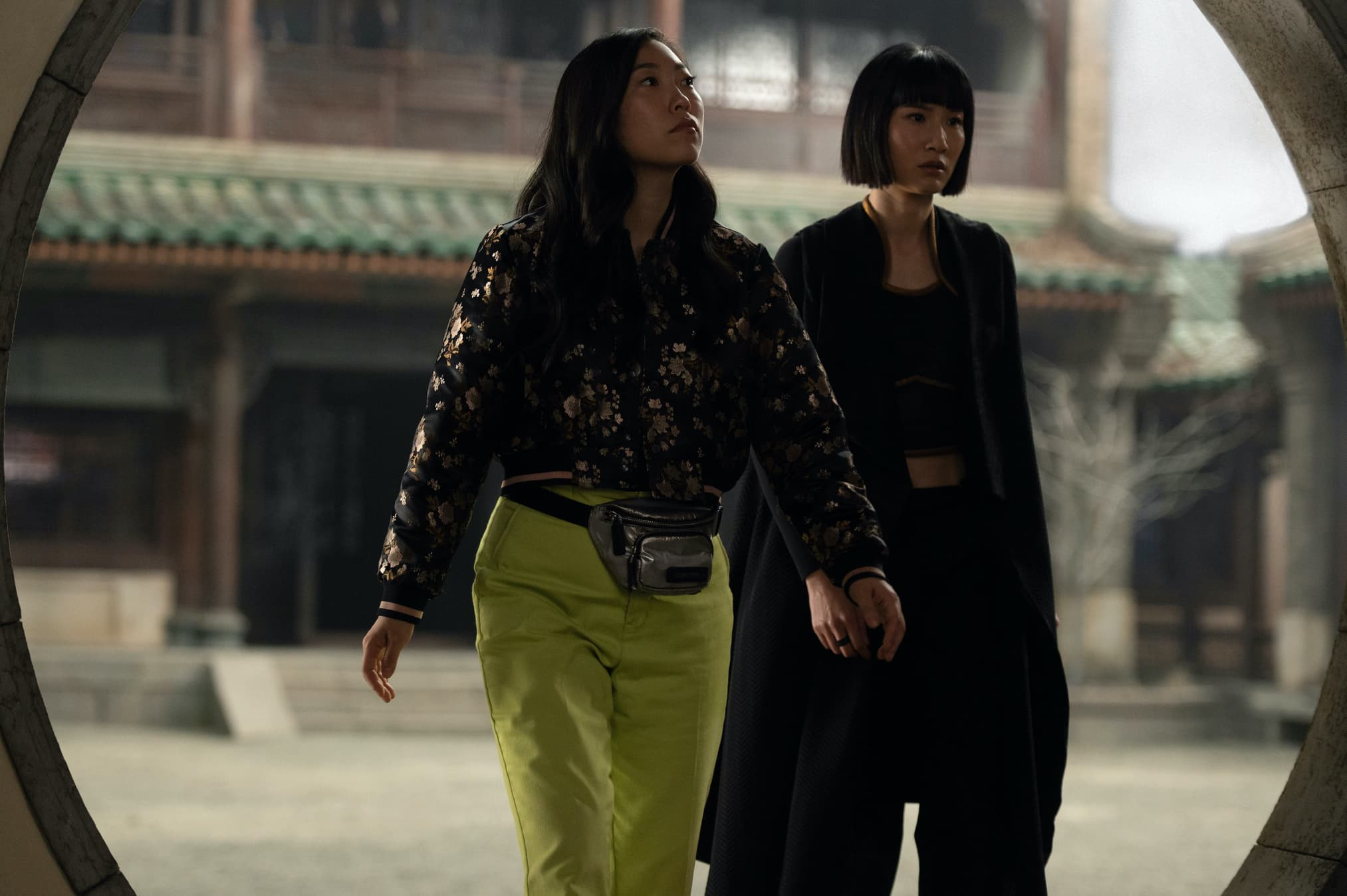 Your go-to karaoke song?
Awkwafina: "Dreams" by Fleetwood Mac.
Meng'er: "If I Ain't Got You" by Alicia Keys. I sang that song on the celebration of my marriage with my husband.
Favorite stunt?
Awkwafina: My favorite stunt. Honestly, sometimes it's really cool because you can go to work and it's like you're riding a Six Flags ride or like you're at Disneyland or something like that, so the best ones are ones where you're just like launched into gravity or you just let gravity take you because you're falling. 
Michelle: The training scene with Shang-Chi and Ying Nan. Luckily, Simu says the same thing too. He actually wrote to me and said, 'I love the scene where you kick my butt.'
Must-have item on set?
Awkwafina: I used to carry around a little Bop It.
Meng'er: Snacks. A lot of snacks.
If you could go back in time and tell your younger self one thing, what would it be?
Awkwafina: It used to be, 'Don't worry that much,' but I know that my younger self would worry even more if an older self came in and was like, 'Don't worry.' I'd be really worried. Now I would say, 'Even though you're going to worry now, at some point, you won't worry that much anymore.'
Michelle: Oh, God. See, there's one thing in life that I don't do which is I do not go backwards, because I only look forward. If I can go forward and tell my future self instead, maybe I want to do that: 'Keep persevering.' Whether you go backwards or forwards, I think that's what it is. 
If you have a dream, you persevere. And always be learning. Don't be afraid to learn. Don't be afraid to not know because if you know everything, then there's nothing to learn. I look forward to going that way and not that way.
Who makes you laugh?
Meng'er: Oh, a lot of things but yeah Simu and Awkwafina, they make me laugh.
Mantra or quote that keeps you going?
Meng'er: Focus.
Michelle: 'The harder you work, the luckier you become' is one of my favorite sayings.
Best thing about being a Woman of Marvel?
Meng'er: I feel really powerful.
Michelle: What is not good about that? I think all these women represent different facets of what a woman is. We're strong, we're independent, and we're smart. We have abilities, and we won't allow anybody to tell us any different. 
And we will go out and go out on a limb to do what we need to do, whether it is to protect, defend ourselves or the people that we love. And I think that's what it takes to be a woman. I mean, look at what a mother is.
Experience Shang-Chi and The Legend of The Ten Rings in theaters. Tickets are now available! 
MacKenzie Cadenhead is a children's book author and an old school (Read: former) Marvel editor — not old-old but let's just say she knew Gwen Stacy when she was dead. She co-authors the "Marvel Super-Hero Adventures" chapter book series for young readers and is a proud Woman of Marvel. You can see what she's up to over at Instagram @mackenziecadenhead.
The Hype Box
Can't-miss news and updates from across the Marvel Universe!