Culture & Lifestyle
Published January 29, 2021
'Asked & Answered with the Women of Marvel': Rainbow Rowell
Discover the author's desert island mix tape and pick up 'Runaways' #33 next week!

Get to know the Asked & Answered with the Women of Marvel series here. Be sure to head over to Marvel.com/WomenofMarvel every other week for more!
Thank Crowley for Rainbow Rowell! Whether she's making you fall for a certain British vampire magician (just me?), getting the band back together in RUNAWAYS, or yanking on your heartstrings with Eleanor and Park, Rainbow is a master storyteller.
She's also a Woman of Marvel. And we had some questions for her.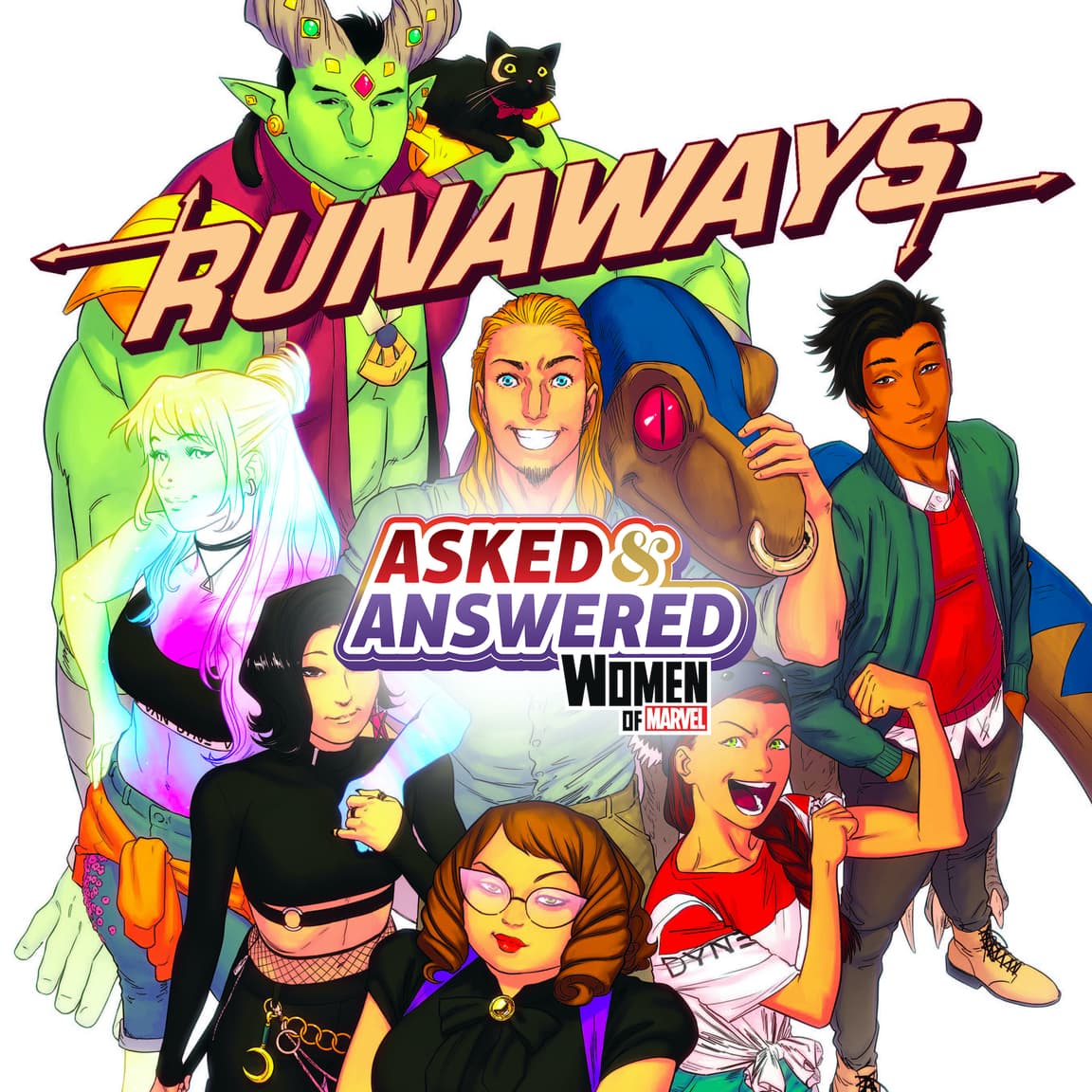 We asked, she answered…
What is the first thing you do when you wake up?
Check my email. Read the newspaper. Scroll through Tumblr. I hate getting out of bed and do as much as I can without getting up.
Socially-distanced activity of choice?
Animal Crossing 
What gets you up at 3am?
Lately? Covid. Climate change. Angry emails I'm too chicken to send. I mean, honestly – existential despair. 
Superpower of choice?
Invulnerability.
What's on your desert island mix tape?
"Like the Weather" by 10,000 Maniacs
"Chelsea Morning" by Joni Mitchell
"Landslide" by Fleetwood Mac
"Home by Now" by Bombay Bicycle Club
"Hast Thou Considered the Tetrapod" by the Mountain Goats
"Lake Michigan" by Rogue Wave
"Out of Control" by U2
"Here's Where the Story Ends" by the Sundays
Salty or sweet?
Salty!
In an alternate universe, what would your alternate job be?
Disney theme park Imagineer.
Cat person, dog person, or genetically-engineered dinosaur person?
Genetically-engineered dinosaur person, obviously.
What are you totally into right now?
I'm in quarantine. So it's all weird and laced with anxiety. Like, looking at old teapots on Etsy and culling my lip gloss. Middle-of-the-night crossword puzzles. 
Cornfields or British School of Magicks?
My heart is in Watford.
What was your favorite book/movie/TV show as a kid?
I was really into the Ramona books by Beverly Cleary.
And Little House on the Prairie, the books and the show.
I also loved The Incredible Hulk. Very into Bill Bixby.
What is your favorite book/movie/TV show now?
Books: The Wayfarer Series by Becky Chambers. And anything by Jo Walton.
TV: Los Espookys, M*A*S*H, Bob's Burgers, Silicon Valley, Travel Man
Movie: Hunt for the Wilderpeople
What's on your desk?
A thousand Sharpies, stacks of decorative sticky notes, so much lip balm, a Kylo Ren figure.
Who has your back in a dark alley: She-Hulk or Molly Hayes?
Such a hard choice!!! I've gotta go with Molly. 
Who would you road trip with (dead or alive, someone you know or wish you knew, fictional or real)?
Hank McCoy—like, early-'90s Hank McCoy.        
Wheel of Fortune or Jeopardy?
Jeopardy, but I'm not any good.
Supporting character that deserves their own book?
Doombot! (The Doombot who hangs out with the Runaways.)
Favorite Runaways panel?
The panel in RUNAWAYS #11 where Gert gets her new look, with art by Kris Anka and Matt Wilson.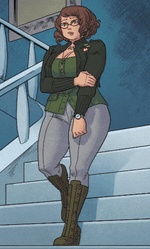 Mantra or quote that keeps you going?
I'll go with the Runaways' battle cry — Try not to die!
Best thing about being a Woman of Marvel?
Getting to work with a team of smart, kind people who genuinely love comics.
Rainbow Rowell returns with a brand-new installment with RUNAWAYS #33, with art by Andres Genolet, on comic shelves next Wednesday, February 3, 2011! The Runaways descend into one of the most terrifying Marvel Universe locations ever: HIGH SCHOOL! It goes better for some than others. For those who don't think high school is an authentic Marvel Universe location, you WILL agree that who shows up at the end is a VERY authentic Marvel guest star!
MacKenzie Cadenhead is a children's book author and an old school (Read: former) Marvel editor — not old-old but let's just say she knew Gwen Stacy when she was dead. She co-authors the "Marvel Super-Hero Adventures" chapter book series for young readers and is a proud Woman of Marvel. You can see what she's up to over at Instagram @mackenziecadenhead.
The Women of Marvel podcast assembles to chat all things Marvel and more! New episodes are released every other Thursday. You can find Women of Marvel on Sirius XM, Marvel.com/podcasts and Apple Podcasts.
The Hype Box
Can't-miss news and updates from across the Marvel Universe!