Culture & Lifestyle
Published September 10, 2019
Assemble For New Marvel Experiences Heading to Disneyland Paris in 2020
The return of Marvel Super Heroes Season next year, plus the opening of Disney's Hotel New York – The Art of Marvel!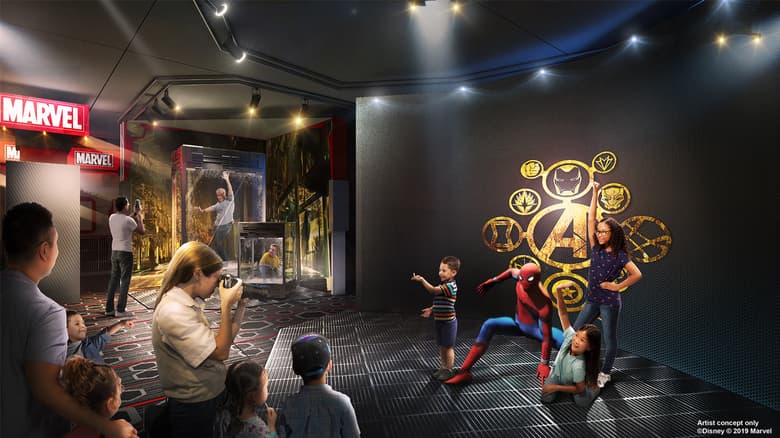 True Believers, get ready to assemble at Disneyland Paris in 2020!
Earlier this morning, in the heart of Paris, at the very first Disneyland Paris Media Expo, we learned about one-of-a-kind immersive events and new offerings heading to the resort next year and beyond. Between the opening of Disney's Hotel New York – The Art of Marvel and the return of Marvel Super Heroes Season, we also got an update on the recently announced Avengers Campus. You're officially invited to step into the Marvel Universe to live out Super Hero stories like never before.
Disney's Hotel New York – The Art of Marvel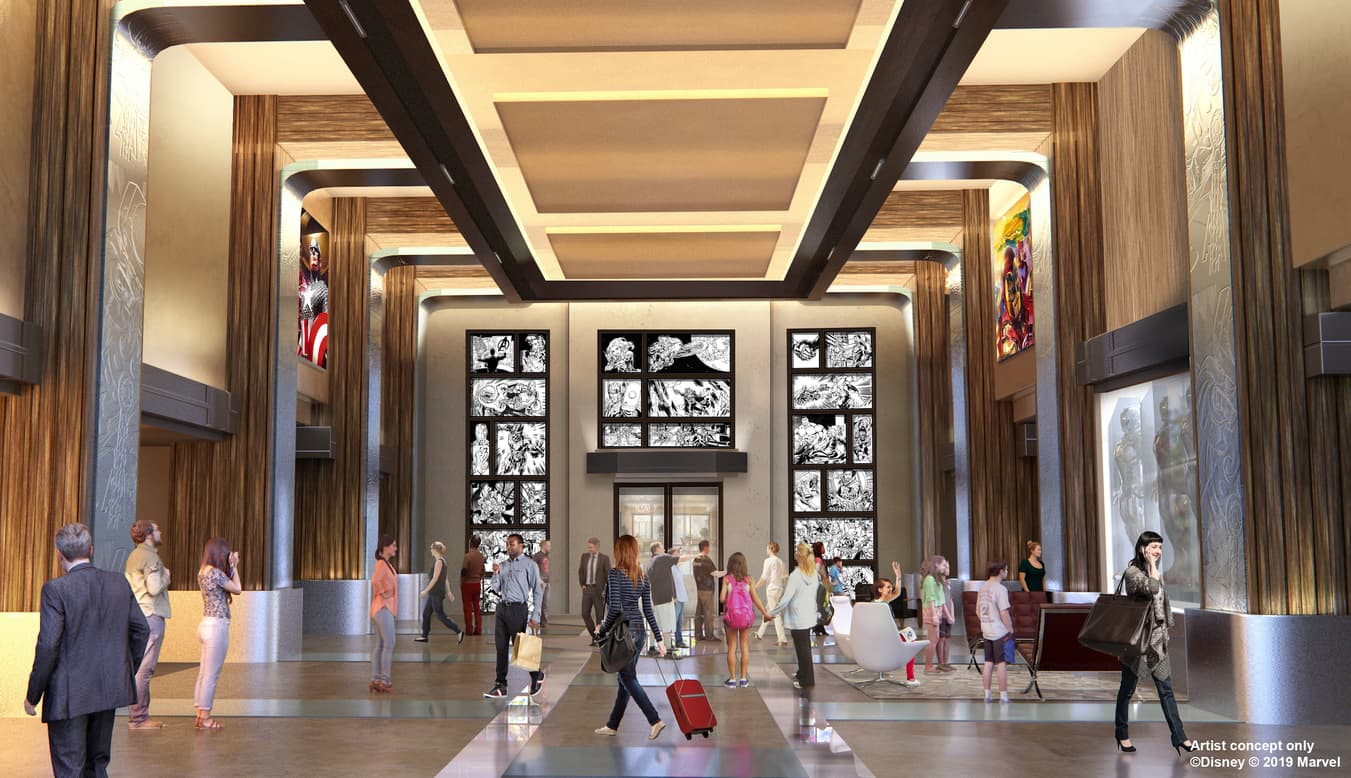 Guests will soon be able to experience Disney's Hotel New York – The Art of Marvel, celebrating 80 years of Marvel storytelling in a typical New York setting, with a contemporary Art Deco style. The Hotel is inspired by a New York art gallery, paying tribute to the city that is home to many iconic Marvel Super Heroes and the artists who created them.
When the Hotel reopens next summer, it will be the very first Hotel dedicated entirely to the celebration of Marvel art, inviting guests to discover the iconic stories and characters of this epic universe with one of the largest publicly viewable collection of Marvel artworks in the world.
Disneyland Paris is collaborating with more 50 artists from Marvel Comics and Marvel Studios to bring together more than 300 pieces of artwork showcasing the wealth of the Marvel Universe – comic book covers, posters, illustrations from films, storyboards, original sketches and more – including never-before-seen and exclusive pieces.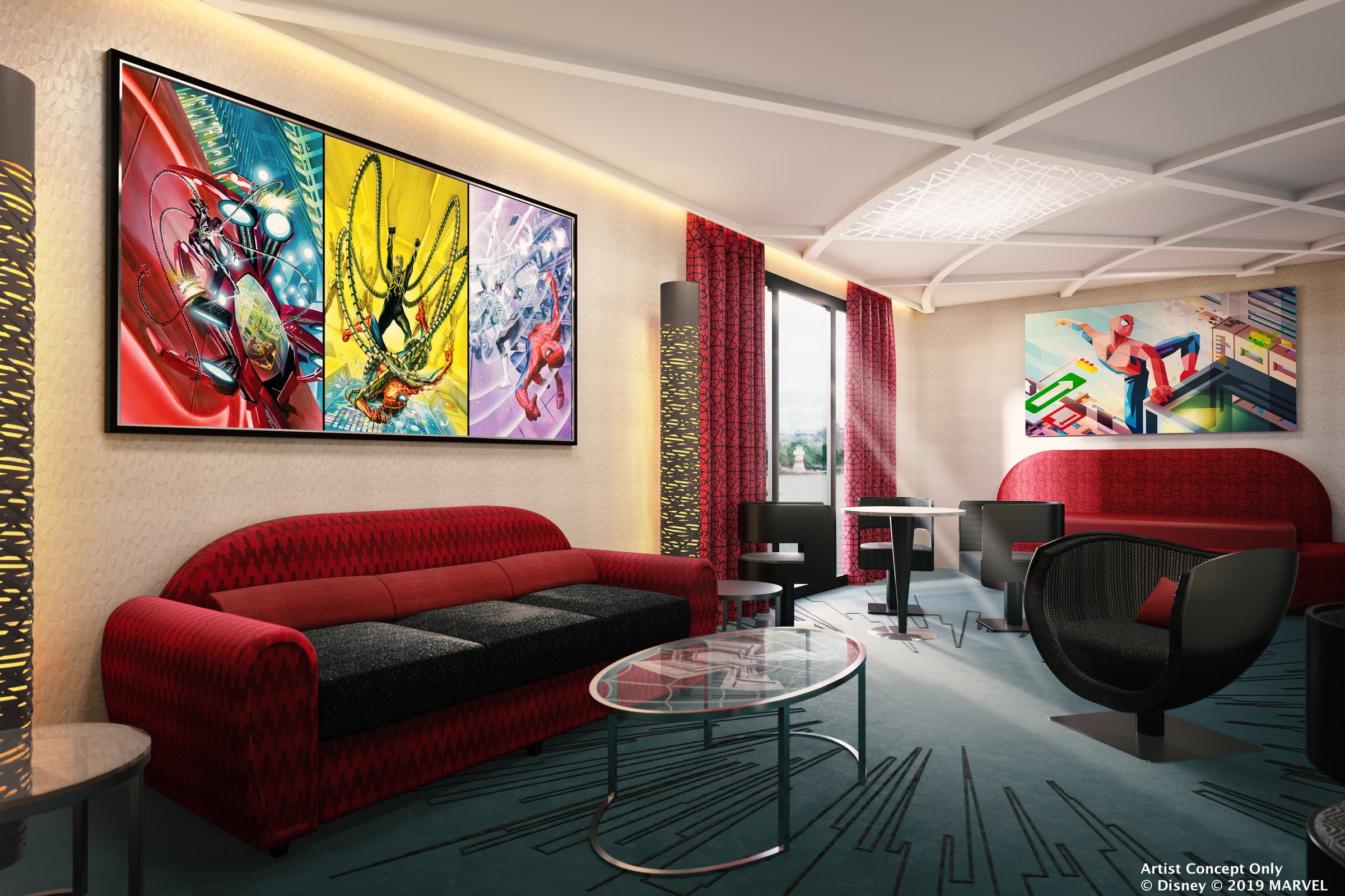 This unprecedented renovation will include entirely redesigned rooms with a modern feel, featuring Marvel artwork in each room and a subtle nod to the legendary Iron Man in all Empire State Club rooms. Disney's Hotel New York – The Art of Marvel will also have suites that go above and beyond for fans, including suites themed to Avengers and Spider-Man. The walls will display spectacular works by Marvel artists and even the furniture will include subtle references to these iconic Super Heroes.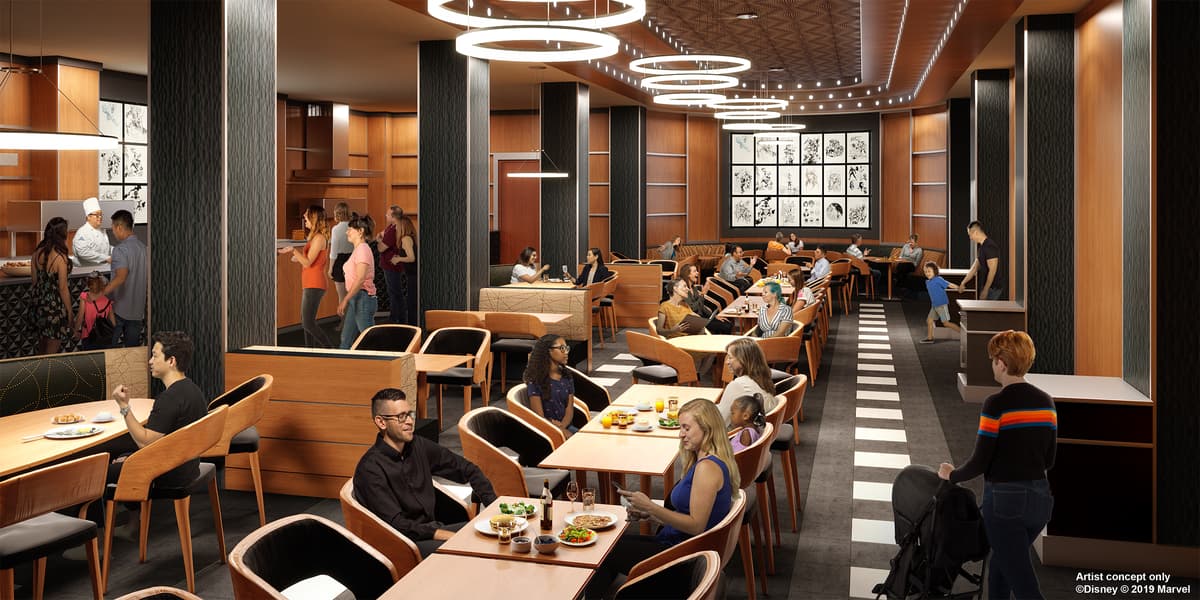 Guests staying in Club and Suite rooms will enjoy exclusive amenities and services, such as a dedicated reception and access to the Empire State Lounge, an elegant & quiet private lounge where guests can enjoy breakfast. Beyond the accommodations, unique restaurants and bars celebrating the Art of Marvel, give guests even more to experience on their plate:
Manhattan Restaurant will be an elegant and refined table service restaurant – featuring a magnificent chanderlier inspired by Thor's Asgardian Palace – with a menu that will give prominence to authentic flavours, reminiscent of a family-owned Italian trattoria, with fresh and local products.
Downtown Restaurant will be a culinary journey through a cosmopolitan New York where typical American dishes will meet flavours from Chinatown & Little Italy. Guest will even be able to see chefs preparing meals. The restaurant will also offer a selection of Marvel-inspired specialities and its walls will display 90 sketched portraits of Marvel Super Heroes.
Skyline Bar will be an elegant, typical New York Martini bar, offering breath-taking views of the skyline of New York that will hold some heroic surprises. At Skyline Bar, guests can find cocktails as well as a fine selection of wines.
Lounge Bar will be a Trendy Manhattan loft-style bar serving fresh and organic products like biodynamic wines, bottled beers from craft breweries and more. Definitely the best place to gather with family or friends after a day of adventures in the parks.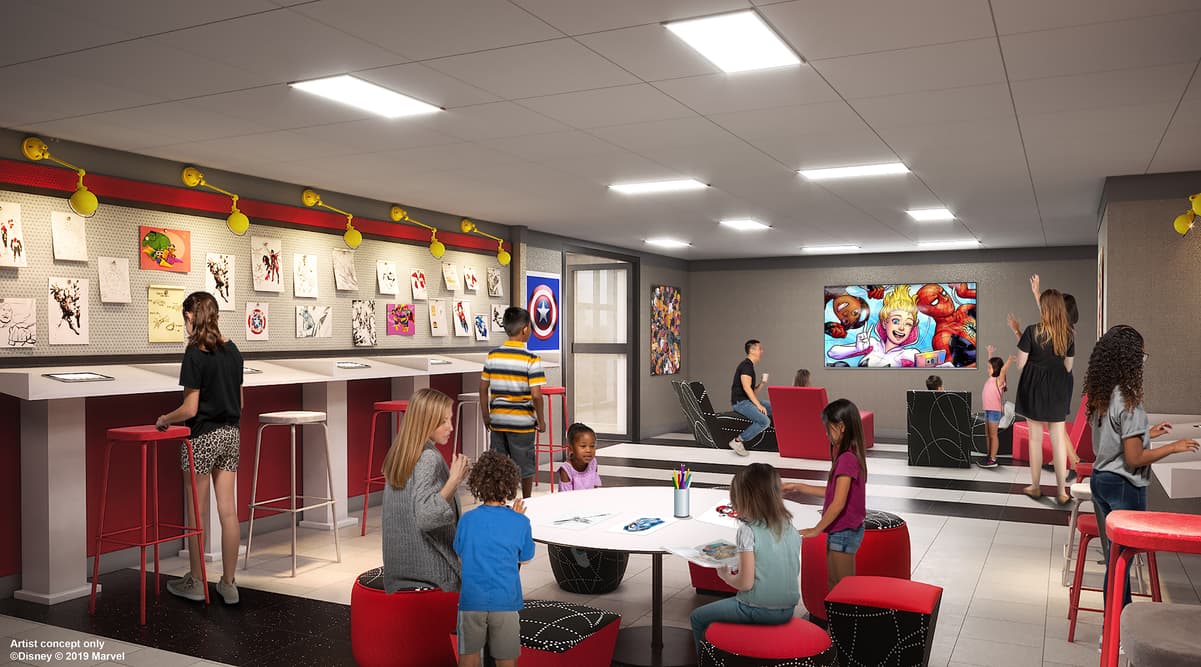 Disney's Hotel New York – The Art of Marvel will also be the very first Disney Hotel to host Marvel Super Heroes. Guests can have heroic encounters with iconic Marvel Super Heroes in a special location called Super Hero Station. In addition to encountering their favorite heroes every morning, guests can become part of the Marvel action with unique photo locations such as, joining the Collector's Collection from the Guardians of the Galaxy or wielding Thor's hammer and more.
Guests can even go home with a souvenir of their Marvel adventures from New York Boutique which offers a selection of exclusive Marvel collectible products.
Additionally, guest at Disney's Hotel New York – The Art of Marvel can take advantage of the benefits that come with staying in a Disney Hotel, including free shuttle service, Extra Magic Hours and much more.
Guests will be able to book Disney's Hotel New York – The Art of Marvel as of November 5, 2019. The Hotel is expected to open in the summer 2020!
Marvel Super Heroes Season – March 24 through June 7, 2020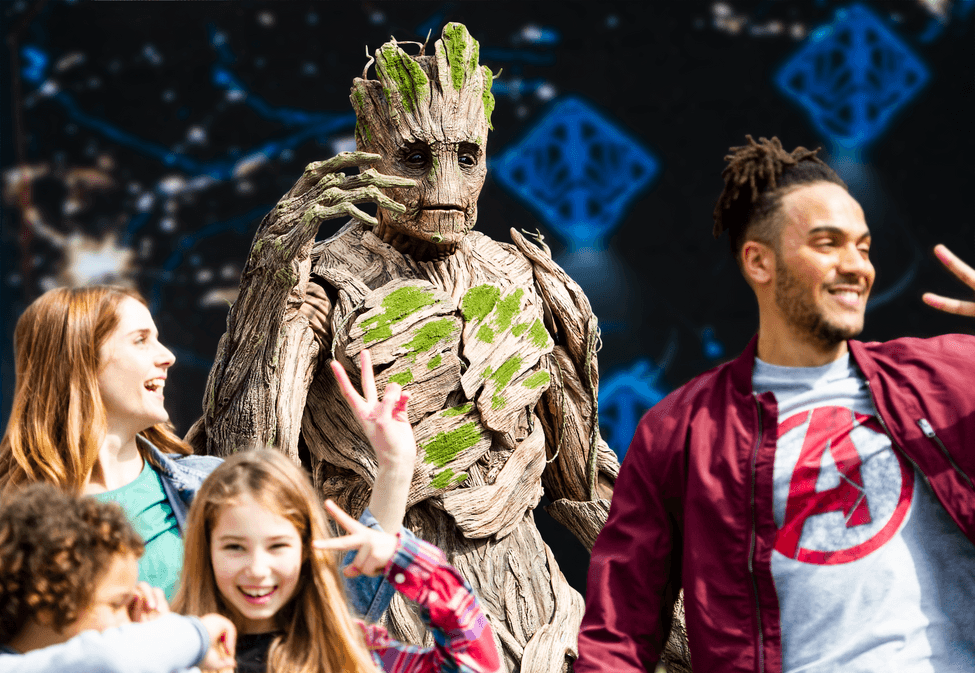 Following the success of the first two seasons, Marvel Super Heroes will return to Walt Disney Studios Park to give guests a thrilling experience next spring. The Marvel Universe will come to life at Disneyland Paris with epic shows and experiences featuring Spider-Man, Iron Man, Captain America, Captain Marvel and more guest favorites.
Avengers Campus
Recruitment begins in 2021!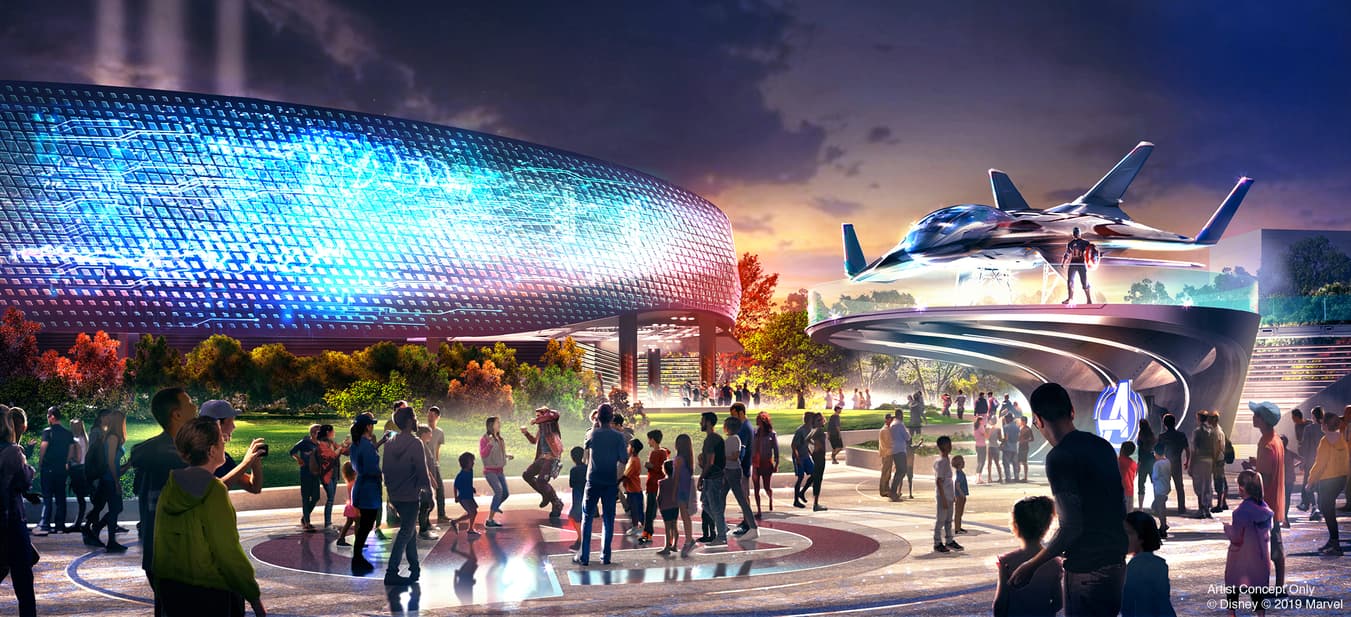 As recently announced, Walt Disney Studios Park will be home to a new Marvel-themed area called Avengers Campus opening in phases starting in 2021. Avengers Campus will immerse guests in action-packed adventures with incredible attractions, heroic encounters and new restaurants.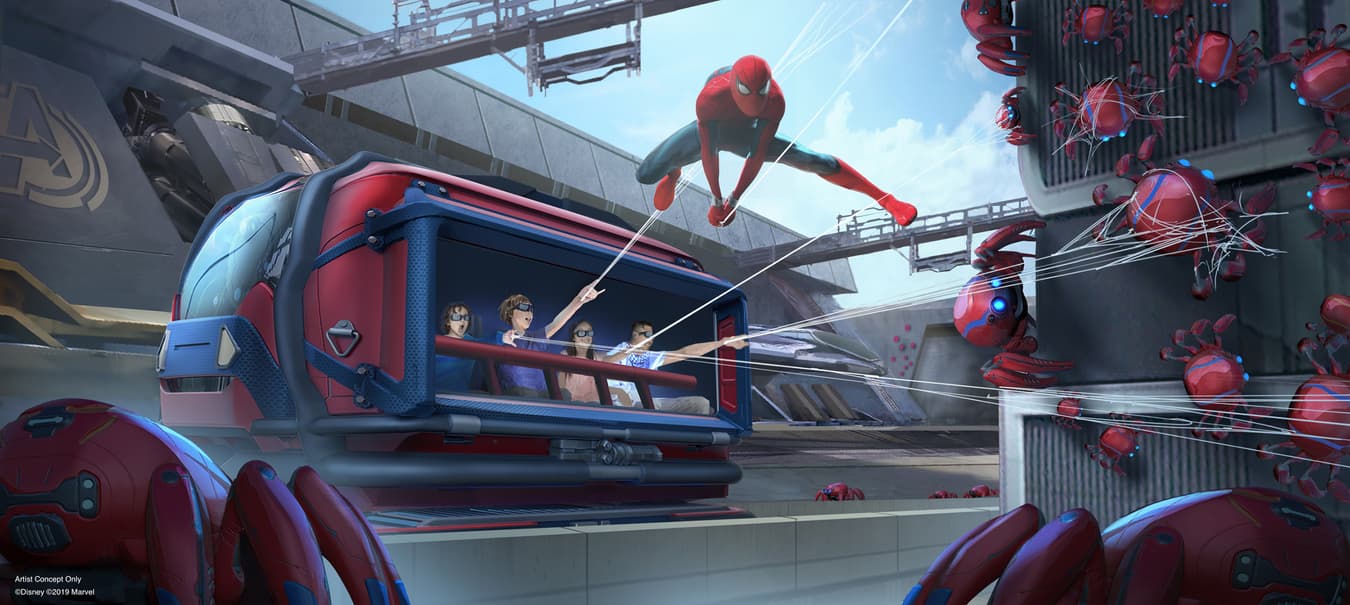 One of the highlights will be a Disney attraction dedicated to Spider-Man, which will give guests of all ages a taste of what it's like to have superpowers as they sling webs to help Spider-Man collect Spider-Bots that have run amok.
The Hype Box
Can't-miss news and updates from across the Marvel Universe!