Culture & Lifestyle
Published January 4, 2021
School's Back in Session with 'Marvel's Avengers Assembly: The Sinister Substitute'
Your exclusive first look at Preeti Chhibber and James Lancett's follow-up to 'Marvel's Avengers Assembly: Orientation,' coming this April 2021!
Kamala Khan (Ms. Marvel), Doreen Green (Squirrel Girl), and Miles Morales (Spider-Man) are back at Avengers Institute for a new semester!
In the follow-up to the original illustrated novel Marvel's Avengers Assembly: Orientation, author Preeti Chhibber and illustrator James Lancett are back with a brand new tail in Marvel's Avengers Assembly: The Sinister Substitute. In the first book, we experienced super hero higher learning through the eyes of Kamala Khan, but get ready for a whole new macademic perspective!
Speaking to Marvel.com, Preeti Chhibber exclaimed, "I pecan't wait for you to see what's coming your way, because this time we're all in on Squirrel Girl. I need you to know that I have saved up so, so many puns for this."
It's time to go nuts and feast your eyes on the cover of Marvel's Avengers Assembly: The Sinister Substitute, courtesy of our friends over at Scholastic, below!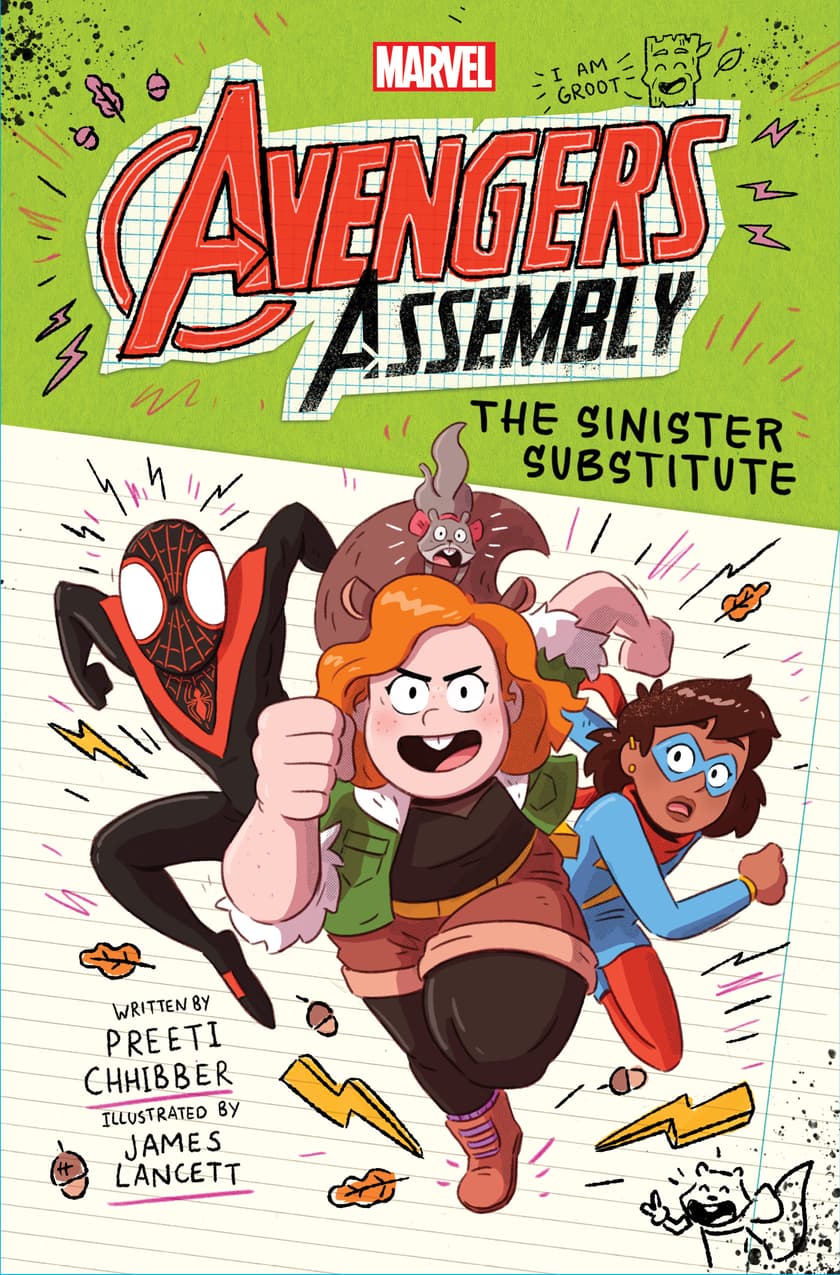 In Marvel's Avengers Assembly: The Sinister Substitute, on-sale on April 6, 2021, school principal Captain Marvel went above and beyond stacking the staff roster with a bunch of new teachers! With all these heroes about, it's hard to keep track of who's teaching what, and what the young students are supposed to be learning. And some of these teachers are really not acting like heroes at all, but more like... super-villains? 
"After the events of the last book, Captain Marvel realized she needs more help than she'd originally anticipated and so there are definitely more teachers this time around," added Chhibber. "Including our favorite tree-raccoon-(not-a-raccoon) combo, Rocket & Groot. And Squirrel Girl's best friend Nancy is particularly excited that Thor's going to be teaching a course, too. Plus, as the title of the book might suggest, we may have a not so friendly teacher on our hands, but who could it be?"
In the chaos of all this new staff, someone is trying to break up the new generation of heroes. Can Doreen and her friends get to the bottom of this scandal? Or will this be the end of the Avengers Institute?
"The full crew is back and with some new friends (and foes), too," revealed Chhibber. "Doreen's one of my favorite characters — shout-out to Ryan North and Erica Henderson for the truly excellent run they did on THE UNBEATABLE SQUIRREL GIRL a few years back — and she's so different from everyone else around her. She's unapologetically optimistic, but what happens when there are outside forces working against you? Even if these books might follow a single hero, the story is always about our heroes and their friendships."
So what's on the lesson plan this year for our young heroes?
"This time, we're learning about trust and being there when you say you're going to be there," shared Chhibber. "Friendship and super heroing both take work and care to keep going, and that's something Squirrel Girl might need to learn. I don't want to give too much away, but I can say I had a lot of fun coming up with more gags and jokes to make us laugh."
Marvel's Avengers Assembly: The Sinister Substitute is available everywhere books are sold on April 6, 2021. You can pre-order the original illustrated novel now!
Interested in learning more about the Marvel's Avengers Assembly series? Listen to Preeti Chhibber chat all things Marvel's Avengers Assembly: Orientation on the Women of Marvel podcast here!
Want to stay on top of everything in the Marvel Universe? Follow Marvel on social media—Twitter, Facebook, and Instagram—and keep watching Marvel.com for more news!
The Hype Box
Can't-miss news and updates from across the Marvel Universe!