Culture & Lifestyle
Published June 4, 2021
Avengers Campus: Locating the Hidden Details Throughout the Land
You never know where an Avenger might have left their mark…
There's so much to see, do, eat, and experience at Avengers Campus, now open inside Disney California Adventure at the Disneyland Resort. But are you looking in the right places for everything?
Scattered throughout the brand-new recruitment and training facility are dozens — if not hundreds — of Super Hero references ranging from giant signs staring you right in the face, to little hidden details tucked away behind things. If you're on the hunt for them, you're going to want to look up, down, and all-around the surroundings looking for them! You never know where an Avenger might have left their mark…
Just like part of the journey is the end, part of the hunt for finding these hidden details is actually finding them yourself! But here are some of the places you might want to take a closer look:
WEB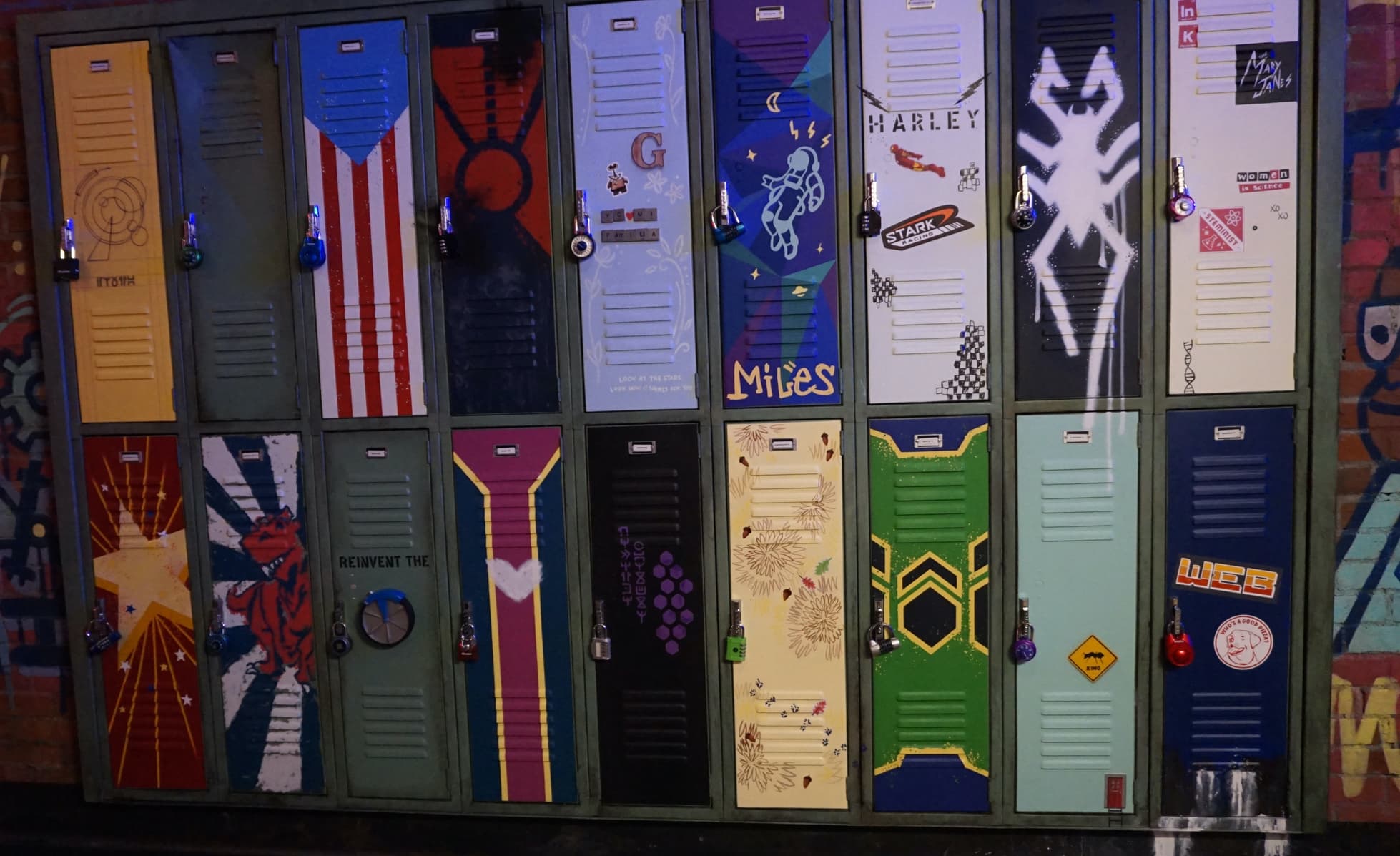 The Worldwide Engineering Brigade (aka WEB) is a reference in itself, having once housed Stark Motors. Some remains from the day can still be found, especially inside the building where an old assembly line still hangs overhead. But, out with the old, and in with the new W.E.B. engineers who have moved in and take over the place, including Doreen Green, Lunella Lafayette, and Harley Keener. All have left a distinct mark, and keep your eyes peeled for nuts and also dinosaurs — and some LEGOs, which Peter Parker probably had a hand in assembling.
These three aren't the only young, budding engineers though! Miles Morales, America Chavez, and Amadeus Cho also have lockers inside the building. And when it's time to eat and there's no time to run over to Pym Test Kitchen, they order in from their favorite spot: Lucky Dog's Pizza.
Stark Motors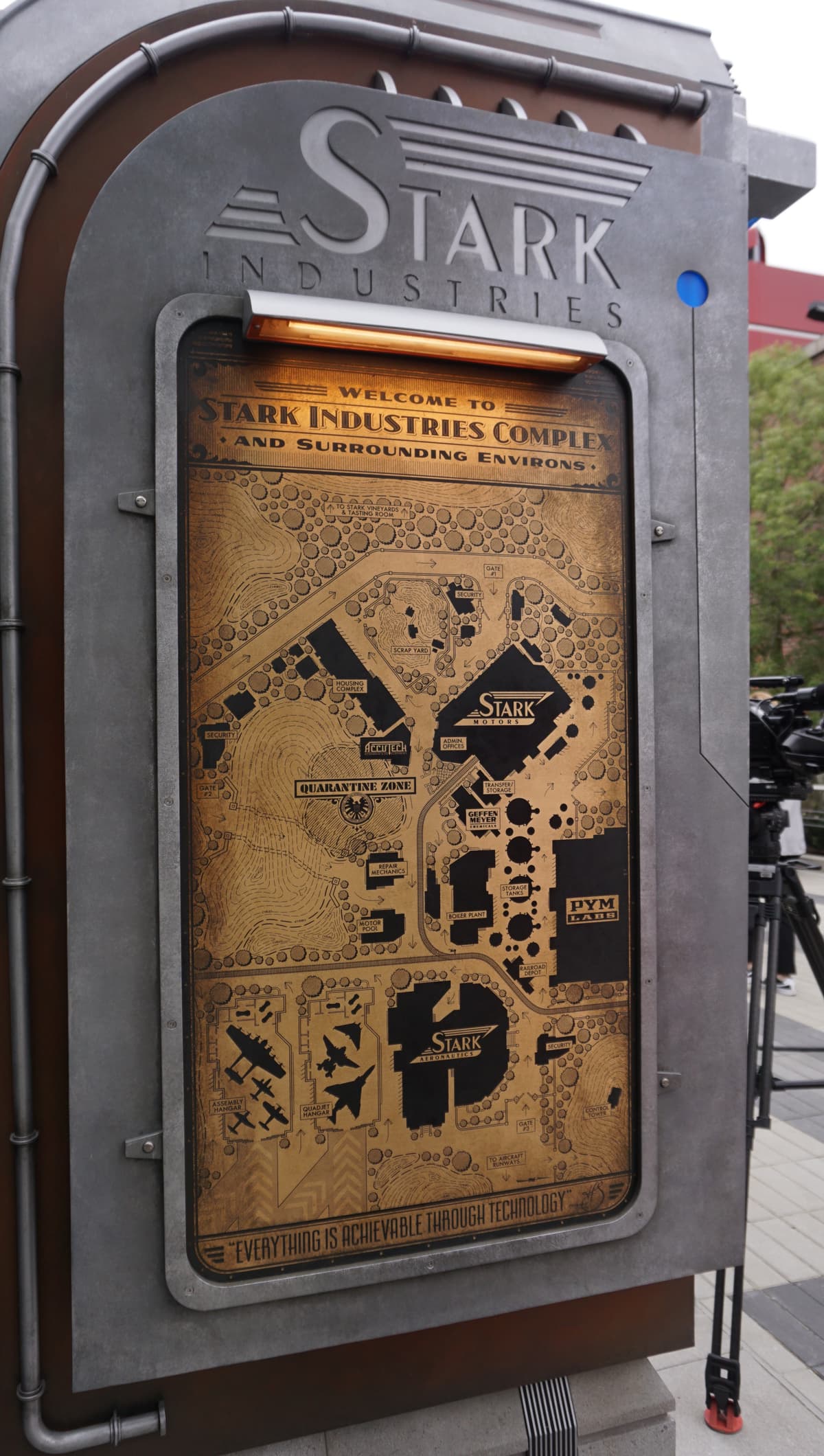 Another remnant from the old Stark Motors days can be found towards the front of the campus, showcasing a map of the Stark Industries Complex. Not only is Stark prominently featured across the area, but so are AccuTech and Geffen-Meyer, two Stark subsidiaries. Nearby, spot some D.O.D.C. crates — that's Department of Damage Control. Someone's gotta clean up!
WEB Suppliers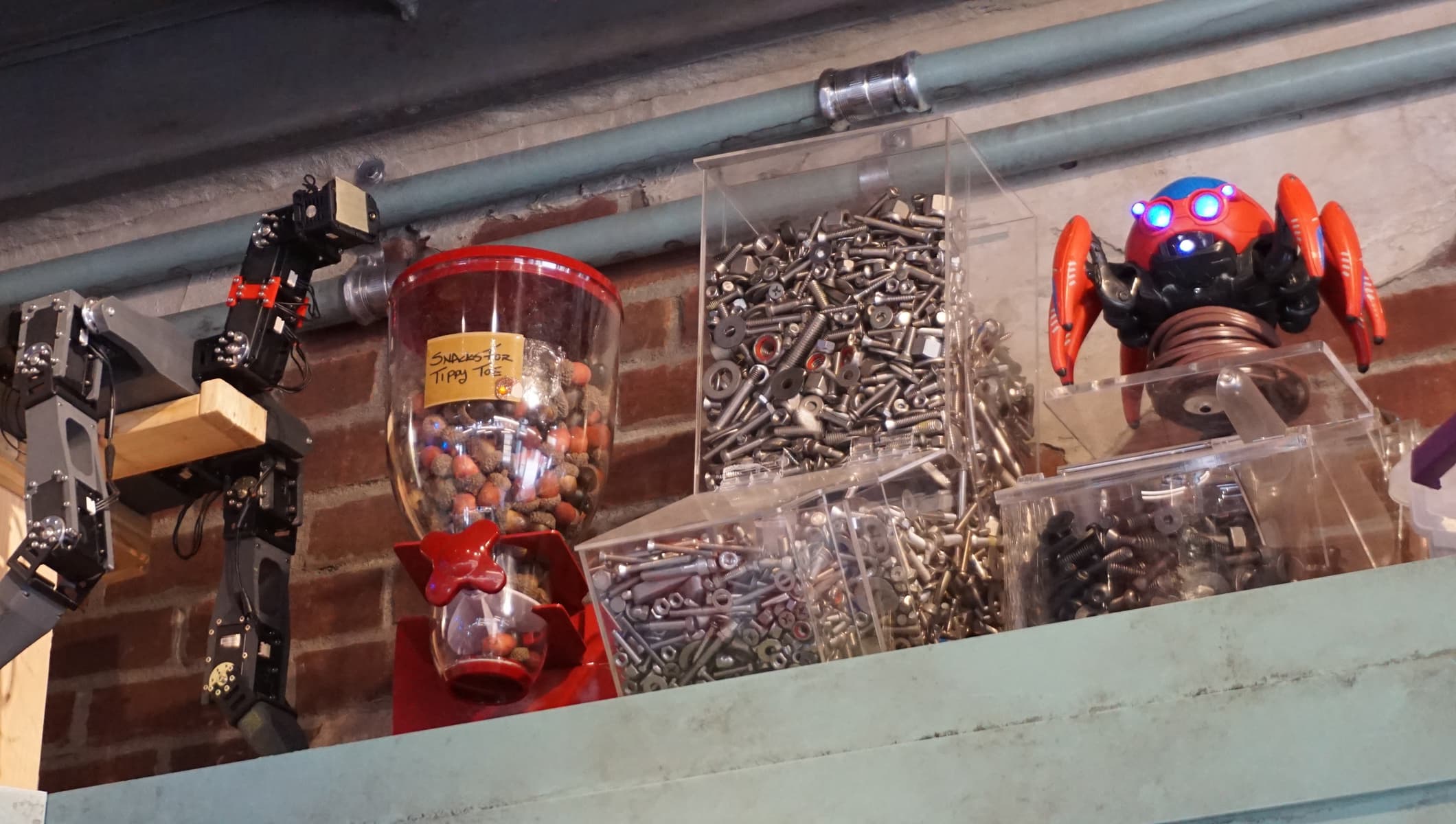 Take a peek around WEB Suppliers for a surplus of escaped Spider-Bots, in addition to some other inventions that have recently been created. It's been exactly 39 days since the last potato cannon incident (looking at you, Harley) and hopefully, it reaches 40 days as that shooter is now safely tucked away inside here. Nearby, spot some treats for the one and only Tippy-Toe should she get hungry.
SHAWARMA PALACE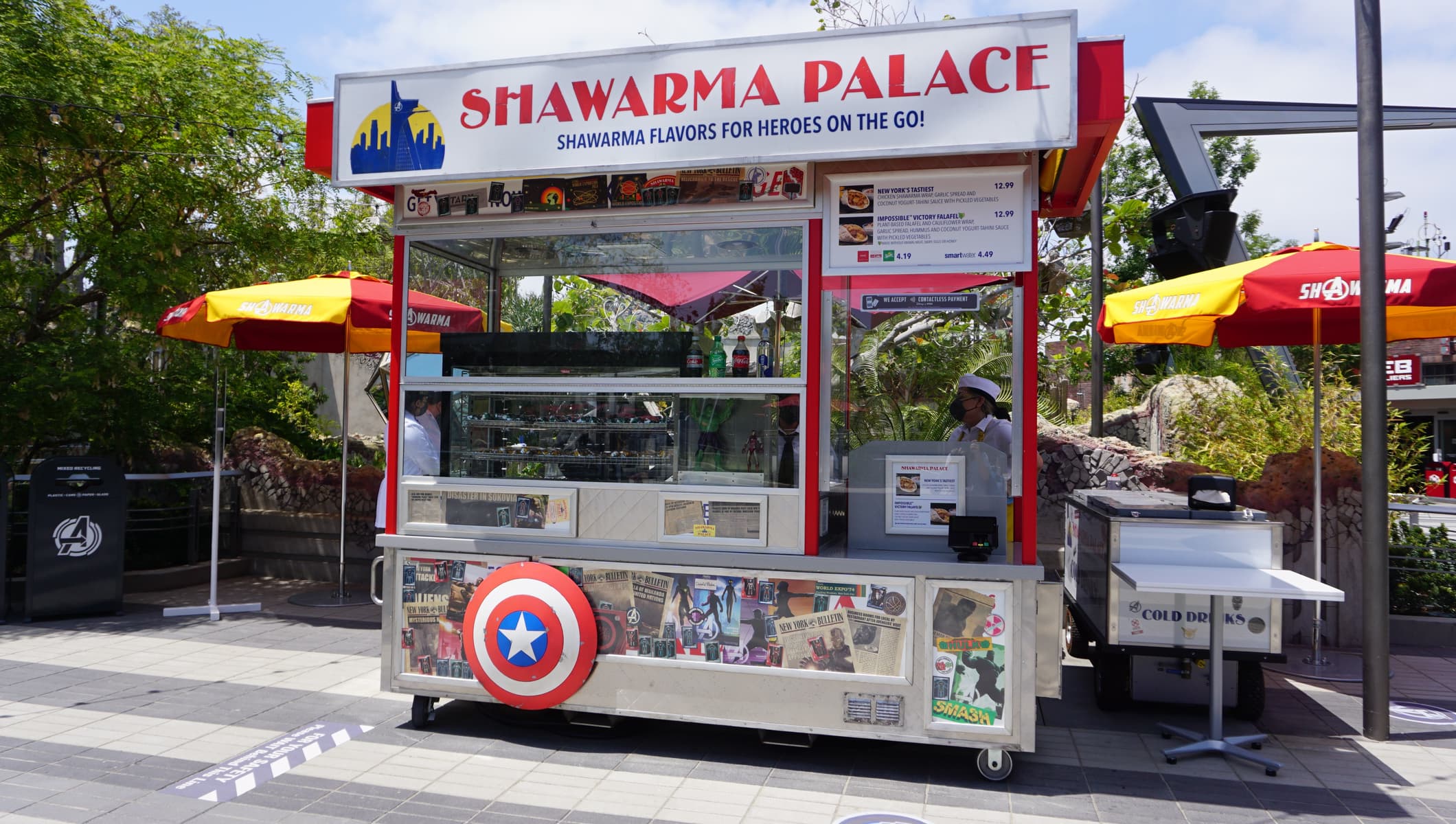 Now, who loves shawarma? The Avengers. Ever since their first bite of the delicious meat wrap, the group has been hooked on the food. So, it makes sense that the place they first visited in New York City has made its way to Avengers Campus, complete with memorabilia. Take a peek at some of the things the Shawarma Palace has collected over the years, proudly displayed across the cart. Even Shuri loves the food, along with someone named Donald Blake.
Pym Test Kitchen and Pym Tasting Lab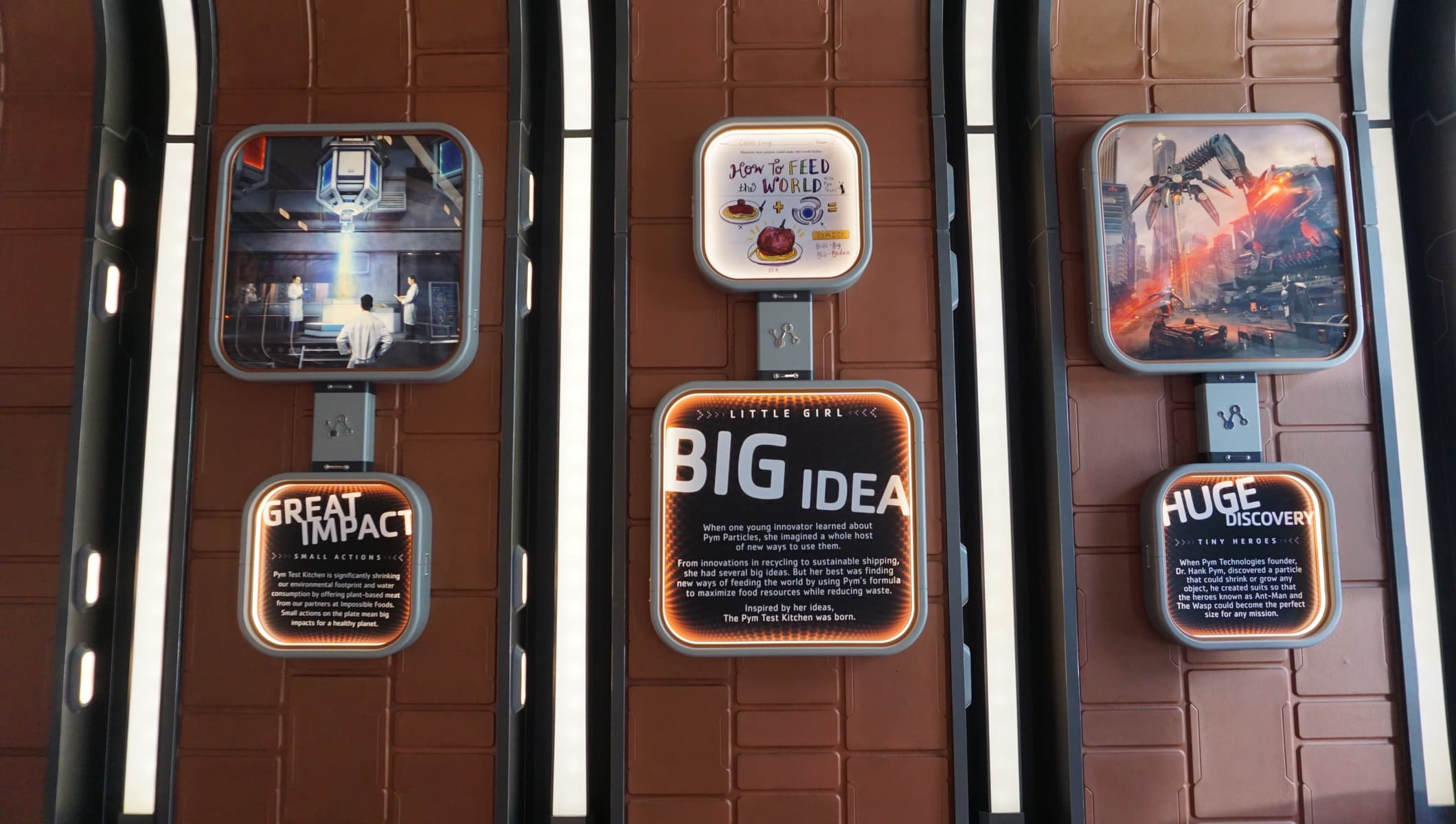 Before entering both locations, it's hard to miss a giant enlarged phone outside, belonging to Scott Lang (the red one) and Hope Van Dyne (the yellow one), working off of the VistaCorp network. In addition to rotating through what you can snag at the locations, text messages are also coming through — and it should be no surprise that Natasha Romanoff is a big fan of the PB3 Superb Sandwich at the Test Kitchen.
The Hype Box
Can't-miss news and updates from across the Marvel Universe!