Culture & Lifestyle
Published March 5, 2021
How Four Women Made a Career Out of Their Marvel Fandom
Four Marvel fans -- who happen to work for Marvel -- talk about what sparked their fandom.
Sometimes, if you're one of the lucky ones, you get to turn a lifelong passion into your job. It's an opportunity that's rare, but every once in a while, you not only get to continue being a fan of something you love -- you get to support it and bring it to an even wider audience.
This is precisely what happened to four Marvel employees -- Haley Conatser, Jennifer Lai, Faith D'Isa, and Alana Herrnson -- who work in different roles in the company and are all die-hard Marvel fans. They shared their stories about coming to work for Marvel and what they love about Marvel on the latest episode of the Women of Marvel podcast.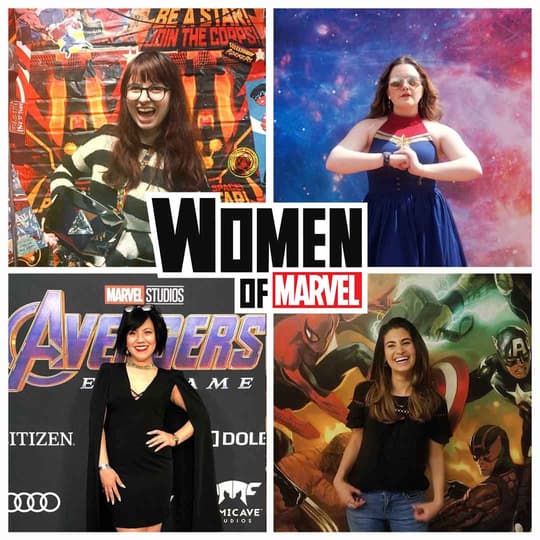 Here is what they all had to say about being Marvel fans before they worked for Marvel and the experience of working for the company responsible for creating some of their favorite characters and stories:
Faith D'Isa on growing up loving Scarlet Witch: "I was a kid who grew up loving magic and fantasy and things like that. So among Super Heroes who were doing a lot of just straight-up punching, her magic and mysticism definitely appealed to me. And as I've gotten older, I've come to admire that she's a kind of a character who has been through so much. She has been through so much trauma and been isolated from the people that she loves and her friends and things like that, and had her life and background and her views on who she was changed over and over again. But she continues to persevere and keep going and never lose sight of that end goal of trying to be a better person. I think that's all we can ask of people."
Haley Conatser on getting hooked on Super Hero comics through Ms. Marvel: "Now I just love her. She's the dream. She's a fan, she writes fan fiction, she plays video games but also fights crime with Spider-Man?! Like, which one of us does not want to just do that?"
Jennifer Lai on being drawn to Storm when she first watched the X-Men animated series: "Honestly, I love the idea that she can control the weather! I would love to control the weather. I thrive from sunlight. I hate rain. I hate the gloom. I hate the cold. Like, if I had Storm's powers, it would be perfect weather—a perfect 72 and sunny— every single day."
Alana Herrnson on working at Marvel: "You constantly feel like you have one foot in another world. And it really does feel magical. But the thing that keeps you grounded is that you have one foot in this magical world that you need to learn everything about, all at once, but you have this office full of people who are all as passionate as you are—both about the world and about each other."
On working for Marvel during San Diego Comic-Con:
Lai: "As someone who has been on the other side as a fan—you know, I used to line up to get into Hall H—to now posting about announcements coming out of Hall H, has been such an exhilaration. It's a weird thrill. Do I get stressed? Absolutely. But is it fun? Absolutely."
Conatser: "Oh yeah. We don't sleep that whole weekend."
You can listen to the full conversation on Women of Marvel below!
What's your favorite part about being a Marvel fan? Tell us on our social channels! Find Marvel on Twitter, Facebook, and Instagram—and keep watching Marvel.com for more news!
The Hype Box
Can't-miss news and updates from across the Marvel Universe!