Culture & Lifestyle
Published August 21, 2019
D23 Expo 2019 Attendees: Here's All The Marvel Things Happening at the Expo
Embrace your Marvel side with us!

True Believers!
Are you ready for the 2019 D23 Expo? We're going to help make things easy for you — let this serve as a guide for all things Marvel happening at D23 for you!
There are tons of incredible events and experiences happening inside each hall and on every stage at the Expo, and don't forget the show floor. If you want to scout your plan of attack, we recommend downloading the D23 Expo app to help you get to all the places you want to hit up.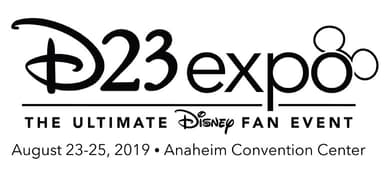 Marvel Studios Pavilion
Inside the Marvel Studios Pavilion on the show floor, fans can step inside the action of Marvel Studios' Avengers: Endgame via a D23 Expo-exclusive video experience, and tour the costume gallery to see costumes worn by characters from the Marvel Cinematic Universe.
Throughout the weekend, Marvel Studios will host panel conversations with filmmakers and artists, as well as special talent signings inside the Pavilion. Fans can test their encyclopedic knowledge of the Marvel Cinematic Universe with daily trivia games for prizes.
"Imagining Tomorrow, Today" Pavilion
Showcasing an array of new experiences for guests around the world to enjoy for years to come, the Disney Parks "Imagining Tomorrow, Today" Pavilion will give fans a unique look at Tony Stark's latest plans to recruit guests to join alongside the Avengers in fully immersive areas filled with action and adventure in Hong Kong, Paris, and California.
Panels and Stage Events
2019 Disney Legends Ceremony
Friday, August 23, 10:30 a.m. – noon PT, Hall D23
Since 1987, The Walt Disney Company has honored Disney Legends, those special few who embody the Company's unique creative spirit best personified by its founders. Once again, for the sixth time in the 30 plus-year history of the Disney Legends program, the induction ceremony, hosted by Disney Chairman and CEO Bob Iger, will take place at D23 Expo. This year, we honor Christina Aguilera, Wing T. Chao, Robert Downey Jr., Jon Favreau, James Earl Jones, Bette Midler, Kenny Ortega, Barnette Ricci, Robin Roberts, Diane Sawyer, Ming-Na Wen, and Hans Zimmer.
The Visual Effects Behind Avengers: Endgame
Friday, August 23, 12:30 – 1:15 p.m. PT, Marvel Studios Pavilion
Crash! Bang! Boom! Learn about the creation of the stunning visual effects used in Avengers: Endgame, with a panel of Marvel Studios filmmakers and special effects artists.
We Love You 3000
Friday, August 23, 2:30 – 3:00 p.m. PT, Marvel Studios Pavilion
After over a month of appearances and events across the country, the Avengers: Endgame "We Love You 3000" fan appreciation tour comes to D23 Expo 2019.
How to Draw the Marvel Way
Friday, August 23, 3:30 p.m. PT, and Saturday, August 24, 3 p.m. PT, Center Stage
Brian Crosby, Creative Director of Themed Entertainment for Marvel, takes you step by step through drawing your favorite Marvel characters!
Marvel's Agents of S.H.I.E.L.D.
Friday, August 23, 3 p.m., D23 Expo Arena
Stars and executive producers from ABC's Marvel's Agents of S.H.I.E.L.D. come together to honor the past six seasons of the show while looking forward to the forthcoming thrilling conclusion of the series in summer 2020.
Sneak Peek! Disney+ Showcase
Friday, August 23, 3:30 – 5:00 p.m. PT, Hall D23
Disney+ will give guests a first look at its exciting slate of original films and series from Disney, Pixar, Marvel, Star Wars, National Geographic, and more during this star-studded presentation.
Marvel Animation's Venom Invasion and a World Premiere!
Friday, August 23, 6 – 7 p.m. PT, Stage 28
Join Marvel Animation for an exciting panel full of sneak peeks, special guests, and big announcements, including scoop on fan-favorite series Marvel's Spider-Man and the world premiere of the new Marvel Rising special Battle of the Bands!
Go Behind the Scenes with The Walt Disney Studios
Saturday, August 24, 10 a.m. – noon, Hall D23
The Walt Disney Studios will present a behind-the-scenes look at its blockbuster collection of upcoming films. including a peek at exciting projects from Marvel Studios. As always, attendees will be treated to exclusive footage, special guest appearances, and more!
Marvel's Hero Project Panel
Saturday, August 24, 1:15 – 1:45 p.m., Disney+ Pavilion
Come be the first to experience Marvel's Hero Project – an inspiring, brand-new, unscripted series that reveals the remarkable, positive change several young, real-life heroes are making in their own communities.
MARVEL COMICS: Marvel 80th Anniversary
Saturday, August 24, 5:30 – 6:30 p.m. PT, Stage 28
Marvel Editor-in-Chief C.B. Cebulski and Executive Editor Tom Brevoort take you through the amazing, incredible, and uncanny history of Marvel Comics! Get the inside scoop on the House of Ideas—from Captain America to Captain Marvel! As part of Marvel's 80th anniversary celebration this year, this commemorative panel looks back at the history of the Marvel Universe, honoring the iconic characters and timeless stories that have inspired fans all around the world. Marvel will continue celebrating this milestone all year with its characters and fans in exciting ways—from comics and games, to digital shows, toys, collectibles, and more.
To honor its birthday, Marvel has created an exclusive new MARVEL COMICS #1000 D23 Expo variant cover, featuring Mickey Mouse alongside Earth's Mightiest Heroes, drawn by legendary artist Humberto Ramos with colors by Edgar Delgado! The limited-edition variant cover will be given away at this Marvel 80th Anniversary panel.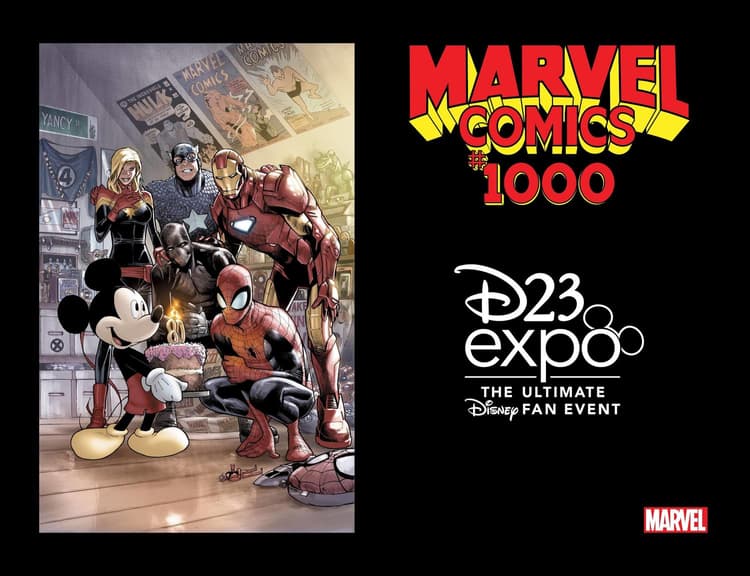 Heroines of the Disney Galaxies Presented by BoxLunch
Sunday, August 25, 10:30 – 11:45 a.m. PT, Marvel Studios Pavilion
Join Ashley Eckstein and some very special guests, including Ally Maki (Toy Story 4, Marvel's Cloak & Dagger), Christy Carlson Romano (Kim Possible, Big Hero 6: The Series), and Sana Amanat (Marvel's VP of Content & Character Development), for a celebration of some of the most inspiring and empowering female characters from the worlds of Disney, Marvel, Lucasfilm, and more!
The Art of Avengers: Endgame
Sunday, August 25, 10:30 – 11:45 a.m. PT, Marvel Studios Pavilion
Join artists from the Marvel Studios Visual Development team as they discuss the art of Avengers: Endgame, from costumes and characters, to the epic final battle.
The Art of the Character: Black Widow
Sunday, August 25, 12:30 – 1:45 p.m. PT, Marvel Studios Pavilion
Join artists from the Marvel Studios Visual Development team for a look at the character concept art of Black Widow, from. her first appearance in the MCU to her upcoming 2020 movie.
SIGNINGS and PHOTO OPS
D23 Expo Cosplay Photo Shoot: Marvel Cosplay
Friday, August 23, 1:00 – 1:30 p.m. PT, Grand Plaza Fountain
Cosplayers assemble! At this year's Expo, we're calling all the Disneybounders, cosplayers, and casual costume enthusiasts to participate in the daily Cosplay Photo Shoots happening outside the convention center in front of the fountain.
Talent Signing: Tyler Bates
Friday, August 23, 12:00 – 1:00 p.m. PT, Disney Music Emporium
Composer Tyler Bates will sign Marvel Studios' Guardians of the Galaxy Vol. 1 and Guardians of the Galaxy Vol. 2 vinyl albums. Product purchase required at Disney Music Emporium to reserve a spot. Quantities are limited.
Photo Op! Stars of Marvel's Agents of S.H.I.E.L.D.
Friday, August 23, 5:00 – 5:50 p.m. PT, Walt Disney Television Pavilion
Come meet and take a photo with cast members from ABC's Marvel's Agents of S.H.I.E.L.D.!
MCU Talent Signing
Saturday, August 24, 1:00 – 2:00 p.m. PT, and 2:45 – 3:45 p.m. PT, Marvel Studios Pavilion
Say hello to talent from upcoming Marvel Studios projects as they sign exclusive artwork at the pavilion.
Photo Wall! 80 Years of Marvel
Show Floor
Stop by Center Stage to take pictures in front of six never-before-seen photo walls celebrating some of our favorite Disney movies and characters. Plus, be sure to explore the show floor and discover two more photo walls. We're throwing it back with this photo wall celebrating 80 years of Marvel Comics featuring an Internet-famous still from the 1960s Spider-Man TV series.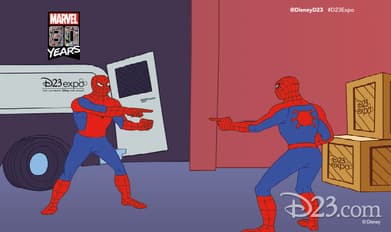 The Hype Box
Can't-miss news and updates from across the Marvel Universe!