Culture & Lifestyle
Published July 10, 2018
Eat the Universe with Daym Drops and Yissel Ayala
The YouTube star and the founder of Geek Girl Brunch stop by to craft a Juggernaut Burrito!
Witness the unstoppable on this week's episode of Marvel's Eat the Universe!
In the latest installment of the show, your host Justin Warner is joined by the Food Titan of YouTube, Daym Drops, and the founder of Geek Girl Brunch, Yissel Ayala, to make a Juggernaut Breakfast Burrito!
Watch the episode above as they join forces, learn the recipe, and summon the power of the Crimson Gem of Cyttorak. Then dive into the instructions below to create the meal yourself!
Ingredients
- 2 cups all-purpose flour
- 1 1/2 teaspoons baking powder
- 1 1/2 teaspoons kosher salt
- 3 tablespoons Manteca, AKA lard or cold bacon grease
- 3/4 cups warm water
- Fillings of various sorts, all fully cooked and warm (with the exception of salsas and sour cream). We used bacon, refried beans, ham, chorizo, eggs, apples, cheese, peppers, onions and hash browns.
Instructions
Combine the dry ingredients in a bowl. Rub the lard into the dry ingredients.
Add the water and mix to combine.
Flour a work surface and roll out in to a giant tortilla shape.
This is where it gets tricky. To make the giant tortilla I used a paella pan and a "pot boiler" style propane burner. You could probably achieve similar results by dividing the tortilla dough in two and cooking on a pizza pan or stone in an oven, but that would be significantly less Juggernaut-y.
Regardless, cook briefly, about a minute and a half per side.
Fill with exciting ingredients, roll it up, and devour.
No matter how good you feel after eating this, please do not charge through a wall.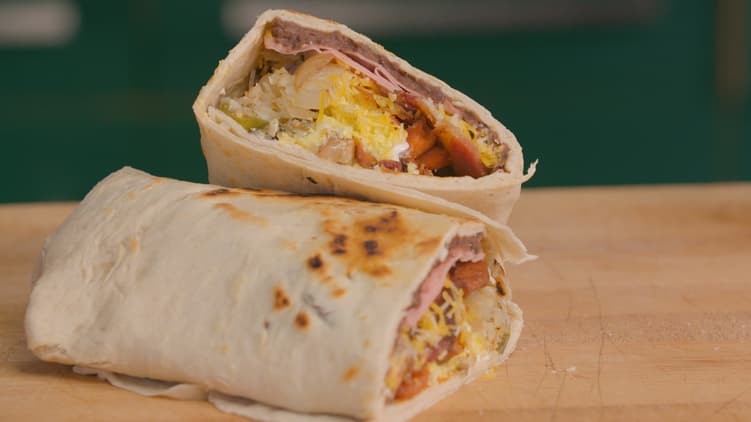 The Hype Box
Can't-miss news and updates from across the Marvel Universe!