Culture & Lifestyle
Published May 19, 2023
You're Invited: The Hellfire Gala at San Diego Comic-Con 2023
It's time for you to enter your Krakoan Era.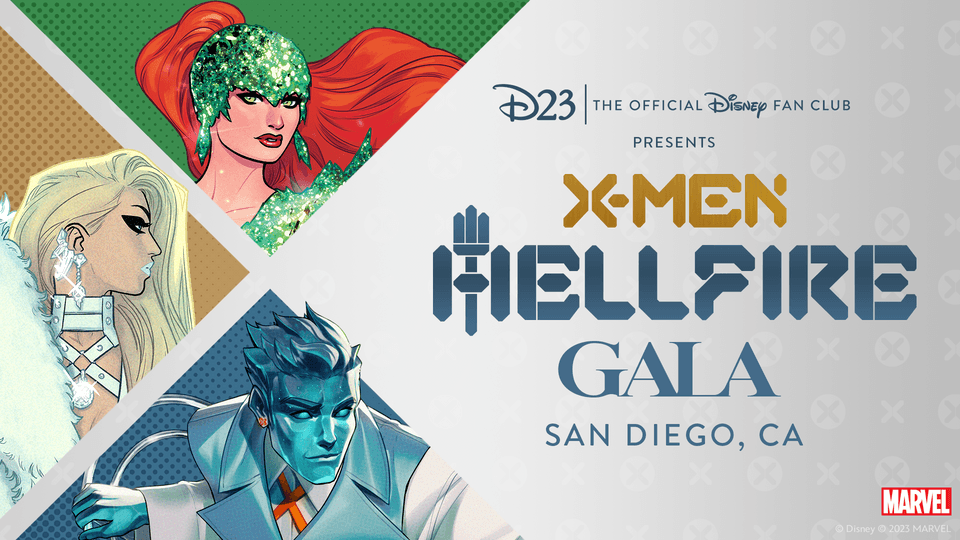 Marvel and D23: The Official Disney Fan Club cordially invites you to the first-ever real-life Hellfire Gala. And no need to catch a ride to the island of Krakoa, as the fiercest event of the season will take place Saturday, July 22 at San Diego Comic-Con. 
For the first time over, the epic comic crossover event is jumping off the page to in-person, celebrating this year's Hellfire Gala in the pages of X-Men comics, along with 60 uncanny years of everyone's favorite Mutants. Attendees will get the chance to strike a pose and enter an extraordinary event filled with fashion, fun, and forces to be reckoned with for one night only. 
Mutant and human attendees are encouraged to dress up in their best super-powered style and be sure to bring your mutant fashion A-game to the green carpet (certain telepaths can be harsh critics). The gathering will host three different areas for guests to explore through the epic evening: 
The Green Lagoon: Inspired by the watering hole on Karkoa, strut down the green carpet to enter the event surrounded by lush greenery inspired by the location. Here, guests will enter the event and once inside grab a seat to survey the environment — between dance sessions out on the floor. 
Hellfire Ballroom: Worlds collide in the grandiose Hellfire Ballroom. Home to the event's main offerings, guests will find themselves transported through a Karkoan Gateway to enter a space where looks are served and justice is brought. The dazzling dance floor comes to life with heroes, villains, and everyone in-between, with booths on the edge of the dance floor to catch your breath after you've assembled your own Hellfire Inner Circle. 
Lair X: Head to the underground lair dedicated to the X-Men and take a look back over the last 60 years of Mutant history. Lair X will have its own activities — and a dance floor — along with a bar, seating area, and photo opportunities perfect for immortalizing all magnificent cosplay.
The event will take place Saturday, July 22 at PARQ Nightclub (615 Broadway, San Diego, CA 92101) from 8 p.m. to 11 p.m. 
Tickets for D23 Members go on sale Wednesday, May 24 at 10 a.m. PT. at D23.com. Not a member of D23: The Official Disney Fan Club? Join now! 
HELLFIRE GALA TICKETS
Gold Member: $65.00 ($7 Processing Fee)
Gold Member "X-pedited" Entry: $85.00  ($7 Processing Fee)
General Member: $125.00  ($7 Processing Fee)
General Member "X-pedited" Entry:* $155.00  ($7 Processing Fee)
Event Includes:
Entry to D23 Presents the X-Men Hellfire Gala, featuring multiple rooms, DJs, photo opportunities, and more!
1 Drink Ticket that can be used for beer, house wine, well drink, soda, or bottled water.
Commemorative gift.
Exclusive for guests who purchase "X-pedited" Entry: Early access to the venue and dedicated queue.
Attendees in costume must adhere to the following guidelines:
Costumes may not be obstructive, offensive, objectionable, or violent.
Guests may wear costume masks. However, costume masks must not obstruct vision and must be removable. Costume masks must be removed at security screening.
Costumes should not drag on the ground.
Costumes should not contain sharp objects, pointed objects, or materials that may accidentally strike another guest.
Costumes should not contain any weapons that resemble, can be used as, or could easily be mistaken for an actual weapon. Costume swords must be anchored to your costume in such a way that they can't be drawn. No firearms, projectiles or arrows (simulated or otherwise) will be allowed.
Guests who do not adhere to these guidelines may be refused entry into the event unless their costume can be modified to meet the above standards. The appropriateness of the guest costume will be determined by Disney at its sole discretion.
Security guidelines include:
No drugs, drug paraphernalia, or illegal substances of any kind.

No prescription or non-prescription medication.

All guests should be prepared to go through a security screening and bag check.

No professional audio, video, or audio recording equipment, including detachable lenses, tripods, zooms, or commercial-use rigs.
No unsealed liquids or gels of any kind.
No personal video cameras, Go-Pros, selfie sticks, drones, or laser pointers.
The Hype Box
Can't-miss news and updates from across the Marvel Universe!