Comics
Published April 4, 2023
X-Men Editors Preview This Year's Hellfire Gala, the Fall of X, and More
At Marvel Unlimited's 'X-Men: 60 Uncanny Years Live Virtual Event,' X-Men editors Jordan D. White and Lauren Amaro teased the future of mutantkind.
The next chapter of the Krakoan Era is upon us.
This summer, the FALL OF X will launch in HELLFIRE GALA (2023) #1, where the world's elite will gather once again at the behest of mutantkind. However, something is rotten in the nation-state of Krakoa, paving the way for a series of shocking revelations, stunning betrayals, horrifying tragedy, impossible deaths, and more. In the wake of the Hellfire Gala, mutantkind will face an uncertain future—and that's exactly what Marvel Comics editors Jordan D. White and Lauren Amaro discussed at Marvel Unlimited's X-Men: 60 Uncanny Years Live Virtual Event.
"FALL OF X is going to be the next stage of our Krakoan X-Men story," White explained. "As the name implies, it's going to be a rough one for mutants… I mean, it's not like everything has been perfect since the founding of Krakoa, but things have been relatively good for mutantkind."
"There's been a bunch of things that they've had to put up with, but they still had their own nation and whatnot…and things are going well. Are those things going to continue in FALL OF X?" he mused. "Let me just say it's going to be dark, like I said, and they're going to go through some troubles. It's going to be a status quo that affects the entire X-Men line. Any book that has mutants in it, it's going to be affected by this, for sure."
"I can concur with Jordan that it's really an exciting new era that promises to really test what's been built in Krakoa since the days of HOUSE [OF X] and POWERS [OF X]," Amaro agreed. "I'm really excited for us to get into it, because some of the dominoes that are being set up have been set up for a while now, and I think fans are really going to enjoy to see some of that payoff and just really how long the writers in the room have been thinking about this."
While FALL OF X swiftly approaches, mutantkind is in the midst of another major battle right now: SINS OF SINISTER, where Mister Sinister used his Moira Engine to hijack the timeline—before it all went terribly wrong, naturally. As to SINS OF SINISTER's impact on Krakoa, White said, "I think we're only halfway through SINS OF SINISTER as we do this live stream, and so there's a lot of chaos to come from that and the fallout from that, because I guarantee you: there will be some serious fallout from SINS OF SINISTER as well."
"Now that we know all four of these Sinisters, each of them has their own approach for their goal and their own way of going about things," he pointed out. "We've got one who is the classic Sinister we know, one who is much more interested in humans and post-humans [Doctor Statis], one who's more interested in magic [Mother Righteous], and one who's more interested in the cosmic things [Orbis Stellaris]. That's a lot of different things that can spread complete chaos for mutant kind, and they're gonna. They're gonna a lot. A lot. Four suits of it!"
On the subject of Apocalypse's return, White explained, "Obviously, Apocalypse for many, many, many, many, many years was just a horrific villain that the X-Men never were friends with ever. When he came through that gate onto Krakoa and shook hands with Professor Xavier, that was one of the most shocking moments of HOUSE OF X. So yeah, him being on side with the rest of mutantkind was really shocking and surprising, and a fun thing to work on because it was so different for him."
"He went away at the end of the X OF SWORDS with his wife and his family to go back to this war torn world of Amenth. What does him coming back mean? Is he going to come back and be like, 'Great news, everybody, I'm back to do good things'? Is he going to come back with a terrible agenda that will make everything awful?" he speculated. "I can't tell you. Those are two strong possibilities."
"X-MEN RED is the place to look for that story unfolding, and of course the FALL OF X one-shot, THE HERALDS OF APOCALYPSE, which we've already announced, is another one. It's going to be really, really cool," he shared.
Naturally, the conversation also included this year's HELLFIRE GALA, which will launch the FALL OF X. "The Hellfire Gala was an idea that also came right after X OF SWORDS, which means Apocalypse never got to go to one, which is a bummer," White recalled. "But Gerry Duggan came up with it. He was like, let's do a gala that the Hellfire Club throws, and it'll be crazy and big things can happen."
"So far, we've done one every actual real life calendar year," he continued. "We've done one every actual calendar year, and every year, something really big has happened. The first year is when mutants surprised all of mankind by terraforming Mars in the moment and claiming it for mutant kind, which was a huge thing, obviously."
"At the second one, they were just kind of doing a little bit of a show off one, but that…it coincided with the world finding out that mutants have the power of resurrection and that no mutants die anymore. So that ended up being kind of not 100% great for them. But overall, okay, still they got some news out there about how great they are," he said. 
"They've got their plans for this year, but this year also is the issue that kicks off FALL OF X. So I'll definitely tell you, things don't go the way they planned. How bad that is, you will have to buy the book to see," he teased. "But let me tell you, this is a book you're going to absolutely want to buy. It is jam packed with the best artists we've got working on it right now. We've got Kris Anka, Josh Cassara, Russell Dauterman, Adam Kubert, Pepe Larraz, R.B. Silva, Luciano Vecchio, and more. It is going to be a killer lineup."
"You saw a couple of the designs there on that cover that Phil Noto did for us. We have designs being designed by all sorts of different artists, including a number of the ones we just said, and they look gorgeous," he added. "We've seen some that you haven't seen yet. You will be blown away. They are so cool looking."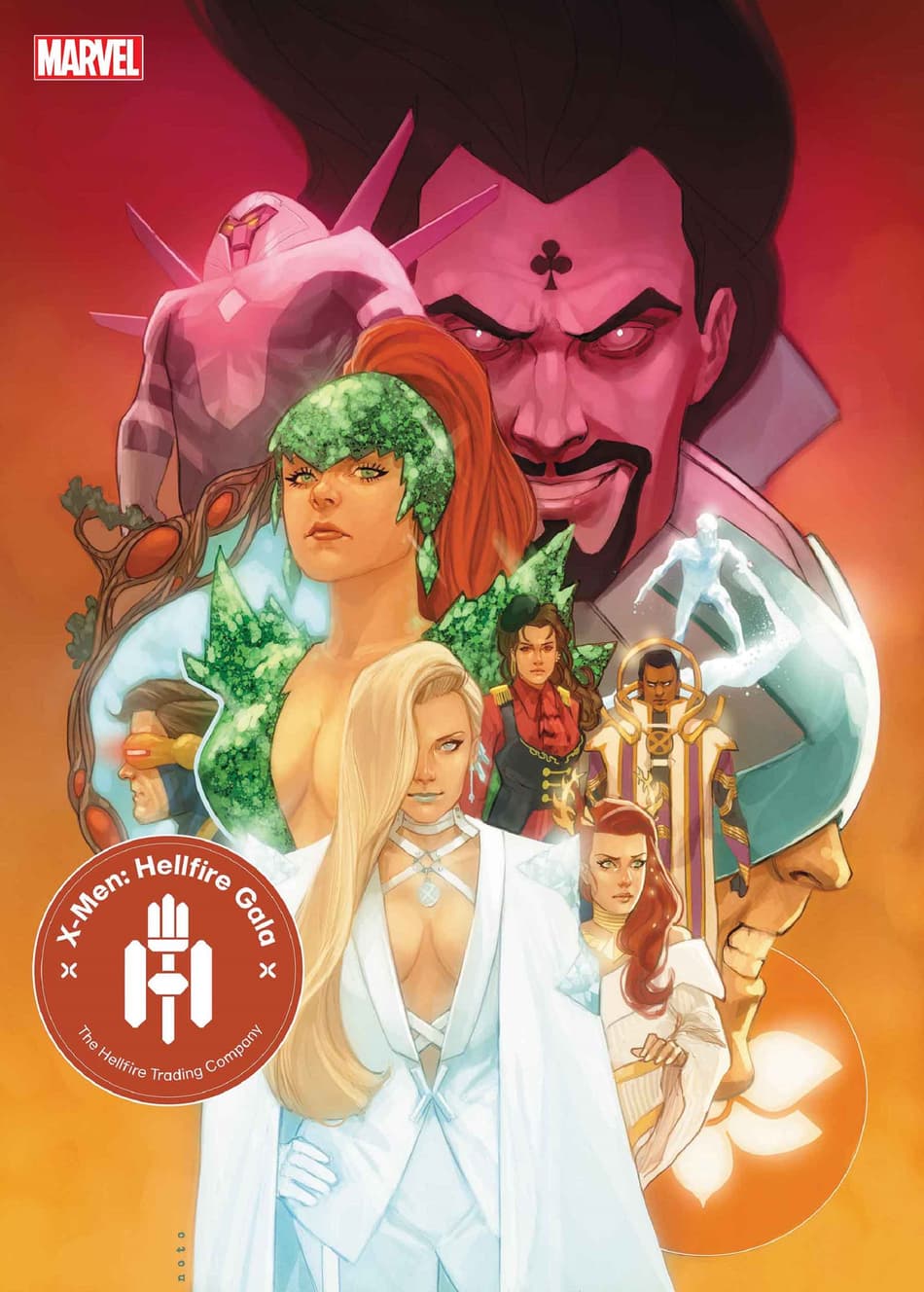 Following the HELLFIRE GALA, FALL OF X will be in full swing, and White also offered a preview of what's to come—including mutantkind's various (and growing) number of villains. "I can definitely tell you the thing that you already know, which is Orchis is a continuing threat to mutantkind," he confirmed. "It is going to be an even bigger one coming up. They have so many different pieces to them. They have Nimrod, they have Omega Sentinel, they have Feilong, they have Doctor Stasis… M.O.D.O.K. is working with them at this point. And it only grows from there."
As for our heroes, he added, "Kate Pryde definitely has a really big story coming up this year… which is good news if you love Kate Pryde, but it also might be bad news if you love Kate Pryde. Because like I said, FALL OF X is going to be pretty dark and devastating. So take that with a grain of salt. Iceman has some great stuff coming up… Sunspot always, always, because he rules and he's always got a plan. So he's got some great stuff coming up."
"I think really anyone who is currently on this iteration of the X-Men is someone you're going to want to keep an eye on to see where they end up in FALL OF X," Amaro teased. "But specifically for me, I'm really excited by what's going to be coming down the line for Firestar and Magik. I think they're both great characters, and I'm excited to see them really take the stage."
Bear witness to the FALL OF X when it begins in HELLFIRE GALA (2023) #1, on sale July 26!
You can grab these comics and more digitally or at your favorite local comic book shop. Be sure to ask your local shop about their current business policies to observe social distancing or other services they may offer, including holding or creating pull lists, curbside pick-ups, special deliveries, and other options to accommodate. Find and support your local comic book shop at ComicShopLocator.com or by visiting Marvel.com/LoveComicShops.
For digital comics, all purchases in the Marvel Comics app can be read on iPhone®, iPad® and select Android™ devices! Our smart-paneling feature provides an intuitive reader experience, ideal for all types of mobile device and tablet users! Download the app on iOS and Android now!
The Hype Box
Can't-miss news and updates from across the Marvel Universe!