Culture & Lifestyle
Published December 22, 2021
Holiday Gift Guide: Marvel Prose Book Recommendations
Discover new corners of the Marvel Universe with these picks!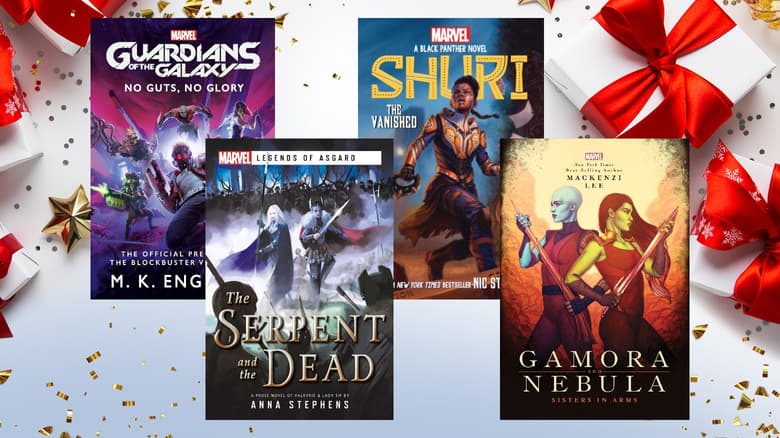 Know a Marvelite who would love to get lost in the syllabus at Xavier Institutes or the Wakandan Royal Library? Well, we've got the perfect gift guide for you!
Whether you're building out your own personal collection, or helping a loved one catch up on all things Marvel, the Marvel.com editorial team is here to make things super easy this holiday season! Below, find a handful of this year's releases!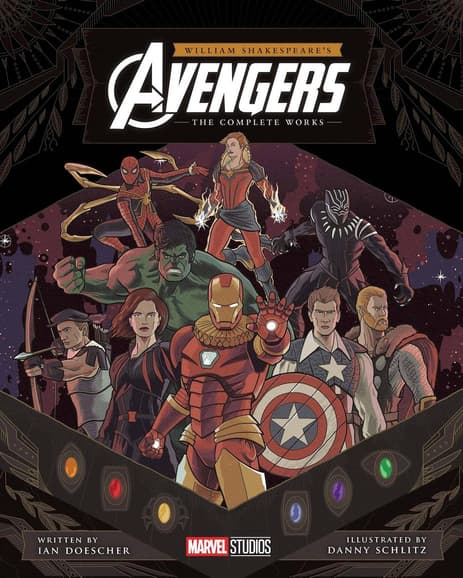 Assemble, Ye Avengers! All four Avengers films are presented as Shakespearean plays in this must-have for Marvel fans.
What if the most epic cinematic franchise of all time had been penned by the greatest playwright of all time? Wonder no more! In William Shakespeare's Avengers, the best-selling author of the William Shakespeare's Star Wars series has reimagined the Avengers films as plays penned by the Bard himself, including: "Assemble, Ye Avengers," "Lo, The Age of Ultron," "Infinity War's Tale," and "The Endgame's Afoot."
Authentic meter and verse, stage directions, and clever Easter eggs will delight fans of the Avengers and Shakespeare alike. Readers will experience their favorite scenes, characters, and lines in a fresh—yet fully faithful—way, through soliloquies and dialogue by everyone from Captain America to Groot ("'Tis I!").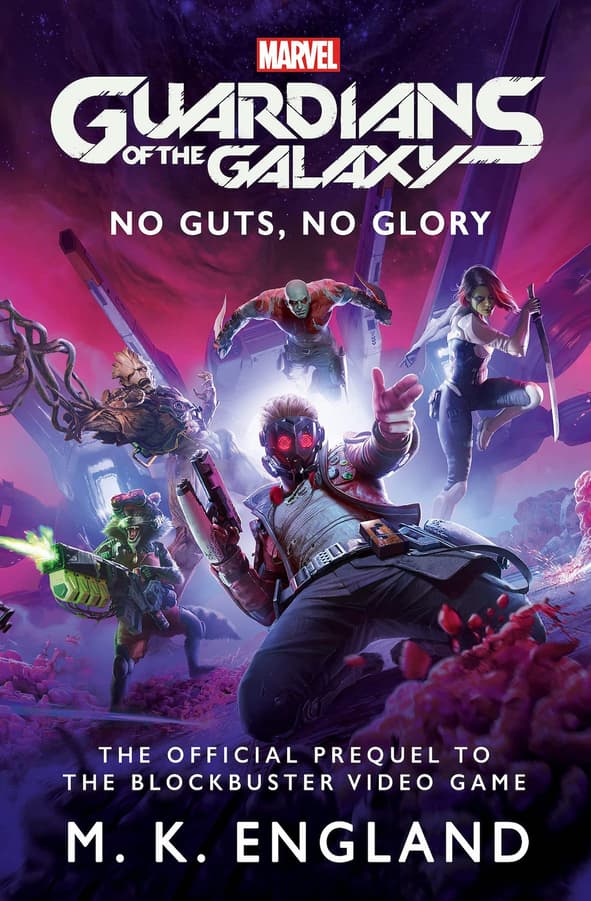 With an exclusive adventure leading directly into the game itself, Marvel's Guardians of the Galaxy – No Guts, No Glory sees Star-Lord, Gamora, Drax the Destroyer, Rocket Raccoon and Groot, as the Guardians of the Galaxy, turning a tidy profit as heroes for hire—or they will be, if Peter Quill can get his act together. An old Resistance base has a squatter, and it's up to the Guardians to 'gently escort' them off the premises… and unmask a wartime traitor while they're at it. It's make or break time for the Guardians, and they do so love breaking things… Just hopefully not each other.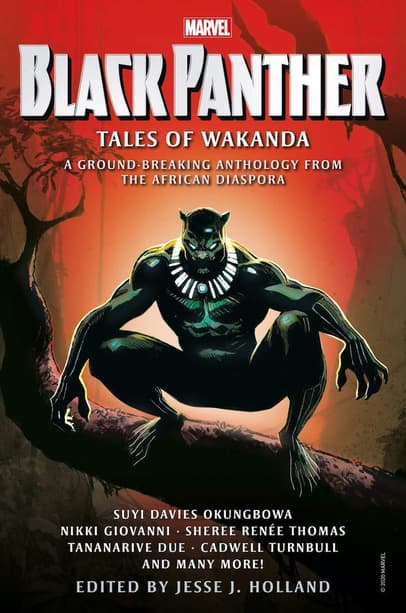 The first mainstream Super Hero of African descent, Black Panther has attracted readers of all races and colors who see in the King of Wakanda reflections of themselves. Storytellers from across the African Diaspora—some already literary legends, others who are rising stars—have created for this collection original works inspired by the world of the Wakanda and its inhabitants. With guest stars including Storm, Monica Rambeau, Namor, and Jericho Drumm, these are stories of yesterday and today, of science and magic, of faith and love.  
The collection of brand-new original fiction is edited by award-winning author Jesse J. Holland (Who Is The Black Panther?) and features an all-star cast of 18 award-winning authors including Nikki Giovanni, Sheree Renée Thomas, Tananarive Due, Caldwell Turnbull, Suyi Davies Okungbowa, and Christopher Chambers.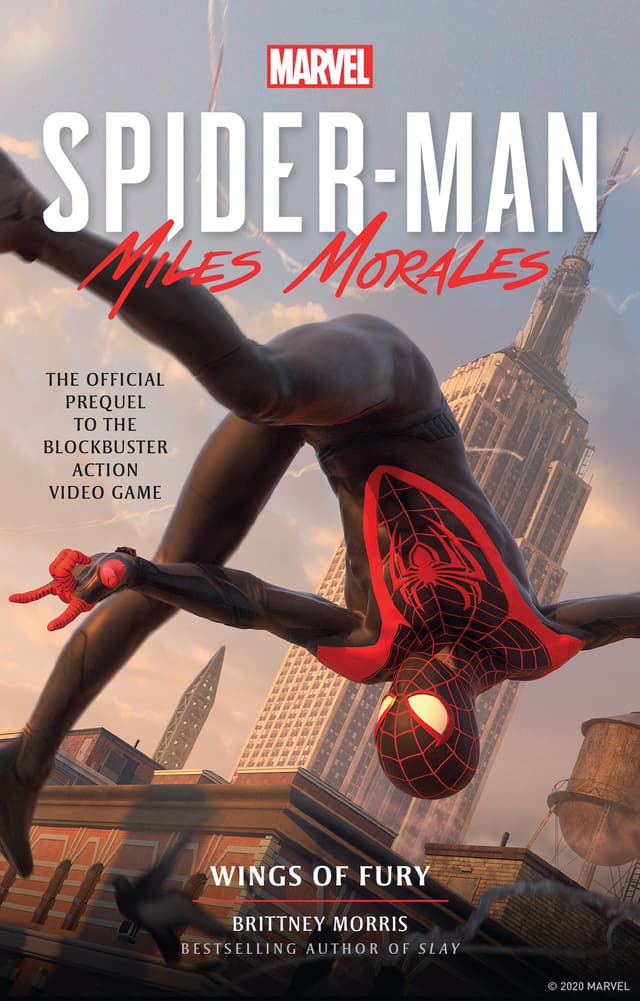 Miles Morales has a lot going on, what with moving to a new neighborhood, dealing with the loss of his father, and the whole gaining super-powers thing. After a misunderstanding with the law, Miles questions what it means to be a hero when people are ready to believe the worst in you. Tempted by the power and freedom of his new abilities, Miles must decide what kind of Spider-Man he wants to be.
When Vulture starts wreaking havoc across the city with his new accomplice Starling, Miles can't just sit back and watch. Teamed up with Peter Parker, the two Spider-Men must stop the winged duo before they can unleash experimental tech across the whole city. With lives at risk, can Miles step up and be a hero?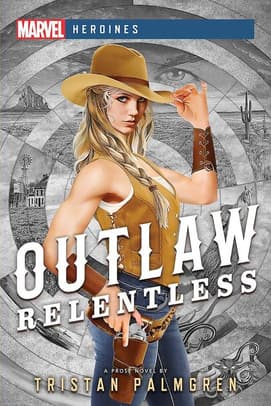 Outlaw: Relentless sets its sights on one of Marvel's super-powered mercenary. Critically-acclaimed genre-warping author Tristan Palmgren readies the mercenary Outlaw for a fight — but when her own mind is being stolen from her, she'll have to find a new way to defeat the bad guys, in this fast-paced Marvel Heroines adventure.
Inez Temple, aka Outlaw, is a key member of Domino's mercenary team, the Posse. When a job goes sideways, Outlaw finds herself on the outside, and in an alarming state. A merc in her line of work needs to be sharp, but Inez's mind is slipping away from her. Mutant-hating telepath Johnny Dee is robbing her of the only things she's ever counted on: her wits and her courage, and worse – her very identity. Inez's bloody revenge will take her on a chase through the Texas desert and a labyrinth of her own worst memories.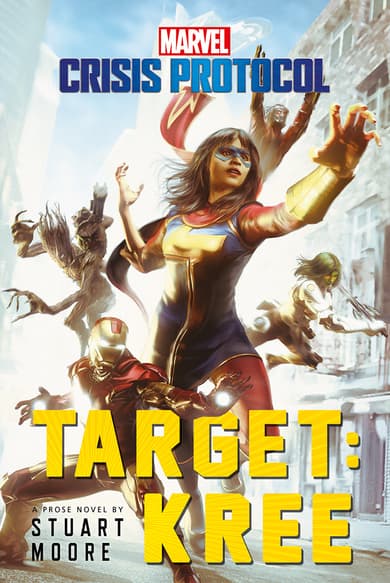 Get ready for an epic team-up with the Guardians of the Galaxy, Iron Man, and Ms. Marvel, all set in the world of the Marvel: Crisis Protocol tabletop game!
The Avengers clash with the Guardians of the Galaxy in a desperate search for a planet-killer. Following the destruction of their world, a group of Kree refugees come to Earth to work for Stark Enterprises. But the Guardians of the Galaxy arrive soon after, believing that the world-killer is actually one of those Kree, now hiding out on Earth. But there are others after the killer too, and the Avengers have no choice but to respond – and both Tony Stark and Kamala Khan have to choose between the fate of the Earth and the people they care about.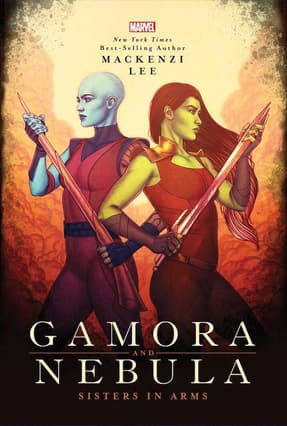 Gamora arrives on Torndune—a once-lush planet that has been strip-mined for the power source beneath its surface—with a mission: collect the heart of the planet. She doesn't know who sent her, why they want it, or even what the heart of a planet looks like. But as the right hand and daughter of Thanos, and one of the galaxy's most legendary warriors, her job is not to ask questions. Her job is to do what she's told, no matter the cost. What she doesn't know is that her sister, Nebula, is in hot pursuit.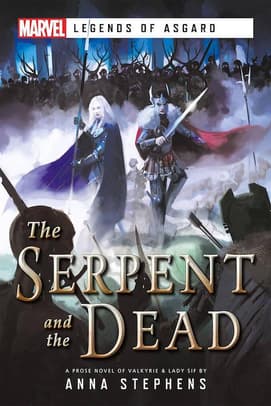 In The Serpent and the Dead, Brunnhilde the Valkyrie, the fearsome Asgardian warrior entrusted with conveying worthy souls to the heroes' afterlife, stalks a battlefield finding only empty husks. Yet the souls are not already in Valhalla, or the lesser afterworlds—they have vanished.
She enlists the aid of the valiant Lady Sif, and together they scour Asgard for answers. Rumors abound of towns being attacked by a horde of soldiers who cannot be killed. Someone is building an immortal army and stealing Asgardian souls… A worthy challenge for two of Asgard's mightiest champions!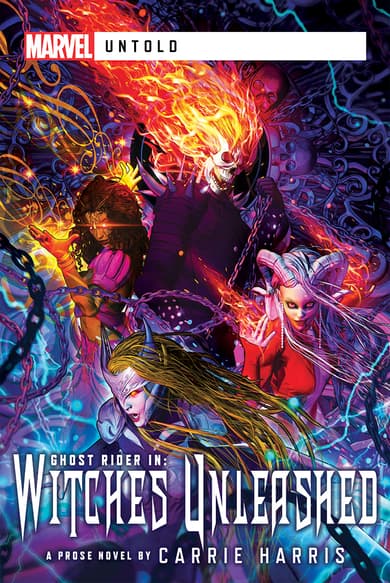 Can Johnny Blaze capture the Prince of Darkness himself and return him from which he came? Not without help he can't. 
Johnny Blaze, AKA the Ghost Rider, has accidentally released Lucifer from Hell, and that's a serious problem. While hunting down fragments of Lucifer's soul, Johnny Blaze enlists the help of witches Jennifer Kale, Satana Hellstrom and Topaz to hunt down a fragment that has animated the body of Jennifer's cousin, Magda. Lucifer is hunting for the Tome of Zhered-Na, which the witches protect, and if he gets hold of it all of hell will be unleashed upon the world. Now the witches must work together, and with Johnny Blaze, if they're going to stop him. But that will mean putting personal demons aside, and trusting each other this one time…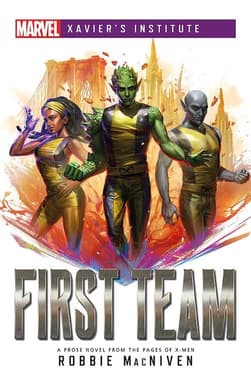 In First Team, Victor Borkowski (Anole) has adjusted well to life at Xavier's Institute, gaining control over his reptilian mutant powers and the respect of his fellow students. However, when he discovers that his parents have been kidnapped by anti-mutant extremists, the Purifiers, Victor's discipline and trust in the X-Men is strained to breaking point. Setting out alone in defiance of his instructors, he's quickly in serious trouble. It isn't just the fanatical Purifiers threatening his family, there's a villainous scientist waiting to get hold of Victor himself. Maybe he can't do this by himself after all…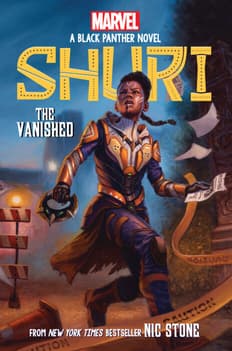 With the heart shaped herb thriving, a group of Wakanda's finest engineers working on expanding her dome technology, and the borders more fortified than they've ever been before, Princess Shuri can finally focus on what matters most: her training.

But before she can get started, a bigger problem rears its head. The princess hears whispers of exceptionally talented young girls across the world going missing. A young environmental scientist in Kenya, a French physics prodigy — the list of the missing keeps growing and growing. And when this mystery hits home in a way the princess would've never expected, there's no more time for hesitation: there are lost girls out there somewhere, and Shuri is determined to not let them be forgotten.
Want to stay on top of everything in the Marvel Universe? Follow Marvel on social media—Twitter, Facebook, and Instagram—and keep watching Marvel.com for more news!
The Hype Box
Can't-miss news and updates from across the Marvel Universe!