Culture & Lifestyle
Published December 16, 2019
'The Imagineering Story' Takes Us Behind-the-Scenes of 'Guardians of the Galaxy: Mission — BREAKOUT'
Episode 5, "To Infinity and Beyond," is now streaming on Disney+!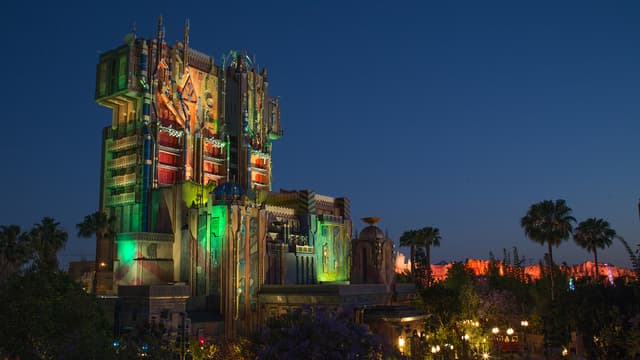 Towering over Disney California Adventure's Hollywood Land sits Guardians of the Galaxy — Mission: BREAKOUT!, an exciting thrill ride with a free-fall drop sequence and our favorite characters from the Guardians of the Galaxy movies. But it wasn't always this way, as previously the attraction building used to hold The Twilight Zone Tower of Terror.
Episode 5 of Disney+'s The Imagineering Story, "To Infinity and Beyond" takes us behind-the-scenes at the changes that took place transforming Tower of Terror into Mission: BREAKOUT!, and how the Imagineers were tasked with keeping the same layout from the previous attraction but bringing it into the world of Super Heroes.
"We have a machine. It only does one thing. It goes up and down. That's all it does," Joe Rohde, a creative executive at Walt Disney Imagineering, explains in the episode. "It won't do anything else, we can't change it, we can't rebuild it. All we can do is reprogram it."
The Imagineers set to work figuring out how they could "keep the same box" but introduce familiar characters. Turning to the Guardians themselves, the Imagineers recognized that this group is funny and that the ride itself needed to be funny, too. What kind of up and down motion is funny?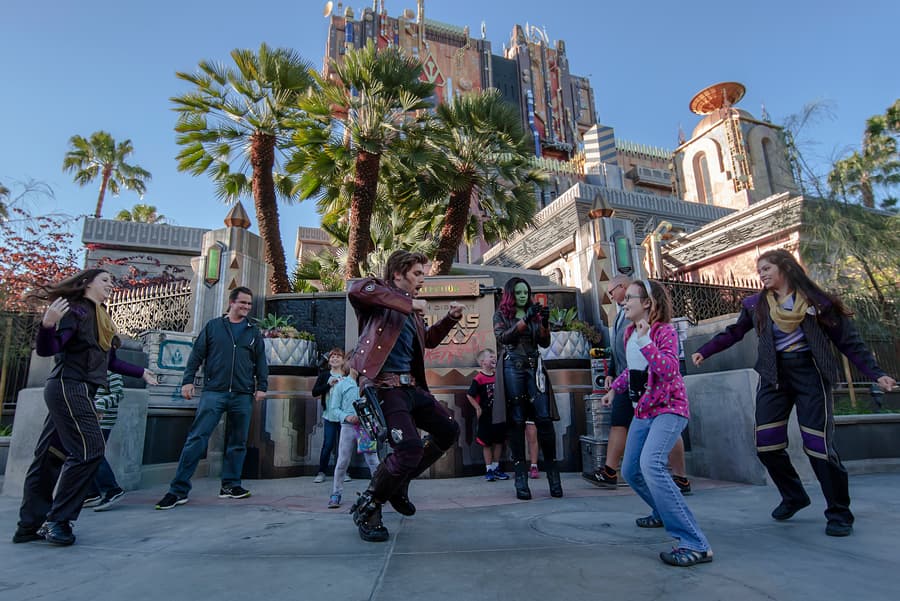 Rather than the fast 13-story free-fall motion of Tower of Terror, "We need to change the emotional feeling of the ride to favor a floating sensation," Amy Jupiter, an executive producer with Imagineering, explains.
With the new ride mechanics in place, it was time to bring in those beloved characters, with Chris Pratt, Zoe Saldana, Dave Bautista, and Bradley Cooper all reprising their roles as Star-Lord, Gamora, Drax the Destroyer, and the voice of Rocket Racoon, respectively. Director James Gunn also came in to direct the scenes for Mission: BREAKOUT, with multiple cameras set up at different angles to catch every perspective from the ride vehicles in motion.
"In a ride, people are amped up, and so crazy, so you need to move fast and you need to pound it home," Gunn explains in the episode. "Everything's a little bit bigger and a little bit more grand than it is in the movies."
In the end, the result is an attraction that completely immerses you in the world of the Guardians and keeps you on the edge of your seat — and screaming! — the whole time.
To learn more about the behind-the-scenes creation of Guardians of the Galaxy: Mission — BREAKOUT!, Episode 5 of The Imagineering Story is now streaming on Disney+.
Sign up for Disney+ and start streaming now! And be sure to follow Disney+ on Facebook, Twitter, and Instagram for more.
The Hype Box
Can't-miss news and updates from across the Marvel Universe!