Culture & Lifestyle
Published February 28, 2023
Introducing 'MARVEL SUPER STORIES' Featuring Comics for Middle Grade Readers
Coming in October 2023 from Abrams with a collection from the biggest names in comics for young readers and edited by John Jennings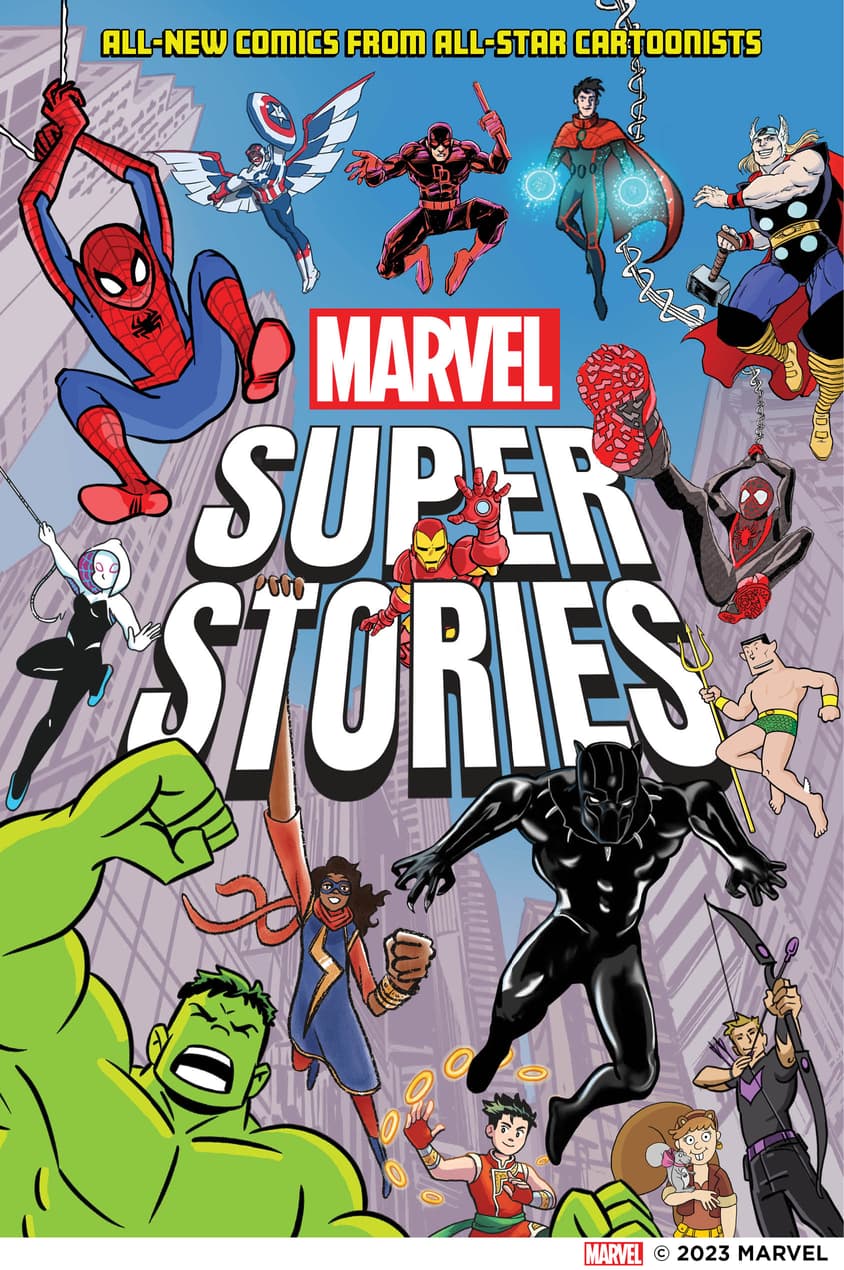 Welcome to the Marvel Universe and the World Outside Your Window! Marvel Super Stories coming from Abrams on October 17, 2023, is the first middle-grade anthology of all-new comics. All of your favorite Marvel Super Heroes are here in all-new six page stories written and illustrated by some of the biggest names in comics for young readers and edited by John Jennings.
John Jennings shared, "I'm so thrilled to have helped bring this amazing collection of Marvel stories to a new generation! Working with these super talented storytellers has been a dream. Marvel Comics is an institution that has inspired so many imaginations across the world, including my own. With Marvel Super Stories we get to continue that legacy, presenting the best and brightest creators coupled with the most marvelous heroes."
Creators with stories in the book include:
Black Panther: Jerry Craft (New Kid)
Wiccan: Mike Curato (Flamer)
Miles Morales Spider-Man: C. G. Esperanza (Soul Food Sunday)
Iron Man: John Gallagher (Max Meow)
Shang-Chi: Gale Galligan (The Baby-Sitters Club)
The Hulk: Chris Giarrusso (G-Man)
Spider-Man: Nathan Hale (Nathan Hale's Hazardous Tales)
Captain America: Michael Lee Harris (Choco Leche)
Hawkeye: Ben Hatke (Zita the Spacegirl)
Ms. Marvel: Priya Huq (Piece by Piece: The Story of Nisrin's Hijab)
Daredevil: John Jennings (Kindred: The Graphic Novel Adaptation)
Thor and Loki: George O'Connor (The Olympians)
Namor: Lincoln Peirce (Big Nate)
Squirrel Girl: Maria Scrivan (Nat Enough)
Ghost Spider: Jessi Zabarsky (Witchlight)
Together, this incredible roster of cartoonists delivers a new kind of Marvel story for readers young and old alike, and introduces a new audience to the Marvel Super Hero magic that can transport you to the world outside your window.
Marvel Super Stories will be released on October 17, 2023, pre-order your copy today!
The Hype Box
Can't-miss news and updates from across the Marvel Universe!