Culture & Lifestyle
Published April 12, 2023
Marvel Day at Sea — Discover All the Food and Snacks Onboard
Snack on Captain America brownies, Groot marshmallow wands, Hulk gelato, and more!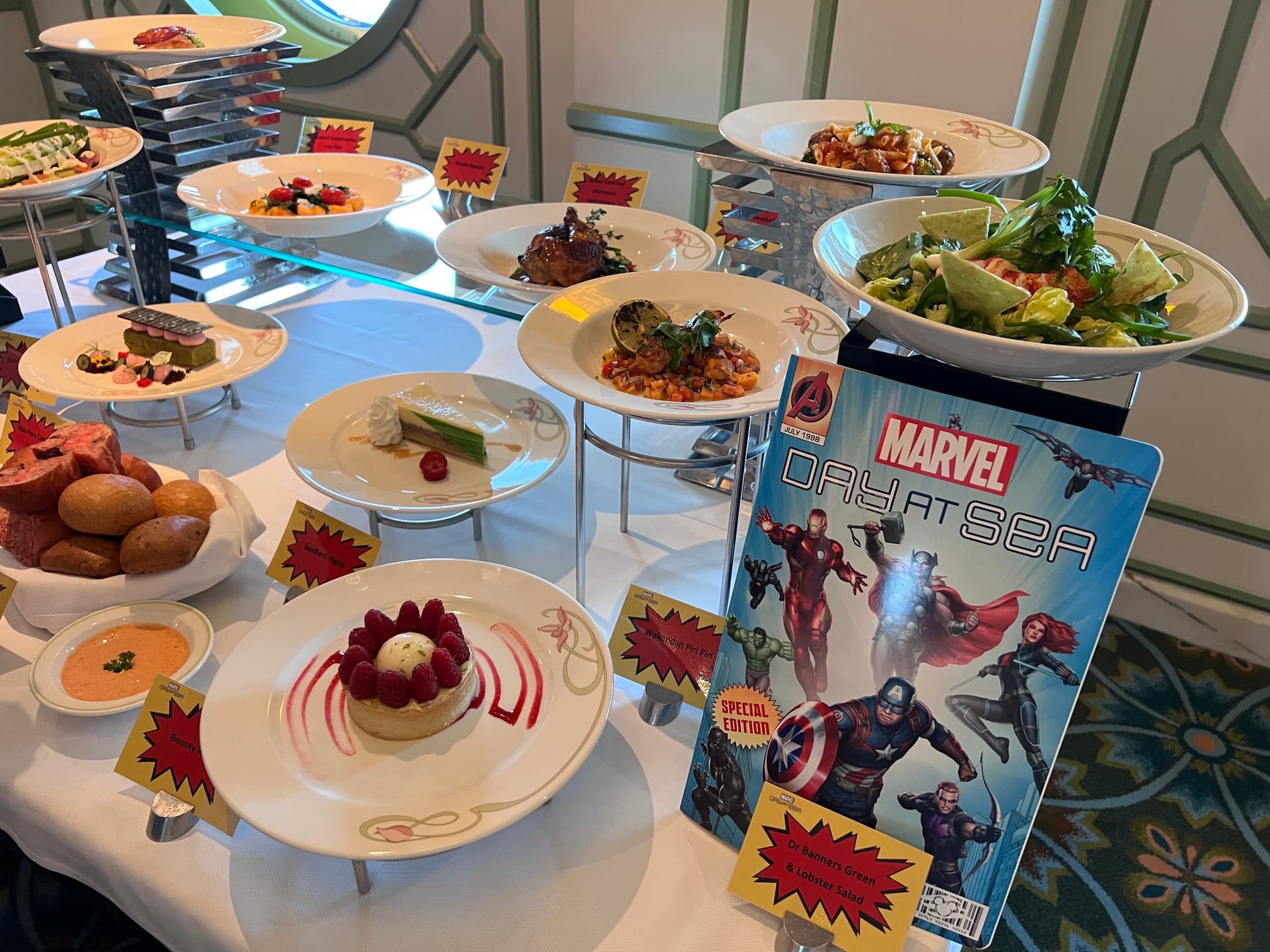 When you think of The Avengers, you probably don't immediately think about food (or maybe you do), but when you think of the Avengers and a Disney Cruise, your first thought should absolutely be food. Disney Cruise Line offers some of the best, 100%-included-in-your-sailing food you can find either on land or at sea, and for one whole day, it is completely Marvel themed from stern to bow.
On select sailings, Marvel Day at Sea takes over the ship and combines the thrill of Marvel comics, film, and animation with the excitement you'll find onboard a Disney Cruise. The event features all-day entertainment, including meet and greets, stage shows, special screenings, merchandise, food and beverage, and activities for the whole family — both big and little Super Heroes.
And from the moment you wake up in the morning until the moment you go to bed, find all sorts of Marvel-themed food and beverage options to enjoy!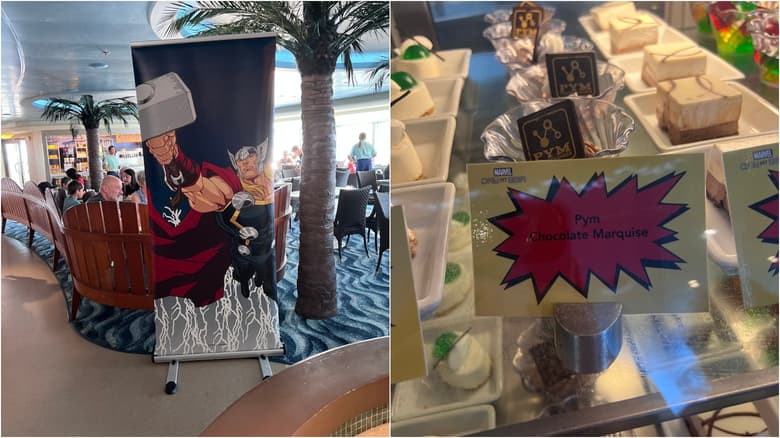 Buffets and Quick-Service Options
The main buffet onboard — Cabanas, which serves breakfast and lunch — receives a Marvel makeover overnight and throughout the dining space find some of your favorite Super Heroes on posters and banners across the area. All food displays look like they've been pulled right from the pages of a comic and find some Marvel-themed desserts. Pick up an Iron Man brownie or Pym chocolate dish (or both!) alongside other cheesecakes and cookies.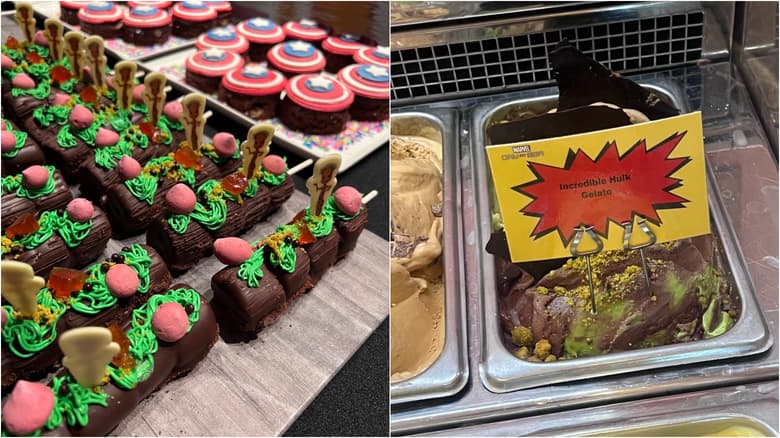 Vanellope's Sweets & Treats
The candy shop onboard is the place to go if you want specialty Marvel snacks. Throughout the whole duration of the cruise, not just during Marvel at Sea, Vanellope's Sweets and Treats has an assortment of different treats, like Iron Man cupcakes, Captain America brownies, and Groot Marshmallow sticks. Plus, there were a few other treats like Marvel gelato flavors (!) and comic cookies (also delicious).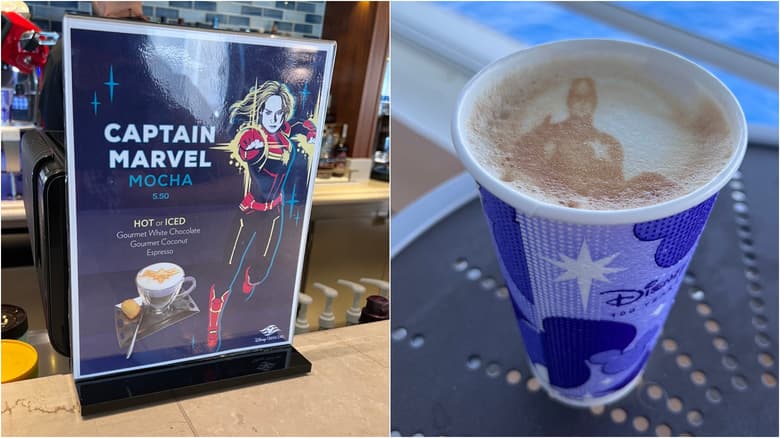 Coffee Bars
When it's time for that morning caffeine surge (or an afternoon pick me up), the coffee shops onboard were eager to mix up the special Captain Marvel Mocha Latte. During Marvel Day At Sea, find special Marvel latte designs like Captain America and Black Panther atop hot drinks.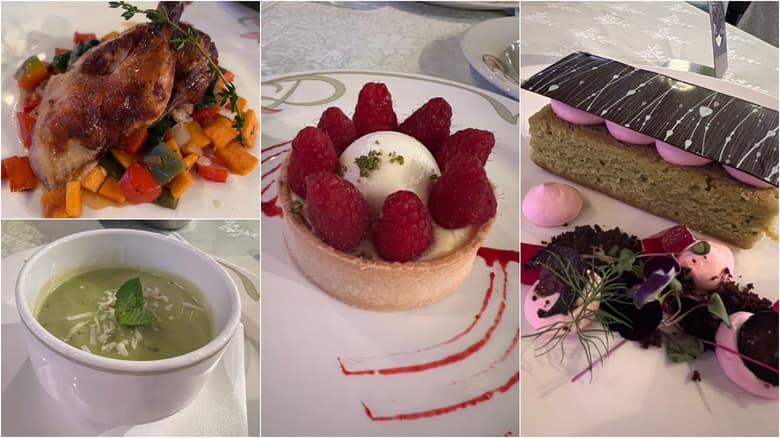 Rotational Dining Dinners
Rotational dining is when everything really shines when it comes to food. Regardless of what dining location you are in for the night, the menu will be the same and it's all about Marvel. The menu is all Marvel, the host and hostesses are all wearing Marvel outfits, and even the place settings have Marvel touches.
Wondering what you can dine on during dinner? Find the full 2023 Marvel Day at Sea rotational dining menu below:
Avenge Your Thirst!
Multiverse: Zignum Mezcal, Reposado, Blueberry, Grapefruit, and Electricops
Wakanda Forever: Simply Strawberry Banana, Caramel, Coke Zero, Himalayan Salt
APPETIZERS
BLACK WIDOW
Sliced Smoke Salmon: on pumpernickel and cream cheese with dill, shallots, capers, and caviar
Cream of Porcini Mushroom Soup: with sour cream and beetroot
BLACK PANTHER
Kachumbari Salad: Romaine wedge served on a bed of diced tomatoes, cucumbers, and red onions with a lemon-cilantro mayonnaise
Wakanda Piri Piri: cilantro, ginger, and chili-marinated chicken with papaya coconut salsa
IRON MAN
California Strawberry and Walnut Salad: with goat cheese, baby gem lettuce, curly endive, and a raspberry dressing
Chilled Californian Avocado Soup: with coconut and mint
CAPTAIN AMERICA
Crispy Fried Maryland Crab Cake: with remoulade sauce and slaw
Farmhouse Appetizer: Iowan ham, oregano aged cheddar, celery, sweet pickle, and berries
BREAD SELECTION
Marbled bred with red pepper dip
ENTREES
THOR
Roasted Scandinavian Cod Filet: with pancetta, pea puree, white asparagus, and a Riesling wine, chervil, and chive sauce
Mjolnir Meatballs and Pasta: beef and veal meatballs in a rustic tomato sauce with penne pasta, broccoli, ricotta cheese, buttered breadcrumbs, and basil
HAWKEYE
Baked Buttermilk Corn-Fed Chicken: on a sweet potato, bell pepper, and spinach hash served with a red wine thyme chicken jus
Roasted Pork Tenderloin "Huntsman": with fondant potato, buttered collard greens, and a forest mushroom, cognac sour cream ragu
INCREDIBLE HULK
Rosemary Roasted Beef Tenderloin: carved and served with celeriac puree, crisp parsnip, butter asparagus, roasted shallot, and a truffle cabernet jus
Dr. Banner's Greens and Lobster Salad: poached, sliced warm water lobster tail on bibb lettuce, curly endive, avocado, green jalapeno, green bell betters, spinach, green onions, and green tortilla chips tossed in a green cilantro dressing
SCARLET WITCH
Gingered Soba Noodles: with portobello mushrooms, baby bok choy, roasted garlic, bell peppers, and a miso broth
Ricotta Gnocchi: with roasted tomatoes, spinach, and kale on an arugula pesto
SPECIALITY DRINKS
Wakanda Tasting Lab: Starr Rum 7 years, Vusa Vodka, Bayab gin
A tase of cocktails developed by Wakanda Design Group mixologists, using ingredients cultivated on Mount Bashenga
Endgame
Rum Mocha: illy cold brew, SelvaRey chocolate rum, Kahlua
Matcha-Tini: Tia Maria Matcha, Belvedere Single Estate Lake Bartezek
Zero Proof
Quantum Core Sipper: vanilla ice cream, Simply Mango Pineapple, Pop Rocks
DESSERTS
Collector's Warm Apple Crisp: warm apple crisp served with vanilla ice cream and sugar shard
Bounty Hunter: Pastry treasure chest filled with raspberry and custard, hidden under fresh raspberries and topped with a key lime dome
Ravagers' Devil's Food Cake: layers of chocolate cake, filled with chocolate Chantilly creme
Awesome Mixed Sundae: Rocky Road ice cream, red velvet meteors, and molten chocolate sauce
"Southern Nights": vanilla cheesecake on a pecan nut custard base and salted caramel sauce
Flora Colossus Sapling: olive oil and pistachio brownie with chocolate soil and strawberry creme
Ready to set sail with the Avengers? Marvel Day at Sea returns on the Disney Dream in 2024 out of Port Everglades, and we can't wait to see what new, exciting opportunities await!
Marvel Day at Sea will be offered on 10 five-night Caribbean and Bahamian cruises sailing from Fort Lauderdale, Florida. 
Departing Jan. 7, Jan. 21, Feb. 4, Feb. 18, and March 3, 2024, the western Caribbean itinerary includes George Town, Grand Cayman, and Castaway Cay.
Departing Jan. 12, Jan. 26, Feb. 9, Feb. 23, and March 8, 2024, the western Caribbean itinerary includes Cozumel, Mexico, and Castaway Cay.
To learn more about Disney Cruise Line or to book a vacation, guests can visit disneycruise.com, call Disney Cruise Line at 888-325-2500, or contact their travel agent.
The Hype Box
Can't-miss news and updates from across the Marvel Universe!