Culture & Lifestyle
Published May 27, 2020
Marvel Mission Recap: Iron Man's Arc Reactor
What can you build with a box of scraps?
The latest Marvel Mission is here! We know you're worthy of this one because it's time to create Captain Marvel's Star of Hala using ONLY safe household items and materials. The deadline for submissions on social media is June 3, 2020 and be sure to tag #MarvelMission.
Congrats agents — it appears that many of you successfully completed the latest Marvel Mission!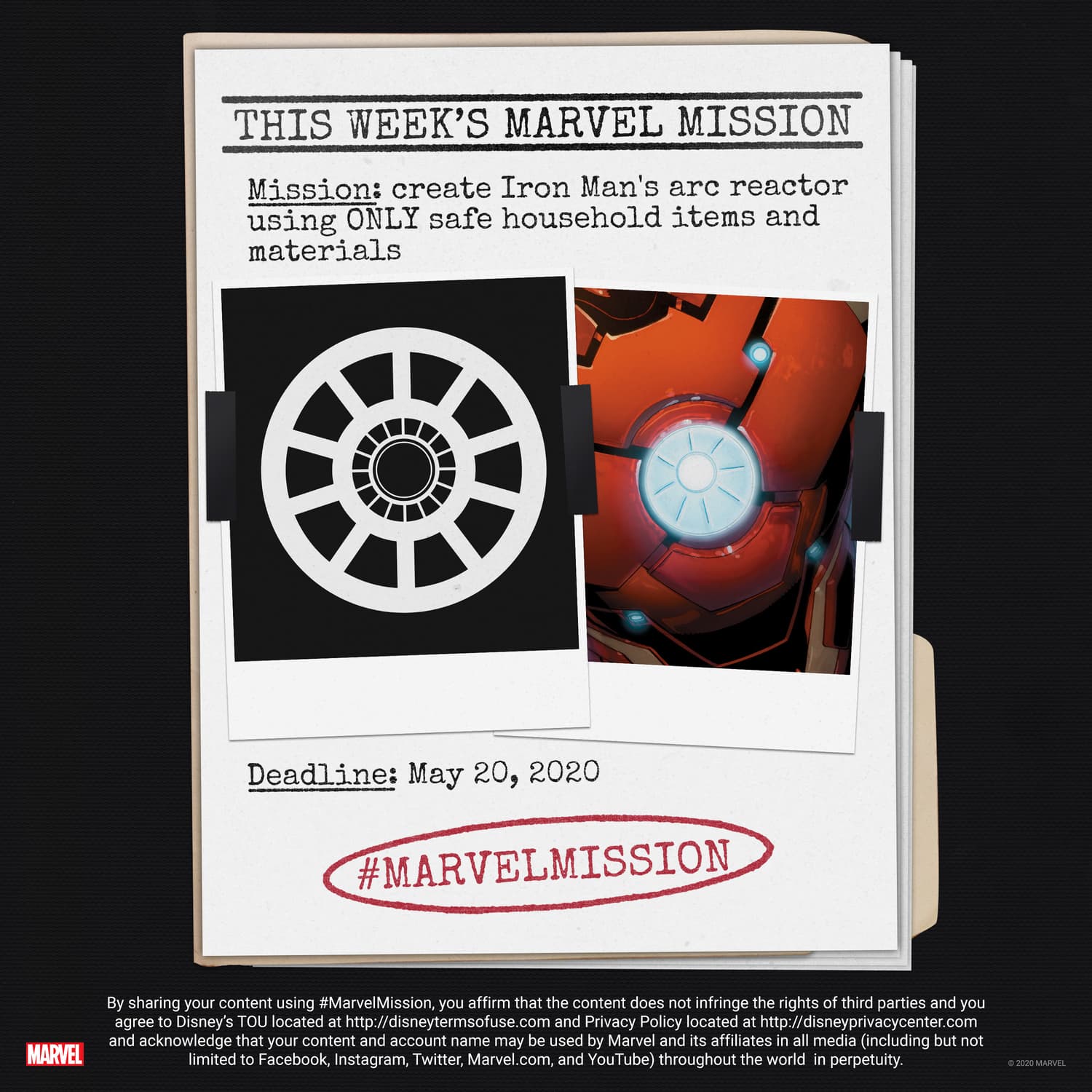 Tasked to bring Iron Man's Arc Reactor to life using only safe household products and materials, the results we saw were outstanding and would make Mr. Stark himself pretty proud. Between using everyday objects — including some edible ones, how do we get our hands on an Arc Reactor cake?! — it's clear that everyone knows how to turn a box of scraps into something all-powerful. And no one even needed to complete this mission in a cave! 
While it was tough to narrow down all the submissions we received, we've rounded up some of our favorites that we saw across social media. Take a look at the post below, and start brainstorming what you could use for the next Weekly Marvel Mission!
Though this week's Marvel Mission might be over, there's still time for you to make your own Arc Reactor! Here's an easy reactor how-to if you're looking to make one yourself:
Grab a clean, circular food storage container — even better if it's clear! 
Mark the lid of the container with a marker, creating the spokes for the Arc Reactor. Once that is done, very carefully cut it out (if you need help doing this, ask for help!).
Don't want to cut it out? No worries! Grab some paint or markers and color in the spokes for the Arc Reactor yourself. 
If you want to make your Arc Reactor actually light up, cut a hole in the bottom of the container, big enough to fit in a flashlight and/or another item that illuminates. 
Put it all together and voila — no need for a new palladium core. 
The possibilities are endless as to what you can create, so go ahead and assemble whatever craft supplies you might need — and be sure to share them on social with the hashtag, #MarvelMission.
Stay tuned for the next Marvel Mission! 
Want to stay on top of everything in the Marvel Universe? Follow Marvel on social media—Twitter, Facebook, and Instagram—and keep watching Marvel.com for more news!
The Hype Box
Can't-miss news and updates from across the Marvel Universe!