Culture & Lifestyle
Published February 25, 2021
'Marvel's Voices': Nic Stone on How Black Super Heroes Gave Her Super Strength
Celebrate the release of 'Marvel's Voices: Legacy' #1 and see how generations of Black Marvel Super Heroes inspired a family of True Believers!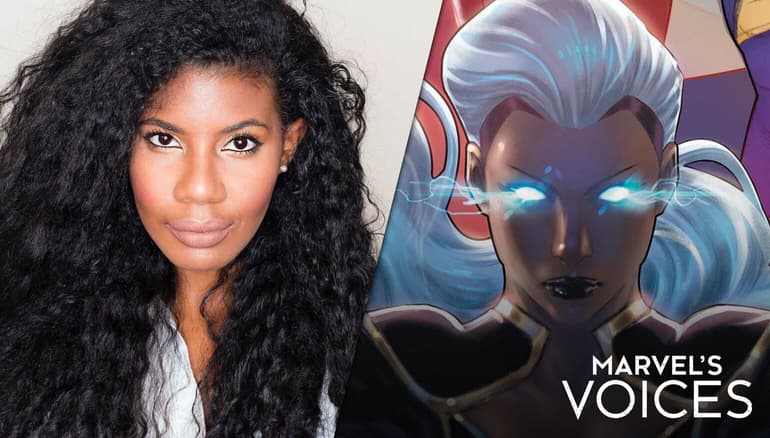 Picture it: Two little brown-skinned girls—one 8 years old and the other 9—get off of a school bus in the shared neighborhood of their (different) grandmothers. Despite how long the day was and how tired they both are, they take off running. The older girl has a slight height advantage and longer legs, but the younger girl is scrappy. Doesn't like to lose…
Especially not this race.

Because this race will determine the Most Important Thing Ever: which girl gets to be Storm for the 30-minute span of that afternoon's X-Men episode.
Despite my best friend being small and fast, most days I was victorious. That half hour of imagining myself swooping in on the wind (quite literally) to save the day was a form of daily fuel. Storm was the only example I, as a little Black girl, had of a Super Hero who looked like me. Days that I lost, I got to be Jubilee or Jean Grey—or sometimes Gambit if I was feeling extra plucky—but it wasn't the same.
We didn't exactly get it back then, but Storm was this resounding message to us that having brown skin and being able to summon lightning and ZIP ZAP! the bad guy weren't mutually exclusive. Yeah, the world wasn't always kind to girls like us—and we knew it; felt it even in elementary school—but that was okay because a woman who looked like us could fly. And, like…actually make it rain. (No shade, but these 21st century hip-hop artists have no idea.)
Now fast-forward: I've gotten older, had a couple of kids of my own. I'm sitting in my home office one day when I hear this resounding BOOOOOOOM and feel the house shake. 
Head snaps up. 
And I'm still sitting there, frozen in shock, when it happens again. BOOOOOOOM!
I scramble to my feet and rush to the living room… And just as I open my mouth to shout "What the @&$% is going on in here?!" I see my 4-year-old son climb up onto the arm of the couch and leap off with his arms extended in front of him.
His hands are in signature web-shooting position, and he's in a charcoal-and-red Spider-Man costume. It matches the costume of the brown-skinned boy with a tapered curly fro, shooting webs from his wrists and swinging around an animated city landscape on the television.
Little guy looks over his shoulder at me. Beaming. "Mommy! I'm Miles Morales!"
My other son? He's not even mad. Because he gets to be the Falcon. And me? Tuh! I have the pick of the litter now: I can be Riri Williams when I'm feeling mechanically inclined, Princess Shuri when I'm having a scientific epiphany, Monica Rambeau when I wanna be pure energy…
Black Lives Matter. Representation matters. This comic collection you have in your hand? Man, does it matter.
Because, not to be a Debbie Downer, but in a year that saw multiple unarmed Black people slain by police officers… In a year when a global pandemic has killed 2.8 times more non-Hispanic African American people than it has White people… In a year when Black people have lost some of our greatest IRL heroes—rest in glory, John Lewis, Kobe Bryant and Chadwick Boseman… In this year, seeing my kid feel and fly (sorta) and zip (y'all pray for this child) around like a Super Hero—seeing him see himself as a Super Hero—gives me that same fuel to keep keeping on that I got from my daily stints as Storm.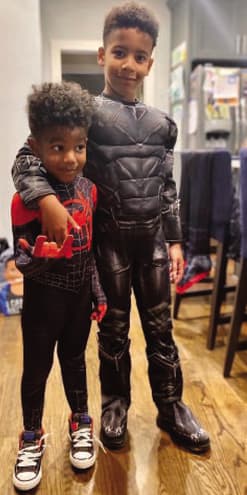 NIC STONE is the New York Times bestselling author of Dear Martin and Shuri: A Black Panther Novel, among others. She was born and raised in a suburb of Atlanta, Georgia, and the only thing she loves more than an adventure is a good story about one. After graduating from Spelman College, she worked extensively in teen mentoring and lived in Israel for a few years before returning to the United States to write full-time. Having grown up with a wide range of cultures, religions, and backgrounds, she strives to bring diverse voices and stories into her work. Learn more at nicstone.info.
This essay was first published in MARVEL'S VOICES: LEGACY (2021) #1, now available in comics stores and on the Marvel Comics app! Find all the latest news from Marvel's Voices on Marvel.com.
The Hype Box
Can't-miss news and updates from across the Marvel Universe!