Culture & Lifestyle
Published February 28, 2023
Enter the World of Ta Lo with 'Marvel Studios' Shang-Chi and The Legend of The Ten Rings: The Art of the Movie'
In book stores now! Gain a behind the scenes perspective on the making of Marvel Studios' 'Shang-Chi' with this deluxe hardcover chock-full of exclusive concept art.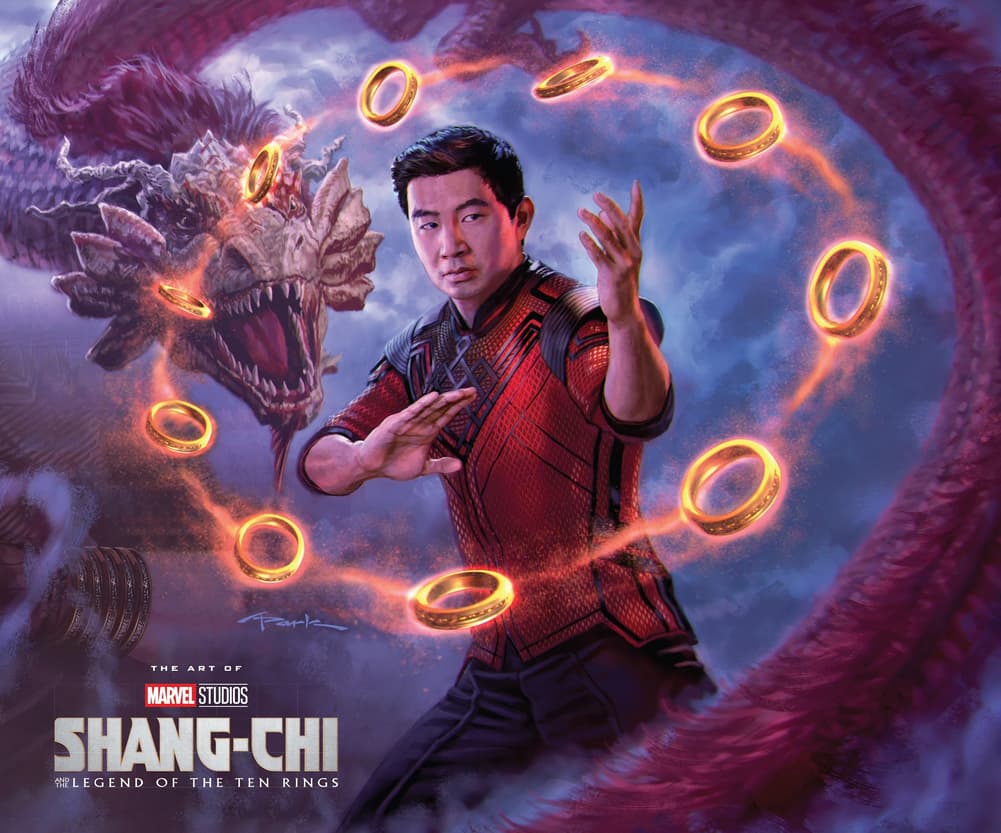 Marvel Studios' Shang-Chi and The Legend of The Ten Rings stars Simu Liu as Shang-Chi, who must confront the past he thought he left behind when he is drawn into the web of the mysterious Ten Rings organization. Continuing their popular "Art Of" series of movie tie-in books, Marvel Studios presents another blockbuster achievement in Shang-Chi and The Legend of The Ten Rings: The Art of the Movie by Jess Harrold with a foreword from the film's director Destin Daniel Cretton. Featuring exclusive concept artwork and in-depth interviews with the creative team, this deluxe volume provides insider details about the making of the sensationally visual film.
Read an excerpt from the book, then grab even more of a sneak peek in the image gallery below!
VISUAL DEVELOPMENT SUPERVISOR ANDY PARK ON DEVELOPING SHANG-CHI'S COSTUME
As Visual Development Supervisor, Andy Park finds a particular thrill in designing a new "hero look"—the final costume that will define how a character will come to be recognized the world over. "Any time we start on a film showcasing a new character in the Marvel Cinematic Universe, that's always the most exciting time," Park says. "Particularly in Shang-Chi's case. It's a whole different genre and angle of representation, with the MCU's first titular Asian hero. It's really exciting, especially with myself being Asian American." That carried with it a "sense of responsibility" to honor the culture and avoid the pitfalls of stereotypes. "I did a deep dive into research as far as Chinese culture was concerned," Park says. "An exploration into historical symbolism, Chinese historical clothing, traditions, and, of course, the comic book source material was all necessary. Shang-Chi was created during the whole kung fu martial arts craze in the 1970s. He's a little more challenging than other Marvel heroes that were created through the years. There was a lack of true understanding in the past, so it was difficult to avoid stereotypes. This movie gave us an opportunity to explore ideas with more freedom and not be as solely beholden to the source material. With that also comes a lot of challenges, because there isn't that anchor. But for me, that's exciting. We're free to explore and come up with the MCU version of Shang-Chi—even down to the pronunciation of his name! I realized I too was mispronouncing his name all my life."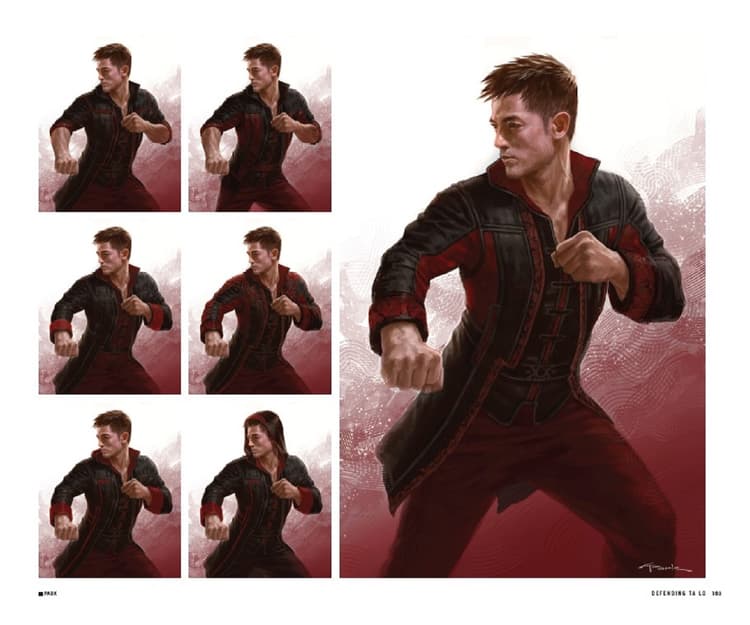 Park's process was long, but hugely rewarding. "Early on, I took inspiration from the Chinese hanfu, a traditional robe worn during the Han dynasty," he says. "Being Korean American, I grew up with something called the hanbok, which shares some similarities with the hanfu, as does the Japanese kimono. A lot of the early stuff I did was based on that—incorporating that left-to-right crossover, a lot of the lines, how the collar works and the way it is fit. I worked on different robes and jackets, exploring a lot of ancient Chinese elements but also merging them with a more modern sensibility and a Super Hero look. As with a lot of these films, we often don't know the exact story when the Visual Development team first starts working on the film. But as the story develops, our ideas get refined, and a lot of those ideas we have will also often inform the story as well. The idea of the jacket and what it actually is and is made up of is an example of the collaborative process.
Eventually, the idea of it being made up of the elements of Ta Lo as a gift from his mother became central through the many back-and-forths between myself, the director, and the producers. I did a full range of outfits, from traditional Chinese clothing, to his comic book look—which was inspired by Bruce Lee's various looks in his movies, from shirtless looks to his classic jumpsuit from Game of Death. I explored the idea of Shang-Chi having some elements of dragon tattoos wrapping around him. I also did a lot of other, very modern, streetwear versions with jackets and hoodies but also infusing historical Chinese elements from the way clothing is worn, to various patterns, colors, and symbology. Colors were a big part of the exploration as well, as each has their own unique significance in the culture. Red in particular is an important color, as it is used in the culture more often than any other color. It symbolizes good luck or good fortune."
"Eventually, as the story developed, that idea of dragon skin really took hold, and I started to think that what Shang-Chi is wearing is essentially armor. But I didn't want to make something clunky and cumbersome, like what we would typically see as armor. I had this idea that, in Ta Lo, the dragon scales give some form of mystical protection, and that, for the black parts of the costume, that material could be bamboo. Bamboo is already very strong, but this Ta Lo bamboo is essentially stronger than steel but helps make the costume flexible. Within each of these black strips, there is an intricate pattern, and the overall pattern on the costume is a symbol in Chinese culture called the infinite knot, or endless knot. It has a lot of meaning—it symbolizes the interconnectedness of all beings. It symbolizes the endless cycle of life, death, and rebirth. It symbolizes protection and also good fortune. It has added symbology when it is given as a gift, symbolizing a link between the giver and the receiver, which is perfect as this is a gift given to Shang-Chi from his mother."
"This whole costume is a story," Park says. "It's armor, it's protection, it's passed down from the mother to her son—and that's the moment he becomes Shang-Chi. Then, later on in the movie, his father freely gives his rings to his son, so that becomes part of Shang-Chi's look. There's one more element to the costume: his shoes! They were very intentional. I did sneakers in my design, although not those particular Jordans. The ones I designed were nondescript sneakers. But the Jordans were perfect. This is not canon, but the idea in my head was that they give him the suit and maybe they even give him shoes, but he would push back, and be like, 'You know what, I want to keep one thing that's me.' He lived in America for ten years—that's a big part of his life as an Asian American, so those shoes represent that. So in this costume, he's got his mom, his dad, and, with the shoes, his own independent journey. Whenever we're doing character designs, we're creating a story. It might not always be explicit, but it's a story of who the character is. When Shang-Chi puts on his costume, it's a culmination of the story of the whole movie."
The Hype Box
Can't-miss news and updates from across the Marvel Universe!