Culture & Lifestyle
Published February 4, 2021
ESPN and Marvel's Reimagined Comic Book Covers: One Year Later
Compare the rookie years of five football stars with the rookie years of their Super Hero counterparts!
Just under a year ago, ESPN and Marvel teamed up to craft special comic covers featuring the five most promising young football stars heading for the pros. Reimagined upon some of the most iconic covers in House of Ideas history, Jalen Hurts, Kyle Dugger, D'Andre Swift, Derrick Brown, and Isaiah Simmons took the respective forms of Thor, Spider-Man, Captain America, Iron Man, and Black Panther.
Now that the football season is coming to a close, we're revisiting these reconstructed renderings to compare the rookie years of these five players to the cover years of their corresponding heroes in the mighty Marvel Universe. Ready? Break!
JALEN HURTS BY MARCIO FIORITO AND CARLOS LOPEZ, AFTER THOR (2007) #1 BY OLIVIER COIPEL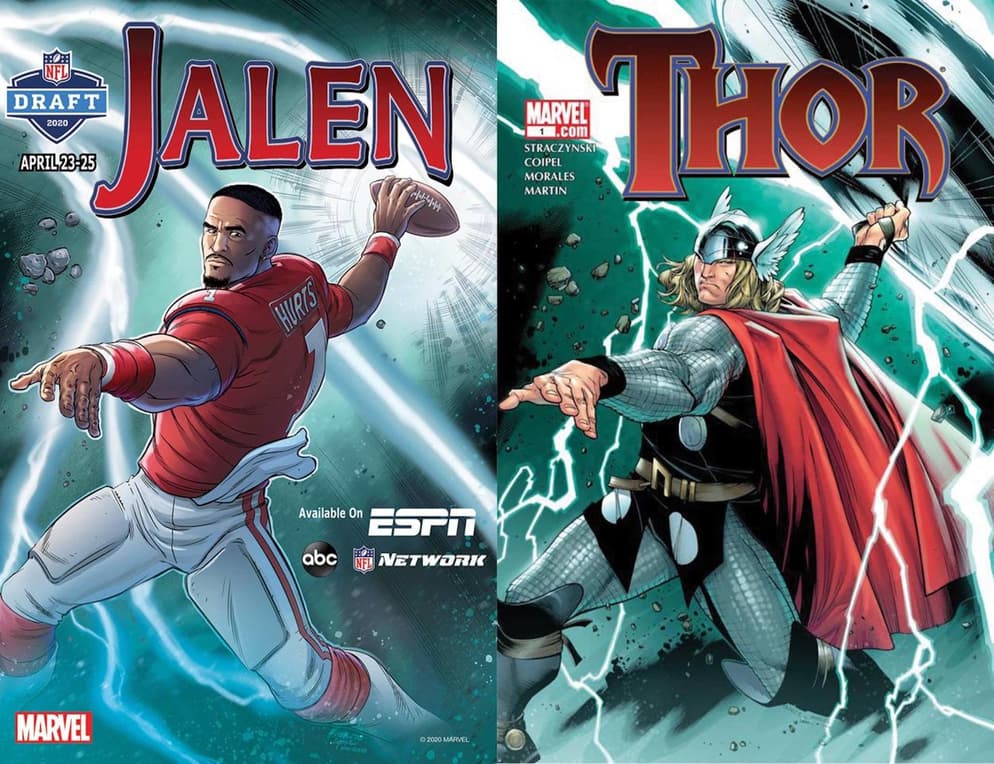 After being drafted in the second round, quarterback Jalen Hurts acted as an early back-up to star Carson Wentz before becoming the starter later in the season. Though the team did not make the playoffs, Hurts gave his team a much-needed jolt, leading them to one or two high-profile victories, earning his spot as the go-to QB. 
Jalen's cover was based on THOR (2007) #1, featuring the iconic lightning wielder! The Odinson is no stranger to strife and conflict; as a young boy on Asgard, he struggled to prove himself worthy of the mystical hammer Mjolnir. He overcame all adversity, though, and much like Hurts, became a hero in his own right, deserving of the mantle—set for years of success ahead. 
KYLE DUGGER BY J.L. GILES AND CHRIS SOTOMAYOR, AFTER SECRET WARS (1984) #8 BY MIKE ZECK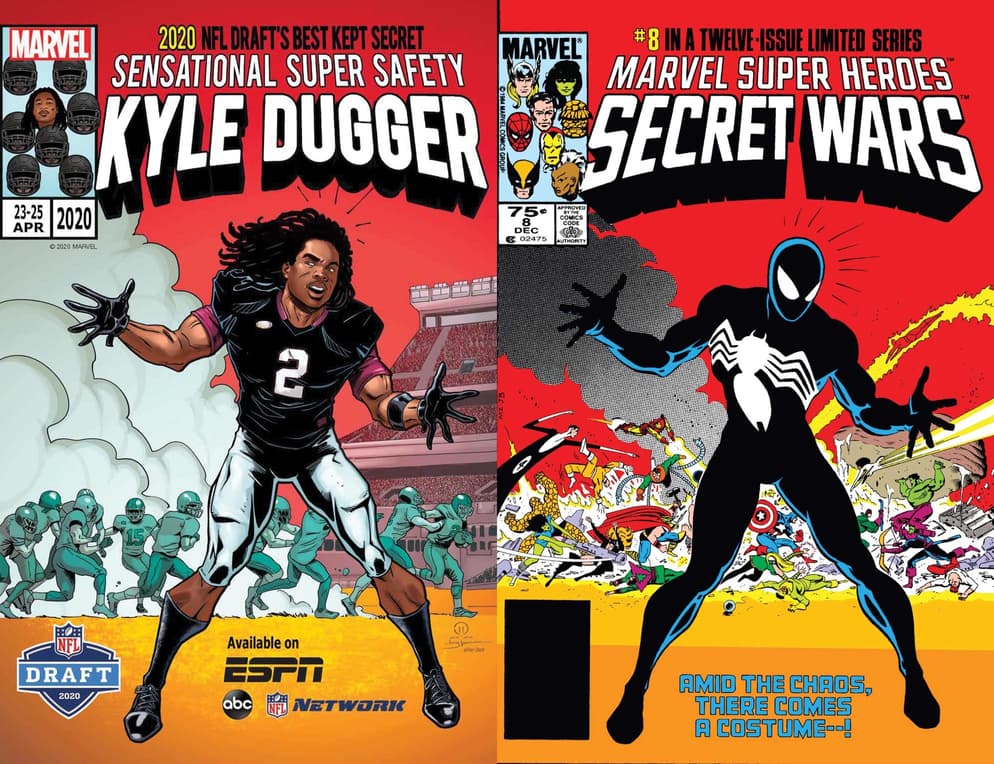 Drafted onto a legendary team by a legendary coach, safety Kyle Dugger left behind North Carolina's Lenoir-Rhyne University to learn his trade amidst a group of seasoned pros. By the midpoint of the season, Dugger developed from a back-up to playing almost every snap on the defensive side of the ball. It was a potentially tricky time for the young star, but his talent cannot be denied, and his standing will continue to grow in the future.
On the football field, a safety's job is to either cover with a wide receiver or defend an area of the field in an effort to prevent long passes or runs from gaining too many yards. It's appropriate, then, that Dugger's cover recreated the classic Black Suit Spider-Man from SECRET WARS (1984) #8. Before finding out that this new costume was its own sentient life form, Spider-Man was pulled into a group of the greatest heroes around during the mega-event, zipping around an alien planet to keep all foes from prevailing! Like his football counterpart, Spidey worked his way up from relatively unknown beginnings to the biggest stages possible!
D'ANDRE SWIFT BY JOEY VAZQUEZ, AFTER CAPTAIN AMERICA (1968) #109 BY JACK KIRBY AND SYD SHORE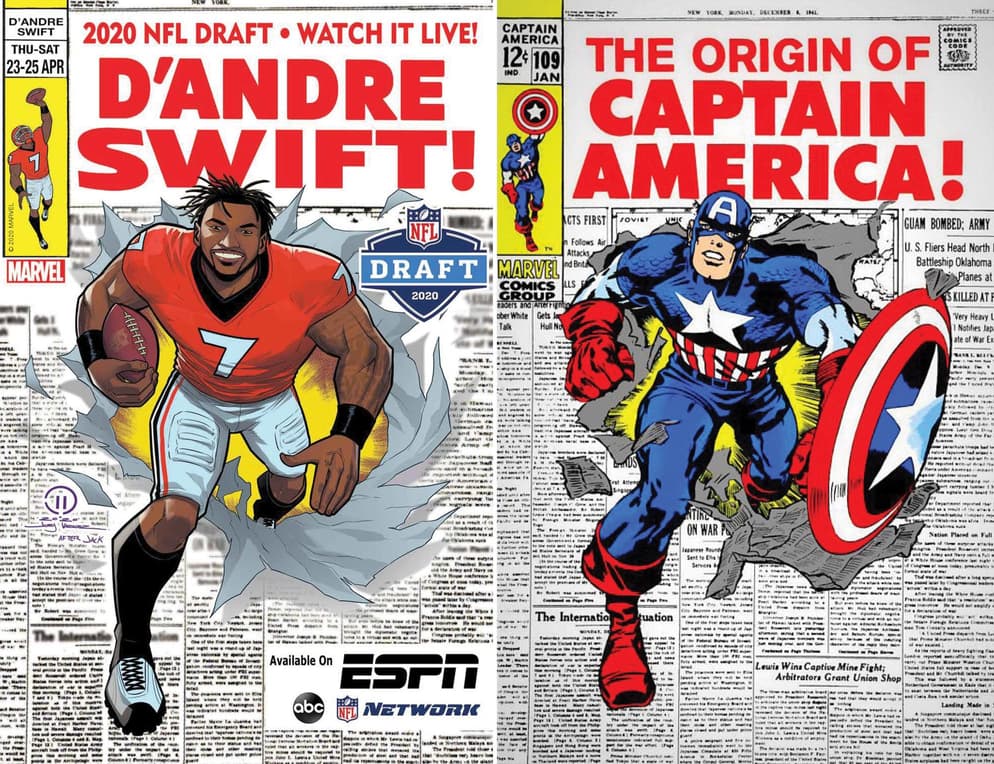 D'Andre Swift burst onto the scene as a running back at Georgia before being drafted into the bigtime in the second round. Early in the season, Swift and a number of other players took turns running the ball at different times, creating a kind of running back union together. By the end of the year, he had shown himself to be a reliable and tough runner who became a bright spot in a team that had a difficult year overall. 
The cover to CAPTAIN AMERICA #109 by Jack Kirby featured the Star-Spangled Avenger bursting through a newspaper already a seasoned veteran. Before that, as a young man, Rogers wanted nothing more than to get in on the action on behalf of his country, doing everything he could to get into the Army. After receiving the Super-Soldier serum, which turned this scrawny kid into Captain America—the ultimate tough and reliable Super Hero in existence. Like Swift, Cap had his share of stumbling blocks early on, but persevered to show just how good he really is.
DERRICK BROWN BY MIKE MCKONE AND CARLOS LOPEZ, AFTER IRON MAN (1968) #126 BY JOHN ROMITA JR. AND BOB LAYTON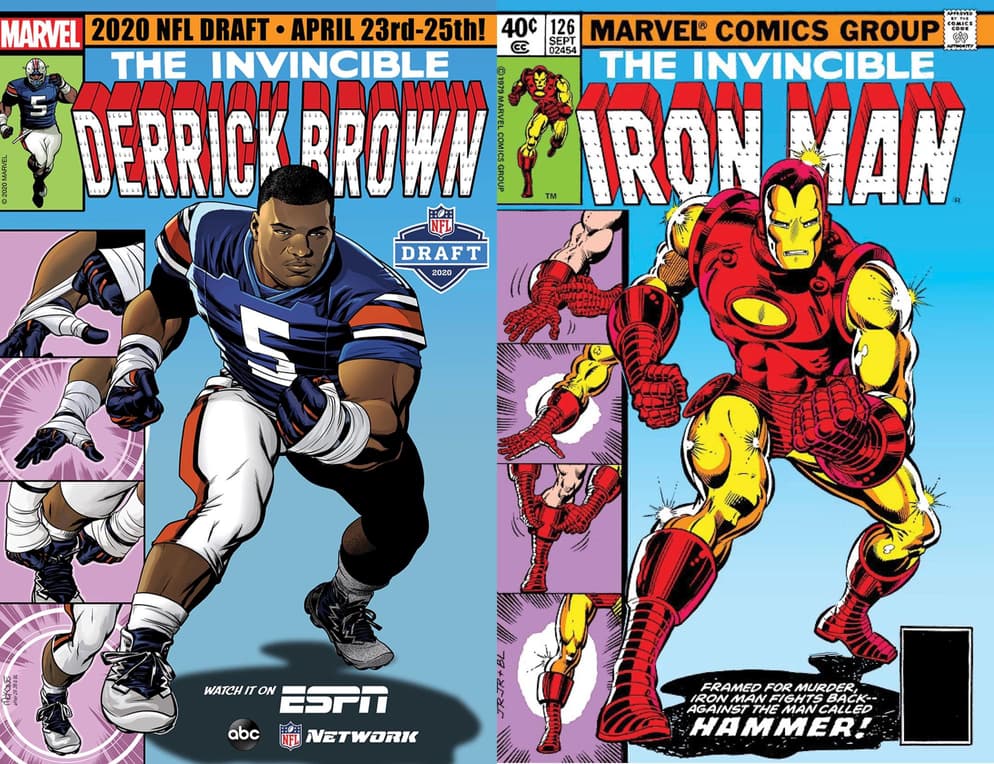 Defensive tackle Derrick Brown was drafted in the first round and began playing right away. Literally the first line of defense in a game, Brown always applied pressure to his opponents and managed to make key plays both deflecting passes and stopping the ground game! 
For Derrick's cover, he stood in for the Armored Avenger on the classic cover to IRON MAN #126, and like Brown, Tony Stark exploded onto the scene and did not look back. For Stark, he built his first armor to save his own life, but then continued working on both himself and his armor to become one of Earth's most formidable human defendants! Brown and Stark could probably sit down and trade strategies for stopping their adversaries, in the air, on the ground, and beyond!
ISAIAH SIMMONS BY YVEL GUICHET, CHRIS SOTOMAYOR, AND WAYNE FAUCHER, AFTER BLACK PANTHER (2016) #1 BY BRIAN STELFREEZE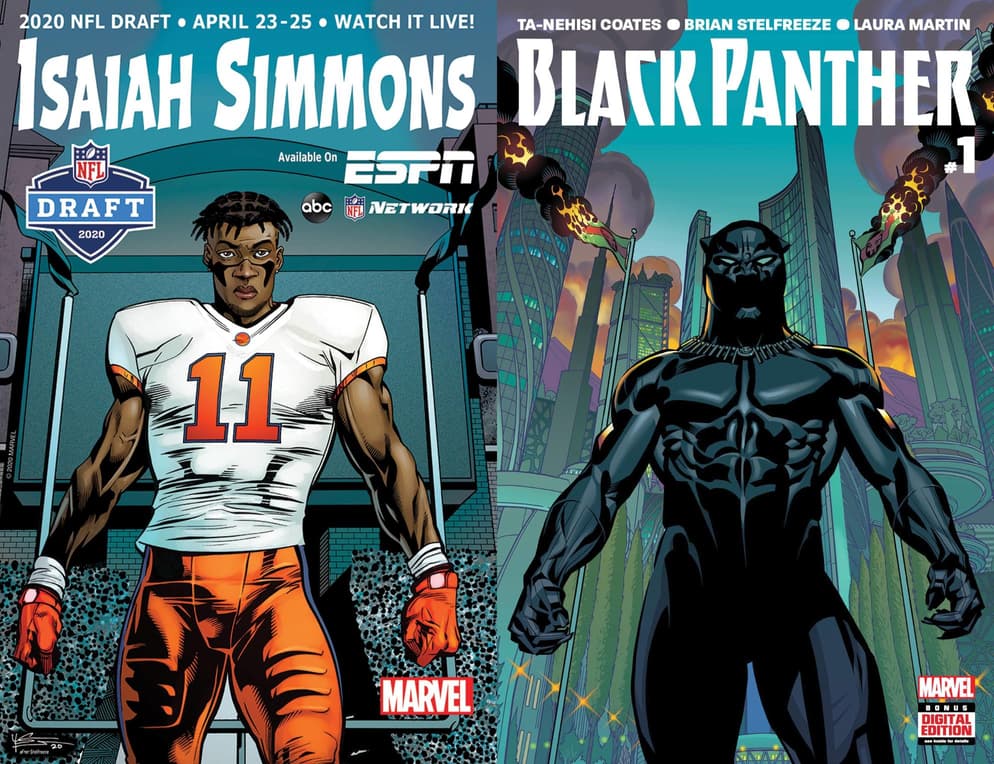 Linebacker Isaiah Simmons got picked eighth overall in the draft, starting for his team immediately before finding things tricky during his opening year in the pros. Still, he played every game, played hard and came up with some big plays late in the season. Described as a "Swiss Army knife," Simmons has a bright future ahead of him, with a huge range of potential and positions for success. 
As a linebacker, Simmons uses his incredible athleticism to keep an eye on the offense and coming up with big, tactical plays when needed. So, it's appropriate that his cover was BLACK PANTHER (2016) #1. T'Challa was thrust into a difficult position after his father, King T'Chaka was killed, but eventually grew into one of the smartest, most tactically adept, and most poised heroes in the entire Marvel Universe! He's the head of state, he's an Avenger, he's an intergalactic leader—like Simmons, he can serve in any position and do exactly the job that's needed.
Stay tuned to Marvel.com for more merrymaking and mirth! 
The Hype Box
Can't-miss news and updates from across the Marvel Universe!