Culture & Lifestyle
Published May 1, 2019
The Mission: Gather Six Infinity Stone Churros at Disneyland After Dark: Heroes Assemble
Whatever it takes.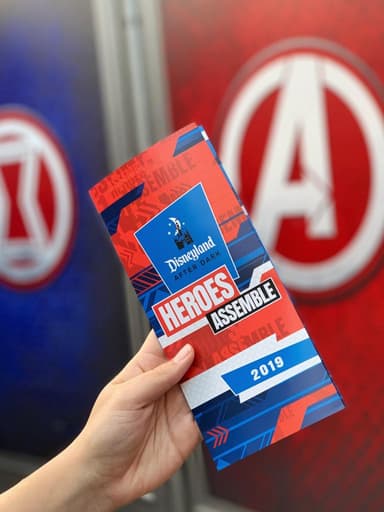 There was an idea—to bring together a group of remarkable people, to see if they could work together and accomplish an exceptional mission in just one night.
Disneyland After Dark: Heroes Assemble, a ticketed after-hours event held at Disney California Adventure Park, allowed guests to live out their super hero fan dreams. Throughout the night, special event-themed treats were available, notably: six Infinity Stone-themed churros.
The objective was simple, rally a team, secure the Infinity Gauntlet, gather the churros, win the night. Will our heroes achieve their goal?
09:00 pm Assemble
Our team of six convened and set a plan in motion. This was going to work. It had to work. With a four-hour ticking clock, the assignment was almost too easy. Or was it…
09:26 pm Gauntlet Procured
Grabbing the golden glove was easy and quick, plus the Infinity Gauntlet sipper came with Cherry Coke, which was just enough fuel to get us through the night.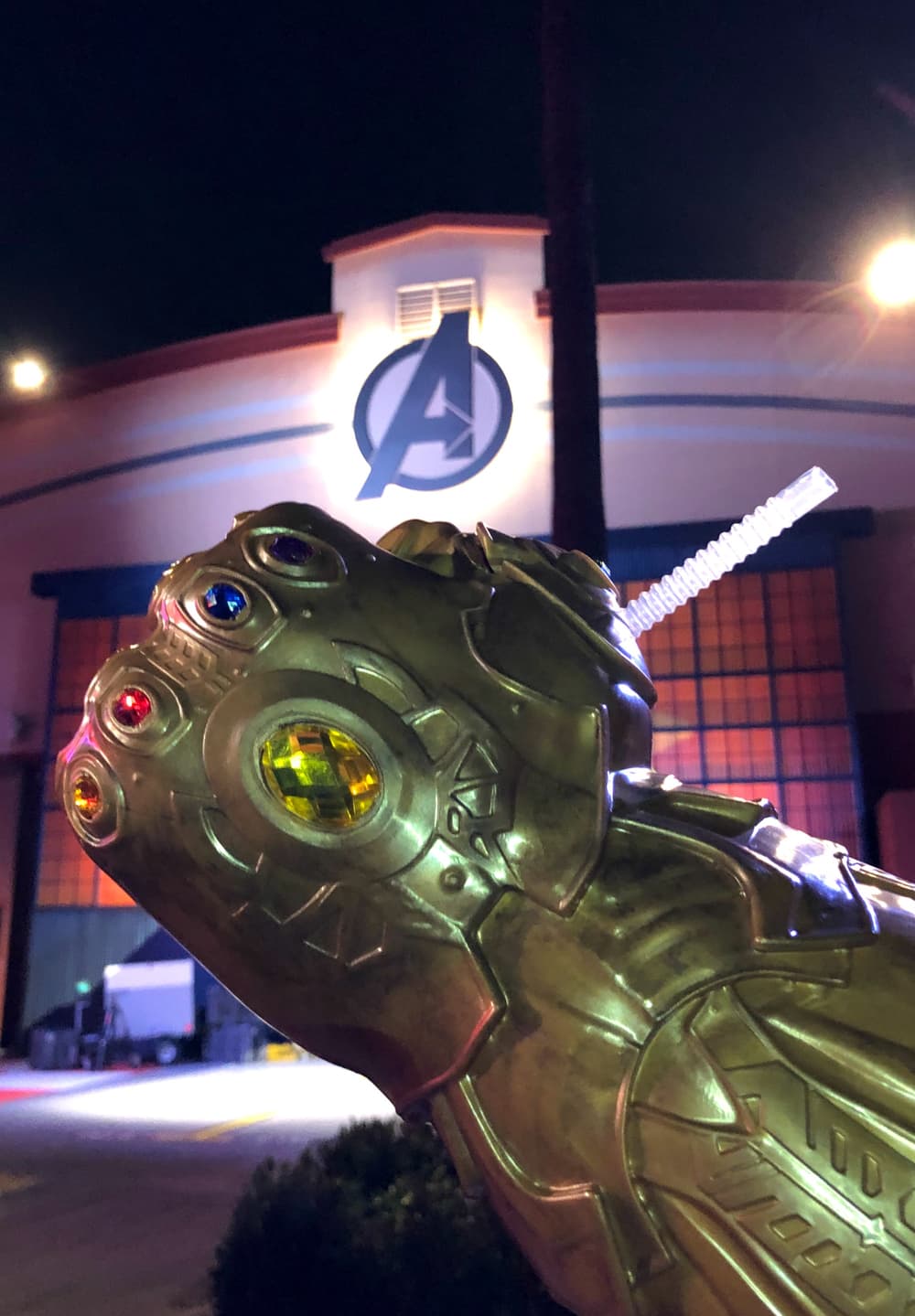 10:32 pm Soul Stone
First Infinity Churro obtained! Retrieved from Cars Land Cozy Cone Motel, the orange-flavored "Soul Stone" churro kicked off the quest.
10:56 pm Space Stone
With that, we were off. The blue raspberry-flavored "Space Stone" churro at Paradise Gardens Park was an easy get. Bolstered by confidence in our team, there was nothing stopping us.
11:01 pm Man Down
Well that went downhill quickly. Just five-minutes later we lost a team member to the lure of "sleep," or perhaps that was the deal made with the keeper of the Soul Stone. A soul for a soul. Still we soldiered on, determined as ever.
11:26 pm Mind Stone
Now a team of five, we moved towards our goal on Pixar Pier, the lemon-flavored "Mind Stone" churro. Our troops rallied as we moved on. This was the halfway point!
11:45 pm Unforeseen Circumstances
As we confidently strolled up to Grizzly Peak to collect our "Time Stone" churro, we were dismayed to see an out-of-service cart. We were assured it was temporary and made a mental note to swing by at the end. "Why didn't we get the 'Time Stone' first!" yelled one of our team members into the night's sky. If only the Masters of the Mystic Arts could portal us to the other churro carts.
12:10 am Reality Stone
How did three hours pass by so quickly? Thanks to great photo opps, exciting event activities, and a heroically good time, time was ticking and reality was setting in—literally—as we picked up the cherry-flavored "Reality Stone" churro in Hollywood Land.
12:30 am Power Stone
Here's when the panic started to set in. With just under an hour before the end of the event, we only had four stones in hand. We hurriedly locked in on the blackberry-flavored "Power Stone" churro. Will we make it?
12:50 am Time Stone
With just 10 minutes to spare, we made our way back to our mislaid green-apple flavored "Time Stone" churro. The cart was up and running, and we were back in business! With all the stones in our collection, there was only one thing left to do...place them in the Infinity Gauntlet.
12:59 am We Are Inevitable 
Remarkably, with one minute to spare, we placed all the Infinity Stone churros into our gauntlet. Those who remained on the battlefield marveled at our achievement as we hoisted the vessel into the air in victory. As we proceeded to consume our rewards, all the feelings started to come together. No, it wasn't an uneasy stomach due to eating hours-old fried dough, it was a feeling of teamwork, accomplishment, and that we could finally rest.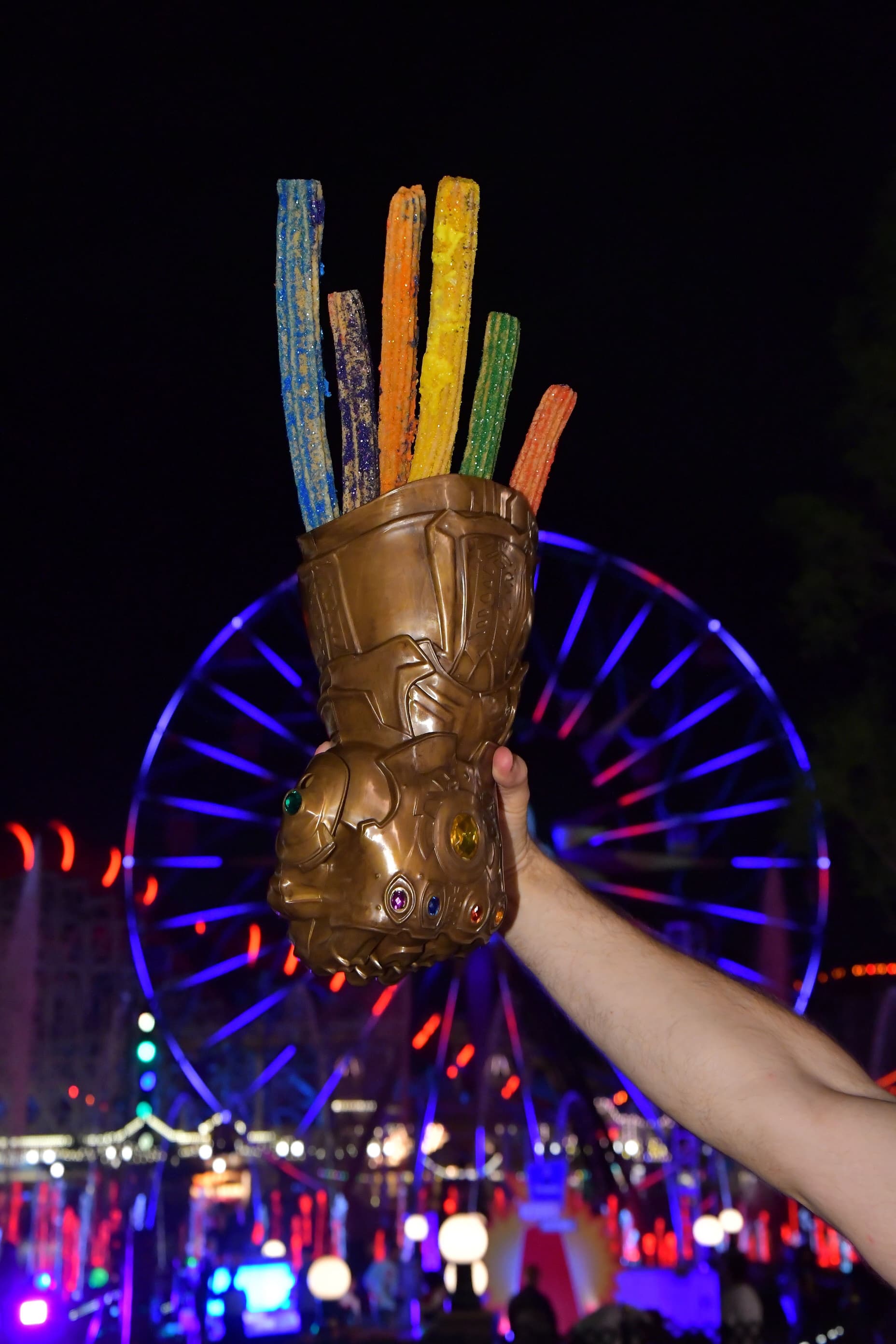 Don't miss your chance to encounter your favorite heroes at #DisneylandAfterDark: Heroes Assemble. Tickets for the last evening are still available at our Main Entrance ticket booths!
The Hype Box
Can't-miss news and updates from across the Marvel Universe!