Culture & Lifestyle
Published April 11, 2019
The Wider World of Marvel Genres
Super Heroes may get the spotlight, but the House of Ideas always had a place for genre storytelling that fit the trends of the times.

Marvel Comics built a House of Ideas on a universe of Super Heroes in the 1960s, one that continues to expand today. But its earlier publishing years offered a diverse selection of genres to a hungry audience alongside its costumed crimebusters and at times even supplanting them. Marvel's genre titles maintained their relevance throughout the decades before getting another big shot in the 1970s.
The Forties' First Forays
Publisher Martin Goodman launched his comic book empire with a bang in 1939, relying on then-editor Joe Simon to hit the ground running with new troops of Super Heroes to not only capitalize on the growing trend, but to pave the way for innovations, too. Legendary artist Jack Kirby joined the Timely Comics team the next year to kick off a new decade that would be overshadowed by war, but also offer hope in the form of such dynamic and patriotic characters as Captain America.
In 1942, Timely Super Heroes marched in step with another comic crowd, a growing army of funny animal humor characters. Titles like COMEDY COMICS and KRAZY KOMICS offered the antics of Ziggy Pig and Silly Seal, as well as Powerhouse Pepper and Super Rabbit. Goodman saw his profits rise throughout the dark days of World War II by watching publishing trends, and when mystery men and women began to decline in popularity by the end of the war in 1945, he added more comedic critters to the mix and bolstered their ranks with a new craze: teen humor titles.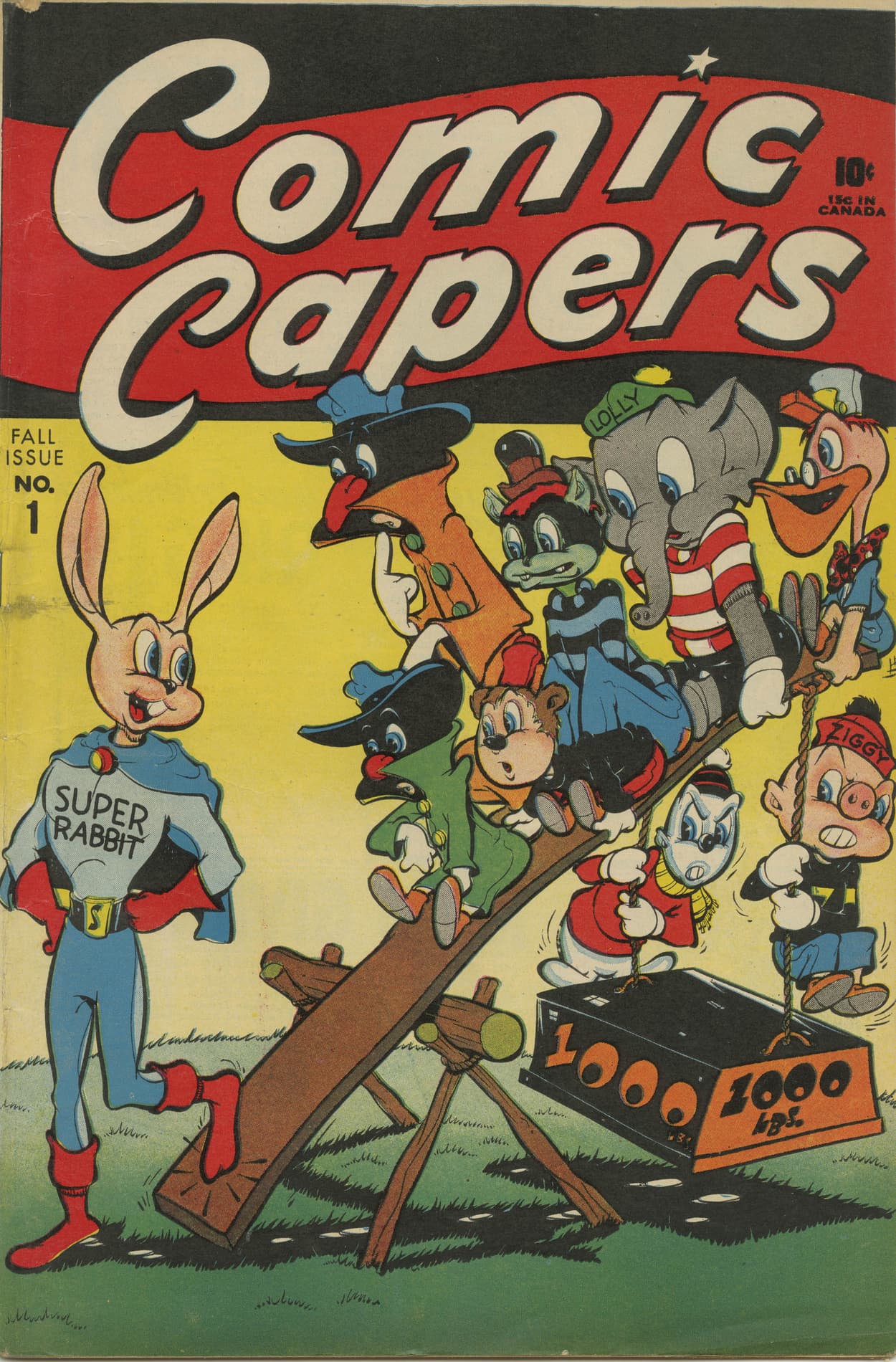 Patsy Walker, Millie the Model, Nellie the Nurse, and their ilk made their voices known as a sort-of balm to a world weary from war and ready for light-hearted adventures with beautiful boys and girls. By 1947, the teen books exploded in what can only be called a boom as Super Heroes continued to slide into decline. At this point, crime and Western comics also found a welcome niche at Timely, and series like OFFICIAL TRUE CRIME CASES COMICS and KID COLT OUTLAW took over the spotlight, joined by a new genre aimed at a somewhat older, more mature audience.
Joe Simon and Jack Kirby created romance comics for another company in an attempt to capture the "true love" magazine crowd, and Martin Goodman, always on the look-out for another avenue of exploration, published his first foray into the genre with MY ROMANCE. It proved to be such a hit with readers that more such love letters followed, cementing the idea within the industry.
By the end of the decade, several things occurred at Goodman's house. As funny animals fell out of favor, he converted his remaining Super Hero books into other themes such as horror, dropped the Timely Comics brand name, and mashed his two popular genres of romance and Westerns up into hybrid titles like COWBOY ROMANCES and RANGELAND LOVE. The for-the-most-part nameless comic book company forged ahead into the 1950s, eager to expand and electrify, little knowing a storm cloud lingered on the horizon in the name of decency and family values.
Fabulous and Frantic in the Fifties
With the war's paper rationing behind him, Martin Goodman steered his ship into a second decade with full steam ahead and an eye on both increased publishing and profits.
The Korean War brought war comics to the front lines in 1951, and under the new moniker of Atlas Comics, Goodman brought out BATTLE, WAR COMICS, SPY FIGHTERS, and his first character-driven war title, COMBAT KELLY. In addition, he poured more resources into the creeping horror genre with such title as MYSTIC, ASTONISHING, and STRANGE TALES, and even transformed an existing Super Hero book, VENUS, into a terror tome.
In 1952, Atlas offered an incredible array of series, covering war, horror, crime, Westerns, romance, sports, teen humor, science fiction, and even a nod or two to the then-passé funny animal world. By the next year, Goodman added LORNA THE JUNGLE QUEEN, SPEED CARTER SPACEMAN, and PATSY AND HER PALS into his stable, as well as experimenting with oddball one-offs like BIBLE TALES FOR YOUNG FOLK. The man never knew a genre he wouldn't exploit.
But such popularity also attracted detractors. A crusading psychiatrist named Frederic Wertham seized upon, among other things, the no-rules horror comics of the day and made a public issue out of them, going so far as to encouraging parents to turn upon the comics industry and see it as he saw it – a "seduction of the innocent" that just couldn't continue. In 1954, after a Senate subcommittee hearing on the topic, Goodman joined with other leaders in the business to create the Comics Code Authority, a self-policing entity that took the teeth out of not only horror books, but just about every other title on the stands.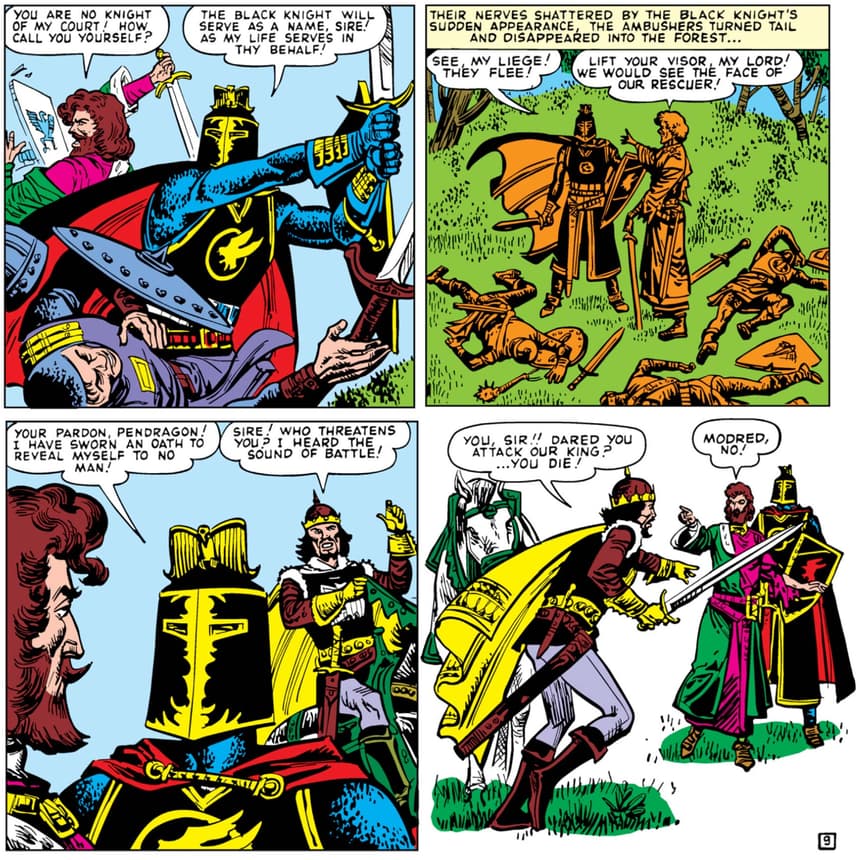 The industry as it stood in 1955 looked different than its earlier existence. Comics still proliferated and in many genres, but as nicer, gentler reading material. Atlas Comics looked for other ways to earn its money, introducing books like BLACK KNIGHT, WYATT EARP, YELLOW CLAW, and SNAFU, but despite the diversity, artists and writers began to abandon the industry for safer, calmer waters. By the end of 1957, Goodman lost much of his distribution and slashed titles left and right. As the end of the decade approached, only 16 books remained of the dozens he once published, a pale shadow of a once mighty machine.
The publisher left much of the day-to-day business to editor Stan Lee, who trudged ahead and watched for opportunities to use the talent he had on-hand, namely Jack Kirby and Steve Ditko. New trends would arise, informing a bright new universe just over the next hill.
The Ever-Lovin' Swingin' Sixties
Monsters—that's what Stan Lee produced, and at the newly christened Marvel Comics, that's what sold as the 1950s transitioned into the 1960s. Books like TALES OF SUSPENSE and TALES TO ASTONISH illustrated multiple invasions of Earth by armies of towering atrocities. In 1960, while other genres still sold, Lee and company pressed hard on the monstrosities allowed by the Code and created a sub-genre all its own.
Then, something else happened. The Super Heroes came back to the company in 1961, and with a vengeance. Lee took the idea of the popular monsters he'd been writing about for the last few years and molded them into heroes, and in doing so breathed new blood and life into a theme that had both seen better days and had never, really gone away.
The downside of blockbusters like 1961's FANTASTIC FOUR and 1962's AMAZING SPIDER-MAN lurked in the fact that as the costumed crimefighters ascended once again, the other genres not only took a backseat, but more accurately crawled into the trunk. As the decade exploded with four-color fantasies, older titles were converted into Super Hero series and themes of horror, science fiction, and the like became submerged in the new trend. Where once they enjoyed their own titles, they now shored up the heroes with jumping-off points and launch pads.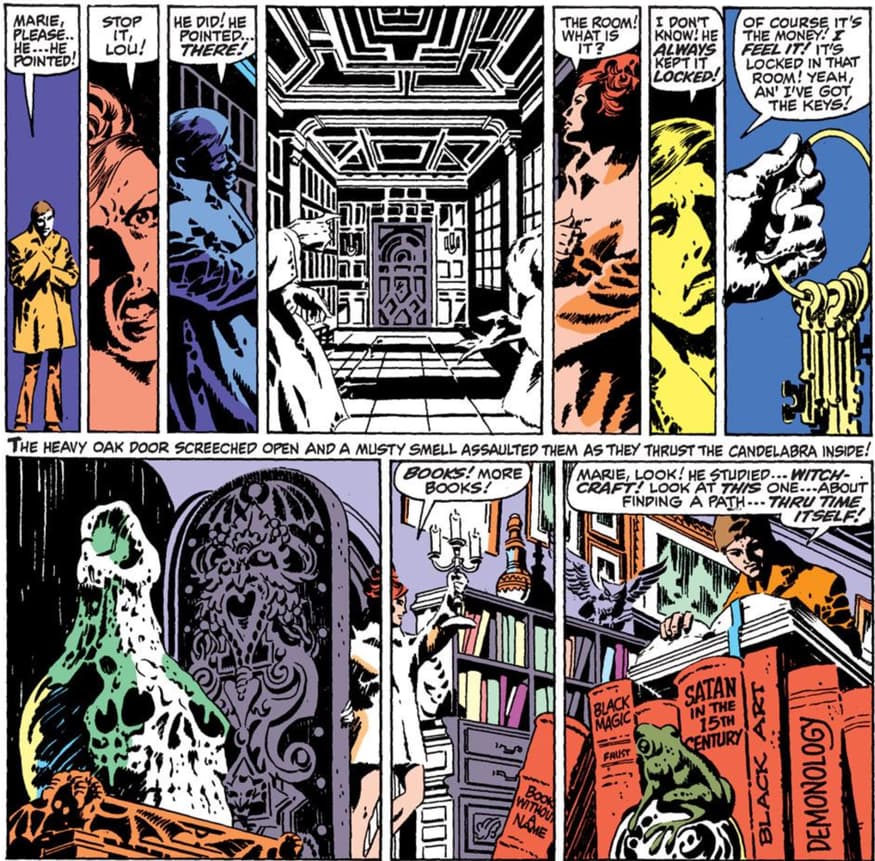 By the end of the 1960s and the dawn of the 1970s, Marvel attempted to hang onto its diversity with new publications like MAD ABOUT MILLIE, CHILI, TOWER OF SHADOWS, and MY LOVE, but the writing on the wall spoke of Super Heroes. As time marched along, what was once Timely and Atlas's bread and butter became Marvel Comics' dim past, not its shining future.
The Real Skinny on the Slapdash Seventies
Perhaps flush with its success with Super Heroes in the 1960s, the company tried to look for opportunities to branch out over the 1970s. Black and white magazine-sized books seemed to be just the ticket, and unhampered by the Comics Code and aiming at older audiences, Marvel published SAVAGE TALES #1 in 1971, which introduced the macabre Man-Thing and other dark fancies. A significant alteration to the Code in 1972 allowed for horror creatures again, and Marvel opened up the vaults to unleash such terror titans as Werewolf by Night, Dracula, Ghost Rider, the Frankenstein Monster, and even the Son of Satan himself.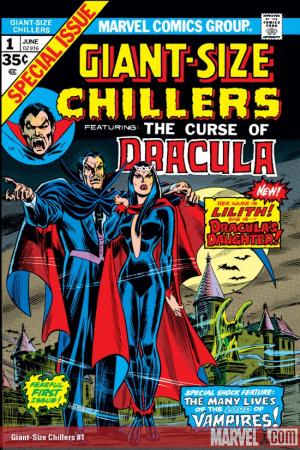 GIANT-SIZE CHILLERS 1 (1974) #1
published

added to marvel unlimited

penciler

writer

colorist

inker

letterer
What is Marvel Unlimited?
Fads of the 1970s translated into new series for the company, like spotlighting martial arts in books such as DEADLY HANDS OF KUNG FU and with characters called Shang-Chi and Iron Fist. Science fiction made a comeback in the form of Killraven, who fought the War of the Worlds in AMAZING ADVENTURES in 1973, and the cyborg Deathlok in ASTONISHING TALES in 1974. Even offbeat ideas like COMIX BOOK, an "underground"-style magazine, and funny animals with a twist, like HOWARD THE DUCK, gained a small foothold in the experimental '70s.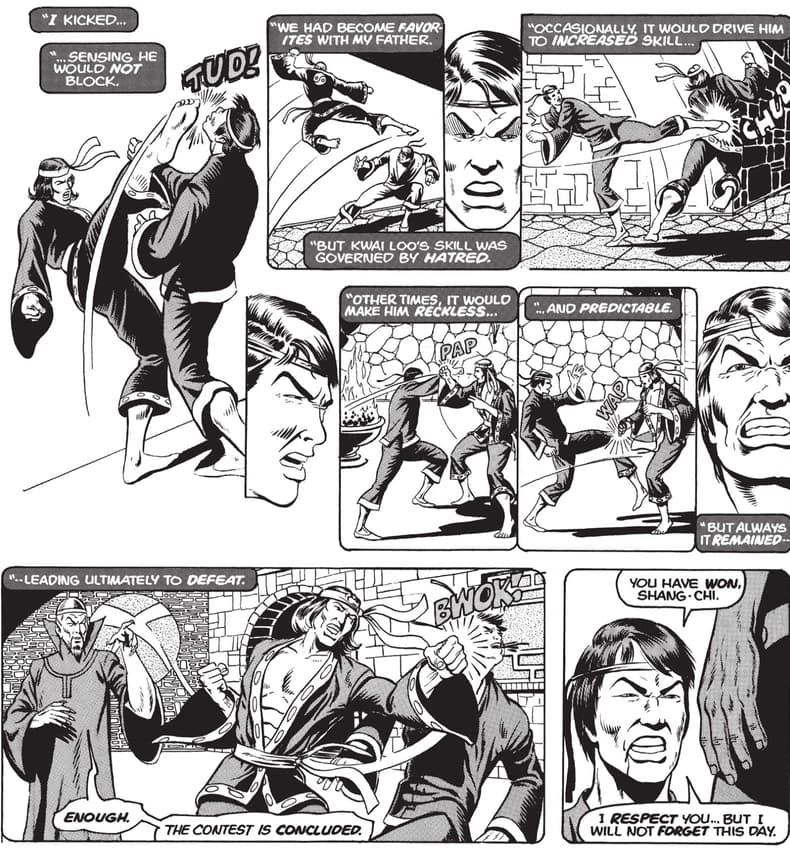 It seemed like a brave new world, but by the decade's midpoint, the Super Heroes asserted themselves again, and all the other genres were quietly folded into the costumed characters' universe. Media tie-ins like STAR WARS, TARZAN, and JOHN CARTER WARLORD OF MARS in 1977 were the last hurrah of diversity, and by 1980, Marvel was poised to take the crown for most-popular Super Hero publisher.
Super Heroes still dominate to this day, though inquiring minds will always find the echoes of comics history by simply looking back and marveling at the long and winding road of the House of Ideas' path.
For more content on Marvel's 80th Anniversary, visit marvel.com/marvel80.
The Hype Box
Can't-miss news and updates from across the Marvel Universe!