Culture & Lifestyle
Published August 4, 2023
The Ultimate 'Thor Quest' Starring Thor, Loki, Sif, and More
'Thor Quest: Hammers of the Gods' authors Collin Kelly and Jackson Lanzing share more about their new book featuring maps and illustrations that follow the young Asgardians' mission for Mjolnir.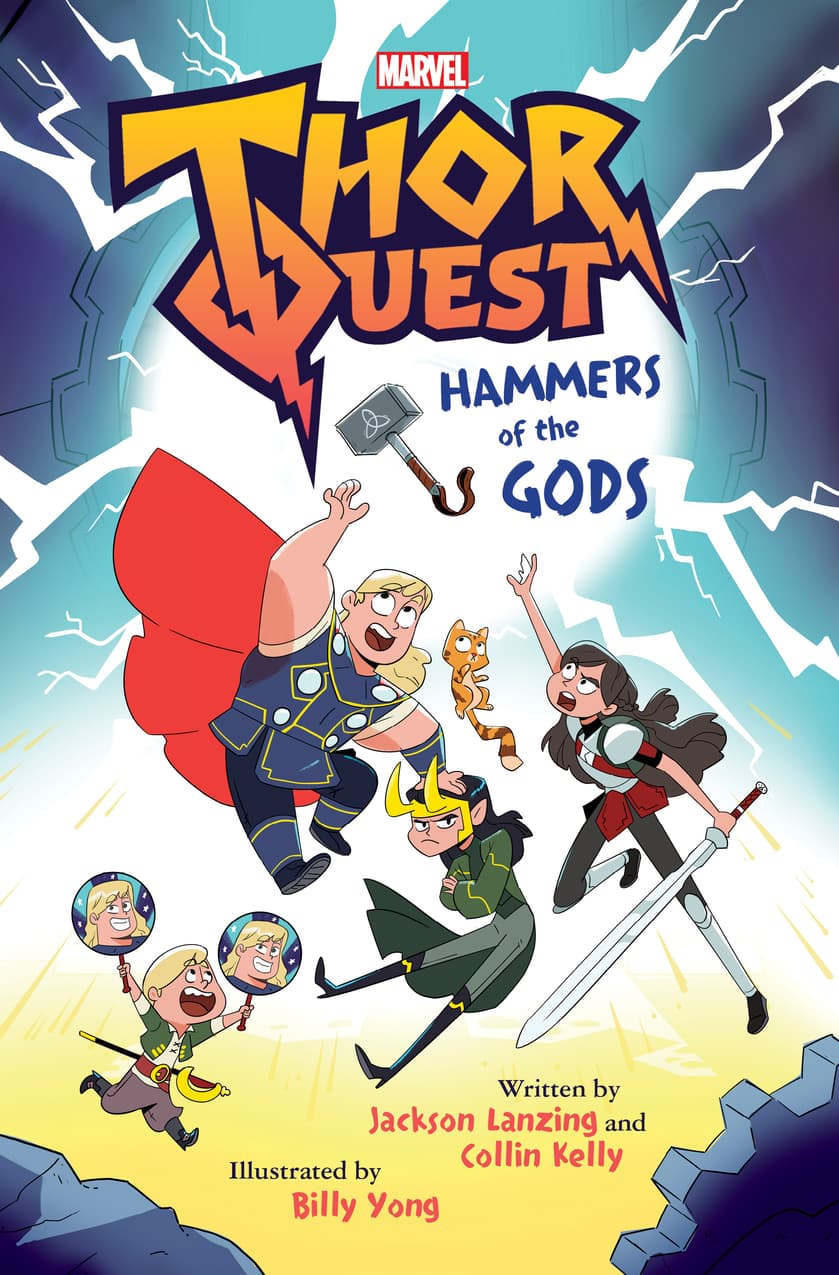 It's time for the ultimate Thor Quest with Thor, Loki, Sif, Fandral, and more legendary characters from the Realm Eternal and beyond!
Available now from Disney Books, Thor Quest: Hammers of the Gods follows the story of Thor's first encounter with the mythic Mjolnir, complete with maps, illustrations, and comic panels. Although Thor is now a mighty thunder god and Loki a trickster without equal, once they were kids. And like all kids, they needed…a babysitter.
To prove that he can take care of himself, Thor decides to go on a "Thor Quest" with an annoyed Sif, a loyal Fandral, and a secretive Loki where they'll tackle sea serpents, robot dinosaurs, and—most horribly—their own mistakes.
"This is the untold story of how Thor first encountered the hammer that would change his life forever told from the perspective of his best friend, Fandral, and his newest rival, Sif," says "Thor Quest" co-author Jackson Lanzing (Marvel Comics' CAPTAIN AMERICA: SENTINEL OF LIBERTY, GUARDIANS OF THE GALAXY). "Young fans can expect to get a whole new perspective on the God of Thunder and his incredible, adventurous world."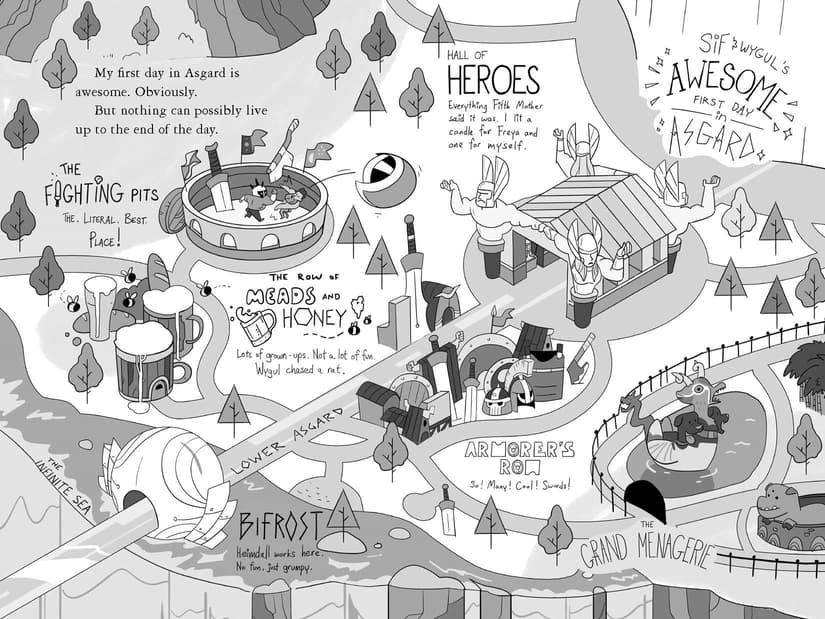 "And, it's the first grand adventure of their young lives," continues co-author Collin Kelly (CAPTAIN AMERICA: SENTINEL OF LIBERTY, GUARDIANS OF THE GALAXY). "When Thor discovers that a long-lost artifact of his father's has gone missing in the dwarven realm of Nidavellir, he and his best friend Fandral know that it's up to them to bring it back! But Sif of the Vanir—only recently arrived to Asgard and assigned with keeping Thor out of trouble—refuses to let them slip away without her at their side. And wherever there's mischief, Loki isn't far behind."
We grabbed even more details from Kelly and Lanzing about their latest tale from Asgard, including what it was like to work with "Thor Quest" illustrator Billy Yong.
What do you think best describes the format of "Thor Quest"?
JACKSON LANZING: "Thor Quest" is an illustrated novel—complete with comics, maps, and tons of other wonderful, hilarious, and inspiring illustrations by Billy. Every chapter will change perspectives between Fandral and Sif—so you'll always be seeing the story from two very different points of view. And most of all, readers can expect a wild, fast-paced adventure into the worlds of Marvel's Yggdrasil.
COLLIN KELLY: Coming from the world of comics, we were thrilled to be able to deploy many of the skills we've honed. With art on basically every page, we wrote this story to be exactly the kind of book both of us would have been obsessed with.
How about collaborating with Billy Yong? Any fun surprises in how he works?
COLLIN KELLY: As soon as we began getting Billy's art, we knew we were working with an incredible talent. His characters are charming and fun, but they're also able to capture moments of real tragedy and heartbreak. Not to mention his ability to take some of our very strangest visual ideas and execute them to a level higher than we could have dreamed. Simply put—this book doesn't exist without Billy.
JACKSON LANZING: My favorite thing about Billy is how much he's fallen in love with Wygul, Sif's battlecat companion. Wygul's a total x-factor in our story—a chaos agent, as cats are wont to be—and Billy seems to be having so much fun bringing that unpredictable attitude into every drawing he can. Readers can even expect a fun surprise at the end of the story… get ready for Wygul Quest!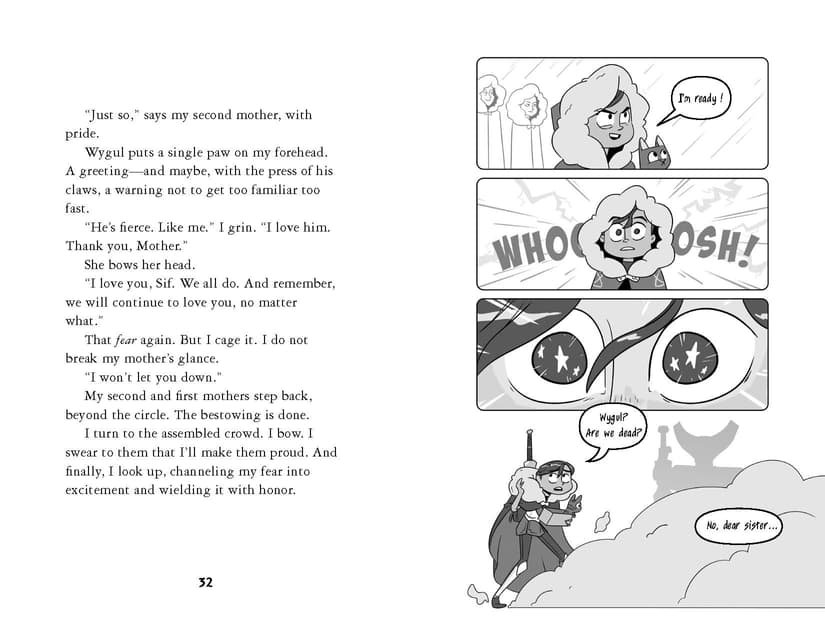 Having just worked on the THOR ANNUAL, what are some of your favorite creative elements to pull from Asgard?
JACKSON LANZING: What aren't some of our favorites!? Asgard—and the Ten Realms in general—are just such an exciting and fertile place to tell stories. After all, these aren't worlds invented for the comics, they're actual myths that have stood the test of time, reinterpreted for modern eyes and ears. What Asgard gives you as a storyteller is the chance to be a skáld—that's [Old Norse Viking] for "storyteller"—and join a thousand-year-old tradition while keeping things fresh and new. I can't wait for young readers to join the ancient tradition of reading stories about the incredible gods of Asgard.
Preview more pages from Thor Quest: Hammers of the Gods in the gallery below, then order your copy from Disney Books today!
The Hype Box
Can't-miss news and updates from across the Marvel Universe!