Culture & Lifestyle
Published February 4, 2021
Marvel and Tough Mudder Team Up to Expand Digital Fitness Challenges In 2021
The Avengers challenge kicks off now!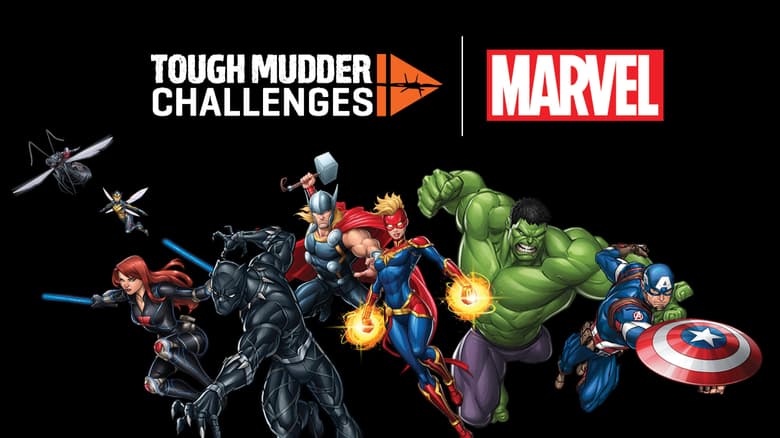 Tough Mudder, the global experiential fitness brand, has joined forces with Marvel in the creation of ​Tough Mudder Challenges: Marvel Series. ​This unique brand collaboration will offer​ ​a collection of six digital fitness adventures designed to t​est one's strength, agility, and stamina while overcoming fears, building mental toughness, and uncovering leadership skills. Through this connected community and engaging platform, participants will discover and unleash their Super Hero within.
Tough Mudder Challenges: Marvel Series​ provides anyone, anywhere, of any ability, with an outlet to get motivated and become inspired to overcome challenges they didn't think they were capable of. New and seasoned Mudders are invited to escape the ordinary and set their sights on accomplishing new goals for 2021. The ​Tough Mudder Challenges: Marvel Series ​will offer a platform for individual tracking and an opportunity for individuals to conquer their fitness goals.
The first challenge in the 2021 series, kicking off in early February, will feature Marvel's​ The Avengers characters. Participants can expect physical, mental and skill-based activities all tracked in a bespoke digital platform that also supports encouragement from a community of engaged participants from around the world.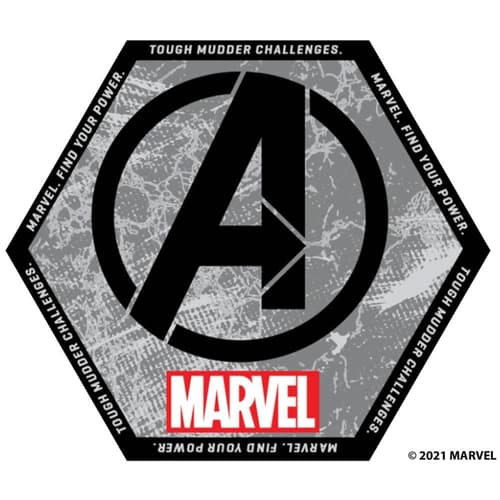 The first challenge features 10 activities, and participants must complete six to earn your unique coin. These activities are designed to be completed within 2-14 days. However, they can be started anytime from February 4th to December 31st, 2021: 
Thor: Passage to Asgard
 It's time to escape the ordinary. In this distance challenge, Thor has granted you passage to Asgard to join him and take the journey into mystery across the Rainbow Bridge. In this challenge you must conquer the Rainbow Bridge by running a total of 10 miles.
Avengers Tower Ascension
As the core base of operations for the Avengers, Avengers Tower, located in the middle of New York City, stands at an immense 1,130ft. To join your fellow Avengers atop the Avengers Tower, you must climb a total of 1,576 stairs (1,130 ft in elevation). No flight or teleportation allowed!
Captain Marvel: Enlist in the Carol Corps 
From her time as an Air Force pilot and through extensive military training, Carol Danvers aka Captain Marvel has challenged you to a physically demanding work out to test your strength and stamina. In this military inspired regime, you must complete 100 Push Ups, 100 Mountain Climbers, 100 Sit Ups, 100 Squats, and 100 Jumping Jacks.
Dora Milaje: Wakandan Warm-Up
Dedicated to protecting their community and others, the Dora Milaje is an elite fighting force of female bodyguards. Defending the Blank Panther is no easy job, therefore, nor are the workout's performed before an important fighting routine or battle. In this Dora Milaje inspired interval sprint workout, you must complete the following: 
Warm-Up: 5 minute easy jog
Run: 3 minute at 80% pace
Strength: 1 minute Bicycles - as many reps as possible (AMRAP)
Run: 2 minutes at 90% pace
Strength: 1 minute Skater Jumps AMRAP
Run: 3 minutes at 80% pace
Strength: 1 minute Plank jump-ins AMRAP
Run: 2 minutes at 90% pace
Strength: 1 minute Shoulder Taps
Run: 1 minute at 100% 
Strength: 1 minute Commandos AMRAP
Cool Down: 5 minute easy jog
Black Panther: Endurance of a King
Black Panther's enhanced superhuman abilities allows him to run at outstanding speeds. In this beep or bleep test, or more correctly known as the Multistage Shuttle Run Test, a test of aerobic (endurance) fitness that is a common test undertaken by many team sports and school groups. The test involves running between two markers, 20 meters apart, in a given set of time. (Insert youtube video) Prove you have what it takes to be the King.
Hulk Smash (Cake Boss)
Let's see your best Hulk Smash! This artistic inspired challenge is designed to push your creativity and originality past the ordinary. You must bake an extreme Marvel themed cake or baked good in the shape of, representing, or describing an Avenger and then showcase your Hulk Smash by destroying it. Hulk doesn't take anything lightly, therefore nor should you. If that means dropping your creation from 10 floors up or smashing it yourself, let's see what you got and make sure to share your pictures and videos.
Black Widow's Balancing Act
Channel your inner Black Widow. Natasha Romanoff is an expert in many forms of martial arts and perfect balance is a key element in her one-woman fighting force. Test your balancing skills and put on an additional article of clothing, such as a second t-shirt or sweatshirt, while in a handstand. If you fall, you must completely start over. Own a Tough Mudder Finisher shirt? Show off your accomplishments by completing the challenge by using the Finisher shirt.
Captain America: Wield the Shield
As the leader of The Avengers, Captain America's signature shield has no place for error while in battle. Designed to improve accuracy, this challenge is designed to test one's precision and exactness. Using your own shield, plate or similar object knock down 10 targets from less than 15 ft away. Knock down all 10 targets in exactly 10 shots. Miss one? Set it back up and start at the beginning.
Hawkeye: Never Miss Your Mark
It's time to hit the mark. As The Avenger's ace archer, Clint Barton is the marksman that the team relies on to make the shot when no one else can. Do you have what it takes to hit any target and proclaim yourself as a real life Hawkeye? Create your own trick shot using a ping pong ball, golf ball, or object of your choice. Maximum diameter of the ball or object must be 22 cm (8 inches). You must bounce your object off at least 4 different items or surfaces before landing into a cup, bowl, or basket.
Ant-Man & The Wasp
The Floor is Lava: Does the ground represent safety and security? When faced with danger, The Wasp takes to the skies to take out the bad guys. Now she's taking you out of your comfort zone on an unexpected adventure in which you can't touch the ground for 3 hours. During this period of time, you must also complete an activity that requires movement. This could include cleaning your house, doing your laundry or even competing in a game of hide and seek. Need some moral support? Where there's a Wasp, an Ant-Man isn't far behind!. Grab a friend and complete this challenge together as a team.
Participants earn a ​Tough Mudder: Marvel​ Series commemorative coin upon successful completion each challenge, vying to collect all six coins throughout the 2021 series.
Find a breakdown of the activities below, and stay tuned for more Tough Mudder Challenges: Marvel Series activities to come! 
For more information and to register for the ​Tough Mudder Challenges: Marvel Series ​visit: toughmudder.com/marvel. You can also find Tough Mudder at @tough_mudder on Instagram, @toughmudder on Facebook and @ToughMudder on Twitter.
Want to stay on top of everything in the Marvel Universe? Follow Marvel on social media—Twitter, Facebook, and Instagram—and keep watching Marvel.com for more news!
The Hype Box
Can't-miss news and updates from across the Marvel Universe!