Games
Published October 31, 2019
Arcade1Up's Marvel Super Heroes Cabinet Recaptures Quarter-Munching Nostalgia
Home Arcade Machine Assembles Three Marvel Classics!
This article is sponsored by Arcade1Up
If the enormous popularity of last year's Arcade1Up consumer arcade cabinets is any indication, many of us have fond memories of days spent feeding tokens into favorite games at malls, bowling alleys, and pizzerias. With the release of affordable, three-quarter scale machines based on classics the company (one of Tastemakers' consumer product brands) has clearly hit a nostalgia-loving nerve.
"Seeing these cabinets reminds me of my best childhood memories," John Diamonon, Tastemakers, LLC.'s SVP of Licensing and Business Development, explained to Marvel.com. "Getting dropped off at the arcade...the sights, sounds, smells of the arcade, [and] meeting up with my friends and playing for hours on one quarter."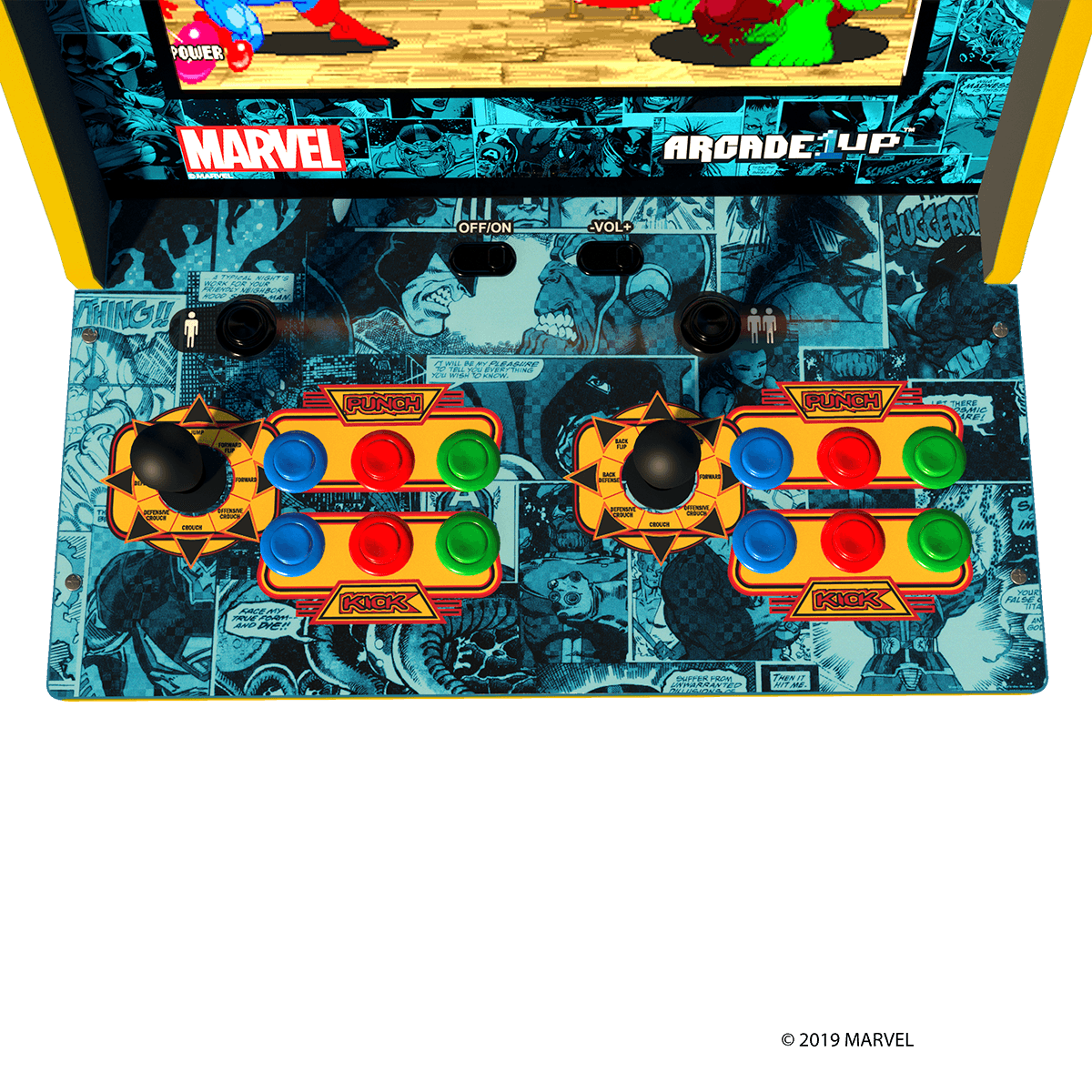 While last year's line-up focused on favorite games — what Diamonon fondly refers to as the arcade's "golden age" — he and his team are now tackling what many joystick jockeys consider the culture's best era. "The second wave of arcade games, in the early '90s, really invigorated the entire arcade industry. Marvel partnered with different video game publishers for some of the best arcade games of that era."
Diamonon is, of course, referring to popular titles like The Punisher, X-Men: Children of Atom, and Marvel Super Heroes. Games that not only rode the fighting and beat 'em up craze of the early-mid 1990s, but also expanded the genres' appeal by putting fans behind the feet and fists of iconic characters from their favorite Marvel comic books. This trio of 2D action games also represent the first three Marvel and Capcom collaborations, serving as both predecessors to and, in some ways, templates for future fighting game greats, like Marvel vs. Capcom.
"These games appealed to both hardcore videogame fans and hardcore comic books fans, as they fully respected what makes both forms of media really popular to them," Diamonon explained. "For fighting and beat 'em up fans, you could pick up the game, break out your Street Fighter-like moves and create combos right away...it evolved a lot of the 2D fighting systems at the time."
And, there's something for everyone: "For comic book fans, you could play as your favorite characters and see them and their powers come to life authentically. That combination was really appealing."
With Arcade1Up's special edition Marvel Super Heroes cabinet, which celebrates Marvel's 80th anniversary, the company's not only combining these classics in a single machine but recapturing the very specific, satisfying vibe that came with playing them in the arcade. "It's so important that we pay very close attention to what people remember from these machines, from the artwork to the feel of the joysticks and buttons to the accurate representation of the music and sound effects," Diamonon continued. "We capture the nostalgia of these cabinets...that's the most important part of these 1Up games."
The side-panel art of an angry Thanos, the illuminated marquee, and all those ear-pleasing retro sounds spilling from the machine's speakers will immediately draw fans to these "mini time machines," as Diamonon affectionately calls them. It's the classic gameplay that'll keep them brawling into the wee hours.
"The gameplay experience is so important. People have spent hours perfecting their combos, and they'll want to make sure they still work. Even the infinite combos and all the bugs that weren't intended to be in original games...they'll expect them to be there. We take a lot of pride to make sure that that experience is super authentic and arcade-perfect."
Whether you're looking to relive fond memories of introducing your buddies to Captain America's devastating "Stars and Stripes" power-up in Marvel Super Heroes, want to re-assemble as Frank Castle and Nick Fury for some Kingpin-thwarting co-op in The Punisher, or are pitting Psylocke and Iceman against each other for the very first time in X-Men: Children of Atom, Diamonon believes the machine packs appeal for all Marvel fans.
"These games are based on the classic story-lines and canon of the Marvel franchises. We wanted to release the cabinet around Avengers: Endgame, because of [Marvel Super Heroes'] Infinity Gauntlet storyline," Diamonon explained. "It's an educational experience for the new fans, as they might not know the Infinity Stones were called Gems in the comic book. They can also see favorite heroes and villains in classic costumes, taken from the original comic books...how characters were represented at the time, and how they influenced later designs."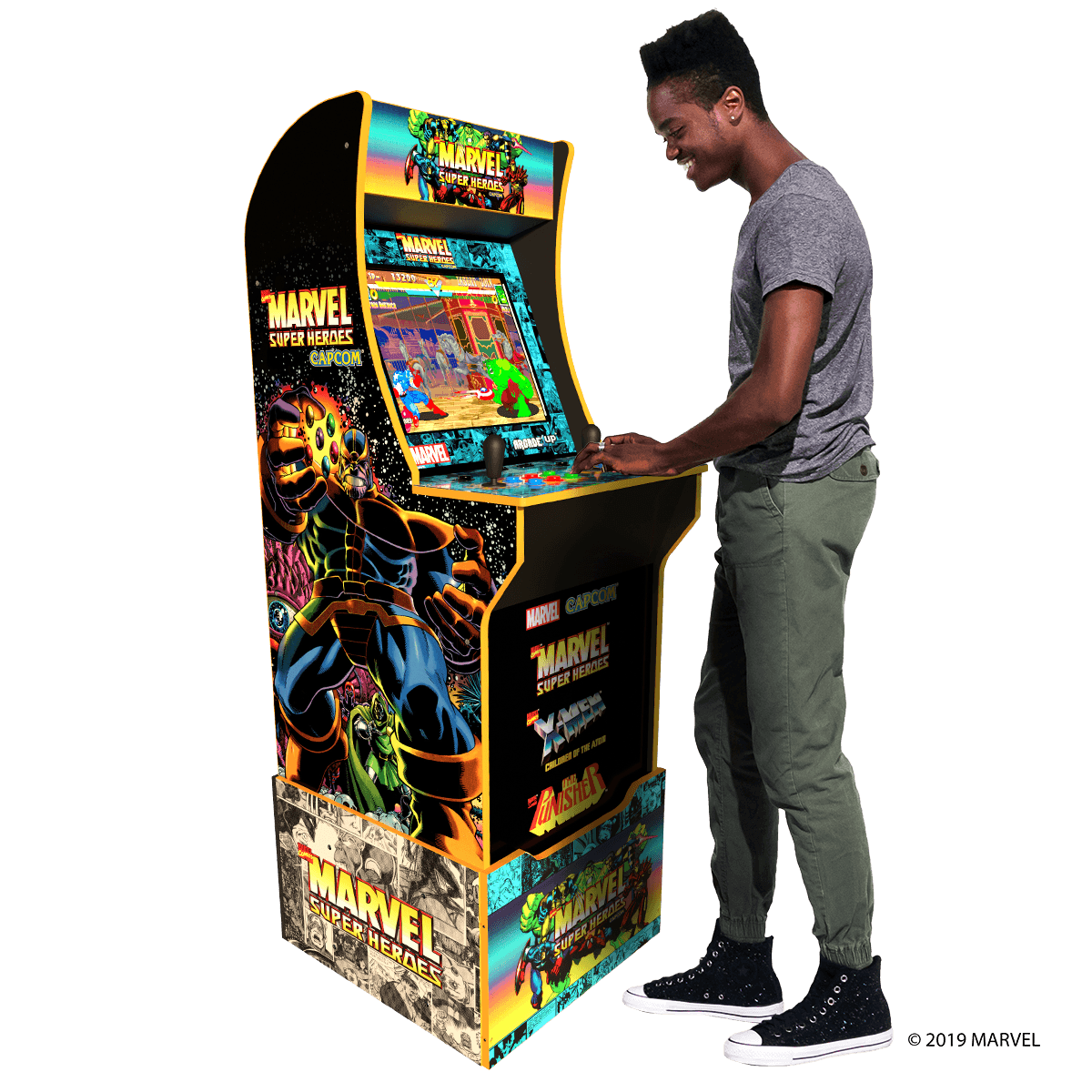 On top of recapturing the magic of these quarter-munching classics, Arcade1Up is improving on its own nostalgia-stinging designs. Taking feedback from passionate fans into consideration, the company's bringing the Marvel Super Heroes cabinet to life with stereo speakers, glossier side-panel art, arcade-quality Sanwa joysticks and buttons, and the machines will support for the same number of players as the original games. The smell of heat-lamp pizza notwithstanding, this is the closest you'll come to playing these games as originally intended.
When asked if Arcade1Up was tempted to change or improve the games themselves in anyway, when tweaking their cabinet designs, Diamonon responds like a fan who spent many a memorable day blistering his thumbs on these classics. "Capcom and Marvel got it right the first time, so why change a good thing?"
Bring home your own Arcade1Up special edition Marvel Superhero cabinet right here, and stay tuned to Marvel.com for more products that celebrate Marvel's 80th anniversary! 
The Hype Box
Can't-miss news and updates from across the Marvel Universe!