Games
Published February 14, 2018
Black Panther Brings Wakanda to 'Marvel Avengers Academy'
Ulysses Klaw leads an attack on Black Panther and the Avengers campus.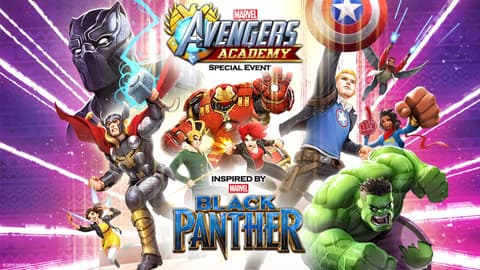 While Black Panther has been around campus in "Marvel Avengers Academy" for a while, much about his homeland remains a mystery to the students and faculty. That changes now, as Wakanda and the super hero school come together against a new common enemy: Ulysses Klaw. Klaw hopes to pilfer Wakandan tech – surprise, surprise – and the shake-up caused by Thanos might just give him the opening he needs.
We grabbed a few minutes with Allen Warner – Senior Narrative Designer at TinyCo – to get an inside look at this event, and a better idea of what events will look like in the wake of Avengers Academy 2.0.
Marvel.com: This is the first event since the 2.0 launch. How will the flow of events change along with the other changes brought to Avengers Academy?
Allen Warner: The Black Panther event will be recognizable to our longtime players, but there will be a lot of changes in the way things are structured. Players will collect event materials from three special, limited-time battle maps that they can use to recruit new and resurfaced heroes, new outfits, and other prizes. There's less of an emphasis on collecting weekly decorations, and we'll also be introducing a new trophy system to reward players for how well they do in the event.  We're really excited about everything new in our first event since the launch, and of course couldn't be more excited to be celebrating Black Panther and everything Wakanda. We'll be using this event as the template moving forward, and will be continually looking for ways to add and change things in subsequent events to create the best experience for our players.
Marvel.com: Why is Klaw making a move against Black Panther now?
Allen Warner: Thanos's arrival has had a ripple effect on everyone in our world, not just the heroes he's threatening, but the villains who aren't sure where they stand with him and what exactly he's planning, even if they're working with him directly. Everyone realizes that now more than ever, it's critical to get as powerful as possible as quickly as possible to prepare for whatever is coming next.  Klaw takes the opportunity to go after Wakanda's tech and treasures, working with their rivals, and one of Avengers Academy's escaped Super Villains. There is so much to be excited about in this event, but one of the coolest things to me is the setup for who Klaw is working with and why. I'm pretty sure that it's the first time these two characters have teamed up even in the comics, and it seems sort of random at first glance, but makes all the sense in the world when you think about their skills, personalities, and motivations. Along with Wakanda's rival tribes, this villainous coalition is very formidable, even for the combined forces of Wakanda and the Avengers.
Marvel.com: Which of Black Panther's allies make their way to the Academy in order to help T'Challa in this fight?

Allen Warner: Okoye and Shuri will both be joining Avengers Academy. I can't overstate how amazing they both turned out. I honestly think they're some of the best designs we've ever done, and I think players are really going to be blown away by their various visual levels and animations. It's cool because Okoye is a fearsome warrior who can go toe-to-toe with anyone, and Shuri is an ingenious inventor who can match wits with all of the many Super-Scientists on our campus. It makes for some really fun interactions. Of course, Black Panther will also be returning with all-new combat animations, and an awesome new outfit.  As we know from his earlier storylines, he's very well-respected by his peers, and because of his diverse skill set and upbringing, has close connections with everyone from the scientists like Iron Man to the royal family members like Loki and Thor to the leaders and hand-to-hand combatants like Captain America and Black Widow. It's really fun to see them all come together to fight for Wakanda, and since we always like to put a different spin on things, there are some surprise heroes who come back to help who you might not expect.
Marvel.com: Meanwhile, some of the students already in attendance will need to make some upgrades to take the fight to Klaw and his villainous friends. Which heroes will we see sporting new suits?
Allen Warner: In addition to Black Panther, there will also be new outfits for Hawkeye and Winter Soldier.  All three are inspired by various looks from the comics, but given a unique spin in either the way they're visualized, or the motivations and origins behind what inspires each hero to don their new look. I think players will be really happy with these selections, and I'm excited to be getting some new outfits for heroes who haven't had many to this point.
Marvel.com: Where will Klaw make his base to launch attacks on the Academy?
Allen Warner: Our artists have created three beautiful new environments, showcasing different areas of Wakanda inspired by the film. They look really cool, and really showcase what makes Wakanda so colorful, original, and awesome. We're also adding a new Wakandan building highlighting their unique tech, and updating our battle map area with elements from Black Panther and Wakanda.
Marvel.com: Can you give us a taste of what's next after this event kicks off 2018 for Avengers Academy?

Allen Warner: Going back to the idea of Thanos inspiring a global rush for power, villains are looking for ways to harness and replicate the abilities of one of the most powerful Avengers. We'll be revisiting his origin, and introducing heroes and villains from throughout his storied history.
For all the latest news and updates on "Marvel Avengers Academy," visit Marvel.com and follow us on Twitter @MarvelGames!
The Hype Box
Can't-miss news and updates from across the Marvel Universe!