Games
Published August 13, 2020
Entering Marvel Contest of Champions: Air-Walker
He dutifully serves Galactus, crushing all who oppose him!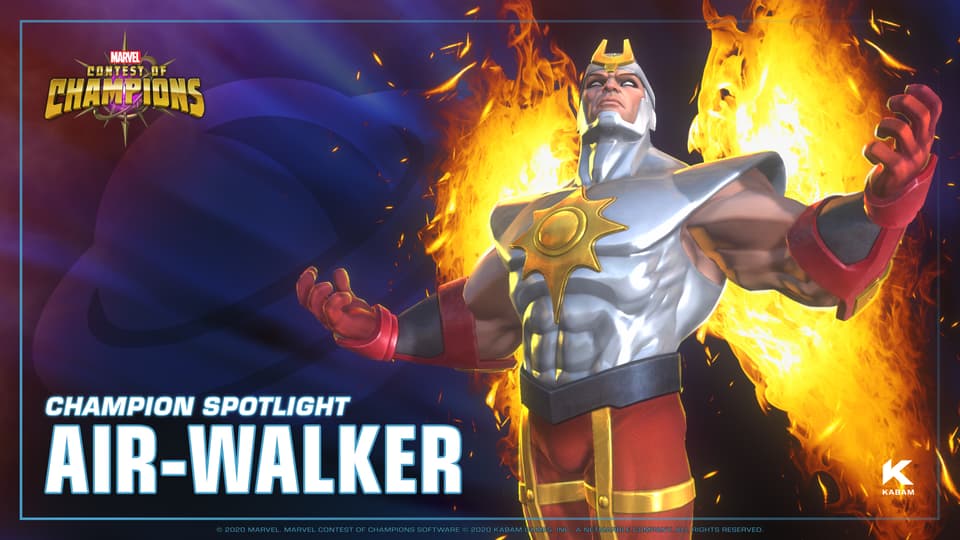 Gabriel Lan was formerly a member of the Nova Corps, before eagerly accepting an offer from the cosmic entity, Galactus, to become his herald. Wielding the immense power of the Power Cosmic and the Bow of Gabriel, Air-Walker dutifully serves Galactus, terraforming worlds for his master, and crushing all who oppose him. Recruit him for your roster in Marvel Contest of Champions now!
As a power class Cosmic, AIr-Walker's basic abilities include Power Cosmic, The Dark Tide, Armor Break, The Power of Galactus.
Air-Walker's tool kit includes three special attacks and one signature attack.
Using Cosmic Flame, the last hit has a 50% chance to inflict a Stun Debuff for 2 second(s). The chance is increased by 50% flat if Air-Walker is Unblockable.
Unleashing Bow of Gabriel, if the Opponent has a Dark Tide Passive, this attack deals an additional 40% of the damage dealt as a burst of Energy Damage.
And with The Herald's Call, Air-Walker replaces Power Cosmic with the Power of Galactus Buff for 20 second(s), granting: +2640 Attack Rating, regenerate +4984.05 Health, gain 10.5% of a Bar of Power every 1 second(s), Gain a Passive Unstoppable effect, Every attack has a 100% chance to deal an additional burst of Direct Damage. Power of Galactus sets Air-Walker's Power to 0 when it ends.
With Air-Walker's signature ability, Herald of the Destroyer, inflict a Dark Tide Debuff on the Opponent every 8 second(s).
Air Walker's recommended masteries include Enhanced Fury and Despair. 
Air-Walker's strengths include Power Gain and Fighting Power Control Opponents.
Air-Walker is available for downloading now on Marvel Contest of Champions on iOS and Android devices!
Stay tuned to Marvel.com for Marvel Games news and interviews and follow Marvel Games on Twitter for more!
The Hype Box
Can't-miss news and updates from across the Marvel Universe!