Games
Published April 12, 2017
Entering Marvel Contest of Champions: Angela
The Avenging Angel of Asgard descends upon Battlerealm!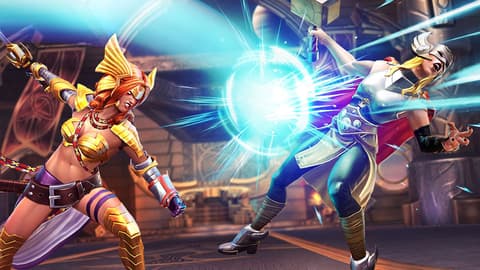 Hark the Asgardian herald Angela appears to kick butt and take names this week in "Marvel Contest of Champions." Wondering how Odin's oldest daughter fights compared to the rest of the cast? We got a chance to talk to Kabam Art Director Gabriel Frizzera and Character Designer Simon Cameron about this damsel definitely not in distress and all the pain she'll be bringing to Battlerealm.
Marvel.com: Has The Grandmaster moved on from mutants and graduated to gods, or is Angela gracing The Contest for some divine intervention?
Gabriel Frizzera: Angela is a perfect fit for The Contest. A consummate warrior with Asgardian might and Angelic moves, she's entering the game to show how it's done. She's such a perfect character to have in "Contest" that we don't even explain how she got in the Battlerealm. She was already there, waiting for her turn to bash heads. We might know more about the connection between the Elders and new Asgardian Champions later in the year, but for now let's leave it a mystery.
Marvel.com: Holy gosh she looks great. Her armor and weapons and are all spot on! What went into helping Angela make the jump from comics to Battlerealm?
Gabriel Frizzera: Angela was originally created in the 90s, and I suspect [she] was influenced not only by fantasy literature and RPGs, but also a nascent video game culture. Or maybe they all converged in this over-the-top, almost impractical golden outfit, with weird weapons and backstory. Whatever the case is, she was in our plans for a long time, because it just makes sense for the game. Our character team lead Gene Campbell modelled this one himself, and she's been in the game files for some time now. We were just waiting for the right time to release her. Turns out the fantasy-style quest loosely tied to the Guardians was the perfect outlet for her.
Marvel.com: I can see she's rocking a sword and what looks like a double-bladed glaive, but the real question is can she use her ribbons in combat?
Gabriel Frizzera: Unfortunately not. We use it a lot for visual effect and flair, but we decided to concentrate on the other weapons. We have limitations of how many props we can use before memory starts becoming an issue in the slower devices, so we gotta pick and choose. But the good news is we are developing a better system for tentacle-like appendages, since we have plans for future characters that use them.
Marvel.com: Let's talk about her Battle Focus ability. How exactly does that benefit her in combat?
Simon Cameron: Angela is heavily based around her Buffs, but that also leaves her very vulnerable to Nullify abilities. Her Battle Focus Signature Ability gives her some resistance to Nullify, and helps keep her in fighting form.
Marvel.com: And her other abilities—Fury, Armor Up, Precision, and Expertise—make it sound like she just wants to stay in her opponent's face wailing away.
Simon Cameron: Pretty much! She gains Buffs based on how much Power she has, basically one Buff for each possible power state. She can create an additional copy of each of these Buffs by landing Critical Hits, and another stack by using the appropriate Special Attack. She's definitely happiest when landing hits on her opponent, however, careful Power Bar management will be needed to keep her at max damage output.
Marvel.com: And her teammates fit well, getting bonuses from her Aesir brethren Thor and Loki, and her Guardians of the Galaxy crew. Nothing flashy here though. What can you tell us about the dev strategy behind those bonuses?
Simon Cameron: Angela's Synergy Bonuses are more defensive with health and block bonuses. Both synergies work well with her Resilience Regeneration ability, keeping her in the fight for longer.
Marvel.com: And when can we get her into the fight?
Simon Cameron: Angela will be coming to The Contest this Thursday, [April 13]! Make sure to check for in-game messaging and arenas to see how you can get your hands on this mighty warrior!
Stay tuned to Marvel.com for more "Marvel Contest of Champions" news and interviews!
The Hype Box
Can't-miss news and updates from across the Marvel Universe!