Games
Published June 8, 2017
Entering Marvel Contest of Champions: Carnage
Spider-Man's most psychotic foe enters the fray of Battlerealm!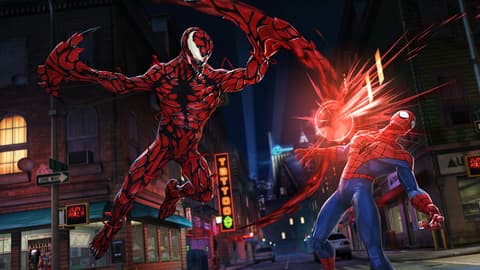 Spider-Man might never want to see another symbiote again, but The Collector no doubt has a special section of his menagerie dedicated to the Klyntar. So it should come as no surprise that Carnage has finally made his dangerous debut on Battlerealm.
We talked to Kabam Art Director Gabriel Frizzera and Character Designer Simon Cameron about the murderous Spider-foe and his impending killing spree in "Marvel Contest of Champions."
Marvel.com: I'm super psyched to see Carnage making an appearance in The Contest. He's the perfect amount of crazy to really shake things up. What's he doing on Battlerealm?
Gabriel Frizzera: As always, Cletus is causing mayhem. He was probably captured by The Collector at some point, but he was too wild to play nice in The Contest, and broke free. Or was set free, like a discarded pet crocodile. Who knows for sure…the fact is you can't have Carnage in your neighborhood without some bloodshed, and the Champions will need to deal with that sooner than ever.
Marvel.com: When it came to designing Carnage, what were some of the visual aspects the team felt were necessary to bring him to life?
Gabriel Frizzera: He needed to be repugnant. Our team took special care in modeling the muscle fibers and sticky symbiote goo travelling through his body. We tweaked the shaders to make him look wet and gross like an inside-out Spider-Man, and added scythe-like appendages and tentacles that skewer people alive, or carry him like giant spider legs. We wanted to show in no uncertain terms that Carnage is a monster, both in appearance and attitude.
Marvel.com: Let's talk about Carnage in-game. I'm imagining him fighting like a whirling dervish, slicing and dicing everything in sight. How does he play?
Simon Cameron: Cletus Kasady's psychotic tendencies were definitely a driving force behind how Carnage will be played. The symbiote mutates to provide him with bonuses based on what his current needs are, and he loves blood, so [he] gains bonuses against a Bleeding opponent.
Marvel.com: Yeah his abilities seem to fit him perfectly. Would you mind digging a little deeper on Bloodlust and Precision?
Simon Cameron: Bloodlust is a unique ability that allows Carnage to increase the amount of power he gains for each attack he performs or receives. Precision increases the chance to land Critical Hits; this goes hand in hand with Carnage's ability to trigger additional Bleeds on an already Bleeding target with those same Critical Hits.
Marvel.com: When are we picking Carnage? Any heroes or villains that he does particularly well against?
Simon Cameron: Carnage loves going on killing sprees against anyone, hero or villain, he does not discriminate. Pretty much anyone who can Bleed is a favorite target of this psycho. Though as a Cosmic hero he gains even more damage against Tech Class heroes—Rocket Raccoon, Howard the Duck, [and] Civil Warrior are all excellent targets.
Marvel.com: When do we get to harness the psycho power of Carnage?
Simon Cameron: This psychotic monster will be coming to The Contest on June 8. Stay tuned for in-game messaging and arena announcements for your chance to get him!
Marvel.com: Oh and before I go, we have an event quest starting up on June 7. Can you give us a breakdown of what we need to know?
Gabriel Frizzera: Our new event is called "Secret Empire Forever." It starts with The Civil Warrior hunting Carnage before he causes too much damage in the Battlerealm. But soon they find out that, like a cornered animal, Carnage is merely reacting to being hunted by a much worse monster: an alternate version of The Punisher 2099, who became the Minister of Punishment for a Hydra Empire that dominated the USA for almost a century. Now it's up to an uneasy alliance between Civil Warrior and the current Punisher to defeat this future fascist villain, who makes Frank Castle look tame in comparison. To take a closer look at Punisher 2099, check out our brand new Motion Comic!
Stay tuned to Marvel.com for more "Marvel Contest of Champions" news and interviews.
The Hype Box
Can't-miss news and updates from across the Marvel Universe!