Games
Published October 22, 2020
Entering Marvel Contest of Champions: Cosmic Ghost Rider
Frank Castle is a new Herald of Galactus!
During Earth's last stand against Thanos the Punisher, Frank Castle, was struck and killed. A lifetime of killing saw his soul sent to Hell, and a deal struck with Mephisto saw him to become the latest Ghost Rider. But by the time he returned to Earth, everything was dead, and Thanos was gone. After endless years alone, Ghost Rider was found by Galactus, who agreed to make him his Herald in exchange for being allowed to devour Earth. And so he became the Cosmic Ghost Rider, and a Herald of Galactus. Now he's the latest to join the roster in Marvel Contest of Champions!
As a character class Cosmic, Cosmic Ghost Rider's basic abilities include Immunity Bleed, Immunity Incinerate, Fury, Armor Break.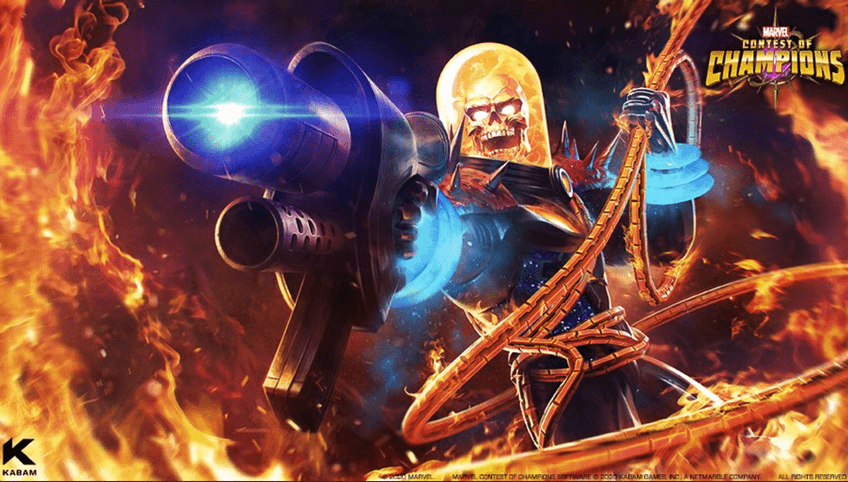 Cosmic Ghost Rider's tool kit includes three special attacks and one signature attack. Using Hellfire, Cosmic Ghost Rider, rips and tears at his opponent before blasting them away. On Activation: If the Judgment of Unblockable is not active: 100% Chance to trigger an Unblockable Buff for 1 second. On Hit: 100% Chance to Incinerate, dealing 1380 Energy Damage over 5 Seconds, reducing Block Proficiency by 50%, and removing all Perfect Block Chance.
With Power Cosmic, Ghost Rider lifts into the air and unleashes lightning blasts of energy at his opponent. On Activation: If the Judgment of Precision Is not active: 100% Chance to trigger an Precision Buff increasing Critical Rating by 8400 for 15 seconds. On Hit: 100% Chance to apply an Armor Break Debuff on the Opponent reducing their Armor Rating by 1718 for 15 seconds, and removing an active Armor Up Buff.
Unleashing Cosmic Judgment, by combining the Power Cosmic with the Spirit of Vengeance, the Cosmic Ghost Rider summons his Hell Cycle before unleashing all his power on his victim. On Activation if the judgment of Fury is not active: 100% Chance to trigger an Fury Buff granting 2876 Attack for 15 seconds.
Cosmic Ghost Rider's signature ability, Cosmic Vengeance is so great that even after an opponent is removed his Judgments weaken the very fabric of them. The Powerlock Debuff triggered when reaching 5 judgments is upgraded to a Damnation Debuff dealing 2877 damage over 5 seconds. Opponents under Damnation are also Power Locked, Heal Blocked, and Fate Sealed.
Recommended masteries include Despair, Double Edge, and Block Proficiency/Perfect Block. 
Cosmic Ghost Rider's strengths include Buffs!, Immunities, and Controllable Playstyle. 
Cosmic Ghost Rider is available for downloading now on Marvel Contest of Champions on iOS and Android devices!
Stay tuned to Marvel.com for Marvel Games news and interviews and follow Marvel Games on Twitter for more!
Marvel is on Twitch! Be sure to follow us for live streams, Q&A's, and more!
The Hype Box
Can't-miss news and updates from across the Marvel Universe!