Games
Published August 27, 2020
Entering Marvel Contest of Champions: Dragon Man
Dragon Man acts as a guardian for the children of the Future Foundation!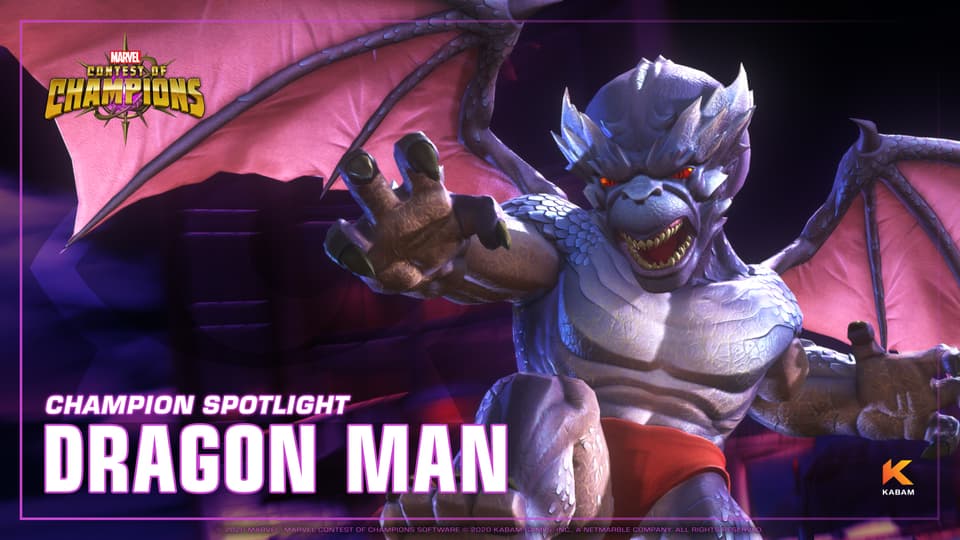 Dragon Man was a lifeless android constructed by Professor Gregson Gilbert, then brought to life by Diablo through a combination of Science and Alchemy. Dragon Man spent much of his existence being manipulated into combat by Heroes and Villains alike, until Valeria Richards upgraded his Programming. Now with both super-intellect and immense strength, Dragon Man acts as a guardian for the children of the Future Foundation, and is the latest to join the roster in Marvel Contest of Champions!
As a character class Mystic, Dragon Man's basic abilities include Power Charge, Ineptitude, and Unblockable.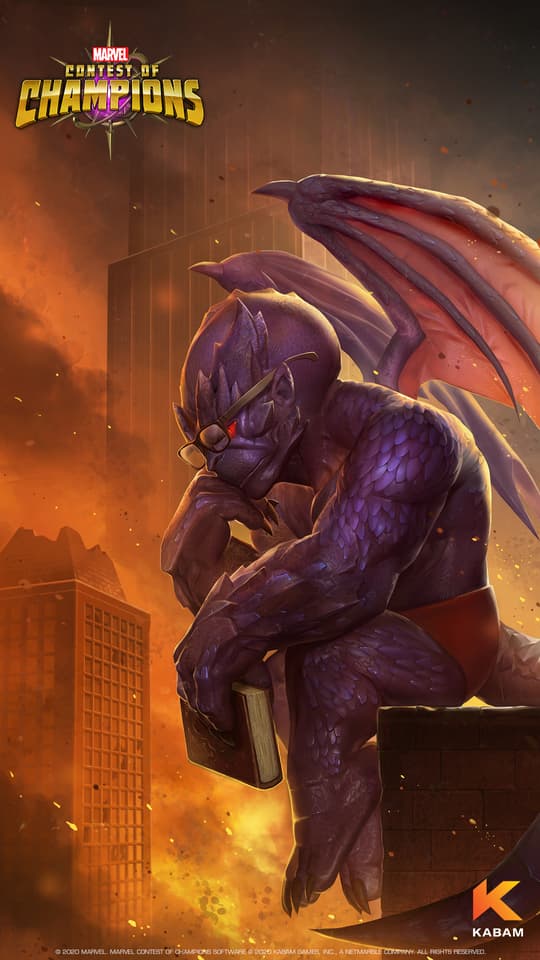 Dragon Man's tool kit includes three special attacks and one signature attack. Using Blitzkrieg, the final hit inflicts a non-stacking Slow for 8 seconds, preventing the effects of Unstoppable and passively lowering Evade and Unstoppable Ability Accuracy by -100%. Opponents with Natural Class Advantage cannot be slowed. The first hit that contacts the Opponent consumes 1 Power Charge to inflict an Ineptitude Debuff reducing the potency of new Fury, Armor Up, Precision, and Cruelty Buffs by 75% for 30 seconds.
Unleashing Scorched Earth, all 3 hits of Dragon Man's fire breath inflict Incinerate, dealing 1173 energy damage over 25 seconds. Incinerate also reduces the Opponent's Block Proficiency by 50% and prevents the activation of Perfect Block. Consume 1 Power Charge to generate a Fury Buff, increasing Attack Rating by 1524.9 for 30 seconds. 
With Danger Close, consume all stacks of Power Charge. Each contributing 4 seconds to an Unstoppable Buff. While active, this Unstoppable instantly regenerates 85% of hit damage received from all attacks other than Special 3's. After this Special Attack ends, generate 3 stacks of Power Charge. Additional stacks of Power Charge do not generate additional Power.
Dragon Man's signature attack, Tactical Programming, when any Non-Science Opponent has specific Buffs active, gain a unique effect. Potency is increased by 100% when fighting Cosmic Champions.
Recommended masteries include Double Edge and Liquid Courage, Despair, and Inequity and Resonate.
Dragon Man's strengths include Power Gain, Knockdowns, and Opponents with Buffs. 
Dragon Man is available for downloading now on Marvel Contest of Champions on iOS and Android devices!
Stay tuned to Marvel.com for Marvel Games news and interviews and follow Marvel Games on Twitter for more!
Marvel is on Twitch! Be sure to follow us for live streams, Q&A's, and more!
The Hype Box
Can't-miss news and updates from across the Marvel Universe!