Games
Published May 11, 2017
Entering Marvel Contest of Champions: Nebula
The daughter of Thanos comes to Battlerealm, hunting for vengeance!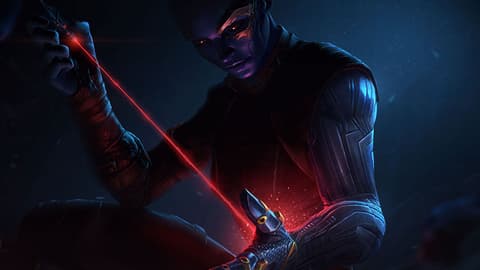 Thanos always manages to bring out the worst in people, including his adopted daughter Nebula. Forced to fighter her sister Gamora and mechanically enhanced when she lost, this fierce warrior unleashes her fury and combat prowess on Battlerealm, and if she runs into daddy dearest all the better.
We talked to Kabam Art Director Gabriel Frizzera and Champion Designer Piero Herrera about Nebula and her seriously awesome abilities in "Marvel Contest of Champions."
Marvel.com: Has Nebula finally found out that Gamora has been hanging out on Battlerealm? Has she entered The Contest looking to take down her sister, or for some more nefarious purpose?
Gabriel Frizzera: The Collector captured both Gamora and Nebula back in 2014, but for some reason preferred to add Gamora to The Contest and keep Nebula in storage—story of her life, really. The Guardians bump into her again when they travel back in time to 2014. All I can say is Nebula might tag along for future adventures, if Gamora and her can make up.
Marvel.com: And what's going on with the new monthly quest? Can we get some details on that bad boy?
Gabriel Frizzera: This month's quest, "Guardians Vol. Zero" is a throwback to the distant year of 2014, when The Contest started. Kang the Conqueror—who has a truce with the Avengers—hires the Guardians to salvage the wreck of his ship, the Damocles, where he keeps some important equipment. But Yondu gets there first, and after some shenanigans they're all accidentally transported two years, four months, and 23 days into the past. Star-Lord sees this as a chance to warn The Collector about releasing Thanos in The Contest, but the time portal is closing; if they don't find The Collector fast, they might get stuck in the recent past, forever—or I guess they can just wait for two years, four months, and 23 days.
This event is a great chance to look back and fill some of the untold backstory. Like in our new motion comic, where you see into the Collector's thought process when picking Champions for his brand-new Contest of Champions. His selection process is less than perfect, as you can see here.
Marvel.com: It looks like Nebula is rocking her Ravager outfit from "Marvel's Guardians of the Galaxy Vol. 2." What went into making sure her style stayed true to the movie look?
Gabriel Frizzera: We got lots of cool reference ahead of time from Marvel Studios for both Nebula and Yondu that allowed us to build models that are very similar to the movie characters—but of course we infused our own unique Contest style to them!
Marvel.com: Would you mind breaking down her kit for us? She doesn't have a sword to swing around, but she's got cybernetic implants and a mean left hook right?
Gabriel Frizzera: We decided to keep the two electric batons she fights with in the first "Guardians" movie, and that's what Nebula uses most of the time. I think the animation team came [up] with a very unique fighting style that leverages the double weapons. She can also build up energy in her electric arm and discharge a powerful pulse to disable enemies!
Marvel.com: So what exactly is her style? How are we playing her and what do we need to look out for when relentlessly hunting down our sister?
Piero Herrera: Nebula is able to quickly charge up "Electroshock charges" when holding block. Those charges [enable] Nebula to deal high amounts of damage in a very short period of time and also can be used to lock the opponent's Power Bar, temporarily disabling their ability to get Power. Hold block to get charges, land a Parry, and use Special 1 for Power Lock, or Special 2 for the high Shock damage burst. On top of it, Nebula also has a pretty good Self-Repair ability.
Marvel.com: How does her self-healing compare to some of the other regenerative characters in the game?
Piero Herrera: The way Nebula activates her Self-Repair is quite unique. Whenever she takes a lot of damage from a single hit, she will be able to heal all of the damage taken from that hit if she has a Self-Repair charge ready to be used. This also means that she is very strong against an opponent's Special 3, since the damage from a Special 3 is just calculated in one big chunk after the cinematic sequence. Basically, the Self-Repair will activate whenever you need it the most.
Marvel.com: And when can we harness Nebula's fury for ourselves?
Piero Herrera: Nebula is just about ready to start electrifying opponents with her electric arms and energy pulse discharges; be sure to check her out when she comes to The Contest on May 11!
Stay tuned to Marvel.com for more "Marvel Contest of Champions" news and interviews.
The Hype Box
Can't-miss news and updates from across the Marvel Universe!